Internships
Working in a professional setting at the Center for Western Studies, interns develop sensitivity to the history and cultural diversity of the plains region and learn about the practical aspects of managing a research agency. The principal area of internship activity is the archives, but students may also participate in book editing and publishing, conference and special event administration, and fund raising and marketing.
All recurring internships, including the Mildred White Internship and the Julius and Dorothy Jacobsen Internship, are available to Augustana students. The Jacobsen Internship is restricted to graduates of West Central High School, Tri-Valley High School, or Montrose High School. The Center also offers paid internships, usually restricted to graduate students, contingent upon funding availability.
Graduates of the Center for Western Studies' Internship Program in Archives and Museum Management can be found all over the midwest.
Many of these promising individuals have been the beneficiaries of paid internships, made possible originally by the Sheldon F. Reese Foundation, which inaugurated the program in 1991, and by Mrs. Margaret H. Reese, who continued the program for several years.
During the early years of the paid internship program, interns were known as Reese Interns. Additional funding has been received from David and Sandra Solberg, Drs. Tom and Elaine McIntosh, the National Society Daughters of the American Revolution through the Mary Chilton DAR Foundation, Sioux Falls, South Dakota, Midco Media Foundation, and Betty and Charley Gutch.
It has become a custom for former Interns to gather at the annual Center for Western Studies' Dakota Conference on History, Literature, Art, and Archaeology, where they present papers, chair sessions, and visit about their careers.
Riley Danielsen - 2015-2016
Internship in archives management made possible through 

a Dorothy Jacobsen Scholarship at Augustana University

Major Projects: Episcopal Diocese of South Dakota archives, new acquisitions
Matthew Housiaux - 2015-2016
Internship in archives management made possible through a Mildred White Scholarship at Augustana University
Major Projects: Exhibit on women's activism in South Dakota, updated index to Dakota Conference papers, digitization
Current position: White House Correspondent, Kiplinger Washington Letter, Washington, D.C.
Thomas Norland - 2015-2016
Internship in archives management made possible through a Mildred White Scholarship at Augustana University
Major Projects: Exhibit on Sioux Falls Municipal Band, Augustana University archives, South Dakota Symphony Orchestra archives, digitization
Current position: Title Reviewer, First Dakota Title, Sioux Falls, SD
Lauren Evans - 2014-2015
Internship in archives management made possible through a Mildred White Scholarship at Augustana College
Major Projects: Cataloging of the CWS artifact collection (notably the Sally J. Fantle and Shirley Savage Jones Collections), curation of artifacts from long-term exhibits in Fantle Building, exhibit on passports
Current position: InterActor, Washington Pavilion, Sioux Falls, SD
Brooke Lowin - 2013
Internship in event planning and collections management arranged through Augustana College
Major Projects: Continued work on CWS art collections database
Seth Wolles - 2012-2015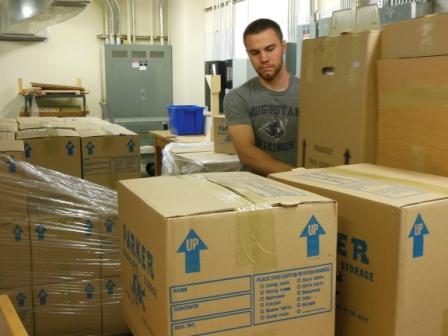 Internship in archives management made possible through a Dorothy Jacobsen Scholarship at Augustana College
Major Projects: Carol Mashek Collection, Augustana College archives, updating on-line abstracts
Rebecca Sunde - 2012-2015
Internship in archives management made possible through a Mildred White Scholarship at Augustana College
Major Projects: Edwin and Pearl (Lewison) Hesby Collection, Augustana College archives, Blue Cloud Abbey-American Indian Culture Research Center artifact collection, continued work on CWS art collections database
Sebastian Forbush - 2012-14
Internships in archives management made possible through a Mildred White Scholarship and others arranged through Augustana College
Major Projects: Episcopal Diocese of SD records, C.E. Van Norman, Jr. Collection of Riggs family papers, CWS admin. records
Current position: Education and Volunteer Coordinator, Silent Wings Museum, Lubbock, TX
Lauren Anderson - 2011-13
Internship in art collection management made possible through a Mildred White Scholarship at Augustana College
Major Projects: Continued work on CWS art collection database, assistance with gallery exhibits and art events
Rebekah Walker - 2011-12
Internship in archives management made possible through a Mildred White Scholarship at Augustana College
Major Projects: Ron Nelson papers
Rachel Carsrud - 2009-12
Internship in archives management made possible through a Dorothy Jacobsen Scholarship at Augustana College
Major Projects: Reorganizing the Augustana Photograph Collection, processing archival collections
Hannah deFreese - 2009
Internship in collections management made possible through a Mildred White Scholarship at Augustana College
Major Project: Working with PastPerfect database to inventory CWS permanent art collection
Amanda Jenson - 2009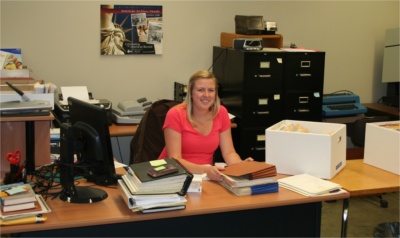 Internship in archives management made possible through a Mildred White Scholarship at Augustana College
Major Projects: processing new archival donations from the South Dakota Episcopal Diocese
Maren Peterson - 2009
Internship in collections management made possible through a Mildred White Scholarship at Augustana College
Major Project: Organizing the CWS three-dimensional artifact collection
Lauren Jones - 2008-09
Internship in archives management made possible through a Mildred White Scholarship at Augustana College
Major Project: Working on a collection of Civil War letters and journal of Samuel DeForest Woodford, a member of the 154th New York State Volunteers
Andrew Erickson - 2007-09
Internship in Sioux Falls theater history made possible through a Dorothy Jacobsen Scholarship at Augustana College
Major Projects: Cataloging theater productions in Sioux Falls to 1945, inventorying permanent art collection using PastPerfect
Current Position: Research Analyst, Market Logic Software, Berlin, Germany and English Instructor at Lernstudio Barbarossa, Potsdam, Germany
Kelly Goertzen - 2007-08
Internship in archives management and historical document editing made possible through a Mildred White Scholarship at Augustana College
Major Projects: Anson Yeager papers, Sioux Falls Rotary Club Records, Lillie Hays Letters
Current Position: Business Analyst, HealthPartners, Minneapolis, MN
Kristin Foggia - 2007
Internship in archives management made possible through a Dorothy Jacobsen Scholarship at Augustana College
Major Project: Augustana College Archives
Kelli Kappenman - 2006-07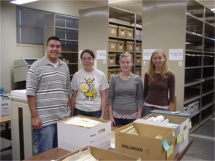 Internship in Sioux Falls history made possible through a Dorothy Jacobsen Scholarship at Augustana College
Laura Plowman - 2005-08
Internship in archives management made possible through a Mildred White Scholarship at Augustana College
Major Projects: Guide to Photographic Collections, Augustana College Archives, Dakota Conference papers
Current Position: History and Government Teacher, Brookings High School, Brookings, SD
Elizabeth Thrond - 2005
Internship in archives management arranged through Augustana College
Major Projects: Augustana College Archives, Sioux Falls Theater Collection
Current Position: Collections Assistant, Center for Western Studies of Augustana College, Sioux Falls, SD
Antonia Dauster - 2004-05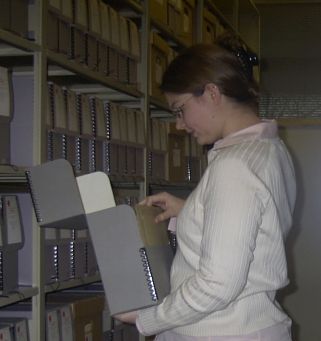 Internship in archives management arranged through Eastern Illinois University
This internship was made possible in part by a grant from the Mary Chilton DAR Foundation
Major Projects: United Church of Christ Archives, Elizabeth R. Gutch Papers, South Dakota American Guild of Organists Collection, Dorothy Grinager Collection
Holli Axtell - 2003
Internship arranged through Augustana College
Current Position: Lead Patient Registration Representative, Lakes Regional Healthcare, Spirit Lake, IA
Brandi Hatle - 2002
Internship arranged through Augustana College
Major Project: Western art exhibit research and writing
Deborah Lyon - 2000
Independent Internship: Advanced Reese Intern
Major Projects: Supervised the PastPerfect collections management project, reorganized the Augustana College Archives, provided reference services to patrons, and assisted with such CWS events as the Dakota Conference
Nichole Kranzler - 1999
Internship arranged through the University of South Dakota
Major Projects: Inaugurated the project to catalog CWS collections using PastPerfect collections management software. Participated in revising the CWS membership brochure and assisted with several CWS events, including the Dakota Conference, June Event, and Boe Forum
Current Position: South Dakota Department of Education, Pierre, SD
Jennifer Johnson - 1998
Internship arranged through the University of South Dakota
Major Projects: Guide to Women's History Sources at the Center for Western Studies, selected documents from the CWS collections on the CWS web page, assistance with the Dakota Conference and Boe Forum on Public Affairs
Ben Wester - 1998
Internship arranged through Augustana College
Major Project: American Indian Culture Research Center Records, assistance with Papers of the Thirtieth Annual Dakota Conference
Leah (Gleason) Hebner - 1997
Internship arranged through Augustana College
Major Projects: Herbert Krause Papers, Echoes from the Little Big Horn exhibit catalog, editorial assistance with A Twentieth-Century Life by Arthur Larson
Current Position: Lutheran Social Services, Sioux Falls, SD
Tim Hoheisel - 1997
Internship arranged through St. Cloud State University
Major Projects: Herbert Krause Papers; assistance with the Artists of the Plains Art Show and Sale, Dakota Conference, and June Event
Current Position: Executive Director, Pearson Lakes Art Center, Okoboji, IA
Rebecca (Stromstad) Glaser - 1996
Internship arranged through Augustana College
Major Projects: Explorations of the American West exhibit, editorial assistance with Fort Sisseton by Harold Schuler, assistance with the Artists of the Plains Art Show and Sale
Current Position: Associate Managing Editor, Capstone Press, Mankato, MN
Michael Hargesheimer - 1995
Internship arranged through St. Cloud State University
Major Projects: Lawrence Stavig Papers, American Indian Culture Research Center Papers, assistance with the Boe Forum on Public Affairs
Shane Nackerud - 1995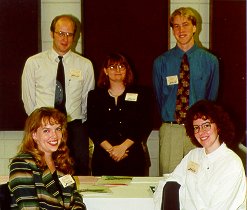 Internship arranged through Augustana College
Major Projects: John R. Milton Papers, assistance with the Dakota Conference
Current Position: Web Services Coordinator, University of Minnesota Libraries, Minneapolis, MN
Karin Koster - 1994
Internship arranged through St. Cloud State University
Major Project: Reuben Goertz Collection
Current Position: Inver Grove Heights Historical Society, Inver Grove Heights, MN
Jan Larson -1993
Internship arranged through Augustana College
Major Projects: Augustana College Archives, assistance with the Dakota Conference
Current Position: Counselor, Luverne School District, Luverne, MN
Deborah Lyon - 1993
Internship arranged through the University of South Dakota
Major Projects: Enos Jones Collection, Augustana College Archives, assistance with the Dakota Conference
Former Position: Archive Assistant, University Archives/Special Collections, University of Nebraska-Lincoln, NE
Christel (Knauss) Golnick - 1992
Internship arranged through Augustana College
Major Projects: Fred and Marie Christopherson Papers, Bishop Walter Jones Papers, assistance with the Dakota Conference
Current Position: Regional Relations Team Leader, Heartland Foundation, St. Joseph, MO
Michael Worcester - 1992
Internship arranged through St. Cloud State University
Major Projects: Norwegian Singers Association of America Records, South Dakota Ornithologists' Union Records, assistance with the Artists of the Plains Art Show and Sale and Dakota Conference
Current Position: Executive Director, Cokato Museum and Akerlund Photo Studio, Cokato, MN