Abobakr and Solberg Named 2019 Peace Scholars
---
Augustana University today announced that juniors Chofian (JuJu) Abobakr and Ryan Solberg have been named the 2019 Augustana Peace Scholars. The Peace Scholars program is sponsored by the Nobel Peace Prize Forum consortium.
As Peace Scholars, Abobakr and Solberg will embark to Oslo, Norway, on a seven-week academic experience designed to deepen their understanding of the central issues and theories related to peace, justice, democracy and human rights. The two will study at the Nansen Dialogue Network in Lillehammer and at the University of Oslo International Summer School mid-June through early August.
Luca Amayo, a junior economics and government double major from Nairobi, Kenya, was named the university's alternate. He will serve as Augustana's Peace Scholar if either Abobakr or Solberg are unable to participate.
---
About the 2019 Peace Scholars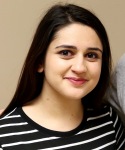 Chofian (JuJu) Abobakr is a junior majoring in government, international affairs and communications with a minor in theatre.
Abobakr is interested in pursuing international relations and immigration law and hopes to work for the millions of families and children around the world who have been displaced due to war, poverty and violence. Abobakr would ultimately like to work for the U.S. State Department as a foreign service ambassador as a way to give back to the United States. She also hopes to use her fluency in the Kurdish and Turkish languages to better serve both the American people and the millions of refugees desperately in need of help.
Abobakr has been an active participant in the Augustana community as a Viking advisor, student ambassador, success ambassador and is a member of the Augustana Collaborative Theatrical Society, Augie International Club and the Gay Straight Alliance Club. Abobakr is currently a law intern at East River Legal Services; interactor, assistant teacher and manager at the Washington Pavilion; and a language interpreter for A to Z World Languages, Inc. in Sioux Falls.
Her awards and accomplishments include the National Arts and Humanities Youth Program Award given by the President's Committee and delivered by Michelle Obama; Benjamin A. Gilman Scholar; Iver Eide Memorial Scholar; Loreli James Scholar; Dr. Jane Goodall End Scholar; and Delman Theatre Scholar, just to name a few.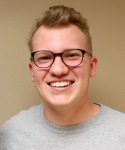 Ryan Solberg is a junior in the Civitas Honors Program majoring in political science/government and international affairs.
In reference to becoming a Peace Scholar, Solberg stated, "being able to study the conditions that lead to conflict and to engage in dialogues with diverse groups would allow me to better understand and pursue justice for diverse groups in a future career in politics."
He has served the Augustana community in many ways as a co-curriculum committee chair; member of the Civitas Honors Program student activities committee; AugieThon Morale Captain; Viking Advisor, ASA Senator and is currently president of the Augustana Democrats. He also has worked as an intern for the City of Sioux Falls Planning and Development Office and Cutler Law Firm.
Solberg's community involvement includes volunteer commitments with the Special Olympics, Salvation Army, McGovern Center CROP Walk for Hunger and Dr. Seuss Read Across America, to name a few.
About the Peace Scholars Program
The Peace Scholars program is an outgrowth of the Nobel Peace Prize Forum, an annual event held in Minneapolis that inspires students and other citizens to become active participants in peacemaking efforts around the world.  Begun in 1988 by a five-college consortium [Augsburg, Augustana (Sioux Falls), Concordia (Moorhead), Luther and St. Olaf], the Forum is the Norwegian Nobel Institute's only such program or academic affiliation outside of Norway.
Through an application and interview process, students from Augsburg University, Augustana University, California State University at Sacramento, Concordia College, Luther College, Pacific Lutheran University, St. Olaf College, and the University of Hawaii at Manoa are selected and awarded a seven-week academic experience held at The Nansen Dialogue Network in Lillehammer and The University of Oslo International Summer School.