Augustana's Student Success Center Paints Picture of Pain, Loss and Opportunity During COVID-19
When the novel coronavirus made its way to the U.S. and then to the midwest, the Augustana Student Success Center experienced and witnessed a sense of shock and then disappointment.
"COVID-19 was disruptive on many fronts," said Assistant Vice Provost for Student Success and Engagement Billie Streufert. "Students' sense of loss was the immediate priority. It was abrupt."
Events hosted on campus and opportunities taking place across the globe — including music and theatre performances, art and athletic events, and study abroad courses — were cut short or canceled altogether. Augustana also moved to remote learning. 
"Wave two came where spring internships ended abruptly, not all, but many. It wasn't a one size fits all. For some internships, students had to immediately migrate to a remote virtual environment. For others, it was abrupt and they just ended, which elicited many dynamic emotions," said Streufert.
The Student Success Center celebrates alongside students when internships and vocational opportunities are secured. And just like their students, the Success Center also waits in anticipation for graduation. The spring of 2020 has added a new dimension of emotions as Success Center staff have been grieving with their students as some of those happy endings have been rewritten.
Streufert said, "We never before imagined we would need to say to students, 'Oh, you're in the thick of your classes, well, pack up, move, and oh, by the way, that job that you landed and were excited about, we want you to replicate that process now too.'"
One of the Lucky Ones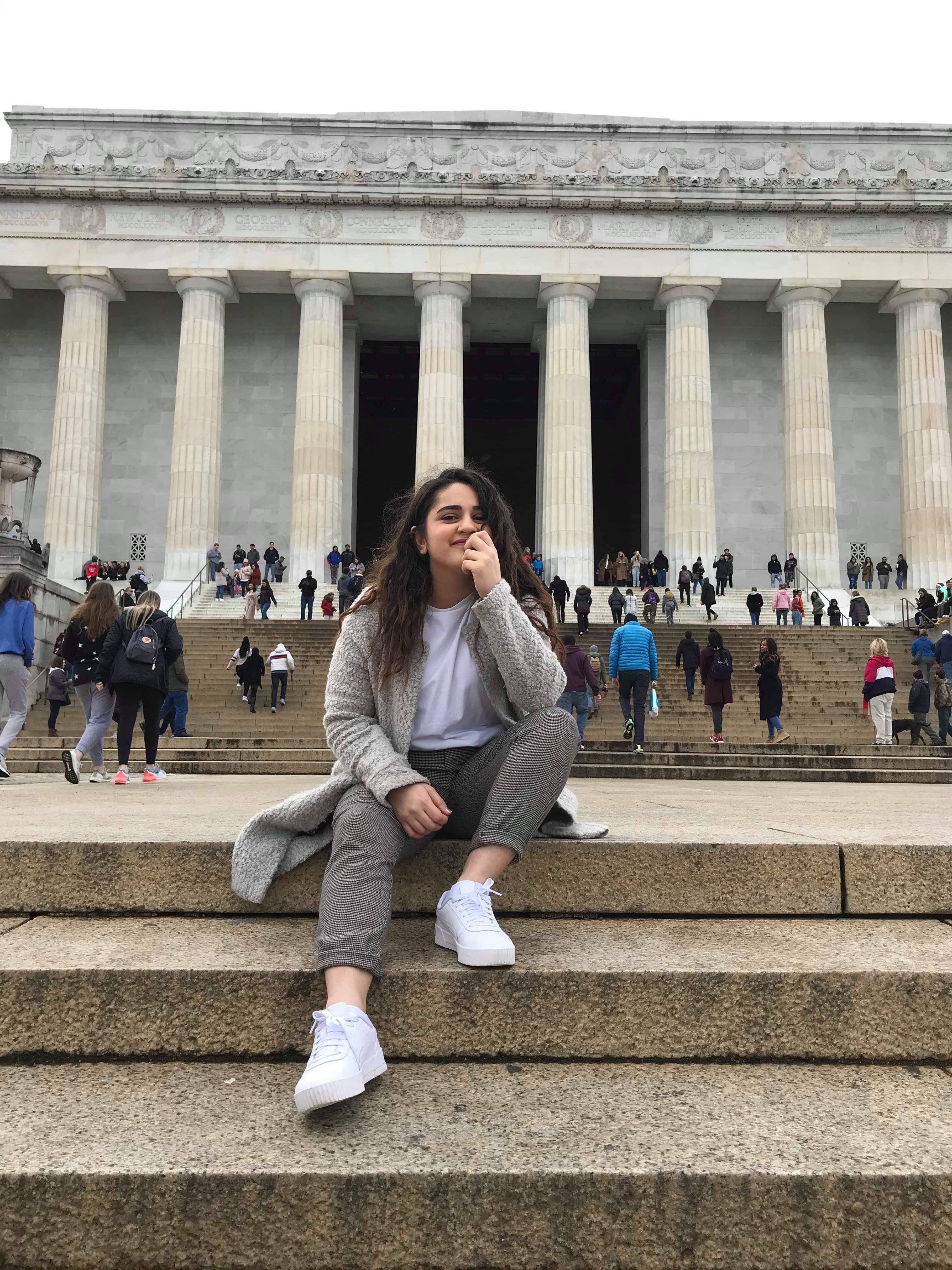 Chofian "JuJu" Abobakr '20, a government and international affairs and communications major and a theatre minor, landed an internship with Global Fairness Initiative as part of the Lutheran College Washington Semester (LCWS) program. Along with two classes, the full-time internship started in January. The Sioux Falls native was in the full swing of things when COVID-19 hit the U.S. — doing grant writing, website management, creating advertising materials and infographics, participating in video calls with international partners, attending fundraising events and exploring the nation's capital. 
Abobakr was doing everything a senior should as a part of her internship in preparation for entering the job market. She had plans for that too. There was a reason for Abobakr spending her last semester of college in Washington, D.C. 
"That's where I really wanted to start my life. That's where I wanted to finish (college). I want to live there and that's where I want to build my career, especially because there's lobbying firms, politicians. If I want to be a Kurdish advocate or any sort of advocate, that is the place," said Abobakr. "The plans were that I would finish it, come back to walk at graduation, and since I already had a foot in the door, I would already theoretically have a job and have been able to find a place to stay."
Those plans changed, but Abobakr insists she was one of the lucky ones. On Thursday, March 12, out of caution, she was asked by the organization she interned for to work remotely.
"When I was asked to work remotely in D.C., I didn't have a problem with that because I felt much safer that I would be in my own apartment, but when I was asked by the (LCWS) program to consider going home, that was really heartbreaking and discouraging for me," said Abobakr.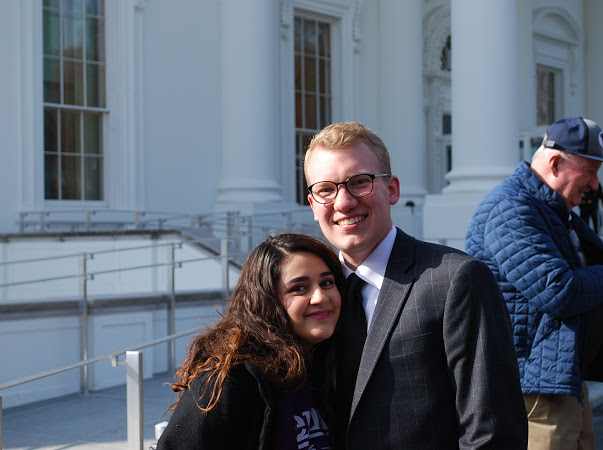 Abobakr and two other Augustana students who were a part of the LCWS program traveled back to Sioux Falls on Thursday, March 19. She had been in the nation's capital for exactly two months.
"All of that was just gone in one email. It took about 72 hours for all of us to just kind of go. I got the email. I bought my ticket. I started packing. I shipped some of my stuff. I went to bed. I woke up, went to the airport and came back home. It was so sudden. I just kept thinking, 'Am I really in Sioux Falls?'"
But back in Sioux Falls, Abobakr was able to finish her internship — just in a different way. Her last day was on Friday, April 24. As she explained before, not everyone was as lucky. Some had their internships cut short, some never got to start them at all.
For Abobakr, the next hurdle will be finding a job and the Student Success Center will be there every step of the way. 
Getting a Pulse and Offering Care 
Streufert says flexibility and self-care are more important than ever given the uncertainty. 
"It was a transition for all of us. It's not ideal," said Streufert. "It is unequivocally unique."
That's why the Student Success Center immediately felt the need to get a pulse on where the students were at — what was on their minds, what they were worried about, and to what extent did they think they could deal with it. In response to a survey that they sent to students shortly after spring break, Streufert said that two out of three Augustana students reported academic distress and at least half of them reported vocational distress.
"We wanted to preserve Augustana's value of community and connect with the students who reported that they were very often or frequently finding themselves thinking about these types of topics. For some students, that was with an email. For others, it was a personal phone call," Streufert added.
After hearing from students, the Success Center continued to collaborate with several departments across campus to have an integrated, yet personalized response to revised exam schedules, course grading changes and deadlines, and yes, problems with the Internet. In early April, Augustana had set up a one-stop shop with virtual hours available to students all day long. Through one Zoom meeting room, students could get answers from the Student Success Center, Registrar, as well as the Financial Aid or Business Offices in "breakout rooms." Streufert says with help from many people and departments across campus, their team accomplished a 3-month project in just four days.
Streufert admitted, "There isn't a guidebook for this, but opportunities for teaching and learning exist. Augustana has always offered an education of enduring worth and wanted to transform our students into independent lifelong learners. We saw an online migrated modified learning environment as an opportunity to practice that intellectual habit together in community. It was an opportunity for our students, in a very supportive guided way, to learn new skills and grow."
Opportunity in the Midst of Pain: What Did You Do During COVID?
This transition is temporary. That's what the Students Success Center has been preaching to students as COVID-19 continues to affect our everyday lives.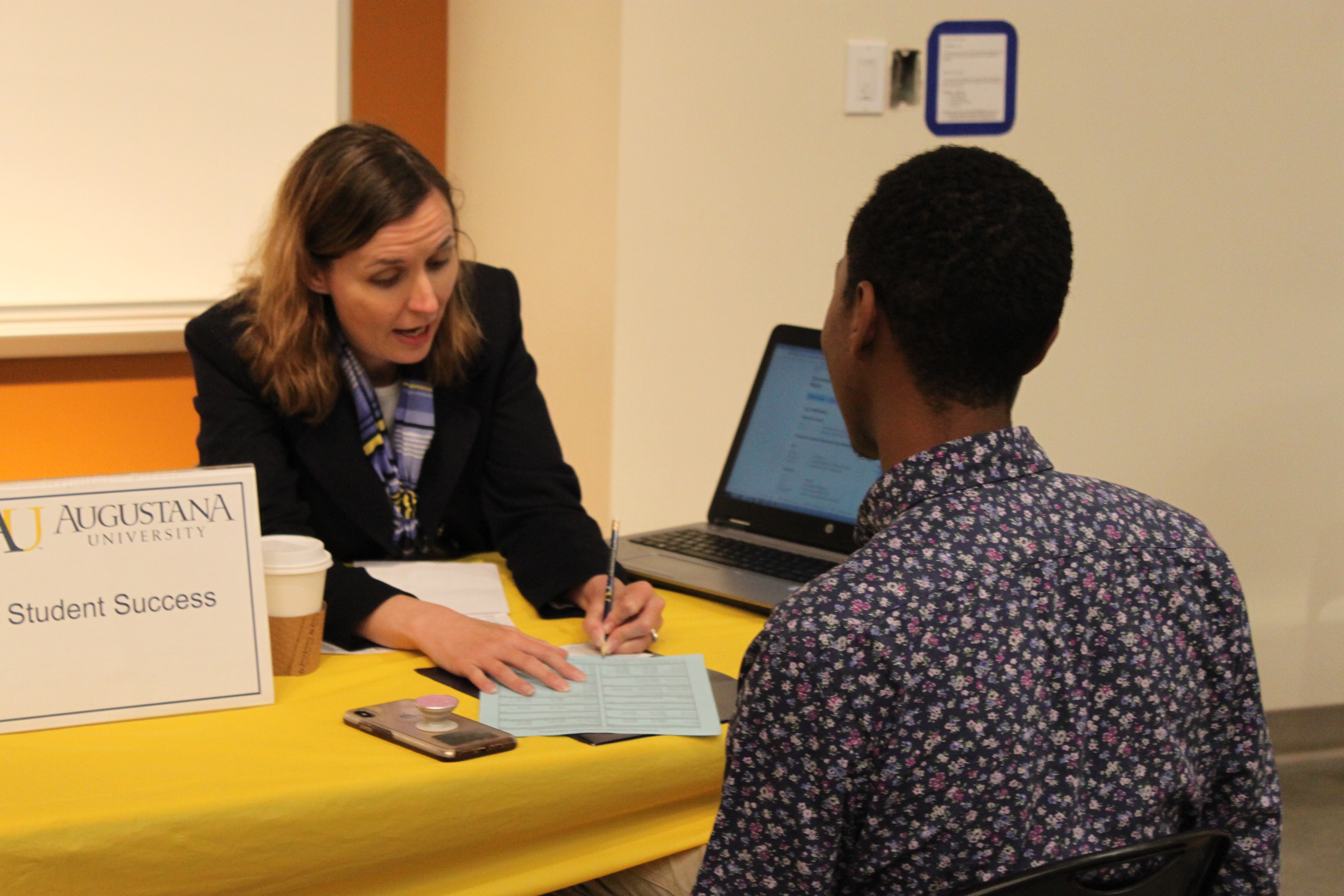 "We teach students to be adaptable and thrive during transitions. They navigate changes when they first arrive at college, possibly change majors, and eventually launch their careers during graduation. The liberal arts equips them with the skills that are needed to succeed. They have a diverse portfolio and are prepared for multiple jobs, which is more important than ever. The skills that graduates have do not expire," stressed Streufert.
Director of Internships and Career Development Mary Toso says she has been advising students that the questions employers are going to ask are based on these types of situations — how they reacted to this challenge, what they did during COVID-19. 
"They are acquiring new skills like how they adapt during a crisis, or learning how to work in a remote or virtual environment that they would not have had otherwise. There is also a lot of vocational discernment that they can be doing right now," said Toso. "My challenge is getting our students to realize the resources they have and to access them. It's so easy to shut down, but this is really a time to push yourself. What did you do during COVID? What responsibility did you take to help other people, to be a part of your community, to increase your learning, to take on a new task, to get a new certification, to learn a new language, a new platform? What did you do? If our students can rise to that challenge, they're going to have a story to tell and that story is going to be wonderful and that story is going to show future employers that they can take the bull by the horns and say this is what I did when the stakes were down."
Toso says Abobakr is one of those students who is taking advantage of the opportunities she does have while away from campus. 
Toso said of Abobakr, "She's engaged in a literature review. Nobody asked her to do that. She is not being graded on that. She is doing that because she has that initiative and she'll be able to articulate that in an interview."
Abobakr said, "For a senior who is graduating, it's really, really scary because if the pandemic wasn't going on, it would still be a scary transition. Now, with this pandemic, it feels like I'm going to be going into an economic crisis. I have done different things to deal with that. I don't want to do nothing and I don't want that hole in my resume. I am a learner, so I want to learn. Netflix doesn't cut it."
But Toso and Streufert say it's their job to pace the students as well. They say Augustana has such high achieving students, that they have tried to manage that narrative to avoid those unrealistic expectations.
"I don't think I'm alone in this," said Abobakr. "I think Augustana students are almost trained to be chasing after the next thing and keeping themselves busy. That's why we call it the place for possibilities because those opportunities extend beyond the classroom."
And Toso believes that there will be many opportunities out there that didn't exist last year because of what we're going through now. There will be remote positions. There will be all these businesses that are going to evolve and adapt in a new type of environment.
And you can be sure, Augustana and its students will be ready.
---
Student Success Center Questions: Contact Billie Streufert, assistant vice provost for student success and engagement.
Media Inquiries: Contact Jill Wilson, public relations and communications strategist.