Augustana University Hosts Book Signing with Former State Senator Stanford Adelstein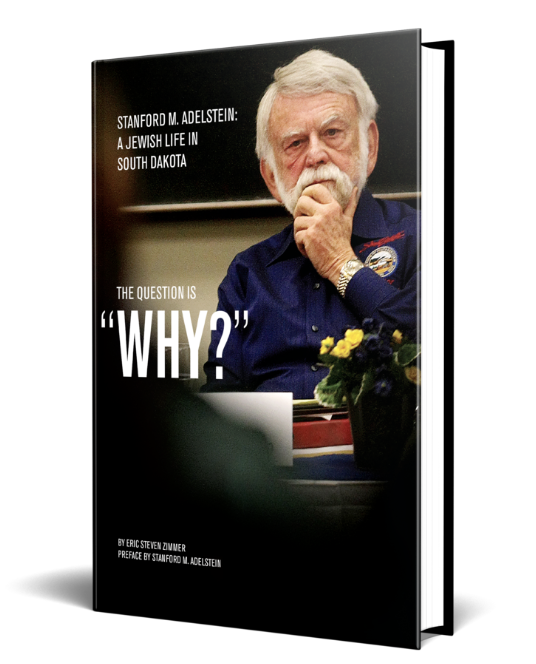 Augustana University will host a book reflection and signing with former South Dakota state senator Stanford Adelstein at 4:30 p.m. Thursday, Sept. 19, in the Center for Western Studies.
Author Eric Zimmer tells Adelstein's story of family, faith, business, politics and philanthropy in the book, The Question is Why?:  A Jewish Life in South Dakota. Released on Aug. 19, the book provides a new perspective on recent American and world history and on the lives of Jewish people in rural places.
Senator Adelstein will provide brief remarks during the event and will answer questions about his book, which will be available for purchase.
"We are so pleased to welcome Senator Stan Adelstein to Augustana University, and I appreciate his willingness to visit with our students, as well as participate in several campus community events," said Stephanie Herseth Sandlin, Augustana's president. "I have long admired Senator Adelstein for the myriad ways he has contributed to South Dakota's culture, history and civic life."
While the Senator is on campus at the university, he will visit with David Golemboski's Government 110 class, tour the Center for Western Studies, and will provide the Jewish response to the prayer at the "Building Community" event with Bishop Munib Younan on Thursday, Sept. 19.
About Senator Adelstein
The son of Morris and Bertha Adelstein, Stanford Adelstein was born Aug. 19, 1931, in Sioux City, Iowa, and attended school in Rapid City, South Dakota. He earned bachelor degrees in civil engineering and business administration from the University of Colorado, and then served in the U.S. Army Corps of Engineers. In 1957, he went to work for Northwestern Engineering Company (NWE), a Rapid City business built by his father.
Over time, NWE grew into one of the region's largest heavy highway construction companies. Stan Adelstein became company president in 1968, and under his leadership NWE acquired and developed numerous quarry, commercial and residential properties.
President Gerald Ford appointed Adelstein to the National Council on Economic Opportunity if 1976. He was an appointed member of the Advisory Council for the Ninth Federal Reserve Bank in Minneapolis from 1992 to 1994. He also spent eight years on the South Dakota Advisory Committee for the U.S. Civil Rights Committee.
Adelstein was elected in 2000 to represent District 32 in the South Dakota House of Representatives and re-elected in 2002. He served in the South Dakota Senate from 2004 - 2006.
In 2004, Adelstein was named South Dakota Philanthropist of the Year by the Governor's Office and, in 1991, he received the Rapid City Chamber of Commerce's prestigious "George Award" - so named because the recipient "didn't let George do it, he did it himself." Senator Adelstein was inducted in to the South Dakota Hall of Fame (SDHOF) in 2006 in the Philanthropist category.
About Author Eric Zimmer
Author Eric Steven Zimmer, Ph.D. works on a variety of digital, exhibit-based, and narrative history projects at Vantage Point Historical Services, Inc., in Rapid City, South Dakota.