'Enter to Learn, Leave to Serve': 100-Year-Old Alumnus Still Lives by Augustana Motto Nearly 80 Years After Graduation
Today, December 22, 2020, marks Pastor Rev. Richard "Dick" Nelson's 100th birthday. There won't be a big celebration due to COVID-19, as the 1942 Augustana College graduate lives in an independent/assisted living home in Apple Valley, Minnesota, but it's a safe bet that the Iowa native will still be singing; likely the Augustana Alma Mater.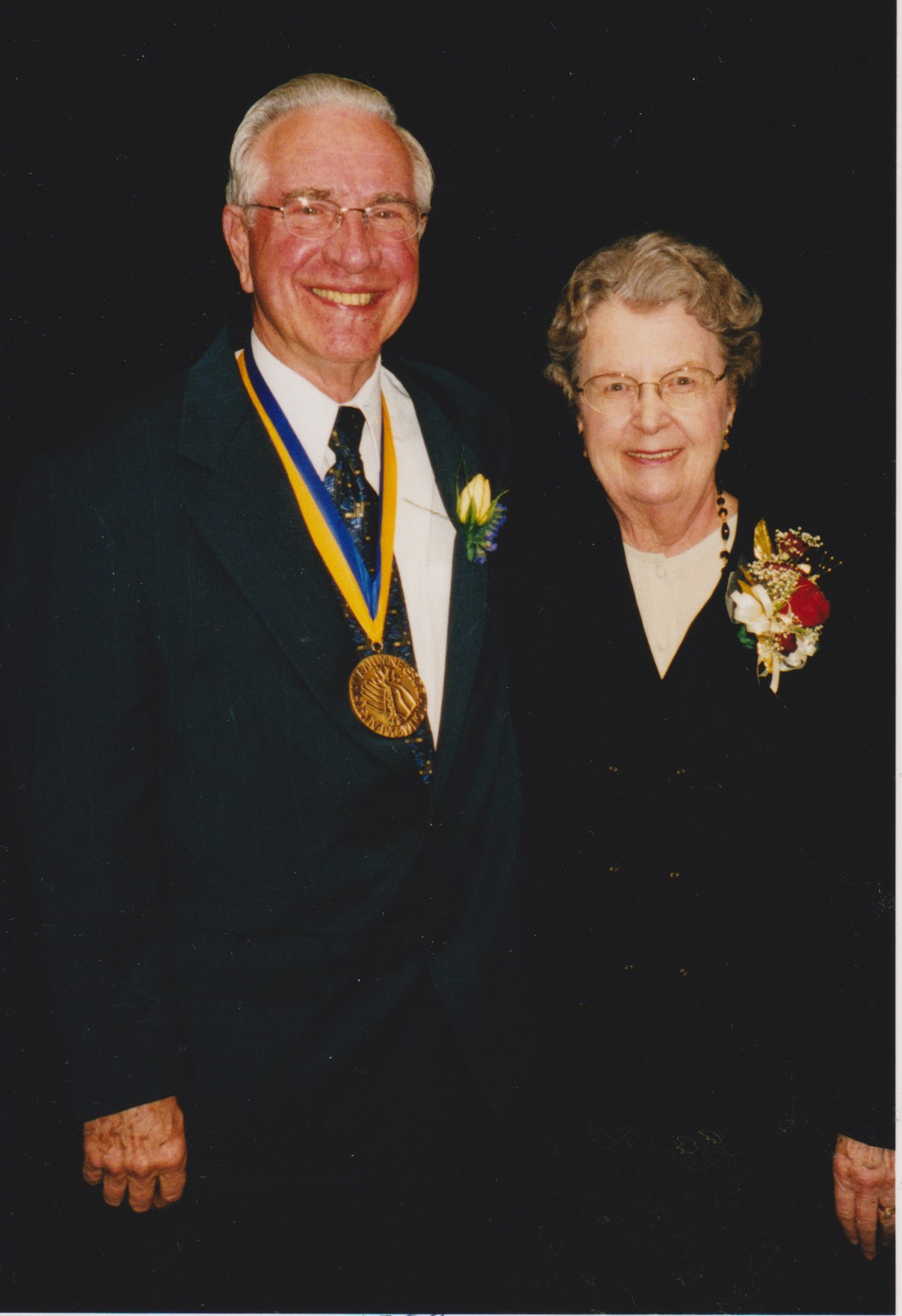 The 1999 Augustana Alumni Achievement Award recipient says the university is in his DNA and he still lives by the motto, "Enter to Learn, Leave to Serve," one that he made his own in 1938.
"Augie's motto has motivated my entire life and ministry. Reaching out in caring and sharing ways — to people both gifted and needy — has blessed my life. It is truly amazing that as well as the professors and courses of 80 years ago, the values and spirit of Augustana have been the resources needed to move onward in a world of change and opportunities," said Nelson.
Entering to Learn
Nelson attended Lakefield High School in Minnesota, where he played basketball and football. He received several scholarship offers to play sports at state colleges, but even during the Great Depression when money was tight, one faith-based college was always in the back of his mind. Nelson says during his early years, he would make trips to Sioux Falls to buy "goods" with his parents and take notice when driving around the Augustana College campus. His father, who was a pastor, would sometimes give devotions at student Chapel services.
Nelson said, "It was just a little seed that was planted and I discovered how important that seed was growing, and I didn't look at any other college."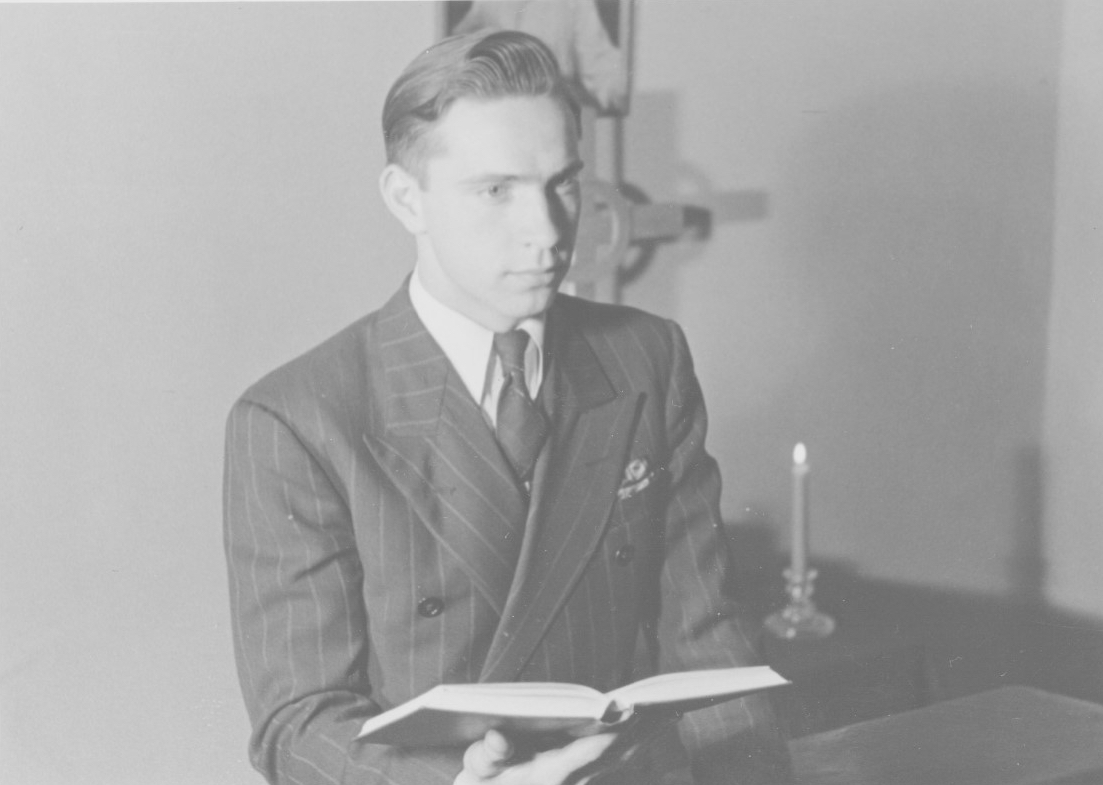 As a first-generation student in his family, Nelson says music was a major interest of his and he sang in the Augustana Choir all four years. He also played trombone in the pep band. In order to pay for school, Nelson got a job as the head waiter in the dining hall, located in the lower level of the women's dorm or Ladies Hall, now known as East Hall. The dean of women asked her secretary, Deloris Hanson, a student from Watertown, South Dakota, to help Nelson arrange dinner seating to provide more opportunities for the "gals and guys" to meet. This also created an opportunity for the waiter and secretary's relationship to grow. With no car or nearby restaurants to frequent, their dates consisted of walks around campus, picnics by the Big Sioux River and ice skating on Covell Lake. Both Nelson and Hanson graduated from Augustana in 1942. Hanson got a job at Augsburg Publishing House in Minneapolis, Minnesota, as a secretary to the editor of "The Lutheran Standard," a monthly publication sent to Lutheran congregations nationwide. As for Nelson, he liked interacting with people, which led to advanced studies.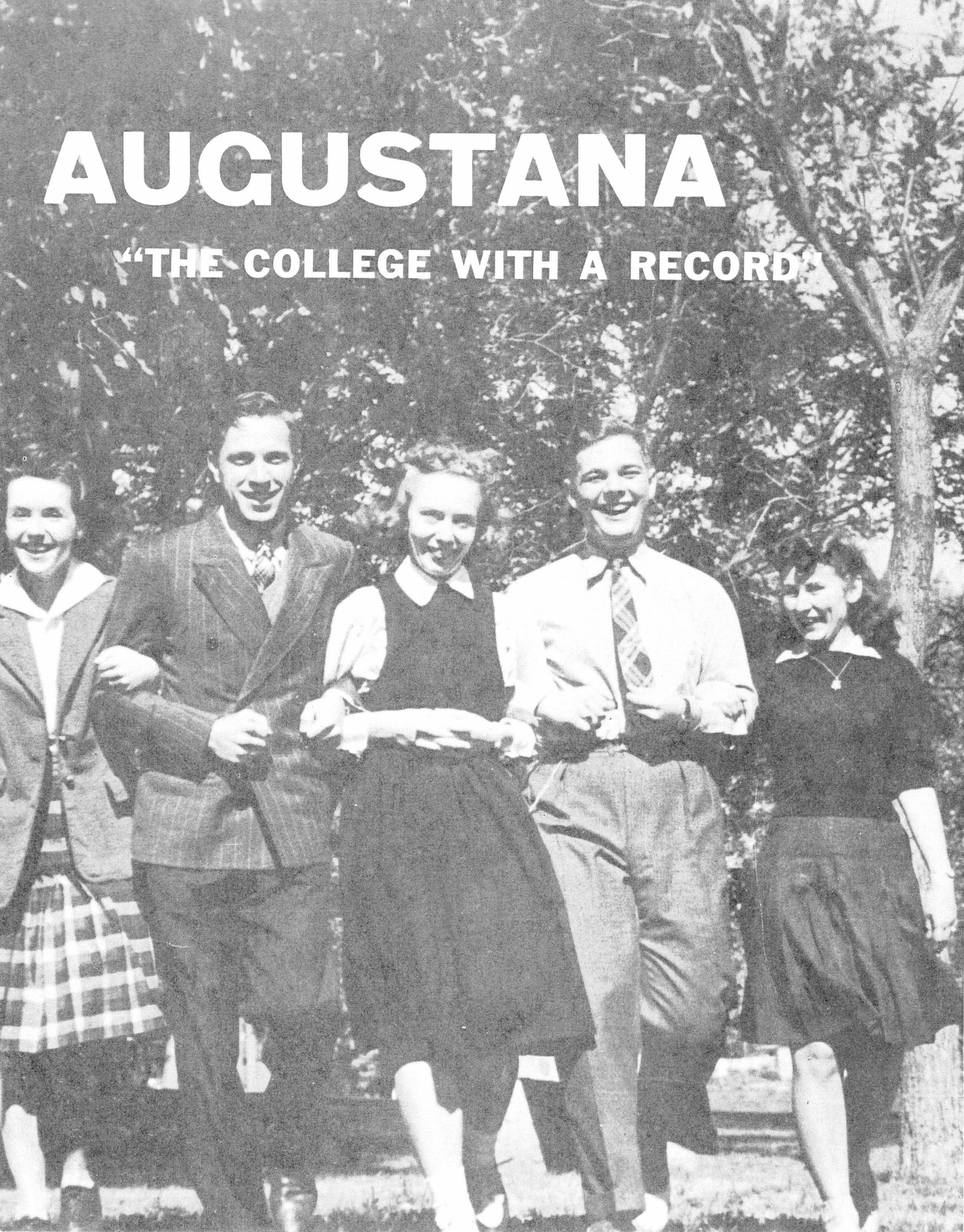 "Some friends and professors at Augustana said, 'Why don't you think about a career in ministry where you can work with people all your life.' So, I decided to St. Paul, to Luther Seminary, and I was there on campus for three years. To earn money so I could afford to return each year, I worked on farms or for a carpenter in the summertime. One year, I got a job working in the salmon industry out of Ketchikan, Alaska.'"
Still without a car, the couple dated by streetcar. Nelson proposed to his girlfriend on his birthday, and a year later, on February 14, 1945, they got married in Hanson's home church in Watertown. They eventually had three children, Paul '69, Marie and Jean '75, two of whom also graduated from Augustana.
Leave to Serve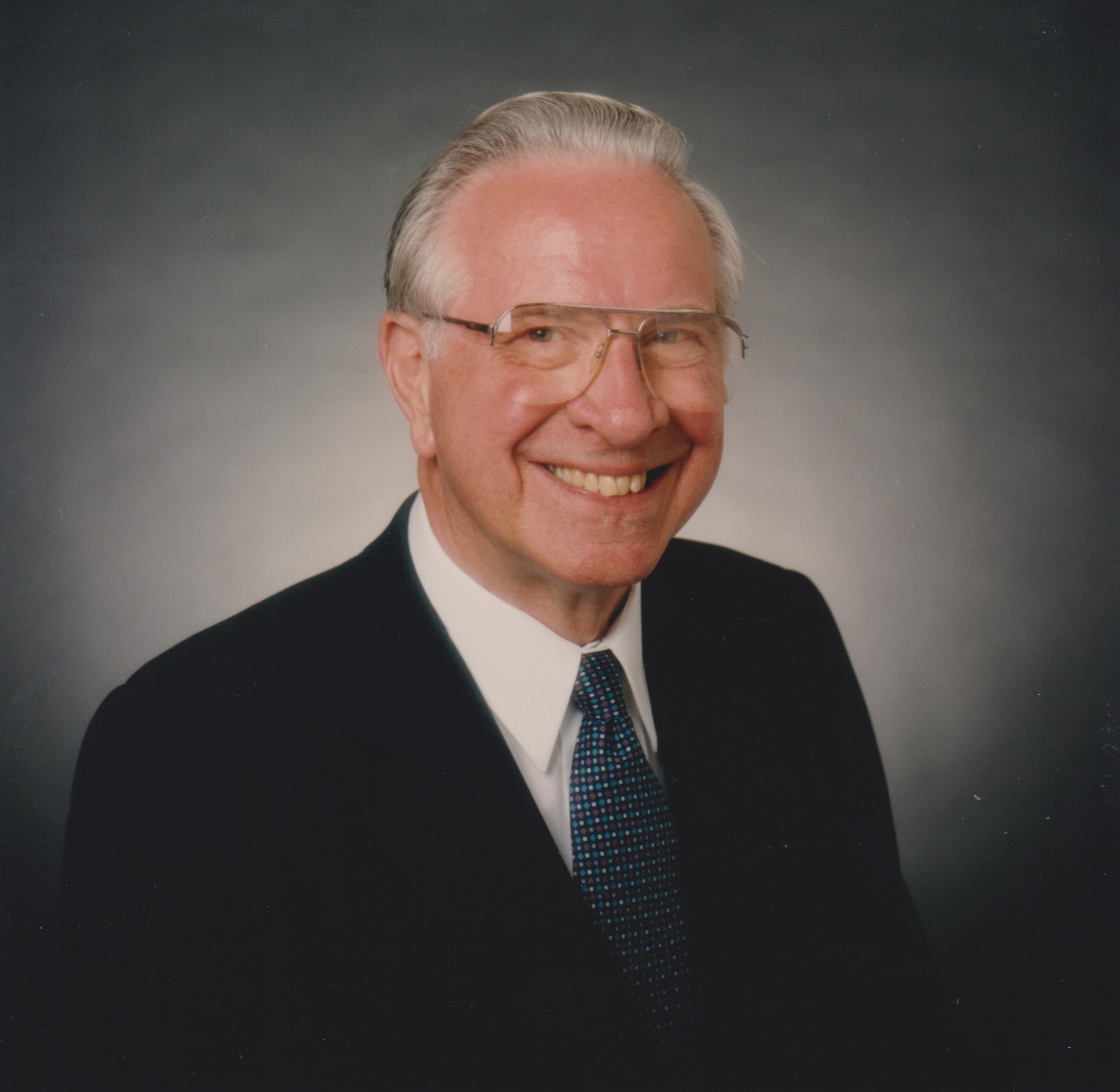 Nelson truly began his life of service in 1945, as a pastor at a church in Lennox, South Dakota, while also serving on the Augustana Board of Regents, and as secretary of the South Dakota Lutheran Synod. That was the beginning of his 64-year continuous career serving as a pastor, which also took him to Flandreau, South Dakota, Europe, St. Paul, Burnsville and Golden Valley, Minnesota. He retired from active ministry on December 31, 2008, at the age of 88. His wife, Deloris, passed away in 2013, but Nelson says she lives on through the verses she marked in their Bible.
Nelson says at the facility where he now resides, he still makes his own breakfast and lunch, and they provide dinner. He works out with light weights and resistance bands and still has the ability to touch his toes; he only uses a walker when he goes outside, mainly at the request of his family. Remember, that Augustana motto? It's still his own; he's still serving others.
"I've had a couple of funerals. I've had a wedding. I've done some Advent lessons and lessons for Lent," said Nelson. "It doesn't stop. Now, I'm in "transition," so I've used vocation as other ways to reach out to people. I just love people and try to keep in correspondence. I send cards, put out religious materials and I'm still giving as much as I can."
With the ongoing pandemic, Nelson watches services on his laptop, sends emails to friends and family and has a printer to send letters — more than 200 Christmas letters will go out this year. He says his largest gift to Augustana is likely spreading the word about the university to others.
Nelson said, "Twenty-six (people) from our immediate family — Deloris' family, my family and their spouses — have gone to Augustana. Every parish I served, I tried to encourage many to consider Augustana and many did."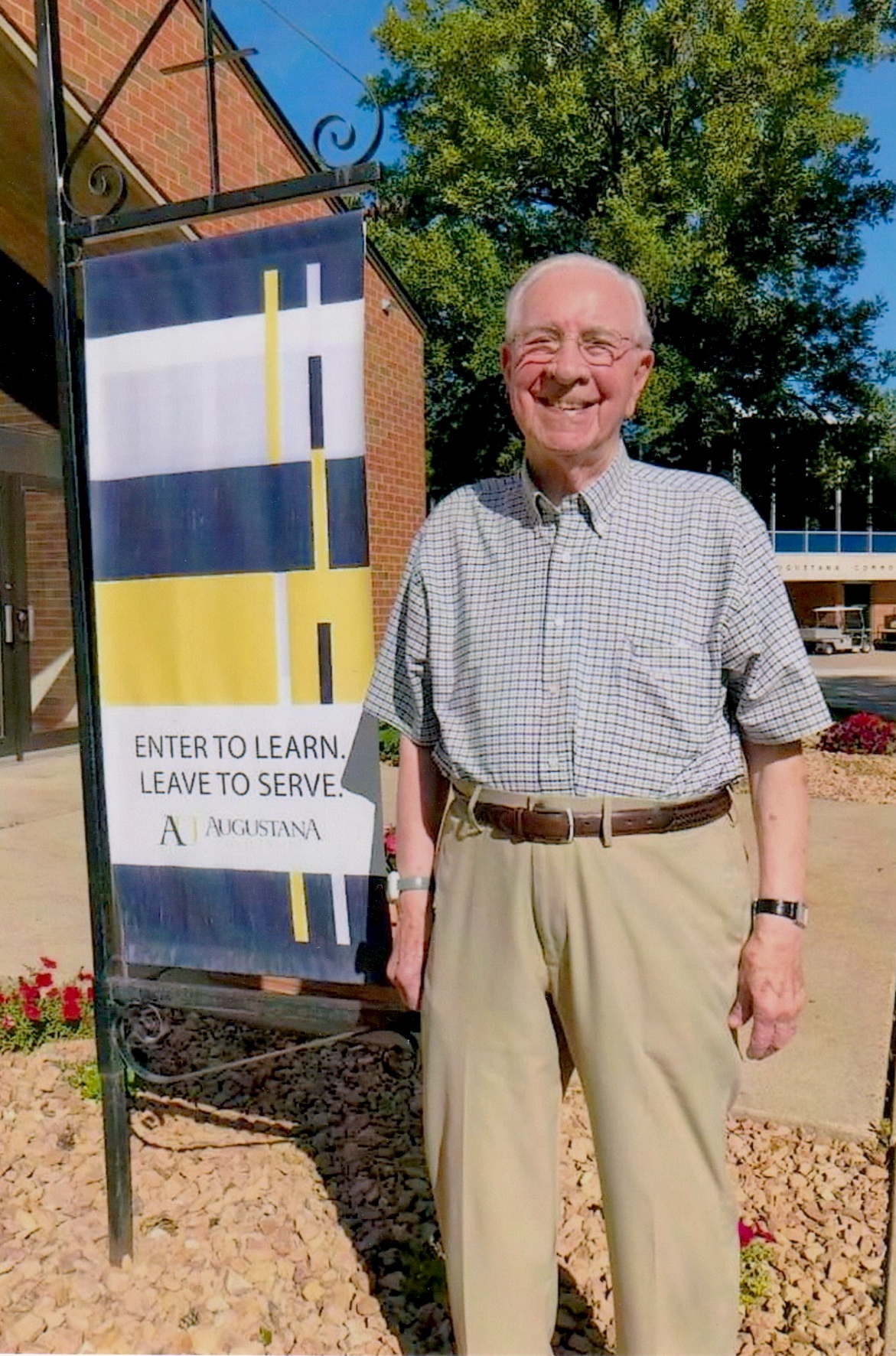 Nelson figures he has convinced around 20 others to attend the college or university throughout his years of service. But he's given back in other ways too — through a scholarship fund for students to attend a Lutheran seminary. He and his wife created the fund 20 years ago and still contributes to this day. He is also responsible for banners on campus, one located outside the Chapel, that reads none other than "Enter to Learn, Leave to Serve."
As for his big birthday, he says the word has gotten out. "Last year, we had a little party here. My daughter made a birthday cake and decorated it up and sang some fun songs. This year, I don't think we will have anything at all because everything is closed up and I wouldn't want people to expose themselves to the virus, but just getting these letters — my celebration is getting all these warm rememberances from friends and parishioners. It's a party in my mailbox!"
Nelson has received more than 200 cards and joked with us that with all the letters, he had better live until the 22nd, and that he also had "better keep going because he has more work to do."
"To get a phone call from Augustana encourages me to do even better. If I ever get a chance, I will come back and walk the sacred halls of the place called Augustana," said Nelson.
And we will be right here waiting for you, Richard, with open arms.
---
Media Inquiries: Contact Jill Wilson, public relations and communications strategist.