Retirement Spotlight: Jim Bies
Meet Jim Bies, retiring vice president of Student Affairs and former dean of students. He says it was fate that brought him to Augustana 33 years ago.
Q: Where are you originally from and where did you get your education?
A: I'm originally from Northfield, Minnesota. My father was on the faculty and coached track and cross country at St. Olaf [located in Northfield, Minnesota] and, quite ironically, our house was on the edge of the campus across the street from St. Olaf's dean of student's house. So, for the last 50 years, since 1969, I've always lived and worked on a college campus. I received my bachelor's degree from Luther College [in Decorah, Iowa] and earned my master's in counseling at Pacific Lutheran University in Tacoma, Washington. My doctorate is from the University of South Dakota. I would be remiss if I didn't identify a few of my early positions as significant to my educational path. At Luther I was given the opportunity to direct their Upward Bound program [federally funded TRIO program] and after completing grad school, I returned to Northfield, Minnesota, as the dean of men at St. Olaf.
Q: Why did you choose Augustana as your professional home?
A: I always joke that Augustana was the best job I never applied for! It was a completely unexpected surprise. My wife, Susan, and I were working at Rocky Mountain College in Montana at the time. The 1986 academic year had just ended and I was on fly fishing trip with a few colleagues from the college. One evening when we checked into our motel on the outskirts of Helena, Montana, I had an urgent message from my wife. Augustana had called and wanted me to take a look at their dean of students opening. I cut my fishing trip short and two days later I was on a plane to Sioux Falls. Within a few short weeks, we moved back 'home' to the Midwest and went back to work for another Lutheran college. Thirty-three years later, I'm still here!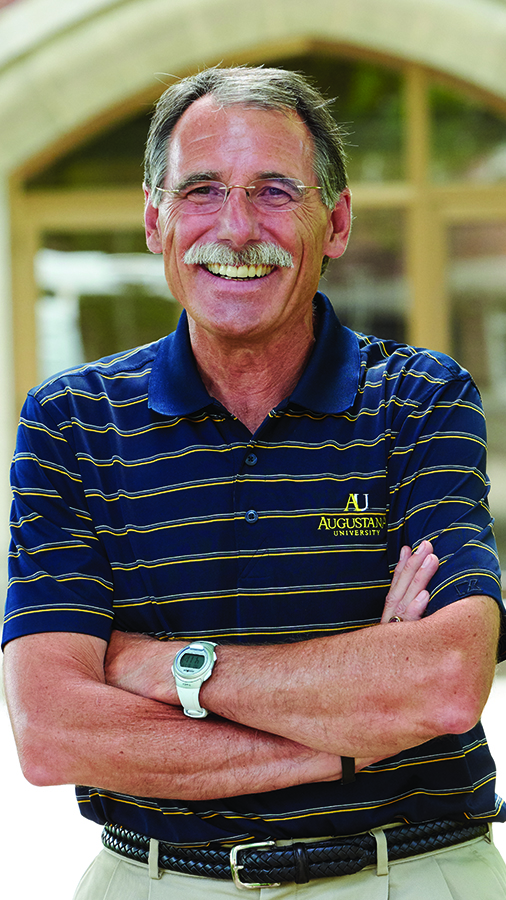 Q: Describe your time here at Augustana.
A: I held the position of vice president for student affairs and dean of students for over three decades. When I decided to step away last year, [President] Stephanie asked if I'd stay on part time to help with the transition as well as to assist with other projects. What a wonderful way to ease into the next phase of my life. I will forever be grateful to my friends, colleagues and students over these many years. My time at Augie has always been more of a calling than a job and I have so much pride for this university!
Q: What's the best part about your job?
A: Having a position at a special place where personal values align with the institution's culture has been a key to my work satisfaction. When one's values come together with a college's collective values as they did for me, it's magic and I'd do it all over again. I've had the time of my life serving as Augustana's dean of students!
Q: What are your plans for retirement?
A: I'm going to take time for family. I want to spend more time with my two sons and their families [two special grandkids] and my golden retriever, Cabo. I plan on many more fly fishing trips and I will also keep busy volunteering in the community. For years, I've enjoyed my connection with Augie's track & field and cross country programs. Head coach Tracy Hellman has generously welcomed me to travel with his teams and now I'm enjoying serving as one of his volunteer assistant coaches. But I'm not going too far away! I want to stay active in higher education and hopefully you'll still see my face around campus from time to time.
Q: Any advice you want to leave with us?
A: This is a special place that can only be truly understood by immersing yourself in the culture that is truly unique to Augustana. Make it a priority to regularly wander the campus; visit offices outside of your daily routine, attend chapel services, and eat in the dining room with students. Get that face-to-face communication going. No matter the location you end up visiting, you'll encounter something that will help you do your own job better.