Senior Spotlight: Leah Blom
Get to know Leah Blom and find out why this soon-to-be-alumnus loves Augustana University so much. 
Q: Where are you from?
A: I am from Pipestone, Minnesota.
Q: What's your major?
A: I am majoring in Communications Studies/Business, Journalism and Spanish.
Q: Why did you choose Augie?
A: I was really uncertain in my senior year of high school. I have a love for learning, and knew I wanted to continue my education but I wasn't sure where or how. Augustana has such an excellent reputation not only in the Sioux Falls area, but also throughout the upper Midwest. Augustana was a place I knew I would be challenged academically, receive the guidance that I needed, and lots of opportunities to be engaged in a Christian community. The best part was that I get to enjoy all of those things in a growing city with tons of opportunities, that is still pretty close to home for me.
Q: What are you going to remember most about your time here?
A: I'm going to remember the friends I made here. There's so many ways that you can make great friends–– and diverse friends–– at Augustana. Through different activities and events, it's so fun to make friends with people from different places with different majors, who you just connect with. The friends I've made here are some of the best I've ever had, and I think they'll be my friends for the rest of my life.
Q: Plans after graduation?
A: This summer I am interning as a social media strategist with the Sioux Falls Development Foundation, which works to promote economic development in the Sioux Falls area. After that, I'm hoping to find a job in marketing or advertising in Sioux Falls.
Q: Advice for students?
A: Get involved! There are so many opportunities to learn in the classroom, but I would say there's just as much to be learned outside of it. Join clubs, be a leader, be passionate about what you want to do with what you learn here at Augustana. I've made lots of great memories and learned so many life skills through my extracurricular activities at Augie, and it's also given me a lot of opportunities for my future too.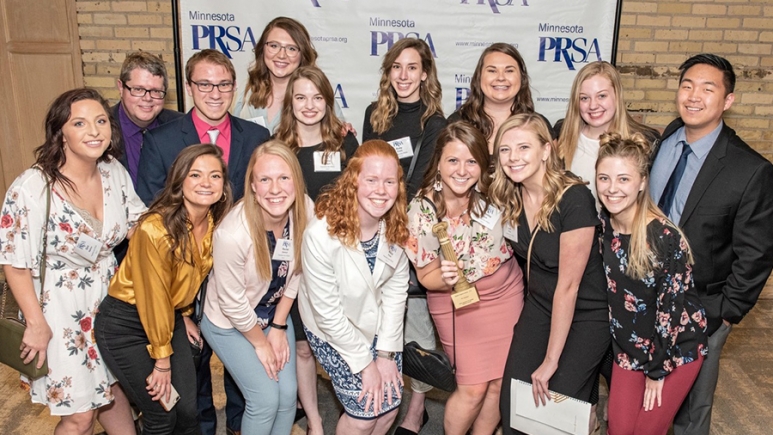 The Augustana University members of PRSSA pose after the Minnesota PRSA Classics Awards ceremony in Minneapolis, held on May 4, 2019. 
Q: Anything else you want people to know about you/Augie?
A: All schools have hype about how great they are, but at Augustana, all of that is REAL! If you're on the fence, pick Augie! You will have a great experience with wonderful professors, great friendships, all in a great city with plentiful opportunities.