Vikings Compete in Prestigious Global Challenge
Augustana University announced that a team of students competed for the prestigious Hult Prize, an international competition that invites college students to develop solutions for the world's most pressing issues. In partnership with the United Nations, The Hult Prize hosts annual events at universities around the world in search of the next game-changing start-up idea. The winning team is awarded a $1 million prize to implement their idea. More than 200,000 student teams applied to compete for this year's challenge to create 10,000 meaningful jobs for young people over the next decade.
This was the first year Augustana entered into this global challenge, which began with an on-campus round that featured five teams of 3-4 students competing to determine who would advance to the regional round in San Francisco. The prize-winning idea was Yetu — a virtual mall environment that aims to create employment by building a new generation of entrepreneurs in developing countries. Leveraging the high amount of mobile Internet penetration and mobile transactions, their objectives focused on bringing e-commerce to new businesses and enabling them to scale.
Augustana senior Hatem Khalfaoui '19, who had competed for the Hult Prize while studying in his home country of Tunisia, was the inspiration behind bringing the competition to Sioux Falls. While Yetu did not advance, Khalfaoui was encouraged by the participation and support of all involved. "I believe the first edition of the Hult Prize at Augustana was a success. The support from the Sioux Falls professional community was extraordinary, and the contributions of business leaders from companies such as Midco, Zeal Center for Entrepreneurship, Sioux Falls Chamber of Commerce, and Northwestern Mutual was immense in starting this initiative on our campus. The Augustana faculty and staff, especially at the Success Center, were very supportive as well. With the infrastructure now in place, I am confident the entrepreneurial spirit at Augustana will continue to inspire students to compete for years to come, and to think with a global perspective, confident their ideas can change the world."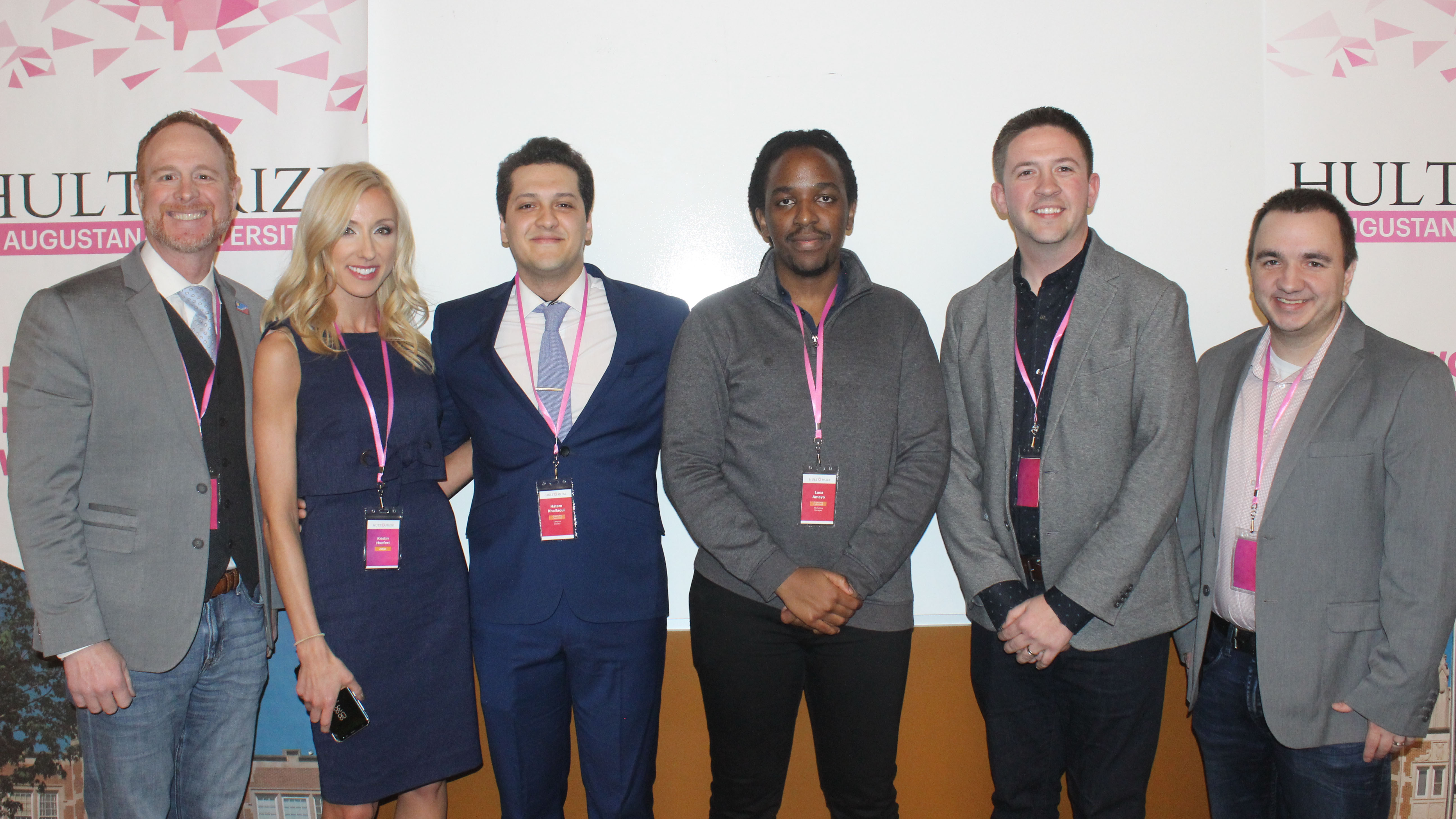 (Left to right) Jason Ball, Sioux Falls Chamber of Commerce (judge); Kristin Hoefert Redlinger, Northwestern Mutal (judge); Hatem Khalfaoui '19; Luca Amayo '19; Ben Dold, Midco (judge); and Matt Paulson, Entrepreneur (judge).
---
Katie LeBrun
Public Relations and Communications Strategist
605.274.5526