Parking Permits
Parking Permits
All parking on campus is by permit only, with the exception of a few visitor spaces.  Students who wish to park a vehicle on campus must purchase a current year parking permit. To request a parking permit you may go online through your student portal starting July 1st. Permits are distributed on a seniority and first-come, first-serve basis for all students. Dates and deadlines are located on your student portal. We have transitioned to the FCFS basis to make our fall transition more efficient for less parking and billing confusion. When registering your vehicle for a parking permit the following information is required: license plate #, state, make, model, color and year.  After August 29th all parking permit inquiries must go through the Department of Campus Safety.
Each student has the option of requesting a permit for the parking area designated for their housing placement (residence hall, theme house, apt.) or for the Elmen Center parking lot.  Unfortunately, there is not enough parking for every student to park in the area designated for their housing placement.  With with the Elmen Center student parking area we can accommodate many, if not all, who wish to park their vehicle on campus. Regrettably we cannot guarantee a parking space.  Students who DO NOT purchase a current year permit are not allowed to park on campus at any time.  They will need to find off-campus parking on the surrounding city streets where signs allow.
Student parking permits are valid only during the academic year (September to May).  No permit is required during summer months (June, July and August).  Such areas as fire lanes, delivery areas and overnight parking are enforced all year.
Parking Permit cost for the 2018/2019 academic year: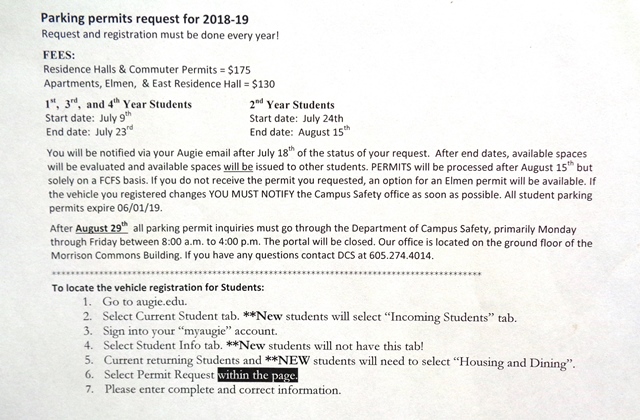 Residence Hall Parking Permit - $175
Commuter Parking Permits - $175
Elmen Center Parking  Permit- $130
Apartment Parking Permit - $130
East Hall Parking Permit - $130
Parking permits can be returned during the academic year.  The actual permit must be returned to receive a prorated refund applied to your student account. A waiting list is maintained for students wanting a permit during the academic year for their designated housing placement area.  Permits are sold throughout the academic year at a prorated cost upon availability.
Other parking permit information:
Theme House parking permits are now included in the resident housing contract. This does not mean you will automatically receive a parking permit. YOU WILL STILL NEED TO REQUEST a permit on-line during the time available. If it is after the on-line registration time then you will need to come into the Campus Safety Office to fill out a vehicle registration form to request a permit.
The parking permit has an adhesive back and must be placed on the rear window, upper left—hand corner on the outside of the vehicle.
Temporary permits are available for short—term use at the Campus Safety Office. This is ONLY for current year permit holders and visiting speakers or professors. Complete Vehicle information must be provided.
While parking permits are required, they do not guarantee a place to park.
In the event that a vehicle must be left on campus (unusual circumstances) call Campus Safety, 605.274.4014, for assistance and direction.
Permits reported as lost or stolen will be kept on record by Campus Safety. Vehicles displaying a permit reported as lost or stolen will be towed at the vehicle owners expense.
Faculty and Staff Parking Permits
Faculty and staff must also register their vehicles to park on campus.  Faculty/Staff parking permits are issued at no cost. An Augustana University Faculty/Staff ID card is required.  Faculty/Staff parking permits can be issued by registering your vehicle on your S/F myaugie portal or by stopping in the Department of Campus Safety office and completing a vehicle registration form.