Photo Contest
The International Programs Office Photo Contest is happy to announce the 2014 Photo Contest Winners!  Stop by the Commons Concourse to see the prizes awarded.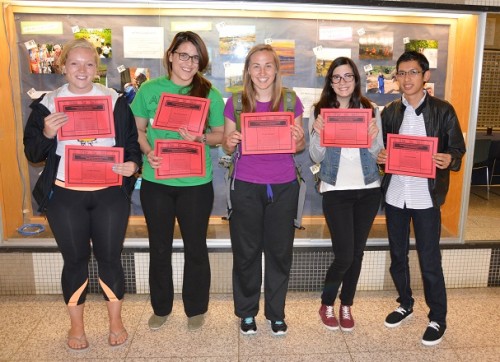 Photos can be entered in the following categories.
FOR STUDY OUTSIDE THE US
My Experience Abroad — any picture abroad with you in it!
Local Culture — photos that capture locally characteristic phenomena, scenes and people.
Send Me There! — pictures that showcase the scenery and landscape and inspire others to want to go there.
Faculty Abroad — photos of Augustana professor(s) abroad.
FOR STUDY IN THE US
Snapshot of America — pictures of the American experience as seen by Augustana international students.
Here's what you need to know:
Visit the Augustana International Programs Office Facebook page and upload photos to the wall and vote.
Upload photos from any study abroad experience you participated in from Summer 2013 on.  
L

imit of two photos per category per person for STUDY OUTSIDE THE US categories and five photos per person for STUDY IN THE US (Snapshot of America).

Deadline for entry is April 17th, 2014!
Each entry must have a description attached in order to be considered.  The description should include:
Your Name:
Major:
Study Abroad term (Spring Break 2013, etc):
Location of photo:
Title OR Brief description of photo (50 words or less):
Category:
To enter the contest, pictures and descriptions should be posted on Facebook before 3 p.m. on April 17th, 2014. 
Each entry will be scored by the number of  "likes" the photo gets on Facebook.  You can "like" as many pictures as you want, and get your 1000 Facebook friends to like the picture as well! The earlier you submit your photos, the more time your friends have to "like" them, so start uploading today!
The top ten photos in each category will be displayed in the Commons Concourse beginning on April 30.  Students and faculty will cast votes until May 2nd to determine the top 3 prizes in each category. You will be contacted for a larger format  photo, so don't delete the pictures you enter!
Winners will be announced at a reception on May 7th (time to be announced).
$30, $25 and $15 prizes will be awarded in each category.  An additional $50 will be awarded to the People's Choice photo (photo with the most votes overall).
---