Rotating Historical Exhibits at CWS
The Center has several display cases throughout the galleries that exhibit materials on a variety of changing themes. The current exhibits are:
Where Are We?: Defining the Region in Which We Live
Writers have used various terms to identify the central region of the United States, including "Great American Desert," "Middle Border," "Siouxland," "flyover country," and more recently "the big empty" and "the lost region." In conjunction with our upcoming Dakota Conference on regional identity, this exhibit explores the origins and definitions of these terms. The difficulties inherent in defining these regions are demonstrated with maps. Visitors are asked to consider what geographical and demographic characteristics serve to identify each region, if these characteristics are changing, and whether these distinctions and labels make sense today.
Honoring the Service of South Dakotans in World War I
On April 6, 1917, the United States declared war on Germany, formally entering a conflict which had already raged in Europe for almost three years. By the time the war ended in November of 1918, around 30,000 South Dakotans had served as soldiers and sailors. The documents and artifacts on display are various expressions of gratitude to South Dakota's doughboys and sailors who served during World War I. Many of the materials are donations to the CWS research collections.
Leaving for War?: Mobilization of the 147th Field Artillery in World War II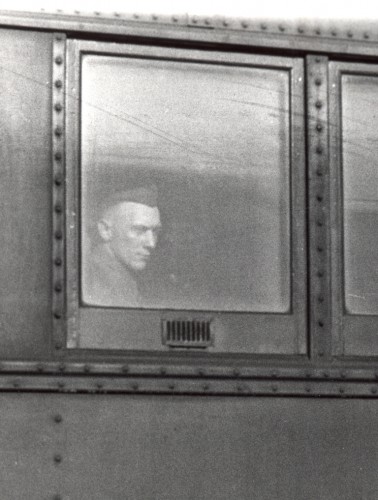 Glenn Soladay was one of 2,263 members of the South Dakota National Guard to serve as Army officers and soldiers during World War II. This exhibit features images of his unit, B Battery of the 147th Field Artillery Regiment, leaving Mitchell, SD, and traveling to Fort Ord, CA, in 1940 for what was to be a year of training. Years later, the soldiers returned home, having fought overseas in Australia, New Guinea, and the Philippines. The images were only recently discovered as undeveloped negatives in Soladay's footlocker in 2008. They are now part of the Glenn E. "Doc" Soladay Collection donated by Elizabeth Soladay to the CWS archives.
The South Dakota Ornithologists' Union
Founded in 1949, the South Dakota Ornithologists' Union (SDOU) works to promote the study of ornithology and, more specifically, the study of bird life in South Dakota. A leading authority on the subject, the SDOU strives for systematic reporting and recording of species presence and distribution in the state. This exhibit demonstrates the birding SDOU members do in the field and highlights the various public benefits that arise from their efforts. The materials are from SDOU's official organization records which are archived at CWS and available for public research.
There are exhibits on permanent themes in addition to those listed above.