The Augustana Northlanders Jazz Band, along with bands from the four-state area high school and middle schools, will perform during the 47th annual Jazz on the Upper Great Plains Festival, set for Feb. 28 - March 1, 2022, in Augustana's Hamre Recital Hall.
This year's participant schedule is now available.
For further information about the festival, email Dr. Brian Hanegan, Augustana professor of jazz studies, or call 605.274.5458.
This year's featured performer and clinician is Adam Larson!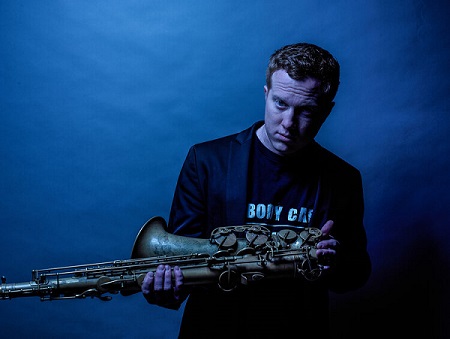 Adam Larson (b. 1990) is an American saxophonist, composer, educator and author currently residing in the Kansas City area. Larson teaches music business, jazz pedagogy and applied jazz saxophone lessons at UMKC Conservatory, where he has been on faculty since 2019. Larson holds bachelor and master's degrees in jazz performance from The Manhattan School of Music, and was a part of the vibrant NYC jazz scene for 11 years before relocating in 2019. 
Larson continues to perform in NYC with some of the greatest musicians in the genre. As a guest artist, Larson has been invited to present masterclasses on music business, improvisation and composition at more than 50 universities across the globe. Larson has recorded five albums and maintains an active, year-round touring schedule playing his original music.
Larson has authored 12 jazz etude books that have been sold in over 45 countries and states. He has created and released a successful online masterclass dedicated exclusively to developing great technique, called "Lighting-Fast and Crystal-Clean." He maintains an impressive portfolio of commissioned ensemble writing for school jazz ensembles, having written more than 30 original works to date. Larson was commissioned by the Illinois Music Educators Association to compose the all-state composition for the 2020 convention.
With a vested interest in giving back, Larson has also worked in various capacities with organizations that showcase exceptional young talent in the United States. He has served as a mentor for the Grammy Foundation and an adjudicator for the YoungArts organization. Serving in the role of creative director of the YoungArts New York regional show, Larson has presented multiple genre-bending, interdisciplinary performances held at the Baryshnikov Arts Center in New York City. Larson currently resides in Kansas City with his beautiful wife, Tierney, and sons, Jack and Clark.