Voices of the Northern Plains

The Fantle/Froiland/Elmen Galleries
Through "Voices of the Northern Plains," a dramatic re-visioning of the core museum exhibits in the Center for Western Studies, visitors travel across 300 years of life in the Northern Plains (1700-2000)...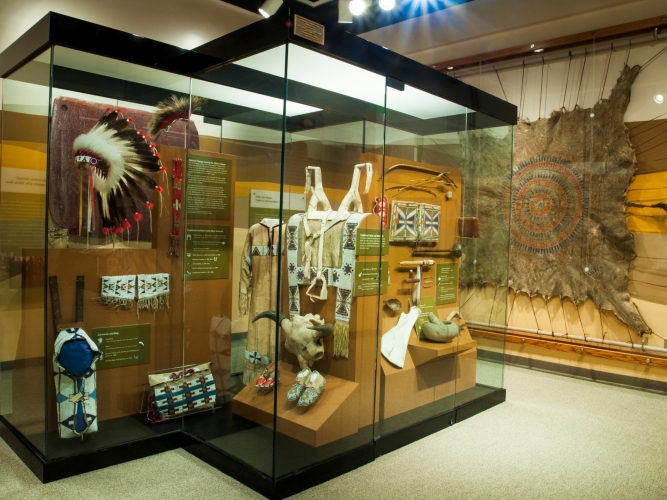 from the Oneota village at Blood Run near the Big Sioux River
        to the Corps of Discovery's encounter with the Sioux along the Missouri River...
from the Dakota and Lakota adaptation of Euro-American technology during the period of Plains Indian dominance
        to resistance by Red Cloud and Crazy Horse
during the Plains Indian Wars...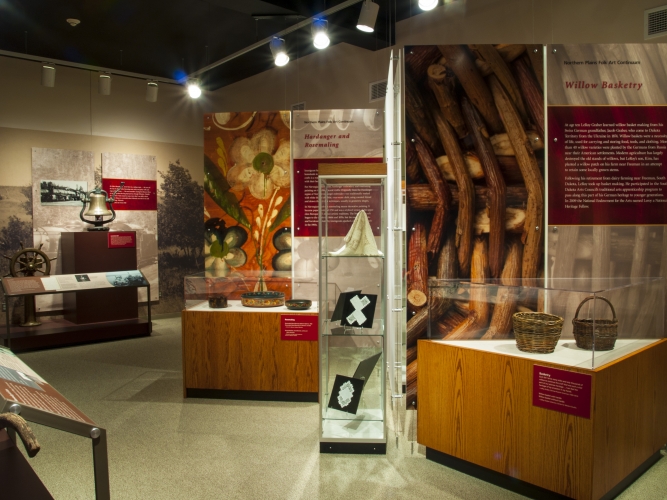 from the arrival of early missionaries Stephen Riggs, Lillie Hays, and William Cleveland who recorded their adventures in letters—and the coming of homesteaders who left behind the plow that broke the sod in eastern Dakota and the immigrant chest found in a barn near the Wyoming border—
        to the imaginative re-creation of the frontier
era in the novels of Willa Cather, O.E. Rölvaag,
Herbert Krause, and Frederick Manfred...
from the persistence of indigenous culture in the reinterpreted art forms of quillwork, beadwork, and parfleche, the eagle headdress by Joe Flying Bye, and the words of Oglala Lakota activist Vine Deloria, Jr....
        to the enduring immigrant values seen in the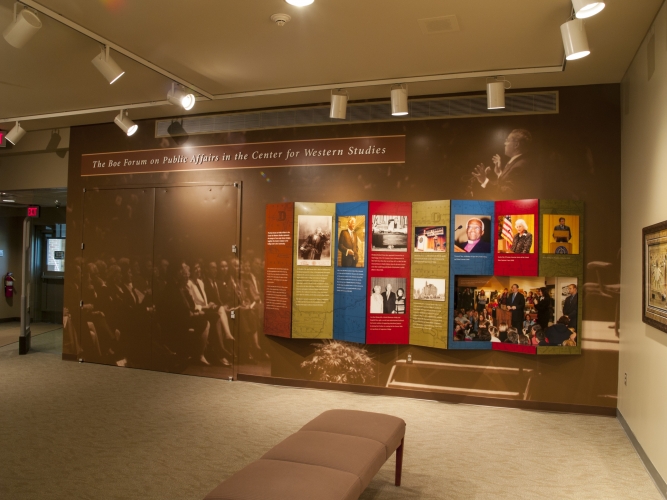 folk art of Germans-from-Russia basket weaving
(LeRoy Graber), English woodcarving (Jim Savage),
and Norwegian quilting (Betty Johnson), embroidery (Mavis Amundson and Glenn Johnson), rosemaling (Roberta Rylance and B. Johnson), and marquetry (Lucien Johnson)...
and evidenced in the commitment to education by the Boe family in offering the Boe Forum on Public Affairs to the people of the Northern Plains.
Watch Executive Director Harry F. Thompson's guided tour of "Voices of the Northern Plains"
for C-SPAN's American History TV, below.
---
The Augustana Academy Research Room

Even our archival research area features an exhibit! Visit this room on the second floor where nine interpretive panels tell the history of Augustana Academy. The Academy functioned from 1860-1971 and moved west with the college until being permanently established in Canton, SD. Famous graduates include Ole E. Rölvaag, South Dakota Governors Archie M. Gubbrud and Sigurd Anderson, and Mary (Harum) Hart. Additional Academy material is preserved in the CWS archives.