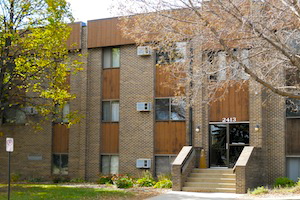 Costello Hall is a three story apartment facility located at the corner of 33rd and Grange Avenue, in the southwest corner of the Augustana University campus. The complex has 23 tenant units, seven of which are two bedroom units. Included in each apartment are a living room, kitchen (stove and refrigerator), bathroom, adequate closet space, and air-conditioning.  The building has laundry facilities on every floor and off-street parking.
Adult learner housing offers married couples, students with children and other adult learners on-campus apartments at a very reasonable rate. Students must be enrolled full-time and must reside together with their spouse and/or child. Pets are not permitted. 
Rent is billed directly to student accounts on a semesterly basis. Monthly payment plans are possible, but must be arranged through the Business Office. Rent includes internet connectivity, electricity, heat, water, and trash/recycling pick-up. Cable television is available for an additional cost. Residents of Costello Hall who park the car on university property must purchase a parking permit.
For information regarding current Costello Hall rates, please contact the Center for Campus Life.
Apartment Furniture
The following furniture is provided in each apartment. 
Twin XL bed in each bedroom
Dresser in each bedroom
Desk and desk chair in each bedroom
Couches
Coffee and/or end tables
Kitchen table and chairs
Each apartment kitchen includes a full-size refrigerator and stove. All university furniture must remain in the apartment.
What to Bring
Apartment living is more independent than living in the residence halls, so students should remember to pack the following items:
Dishware and cookware
Toaster
Microwave
Cleaning supplies
Vacuum
Plunger
Shower curtain
Toilet paper