Pictured: Kent Kapplinger, GFYS Screen Print, 2010, 22" x 18"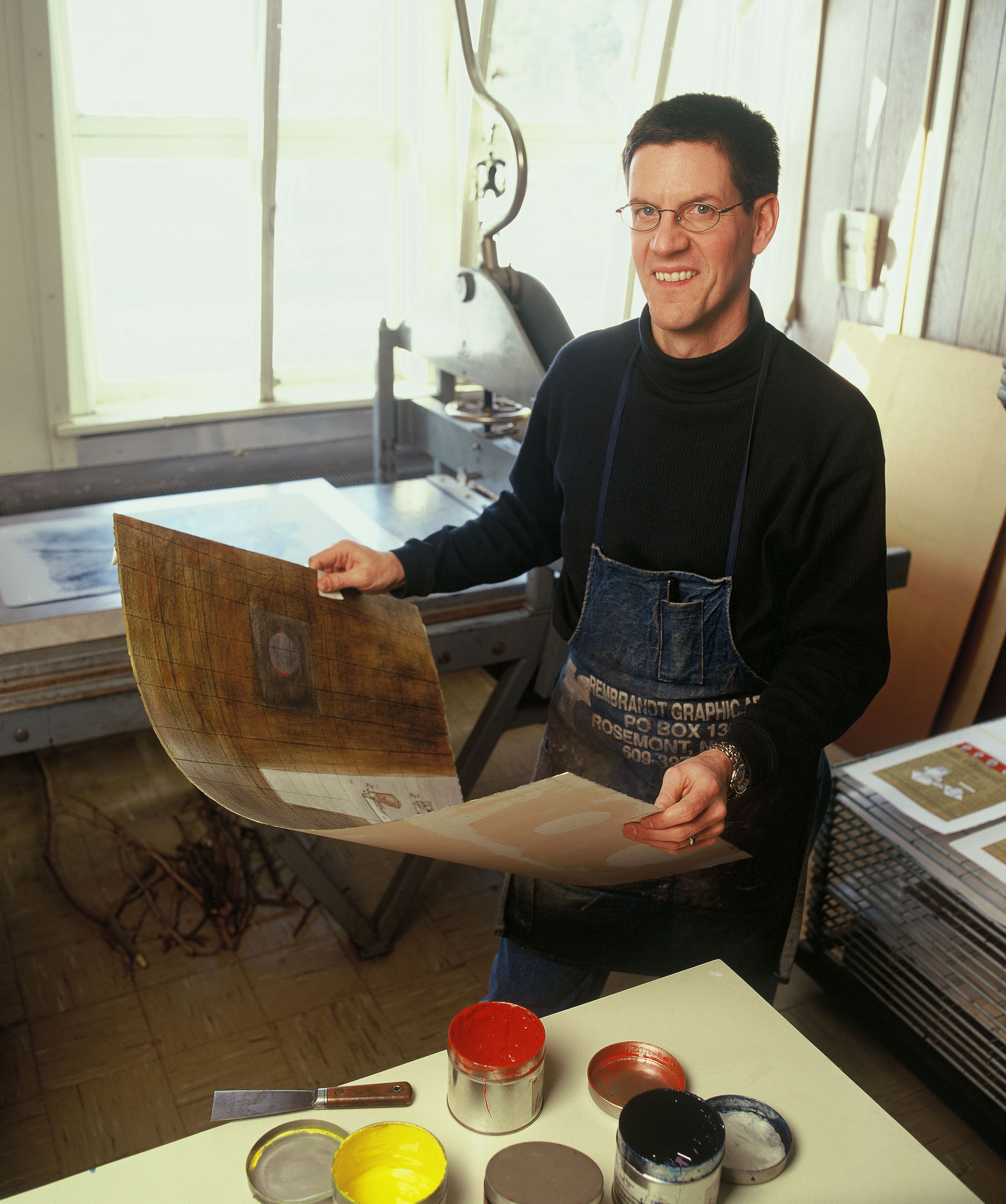 Kent Kapplinger '77 is a printmaker, professor, farmer, and, now, Augustana's Viking Days featured artist. Kapplinger's exhibit, "A Quiet Voice Heard: Retrospective of Kent Kapplinger," will be displayed in the Eide/Dalrymple Gallery during Viking Days 2021 — on view from Wednesday, Oct. 6, through Saturday, Nov. 6. A homecoming gallery reception will take place on Thursday, Oct. 7, from 7-9 p.m., with the artist talk beginning at 7:30 p.m. 
"The Eide/Dalrymple Gallery has the tradition of honoring alumni artists with significant solo shows during the month when Viking Days falls," Professor of Art Dr. Lindsay Twa said. "This year, we selected Kent Kapplinger, who is a masterful printmaker. We are honoring him with a retrospective, a selection of a lifetime of works.
"This is also in celebration of his recent retirement after nearly 30 years of teaching at North Dakota State University."
"It's an amazing honor," Kapplinger said. "It really is — plain and simple. Hopefully, because of this, more people will get a chance to see my work, and that's a really important thing for me."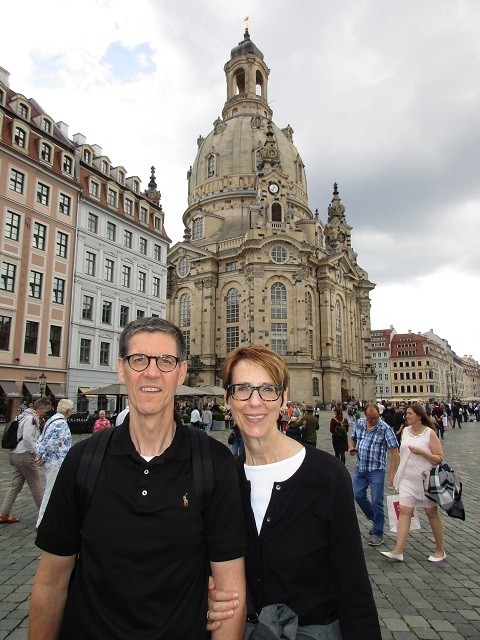 The gallery will feature around 40 pieces of art, dating back to 1989, and will include printmaking pieces and mixed media — charcoal, colored pencils, image transfer and shellac. Kapplinger described the exhibit as a battle between human and nature, how that battle has evolved and how it will impact future generations. 
"I think, as you're looking at the show, you'll wonder, in some ways, 'Was it done by the same artist?'" said Kapplinger. "So, just go in with an open mind. I've learned over the years that nothing is black and white. There's an enormous amount of gray that you have to grapple with."
Kapplinger's career has almost always revolved around art in one form or another. After graduating from Augustana with a Bachelor of Arts degree, he married Eunice (Weerts) '77, also an Augustana alumna who majored in art and English. 
"Augie revealed a wonderful life partner to me — one who has been so important in this path we've taken," Kapplinger said of his wife. "From critiquing each other's artwork as studio mates at Augie to making each other laugh and smile each day, to our realization that service to others is a richness like no other."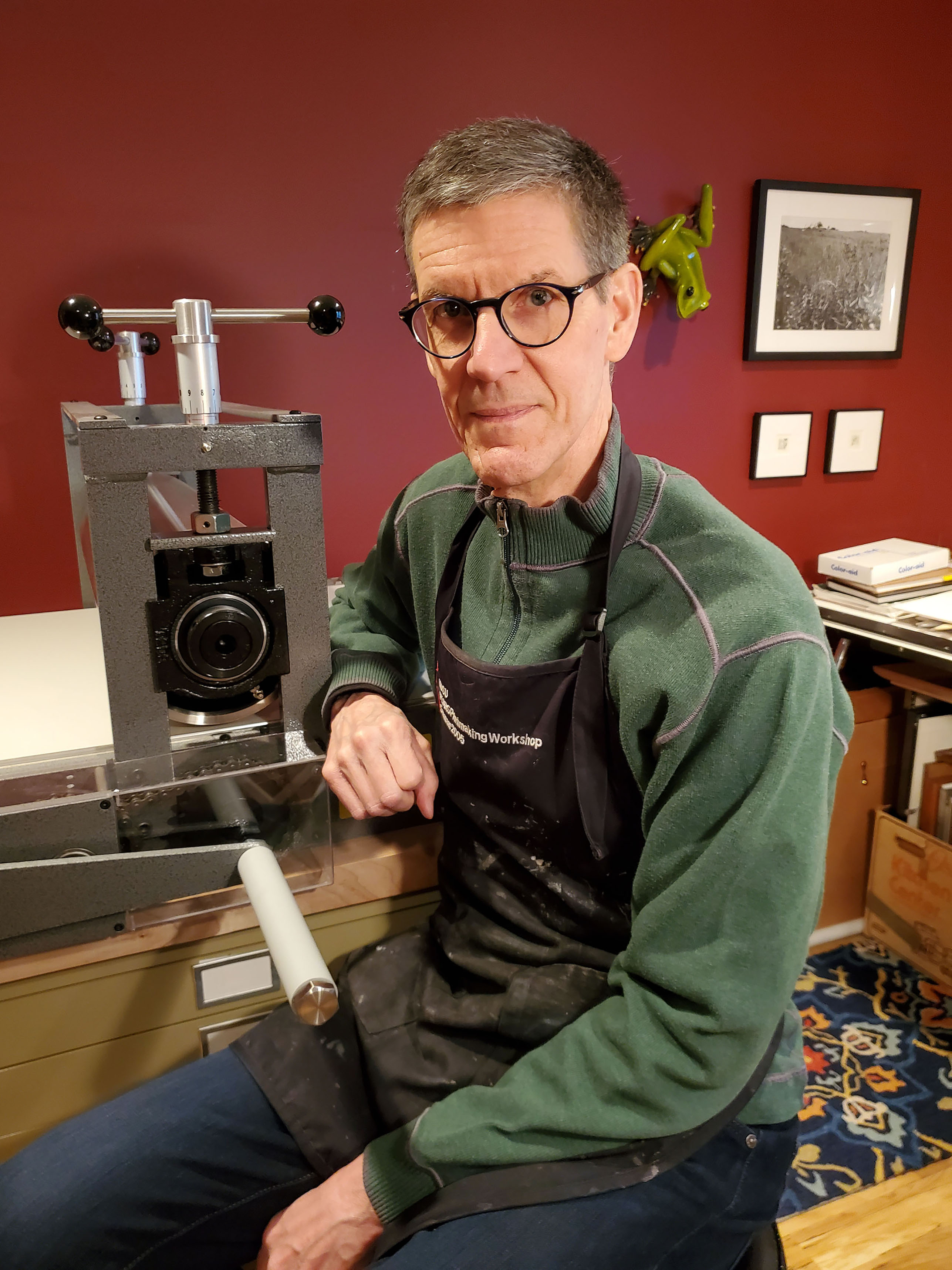 The couple stayed in Sioux Falls after graduating, where Kapplinger worked as a freelance editor for a small tabloid, Prairie Sportsman, setting the copy and laying out pages by hand. He transitioned to a job with ACE Signs, where he projected various sign designs onto paper and perforated around each letter. 
Kapplinger then made a significant career change and moved back to his hometown of Kiester, Minnesota, and farmed with his brother and brother-in-law. After his farming days came to a close, Kapplinger followed his wife to Mankato, Minnesota, where he was employed at Signs by George and started graduate courses at Minnesota State University, Mankato. He then followed his wife, a professor of interior design, to the University of Northern Iowa, where she accepted a teaching position, and he later received a master's degree in printmaking from the University of Iowa. 
"The reason I went was just to learn all I could about lithography," Kapplinger said. "I initially had no intention of teaching, but my experience as a teaching assistant changed my mind."
While tagging along to North Dakota State University (NDSU) with his wife, Kapplinger found himself in a classroom.
"By the time I got there, Minnesota State University Moorhead and NDSU were both looking for adjunct professors," Kapplinger said. "So, I was able to work at those two institutions for a few years teaching the basics — design, drawing and 3D design."
Shortly after arriving at NDSU, Kapplinger held his first solo exhibition in the Eide/Dalrymple Gallery at Augustana.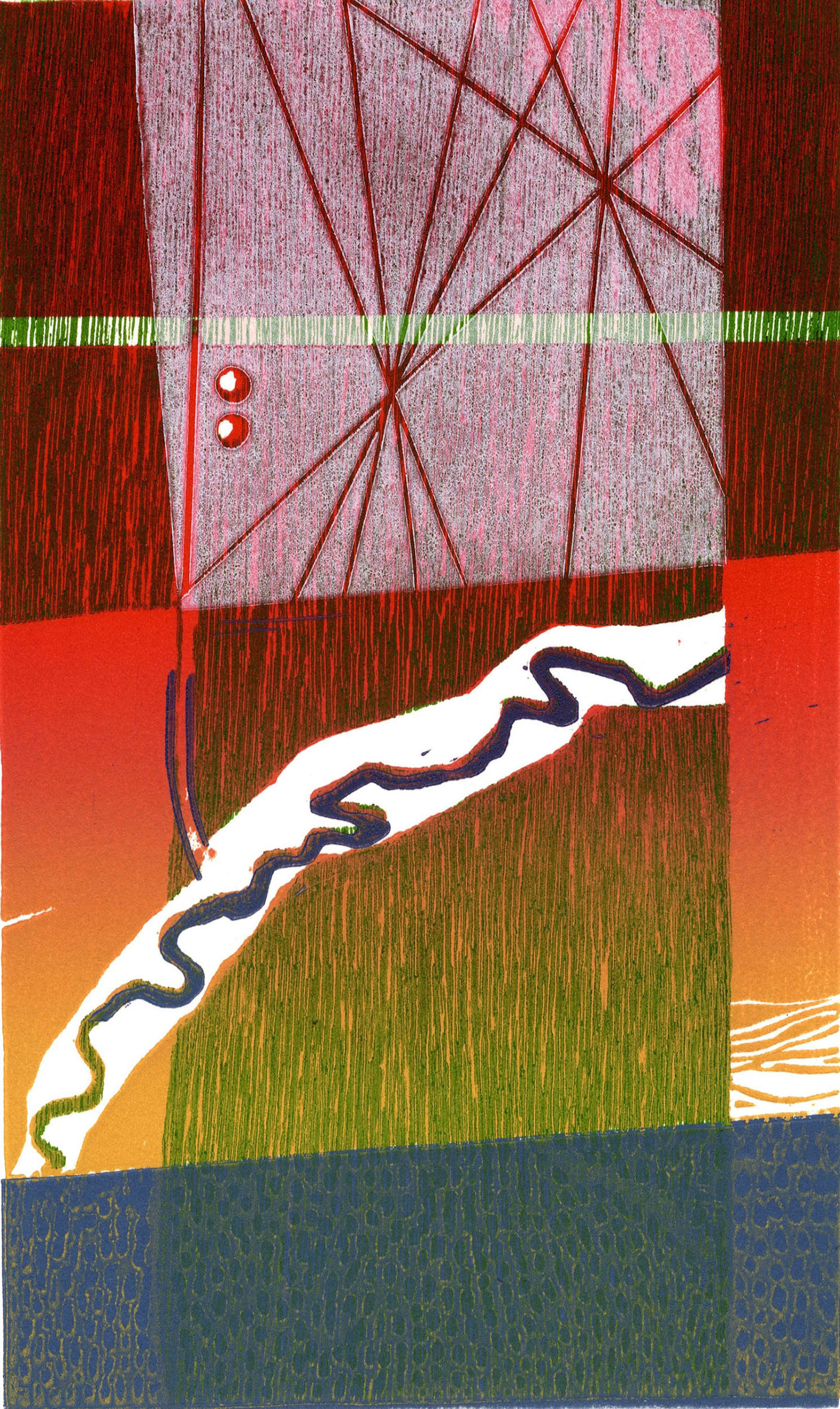 "Augie has been something like a proud parent to me, as they are to all their alumni, by first giving me that solo exhibition years ago," said Kapplinger. "Augie has always been supportive and nurturing, something I've tried to emulate throughout my teaching and community service."
Kapplinger, now a retired emeritus professor, went on to take over the printmaking program at NDSU, and in 1998, founded the department's Printmaking, Education and Research Studio (PEARS), and served as director and master printer. 
But, Kapplinger said his love of printmaking was fostered by the late Augustana Professor Emeritus of Art Carl Grupp. 
"Carl was like a red-haired Santa," Kapplinger laughed. "You know the jolly laugh. He was a caring person, and what impressed me about him was his work ethic. He was always, always in the studio, and, painstakingly, it would take him days to etch a stone. That was really what set off that idea of printmaking for me." 
Kapplinger, who tries to emulate Grupp and his style in his own teaching, said that the students have always been his favorite part of teaching, especially those who are just starting out.
"I always enjoyed teaching beginning classes," Kapplinger said. "Especially printmaking, because they would make mistakes from my perspective, but there are so many times that with their mistakes, they went ahead and did things that led to new discoveries. They've inspired me time and time again, in so many ways."
The Eide/Dalrymple Gallery at Augustana University opens "A Quiet Voice Heard: Retrospective of Kent Kapplinger" which will be on view from Wednesday, Oct. 6, through Saturday, Nov. 6. A homecoming gallery reception will take place on Thursday, Oct. 7, from 7-9 p.m., with the artist talk beginning at 7:30 p.m.
Through select prints and drawings in this exhibition, Kapplinger addresses social and environmental concerns viewed through his rural-based background. The work considers one's place and purpose in the communities we call home. Though the imagery highlights existing tensions, it ultimately seeks a harmonious relationship between humans, nature and constructed environments.
Kent Kapplinger '77 is an emeritus professor of visual arts at North Dakota State University in Fargo where he has taught printmaking, drawing and foundations for nearly 30 years. He earned his Bachelor of Arts degree in art from Augustana University and Master of Fine Arts degree from the University of Iowa in 1992. 
In 1998, Kapplinger founded NDSU's Printmaking, Education and Research Studio (PEARS), where he printed for 30 visiting artists and coordinated numerous print-based workshops. He has been awarded fellowships from the Hungarian Multicultural Center, North Dakota Council on the Arts, The Arts Partnership in Fargo, North Dakota, Woodstock School of Art in New York and Vinalhaven Press in Maine. 
Kapplinger's work has been shown in more than 300 exhibitions and is included in nearly 50 public collections, including the Special Collections Department & Rare Books Room at the University of Colorado, McMaster University at Hamilton in Ontario, Canada, Northern Illinois University Art Museum and Proyecto'ace, Buenos Aires, Argentina. 
More of Kapplinger's artwork can be seen at kentkapplinger.com, and is permanently archived in the Artist Printmaker/Photographer Research Collection at the Museum of Texas Tech University.
About the Eide/Dalrymple Gallery
As a part of Augustana University, the mission of the Eide/Dalrymple Gallery is to contribute to the educational and cultural vitality of the university, the surrounding community and the state of South Dakota. The Eide/Dalrymple Gallery inspires the artists of today and tomorrow, and serves as a resource for teaching and promoting life-long learning through its permanent collection and temporary exhibition program with accompanying artist visits, gallery talks and educational materials. 
The Eide/Dalrymple Gallery is named after pioneering Augustana University art professors Palmer Eide and Ogden Dalrymple. Many of their collaborative works are spread throughout the campus.
The Eide/Dalrymple Gallery is located at 30th Street and Grange Avenue, in the Center for Visual Arts at Augustana University. The gallery is open to the public and free of charge. Gallery hours are Monday through Friday, 10 a.m. - 5 p.m., and Saturday from 1-4 p.m. The gallery is closed Sundays and major holidays. Guests must wear face masks and abide by physical distancing requirements.