November 12, 2021
The Eide/Dalrymple Gallery at Augustana University opens "27 Years: Clay is the Way" Ceramics by Tony Winchester, which will be on view from Friday, Nov. 12, through Friday, Dec. 10. A gallery reception will take place on Wednesday, Dec. 1, from 7-9 p.m., with the artist talk beginning at 7:30 p.m.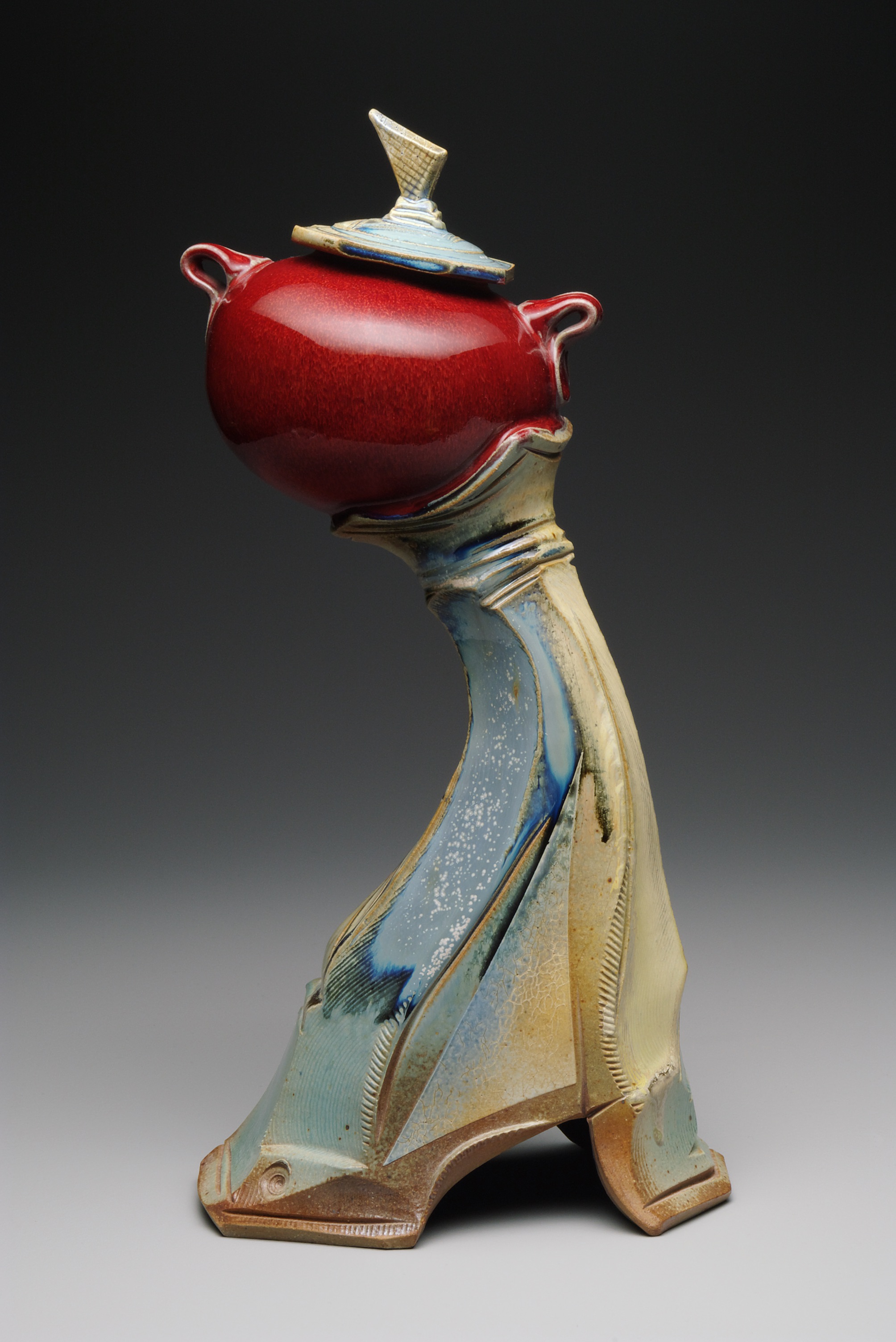 The exhibition is a survey of his last 27 years as a professional studio potter. Winchester's work consists of wheel-thrown, faceted, altered and assembled stoneware forms. He works with cone 10 reduction stoneware and salt-glazed stoneware. Wheel-throwing provides the immediacy of the form in space and potential throughout the process to express gesture, fluidity and arrested motion. Winchester facets the clay and utilizes different colored slips to create depth of surface. His glazing techniques stem back to his beginnings with airbrush. His pieces are liner-glazed and sprayed with a variety of contrasting slips and glazes. He takes advantage of all the elements of design as he searches for rich surfaces, color, contrast and texture, and strives for craftsmanship, refinement and attention to detail.
Winchester received his Bachelor of Fine Arts in 1993 from Bellevue University in Nebraska. He has been an independent studio potter (Winchester Pottery) since that time. He has also been a workshop leader since 1998 at numerous colleges, schools and private organizations .
Dating back to 1996, Winchester has received 36 Awards for his ceramics, primarily in the Midwest. He has participated in more than 20 exhibitions and workshops, and his work has appeared in a half-dozen publications.
About the Eide/Dalrymple Gallery
As a part of Augustana University, the mission of the Eide/Dalrymple Gallery is to contribute to the educational and cultural vitality of the university, the surrounding community and the state of South Dakota. The Eide/Dalrymple Gallery inspires the artists of today and tomorrow, and serves as a resource for teaching and promoting life-long learning through its permanent collection and temporary exhibition program with accompanying artist visits, gallery talks and educational materials. 
The Eide/Dalrymple Gallery is named after pioneering Augustana University art professors Palmer Eide and Ogden Dalrymple. Many of their collaborative works are spread throughout the campus.
The Eide/Dalrymple Gallery is located at 30th Street and Grange Avenue, in the Center for Visual Arts at Augustana University. The gallery is open to the public and free of charge. Gallery hours are Monday through Friday, 10 a.m. - 5 p.m., and Saturday, from 1-4 p.m. The gallery is closed Sundays and major holidays. Guests must wear face masks and abide by physical distancing requirements.