Augustana University is elated to announce it has received a historic $13.8 million gift to help support students who are active and engaged members of Evangelical Lutheran Church in America (ELCA) congregations throughout the Midwest. Thanks to the generous gift from Rosemarie and Dean Buntrock, the university has established the Buntrock Scholars Program.
"Providing young people in the Church with access to an education rooted in faith and strong values is an investment in their future, as well as that of their families, congregations and all communities in which they live and serve. We welcome this partnership with Augustana University, parents and ELCA Synods, bishops and pastors as we work together to support and develop these young leaders," said Dean Buntrock, who grew up in Columbia, South Dakota, and is the founder and former CEO of Waste Management, Inc.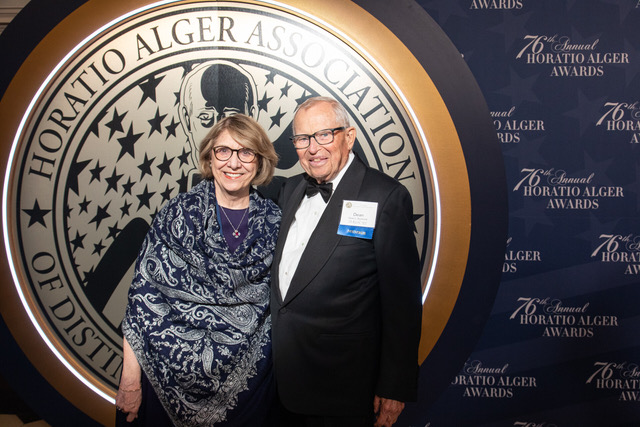 Over the course of the next decade, the Buntrock Scholars Program will benefit a minimum of 30 students beginning in Fall 2024, and as many as 120 students by Fall 2028. The scholarship will cover half the net price of a selected student's attendance at Augustana up to $12,000, and will be renewable for up to an additional three years to help students cover the cost of a 4-year degree.
"Throughout its 163-year history, Augustana University has been blessed with students who enter to learn and leave to serve. In addition to those called to ministry, countless AU alumni are serving as leaders within their congregations. Thanks to Rosemarie and Dean's incredible generosity, more students will have the opportunity to immerse themselves in an education inspired by the Lutheran scholarly tradition and rooted in our core values of Christian, liberal arts, excellence, community and service. As graduates, they will pay this wonderful gift of education forward as they lead and serve within ELCA congregations — fulfilling our shared calling to serve the neighbor so that all may flourish," said Augustana President Stephanie Herseth Sandlin.
The Buntrock Scholarship is a competitive scholarship. Interested students must provide a personal statement on how they plan to be an engaged member in the church before and after graduation, and a letter of recommendation on the students behalf from their senior or youth pastor (or, of congregations with pastoral vacancies, the council president or other elected leaders). Students who receive the Buntrock Scholarship are eligible for additional academic and talent-based scholarships provided by the university.
In May, Augustana announced the Critical Inquiry & Citizenship Colloquium, also funded by the Buntrocks. The colloquium is designed to promote civil discourse and deep reflection with the goal of enhancing students' skills to think critically and communicate persuasively as citizens of a pluralistic society. 
ELCA pastors are invited to learn more about the Buntrock Scholars Program through virtual information sessions to be held on the following dates:
For virtual session links and more information on the Buntrock Scholars Program, visit augie.edu/BuntrockScholarship.