The Eide/Dalrymple Gallery at Augustana University will feature "Drawing Truth to Power: 40 Years of Political Cartoons by Rob Rogers," which will be on view from Nov. 16, through Dec. 14. The artist will present a public lecture on Thursday, Nov. 16, at 4 p.m., in the Fryxell Humanities Center, Room 123. A gallery reception will be held on Friday, Nov. 17, from 7-9 p.m., with an artist talk at 7:30 p.m.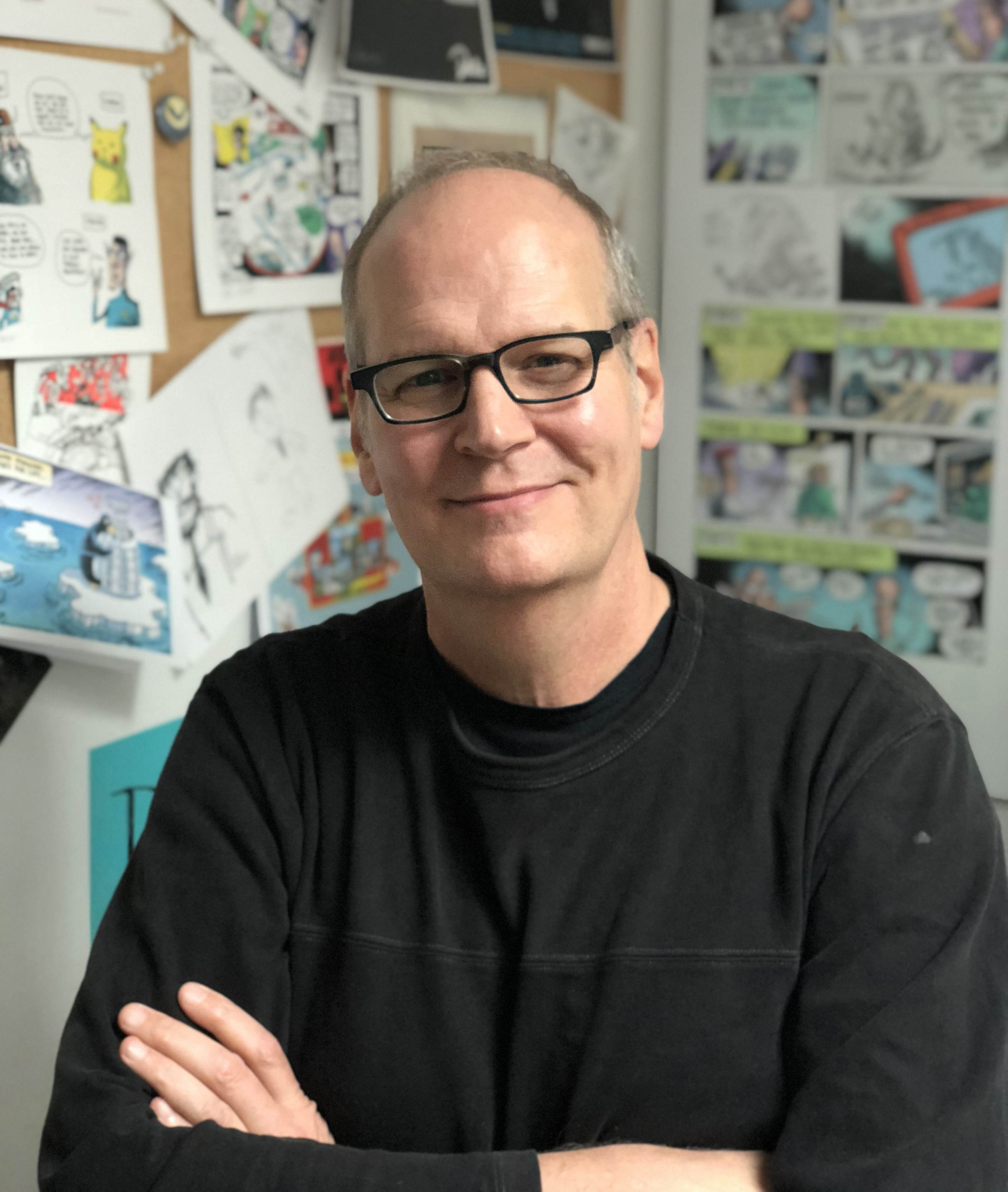 This exhibition brings together more than 60 editorial and political cartoons that trace the 40-year-and-counting career of award-winning, nationally-syndicated Cartoonist Rob Rogers. The viewer will get to see both original drawings and color digital prints of his widely-circulated work, along with examples of unpublished cartoons. The exhibition exemplifies Rogers' commitment to social justice issues.
"When I go to my drafting table every day, I try to use compelling images and humor to unmask the lies and hypocrisies that populate our political discourse," said Rogers.
His subject matter is wide ranging, including racial equity, voting rights, LGBTQ+ rights, gun violence, climate change and political partisanship. 
"My goal is to grab the attention of my audience, to make them laugh, but also make them think sometimes about things they'd rather avoid," Rogers said.
Rogers earned a Master of Fine Arts (MFA) in painting from Carnegie Mellon University in 1984, and, shortly thereafter, was hired by the Pittsburgh Press as its full-time editorial cartoonist. In 1993, Rogers joined the Pittsburgh Post-Gazette. Highlights of some of the many awards during his career include twice receiving the Thomas Nast Award from the Overseas Press Club, the Berryman Award from the National Press Foundation, twice receiving the National Headliner Award from the Press Club of Atlantic City and 2-time finalist of the Pulitzer Prize.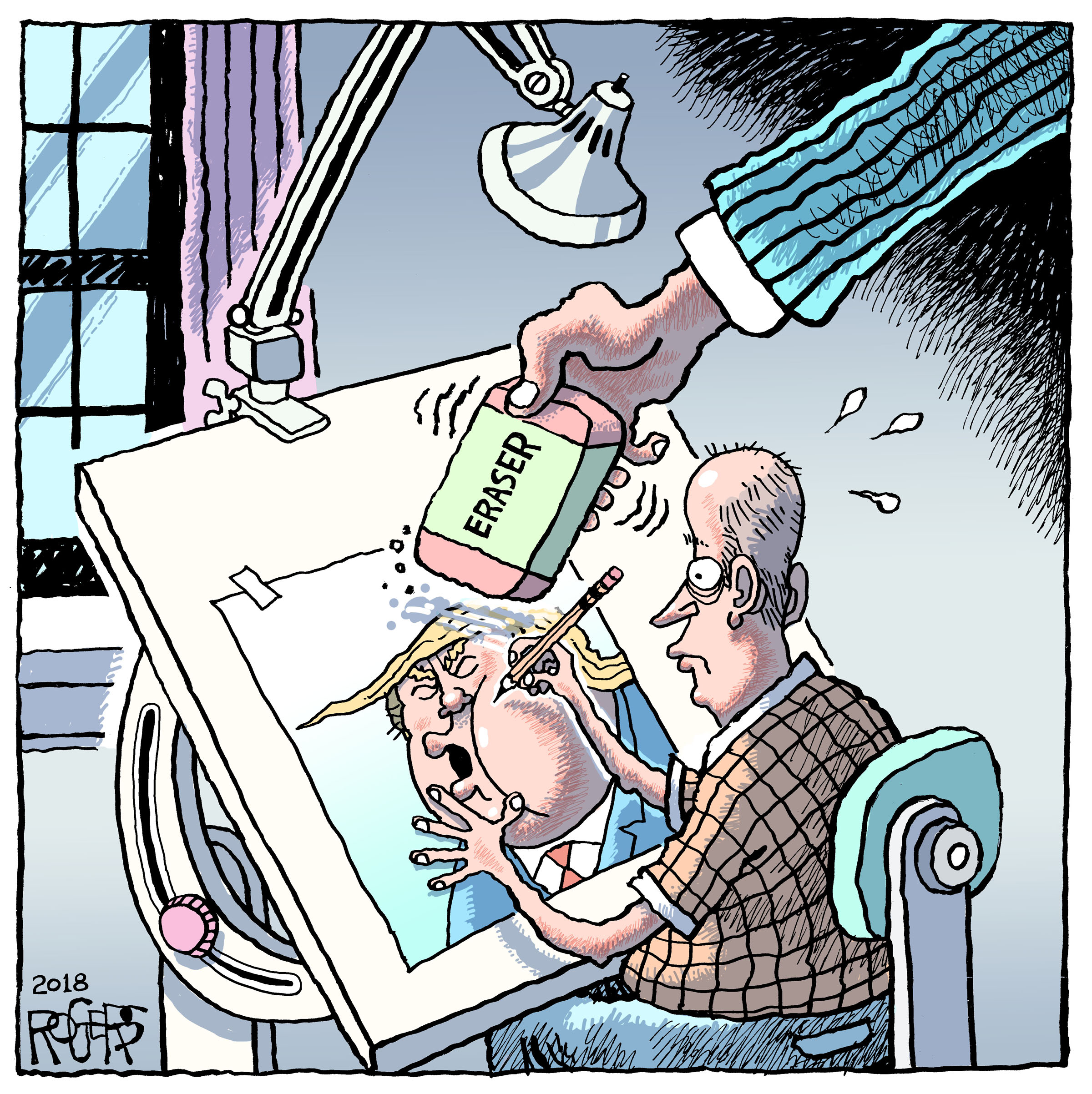 In June 2018, Rogers was fired for drawing cartoons critical of then-President Donald Trump.
"I've always believed that the job of a political cartoonist is to punch up, not to punch down. And, there is no one higher up than the president," explained Rogers. "As any journalist or political cartoonist will tell you, if you're not keeping the most powerful person in the free world in check, you're not doing your job. That is why I've drawn cartoons critical of every president from (President Ronald) Reagan to (President Joe) Biden and will do the same with whoever comes next."
About the Eide/Dalrymple Gallery
As a part of Augustana University, the mission of the Eide/Dalrymple Gallery is to contribute to the educational and cultural vitality of the university, surrounding community and state of South Dakota. The Eide/Dalrymple Gallery inspires the artists of today and tomorrow, and serves as a resource for teaching and promoting life-long learning through its permanent collection and temporary exhibition program with accompanying artist visits, gallery talks and educational materials. 
The Eide/Dalrymple Gallery is named after Palmer Eide and Ogden Dalrymple, pioneering Augustana University professors emeriti of art. Many of their collaborative works are spread throughout the campus.
The Eide/Dalrymple Gallery is located at 30th Street and Grange Avenue, in the Center for Visual Arts at Augustana University. The gallery is open to the public and free of charge. Gallery hours are Monday through Friday, from 10 a.m. - 5 p.m., and Saturdays, from 1-4 p.m.