The Eide/Dalrymple Gallery at Augustana University opens Sandy de Lissovoy's installation "Here: Suspending Color, Falling in Place," which will be on view from Thursday, March 23, through Saturday, April 22. A gallery reception will be held on Friday, March 24, from 7-9 p.m., with an artist talk at 7:30 p.m.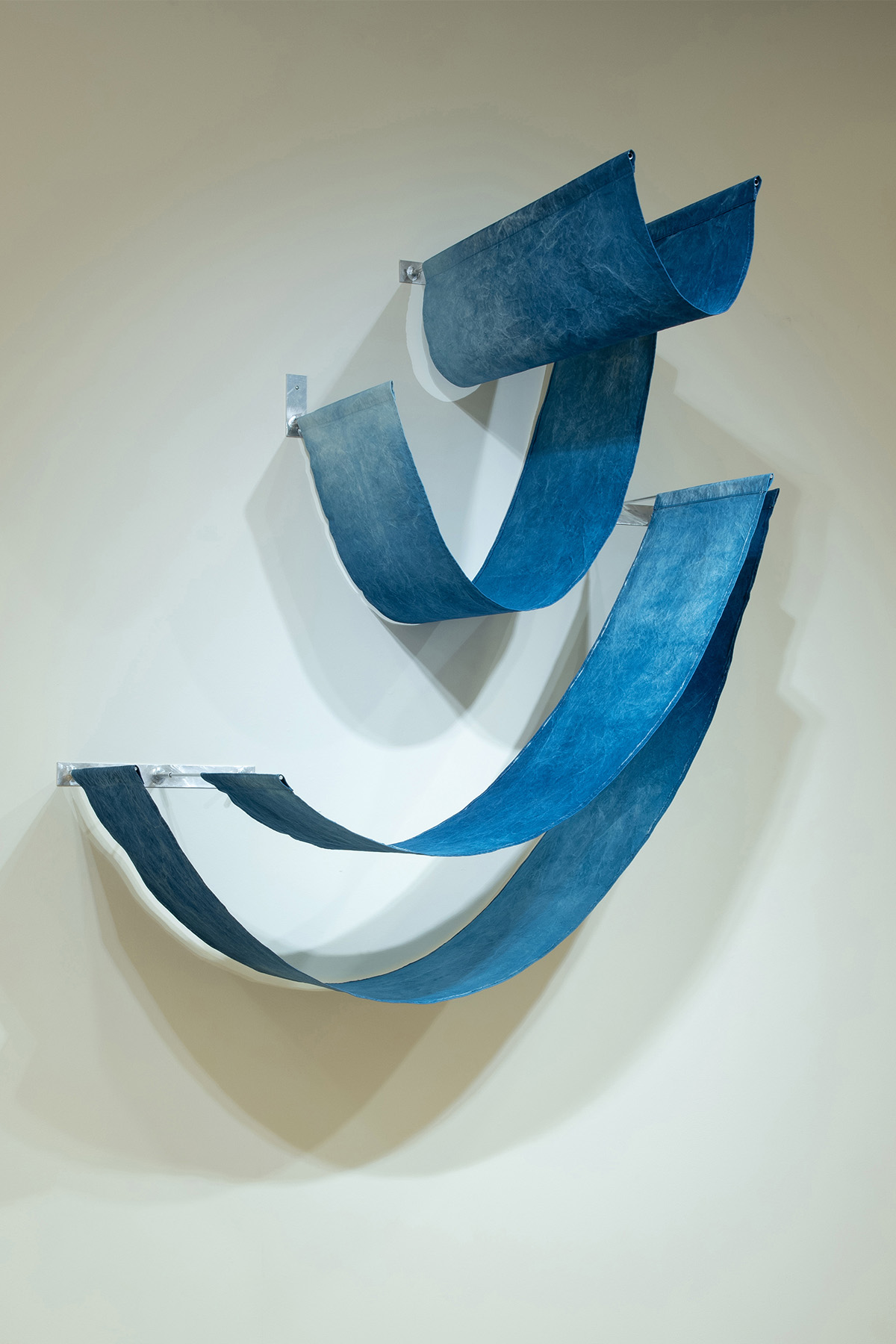 "Here: Suspending Color, Falling in Place" is an installation that includes video, hand-dyed fabric sculptures and locally gathered rocks. De Lissovoy makes his sculptural forms changeable through fabricated aluminum that function like tent poles and extensions — structural, but never permanent. Over the course of the exhibition, the forms will be adjusted and moved several times, creating shifting landscapes. These sculptures are embodiments of the curves of mountains, and are inspired by the topographical lines of maps. 
"The lightweight works were conceived while hiking in the High Sierra of California and the Appalachian Mountains of Virginia, as well as local strolls to gather fallen walnuts for dyeing," noted de Lissovoy. "Both walking and fabric dyeing are time-consuming processes, engaging and compelling one to pay attention to place and allow patience to grow."
Born in Berkeley, California, de Lissovoy earned an M.F.A. in sculpture and new genres from the University of California, Irvine, and a B.F.A. with honors from California College of the Arts in Oakland, California. He has held artist residencies at Virginia Center for the Creative Arts (Amherst, Virginia), Sculpture Space (Utica, New York) and the Banff Centre in Canada. He has had solo shows at Commonwealth and Council Gallery, Monte Vista Projects and Las Cienegas Projects in Los Angeles, California. He is an assistant professor of art at Washington and Lee University in Virginia.
(Pictured right: "Topo Indigo" Sierra Sky near Koip Peak, elev. 12962)