While eighth grade may seem early to start the college search, it's not too early to open students' eyes to the possibilities ahead of them. This is what the partnership between Augustana and the Promising Futures Fund seeks to accomplish with Sioux Falls students who may not see themselves on a path to higher education.
The Promising Futures Fund was founded in 2019 by Steve Hildebrand, and is a fund of the Sioux Falls Area Community Foundation. Donations to Promising Futures are used exclusively to support students of low-income families and schools with higher rates of poverty in the Sioux Falls School District.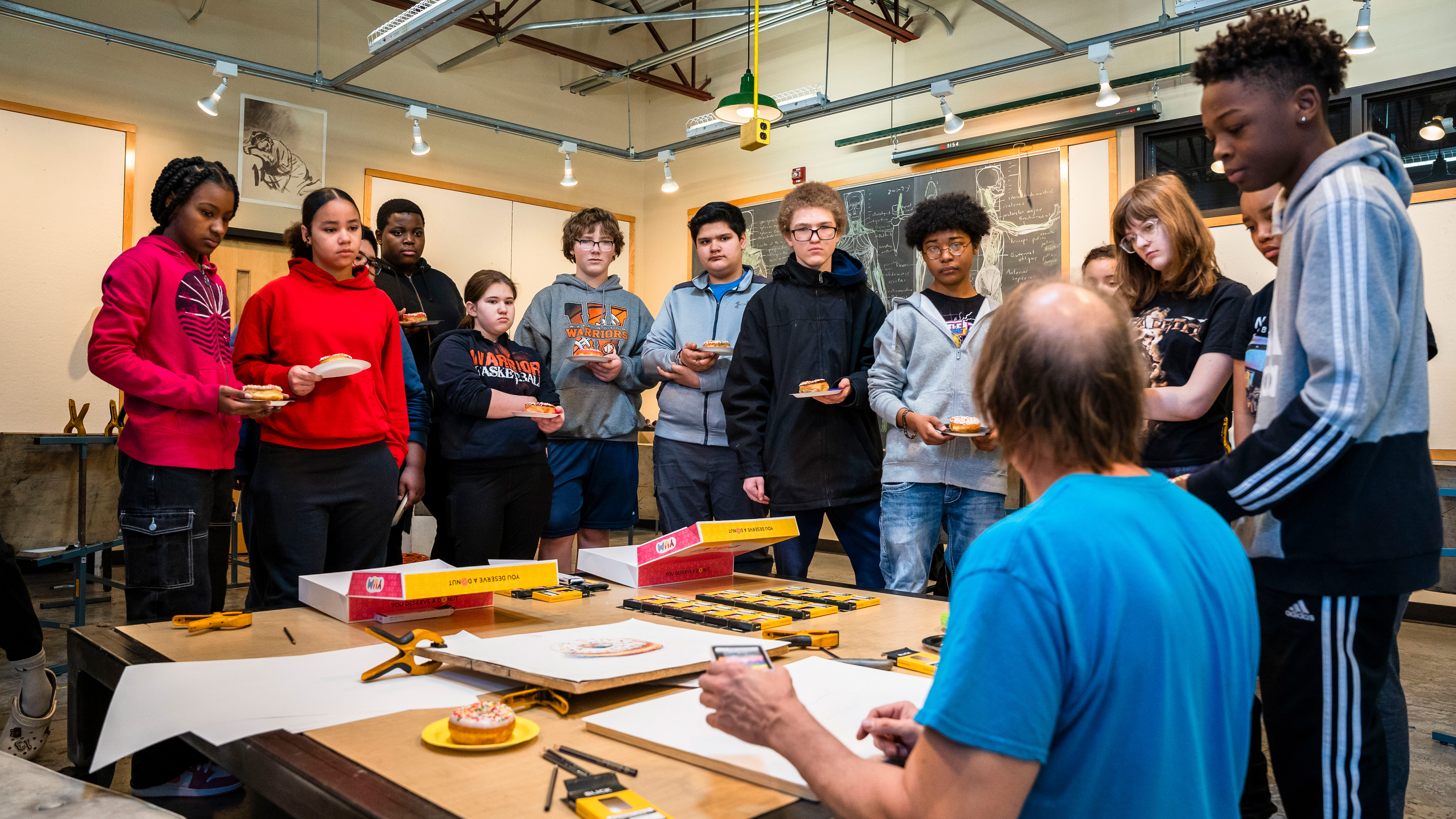 "Our school district has a poverty rate of 47%, so we work directly with principals and administrators to fund anything related to a child's education," Hildebrand said. "A lot of our funding goes to reading programs. We also provide a lot of resources for experiences. Kids in poverty don't have the same outside experiences that other kids might have."
One of Promising Futures' largest initiatives is funding visits to area colleges and universities for eighth graders, which is where Augustana comes in. Promising Futures provides grants to Ben Reifel, George McGovern and Whittier Middle Schools to pay for transportation and other costs, and works directly with campuses to plan the trips. Students' first visit to Augustana was in October 2022.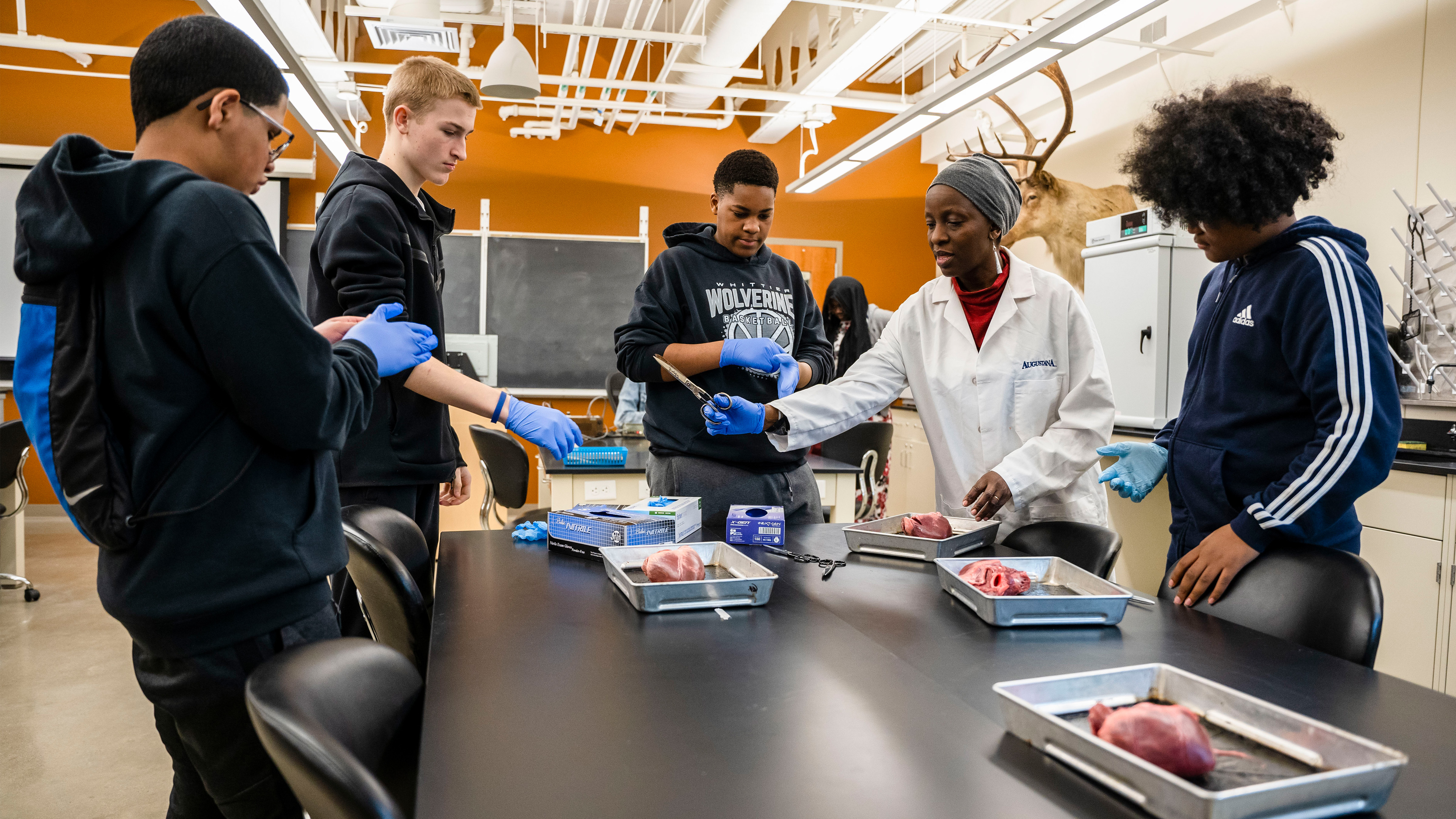 When these eighth graders visited Augustana, they arrived at the Elmen Center where they were greeted by the Augustana Drumline and a group of student-athletes. The students learned about Augustana Athletics from Josh Morton, director of athletics, and watched members of the AU Men's and Women's Basketball Teams compete in a free-throw shootout. The students then got a taste of the action themselves, competing in a relay race on the basketball court. 
From there, students were broken up into groups. One group visited the Froiland Science Complex, where they got to try the Anatomage Virtual Cadaver Table and college-level dissecting in the anatomy lab. Another group headed to the Midco Media Center in the Fryxell Humanities Center, where they tested out equipment, mixed sounds and learned about production. One group spent time in Hamre Recital Hall and experienced its pianos, while another toured the Eide/Dalrymple Gallery.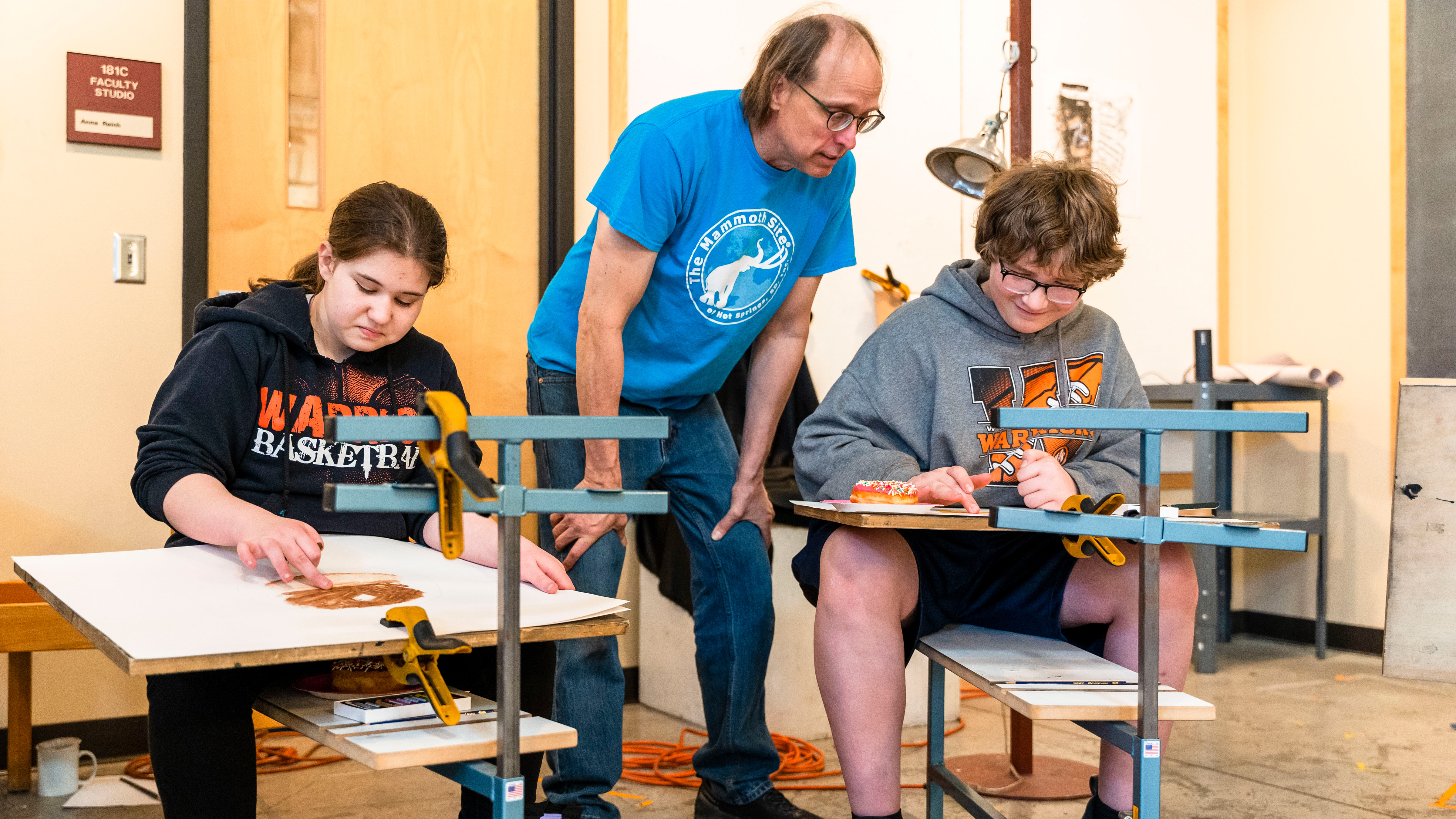 After the groups rotated and had lunch in the Ordal Dining Hall, the eighth graders met with AU students from the Journey Scholars Program, which is dedicated to supporting and empowering first-year students of color. They ended the day by meeting with theatre students and hearing from a panel of Augustana students — all graduates of Sioux Falls middle schools.
"A lot of these kids aren't spending much time thinking about their future, or certainly not thinking about it in a way that might expose them to higher education," said Hildebrand. "Watching these kids when they come onto these campuses, and you see them understand what possibilities exist — it's life-changing."
Funding support to Promising Futures for these college visits comes from John '90 & Jeanelle (Robson) Lust '91, former and current Augustana Board of Trustees members, respectively, and parents of Joe '20 and Jack Lust '23. The Lusts provided the transformative gift that launched Viking Bold: The Journey to 2030 by naming the Augustana University Sharon Lust School of Education. John also sits on the Promising Futures Fund Board of Directors.
Experience Augustana
Along with creating experiences for Sioux Falls students, Promising Futures helps fund student participation in summer camps. Through Experience Augustana, the university offers summer camps for students of all ages. All camps are project-based and include demonstration/instruction, interactive practice, development, collaboration, feedback and the assessment of projects.
Promising Futures is funding an Experience Augustana podcasting camp, which began last week and runs through June 16, for rising ninth graders to get hands-on experience with the same tools used to produce major-label recording artists and binge-worthy podcasts. 
"We had the great opportunity to partner with Promising Futures last summer to create an Avid Media Creation Camp, and it ended up being one of the most powerful summer youth programs I've ever seen," Dean of the School of Music Dr. Peter Folliard said. "This year's podcasting camp is version 2.0 of last summer's camp." 
Students will gain production experience working with voiceover, music and sound effects. By the end of the 2-week camp, they will have produced the first episode of an original podcast. 
"We can't wait to see all of the creative ways that students are able to express themselves and their ideas through 21st-century media," said Folliard.
For more summer camp opportunities, visit augie.edu/SummerCamps.