Augustana understands the value and impact that historically marginalized people have on communities all over the world — recognizing that this university would not be the place it is without these students, faculty and staff. In the "At AU" series, the university aims to showcase these exceptional people so we can all hear their voices in an effort to foster positivity and create awareness of their experiences on campus.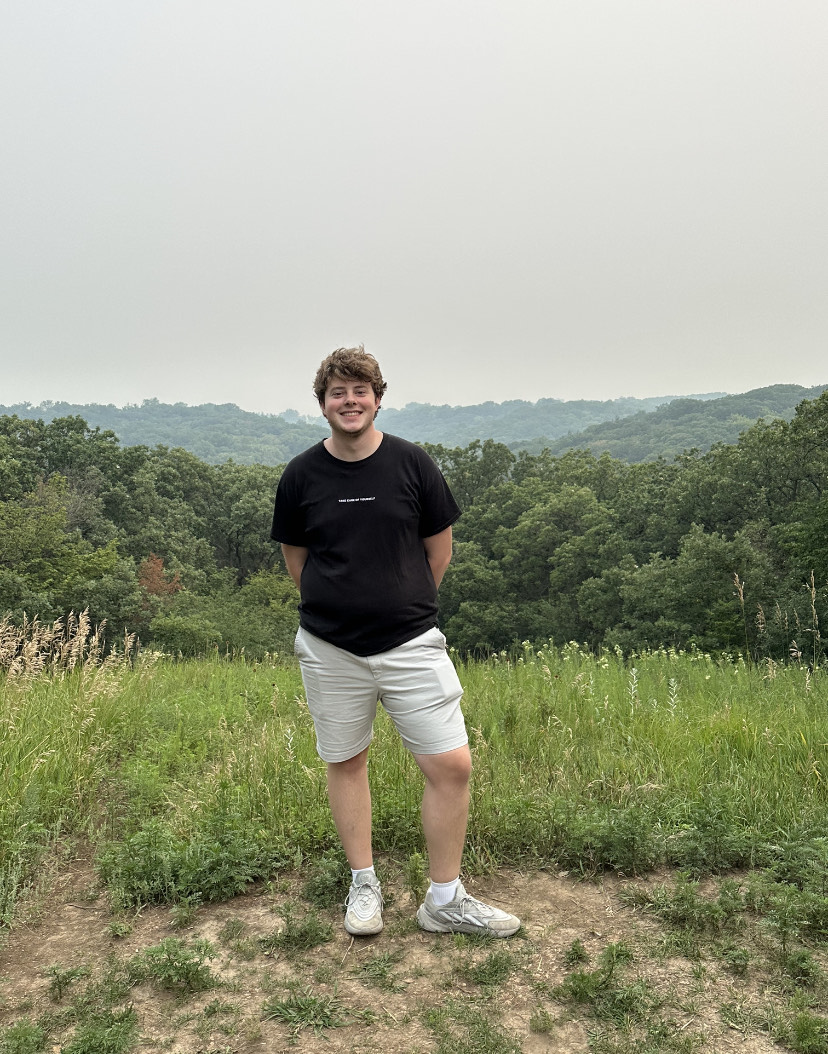 For the month of September — National Deaf Awareness Month — Augustana is featuring Caleb Friesen '24. Friesen is a child of deaf adults, or CODA. He is hearing and considers American Sign Language (ASL) to be his first language. Friesen is a nursing and French double major with a biology minor. He is a second-year Viking advisor (VA), serves on the Augustana Citations Appeals Board, participates in intramurals, was president of the hammocking club and works off campus at The Link. The Lino Lakes, Minnesota, native hopes to earn a DNP in the future and become a nurse practitioner in psychiatric health.
Q: Where or how did you hear about Augustana?
A: I heard about Augustana through my aunt who got her nursing degree here and my cousin who was a senior my freshman year.
Q: What is/are the reason(s) you chose to come to Augustana?
A: I chose Augie because of its great nursing program and how community centered it felt during my first few visits, which has turned out to be true; I am heavily involved in the community here.
Q: Can you explain what a CODA is?
A: The acronym CODA stands for "Child of Deaf Adult(s)." For me, both of my parents are deaf but the same could describe someone with one deaf parent.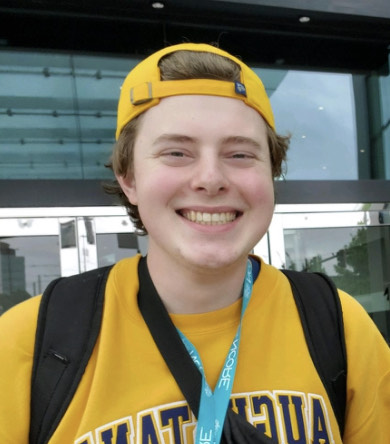 Q: What is it like to be a CODA?
A: Through my own experience, as well as what I've learned from the deaf community, being a CODA is the ability to be involved in two different worlds. I'm able to connect with both the hearing world and the deaf world since I have the context of both perspectives. Being raised by deaf parents and being involved in the deaf community, I know a lot of the general beliefs, culture and a unique tight-knit community that always brings me joy. Also, since I can hear, I am able to connect with the hearing community and bring my own perspective there. One of the other aspects I love about being a CODA is how all CODAs instantly connect with one another. Everytime I meet a CODA or go to a CODA event, it's as if I've been best friends with these people my whole life. 
Q: As a CODA, what does National Deaf Awareness Month mean to you? 
A: National Deaf Awareness Month is something I'm very passionate about since it's an area I feel a lot of people aren't very familiar with or educated on. It also goes without saying that I love my family and the deaf community; they've supported me my whole life and without them I'm not sure where I would be right now, and it's important to me that the deaf community is recognized. Through my experience, there's a ton of awkward interactions and miscommunication between the hearing community and deaf community that could easily be changed through more awareness. 
Q: What do you want others to know about deaf awareness or being a CODA?
A: Deaf people are able to do everything hearing folks can do except hear. There's a really good TED Talk about deaf ideology by Marika Kovacs-Houlihan that I encourage everyone to watch. It would be wonderful if everyone could learn some signs, but even knowing that the simple act of making an effort to communicate clearly even if you don't know sign language goes a long way! Keeping eye contact, speaking clearly and using facial expressions are great ways to add to your communication. It's hard to summarize everything I'd want to say, but if you ever see me around, I'd love to answer any questions!
Q: Is there someone at Augustana who has been inspirational to you or helped guide you throughout your time at AU? If so, how?
A: One of the many people who has encouraged and inspired me during my time at AU has been Amara Rodis ('22). She was a senior nursing major and VA my sophomore year, and she essentially mentored and helped me get accustomed to nursing. She helped me get a job at Avera (Health) as a behavioral health tech. We're still super close even though she has been working in Hawaii as a nurse for the past year, which is also something that she is helping me try to do, and overall, she has been a wonderful friend and colleague throughout my college career.
To learn more about the "At AU Series," visit augie.edu/AtAU.