Augustana University students JayVian Farr '24 and Sam Skarstad '24 were crowned the 2023 Viking Days Royals at coronation on Wednesday, Sept. 20, in the Elmen Center. The coronation took place in front of a crowd of students, faculty and staff following the Viking Feast on the third day of AU's homecoming.
Farr, of Racine, Wisconsin, is double majoring in biology and sociology, and enrolled in the Augustana Master of Business Administration (MBA) Program. He's a cornerback for the Viking Football Team, Viking advisor (VA), involved in the pre-med club, as well as a Diversity, Equity & Social Justice Committee chair and Black Student Union (BSU) senator for the Augustana Student Association (ASA).
"I felt a rush of joy," Farr said of being crowned a royal. "I felt like God truly blessed me, and I'm so humbled by it! I was crowned homecoming king in high school, and this experience has been much more monumental to my life. I am so grateful.
"I was on stage with some of the best people this campus has to offer," Farr continued. "Everyone on that stage was more than deserving of being crowned. They're all a blessing to so many people, and I am thankful to have been part of it with them. Also, being (a royal) for the 100th year of homecoming is an extra cherry on top."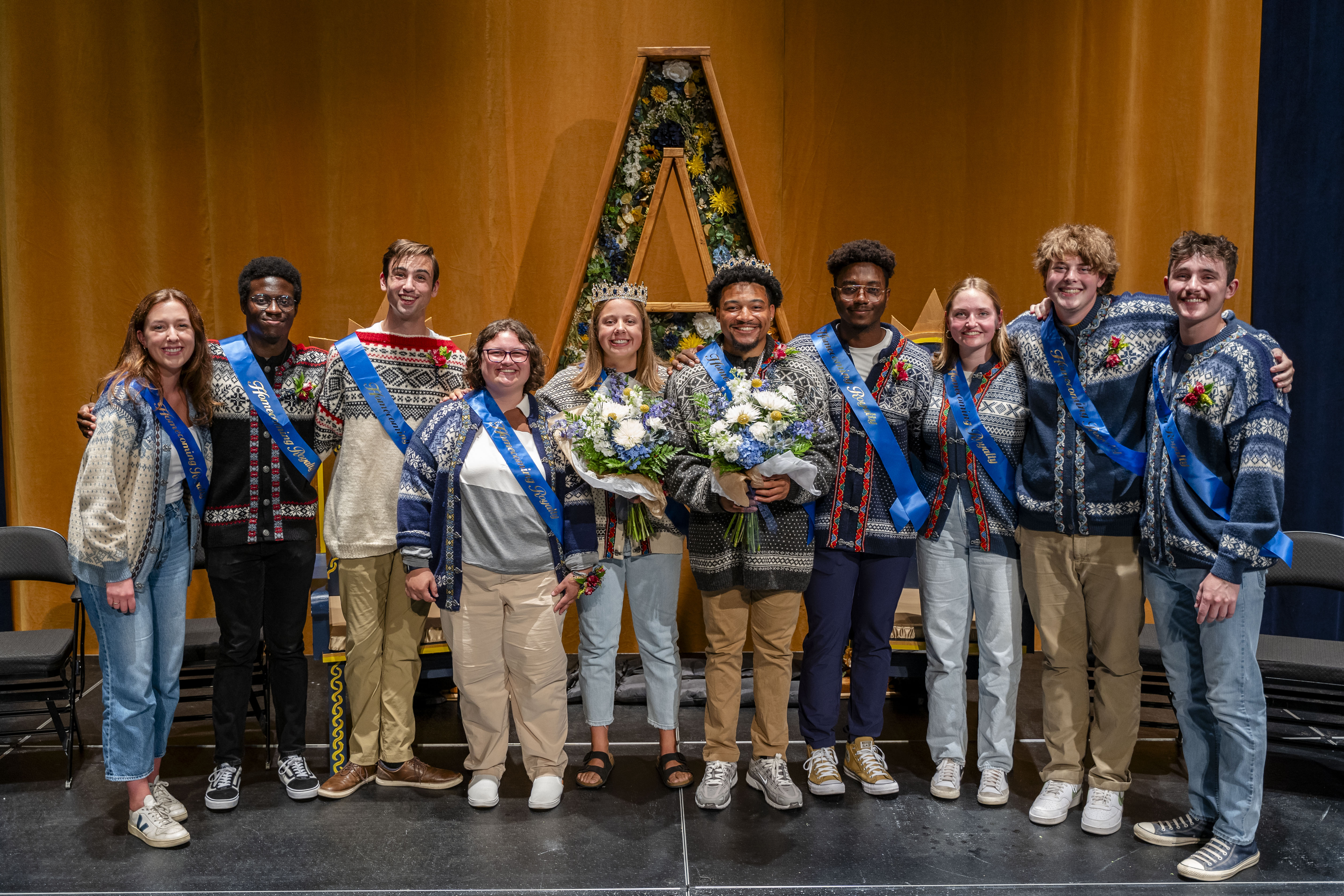 Farr was escorted in by Viking Football Head Coach Jerry (OJ) Olszewski. 
"Coach OJ has been a consistent cornerstone in my life, since the day I was first recruited by Augustana University," said Farr. "The way he speaks, the way he loves and the way he loves the Lord is so comparable to my father, Jamario Farr Sr. It is so humbling to have Coach OJ look after my teammates and I as if we were his own sons. I love Coach OJ with every bone in my body."
Skarstad is a special education and elementary education double major from Albert Lea, Minnesota. She is a member of the Elmen Center staff, Viking guide and 2023 Viking Days co-chair.
"Being crowned a Viking Days Royal was a feeling like no other," said Skarstad. "When I heard my name, I couldn't help but smile, and looking out to my family and friends and seeing them cheer for me made me smile even more! We have such a great homecoming royalty court. To be on the court is an extreme honor for me, and to be crowned a royal is a moment I will never forget.
"Augie has been such a wonderful place during my last four years, with all the people that I have met and connections I have made, and being crowned a royal adds to the magic of Augustana!"
Skarstad was escorted in by her sister, Alana, and mom, Deann Loge.
"My mom has taught me more strength and resilience than I could have ever imagined," Skarstad said. "I am the person I am today because of the love and support she has shown me time and time again. I picked my sister because she has been a person I can always turn to for anything. She will always be in my corner and I am so grateful for that."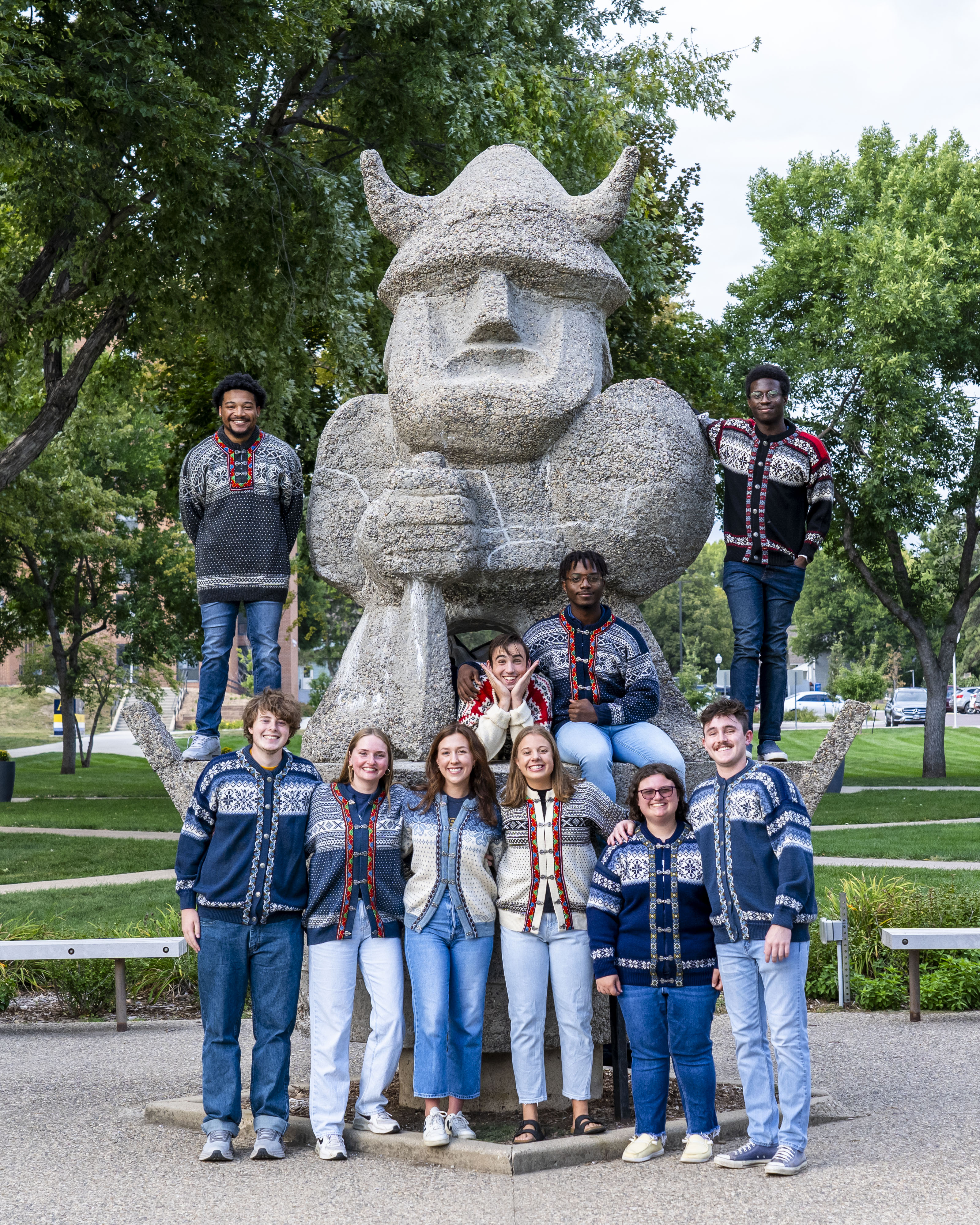 After graduation, Skarstad plans to teach elementary special education in Sioux Falls. Farr will continue in the Augustana MBA Program. 
Viking Days 2023 continues through the weekend. View the schedule.
Other members of the 2023 Royal Court include:
Luke Bacialli '24, of Gunnison, Colorado — Nursing Major
Caleb Friesen '24, of Lino Lakes, Minnesota — Nursing and French Double Major
Natalie Mohr '24, of Pierre, South Dakota — Biology Major
Soniel Ngnotchue '24, of Cameroon — Biochemistry Major
Makena Schultz, of Madison, South Dakota — Augie Access Program
Scott Shlanta '24, of Sioux Falls — Biology Major
Henry Sule '24, of Jos, Nigeria — Finance and Computer Information Systems Double Major
Lauren Teller '24, of Sioux Falls — English, Government & International Affairs and Spanish Triple Major