October 8, 2021
Written by University Writer Keeley Meier '20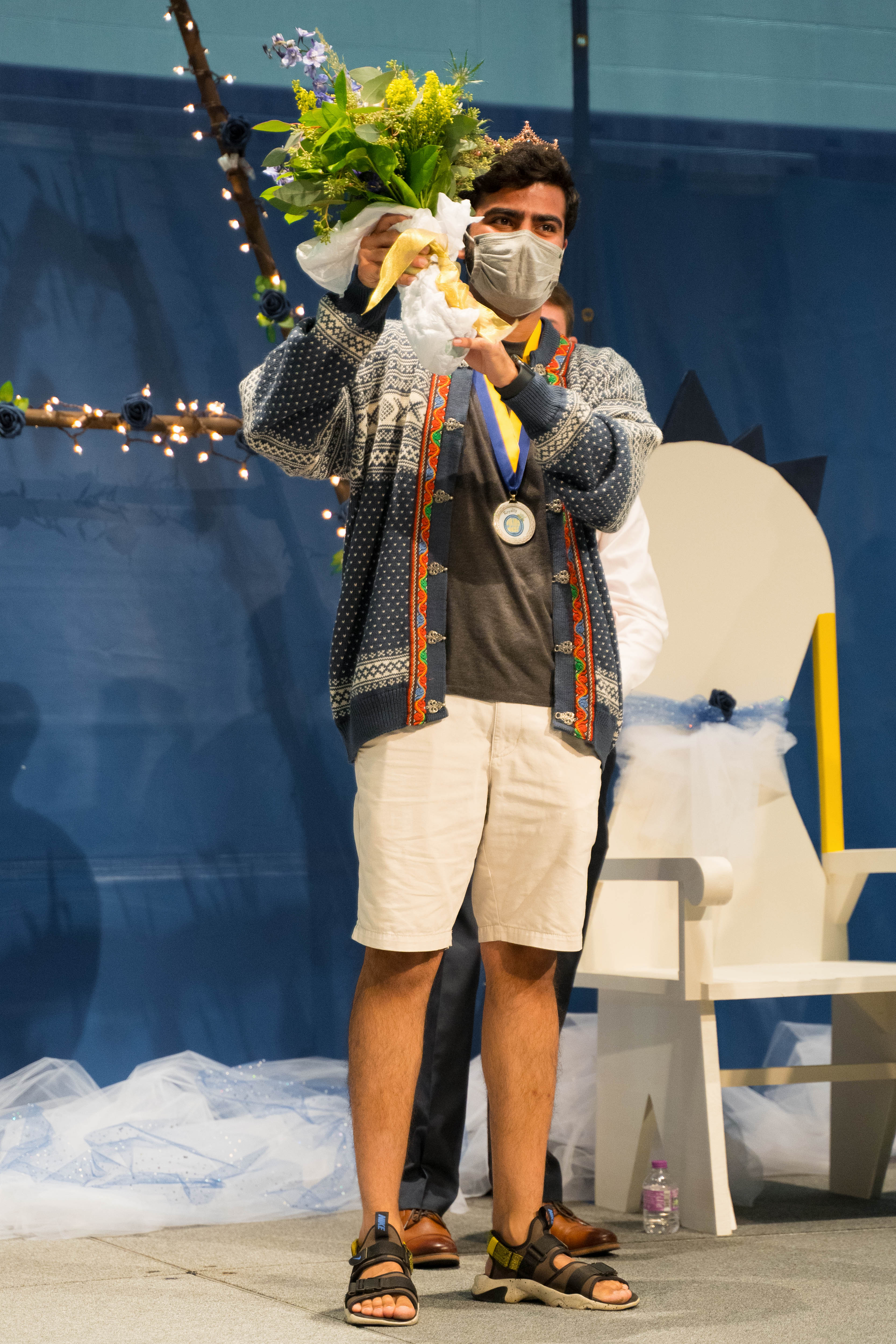 Augustana University students Taha Afzal and Becca Ziems '22 were crowned the 2021 Viking Days Royals at coronation on Monday, Oct. 4, at the Elmen Center. 
"It is an absolute honor to be crowned as Viking Days Royalty," Afzal said. "I was shocked when my name was announced, and finding out that the other Royal is one of my best friends, Becca, made it even better."
"I could not contain my excitement when I heard Taha's name," said Ziems. "No one deserves it more than he does."
Afzal is a computer science & software engineering and data science double major from Karachi, Pakistan. He is currently a software engineering intern at Raven Industries, Inc., and has spent the last three years as a Viking Advisor. Afzal has also served as a computer science tutor, peer mentor for the Journey Scholars Program and campus director for the Hult Prize. In addition, Afzal helped start the eSports Club at Augustana, and continues to be actively engaged with the International Programs Office (IPO). After graduation, Afzal plans to work at a tech company where he can use technology to improve people's lives. 
During coronation, Afzal was escorted in by Tess Munshower '22 and Augustana's mascot, Ole the Viking.
"I have known Tess for most of my time at Augie," Afzal said. "It meant so much to me that she escorted me to the stage along with Ole. It was one of the most memorable events from my time here at Augustana."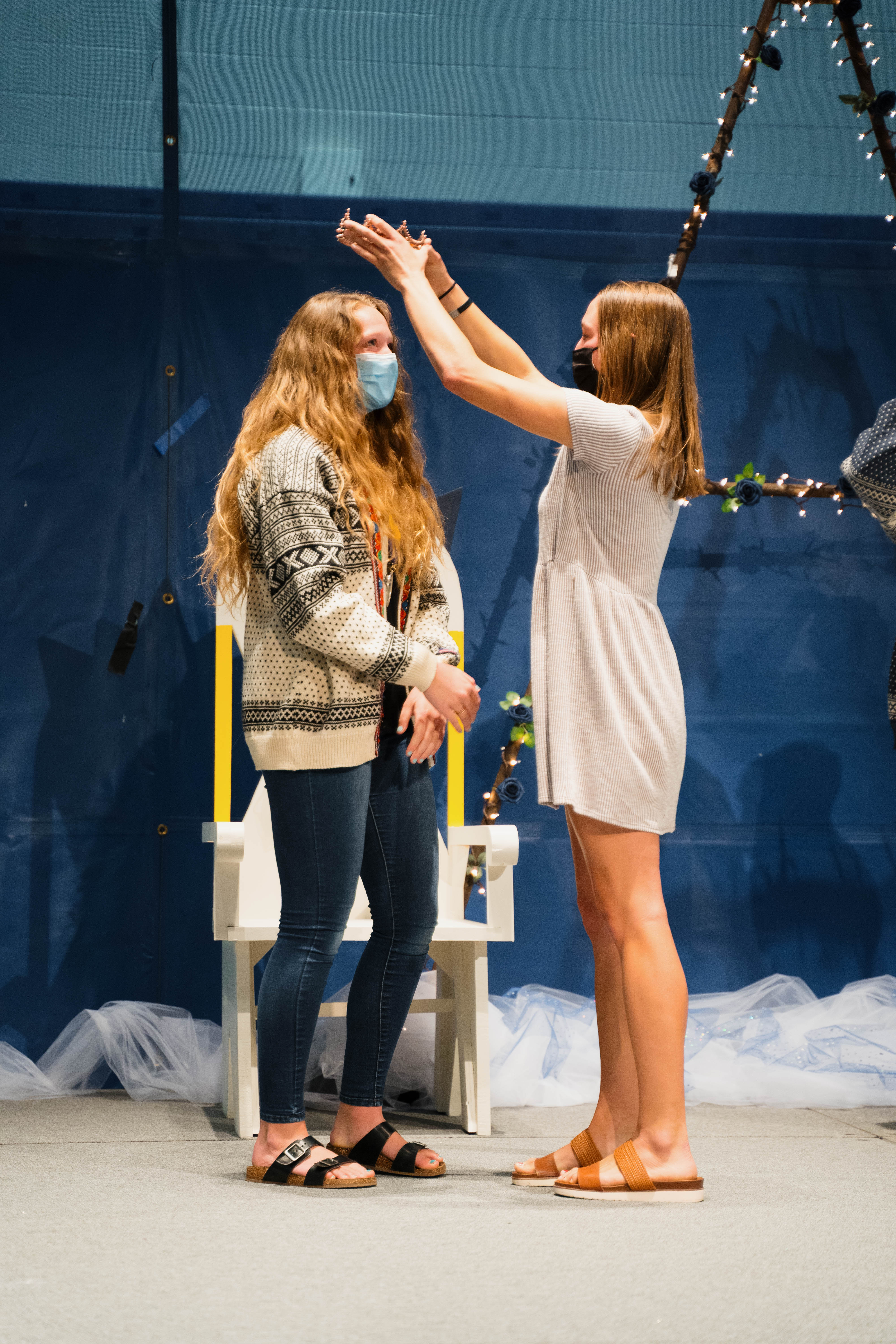 Ziems is an all-grades education and Spanish double major from Lincoln, Nebraska. She is a student ambassador, Viking Guide, Spanish tutor, building supervisor for Recreational Services and participates in intramurals. Ziems is also a member of The Augustana Choir, Volleyball Club, Civitas Honors Program, La Unión Hispana and Augustana University Education Association.
"I am grateful and overwhelmed by the support and love I have received during my years at Augie," Ziems said. "I am grateful to be among 10 other incredible individuals who deserve this crown just as much, and whose enthusiasm for Taha and me speaks volumes to their character."
After graduation, Ziems plans to teach, travel and surround herself with different languages and cultures by teaching English in a Spanish-speaking country, teaching middle or high school Spanish, teaching in an English Language Learners (ELL) classroom or working with an organization that helps refugees.
Ziems was escorted into coronation by her grandfather, Curt Stoltenow, who she said has always been her "role model, cheerleader, teacher and emotional safe haven."
"That is a memory we will both cherish for a long time," Ziems said. "I think I get my sentimentality from my grandpa, so it was a rather tearful little walk together."
Other members of the 2021 Royal Court include:
Jason Becker '22, Hartington, Nebraska — Biology
Brayden Harris '22, Brandon, South Dakota — Environmental Studies, Data Science
Noah Hovorka '22, Harrisburg, South Dakota — Chemistry (ACS)
Sheldon Jensen '21, Owatonna, Minnesota — Economics, Government & International Affairs
Alexa Lammers '22, Yankton, South Dakota | Art, All-Grades Education
Kyja Norris '22, Sioux Falls — Communication, Media Studies
Amara Rodis '22, Omaha, Nebraska — Nursing
Ted Van Alstyne '22, Helena, Montana — Biology
John Walker '22, Sioux Falls — Government & International Affairs, Philosophy, Classics
Viking Days 2021 continues throughout the week. View the full schedule.