Augustana University is offering social work as a minor this fall, followed by all Bachelor of Social Work (BSW) courses for the major beginning in the fall of 2024 — part of Augustana's Viking Bold: The Journey to 2030 strategic plan to establish new academic programs grounded in the liberal arts that challenge the intellect while responding to the needs and interests of students. 
"There's a high demand and there's a lot of need for social workers, nationally," said Dr. Bart Miles, who was hired as the program director in the spring of 2022.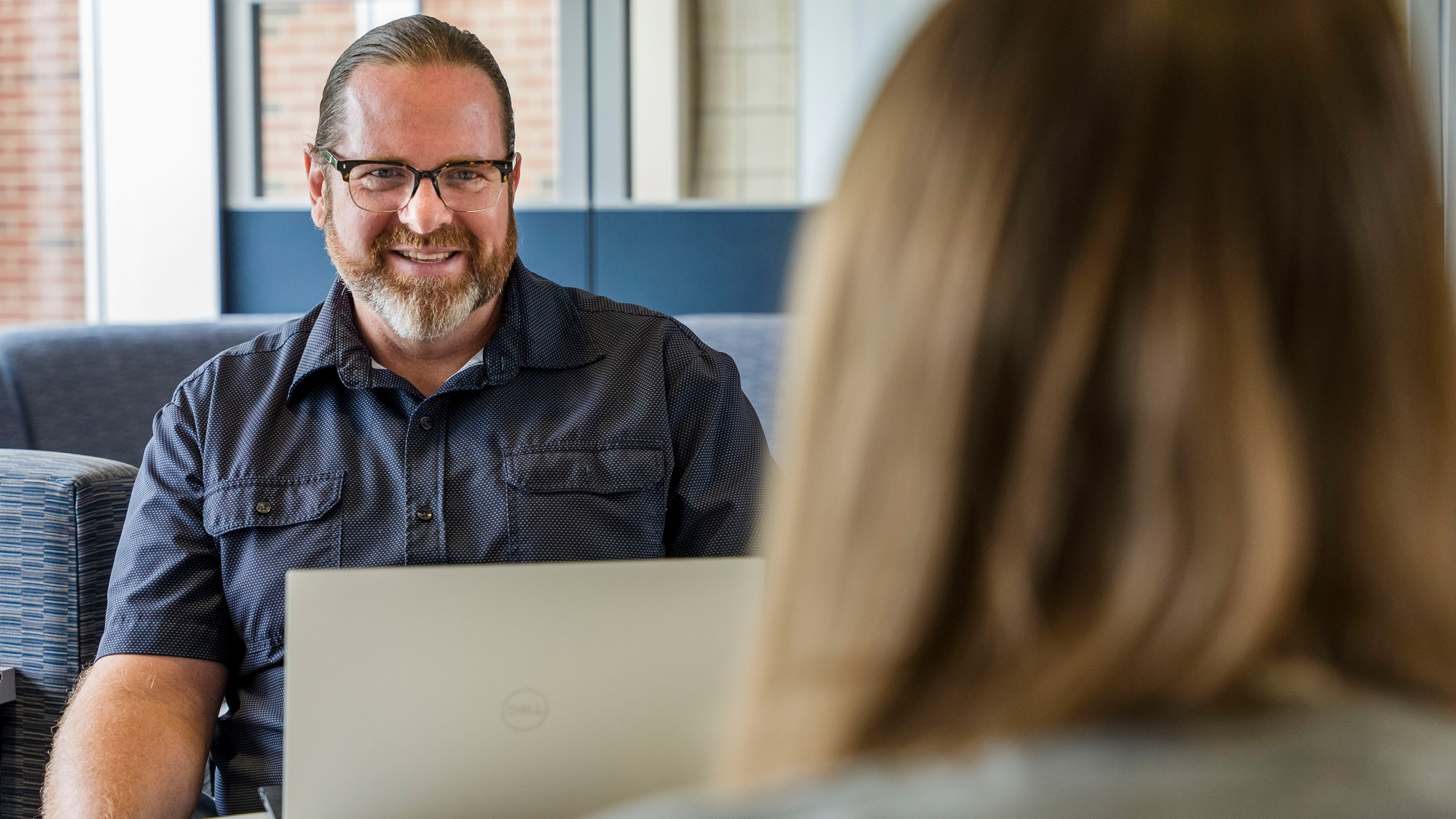 Miles came to AU from Michigan, where he served as chair of the department of social work and sociology, as well as the director of the Master of Social Work (MSW) program at Madonna University. He has nearly 20 years of experience as a faculty member in the field of social work, as well as seven years experience as a social worker in various settings in the Midwest, Southwest and West Coast. Miles earned both a MSW and Ph.D. in social work from Arizona State University.
"For me, it's exciting to be able to build a program," said Miles. "But, I think what really stands out is the history of the program, and that it incorporates the Circle of Courage Model (the Sharon Lust School of Education's conceptual framework) as well."
The History of Social Work at Augustana
Augustana announced in April of 2022 that the university would bring back its social work program after 20 years, thanks to the generous support of the Scott family and Sanford Health. The Harriet Emily Scott Social Work Program within the Sharon Lust School of Education is named after former Director of Augustana's Social Work program and Assistant Professor Emerita of Social Work Dr. Harriet Emily (Johnson) Scott '59.
"The reputation of the institution's social work program before me is still strong. I went to the National Association of Social Workers South Dakota Chapter (NASW-SD) conference and Harriet, of course, was there," recalled Miles. "Literally, I got asked to take pictures of her with professors from USF (University of Sioux Falls) because she was their professor. They may have gotten their degree at USF, but when it was a joint program, it was Harriet who they connected with."
The New BSW
The overall major in social work is a total of 43 credit hours. Augustana is offering introductory courses in the major this academic year and its upper-level courses beginning next fall. The program has already hired Heather El-Khoury, assistant professor of social work, as the field director who will handle student internships, which students will be engaged in during their senior year. Since so many students at Augustana double major, Miles said he was intentional when scheduling courses so they could major in social work and the other social sciences, like sociology and psychology, which pair well with each other.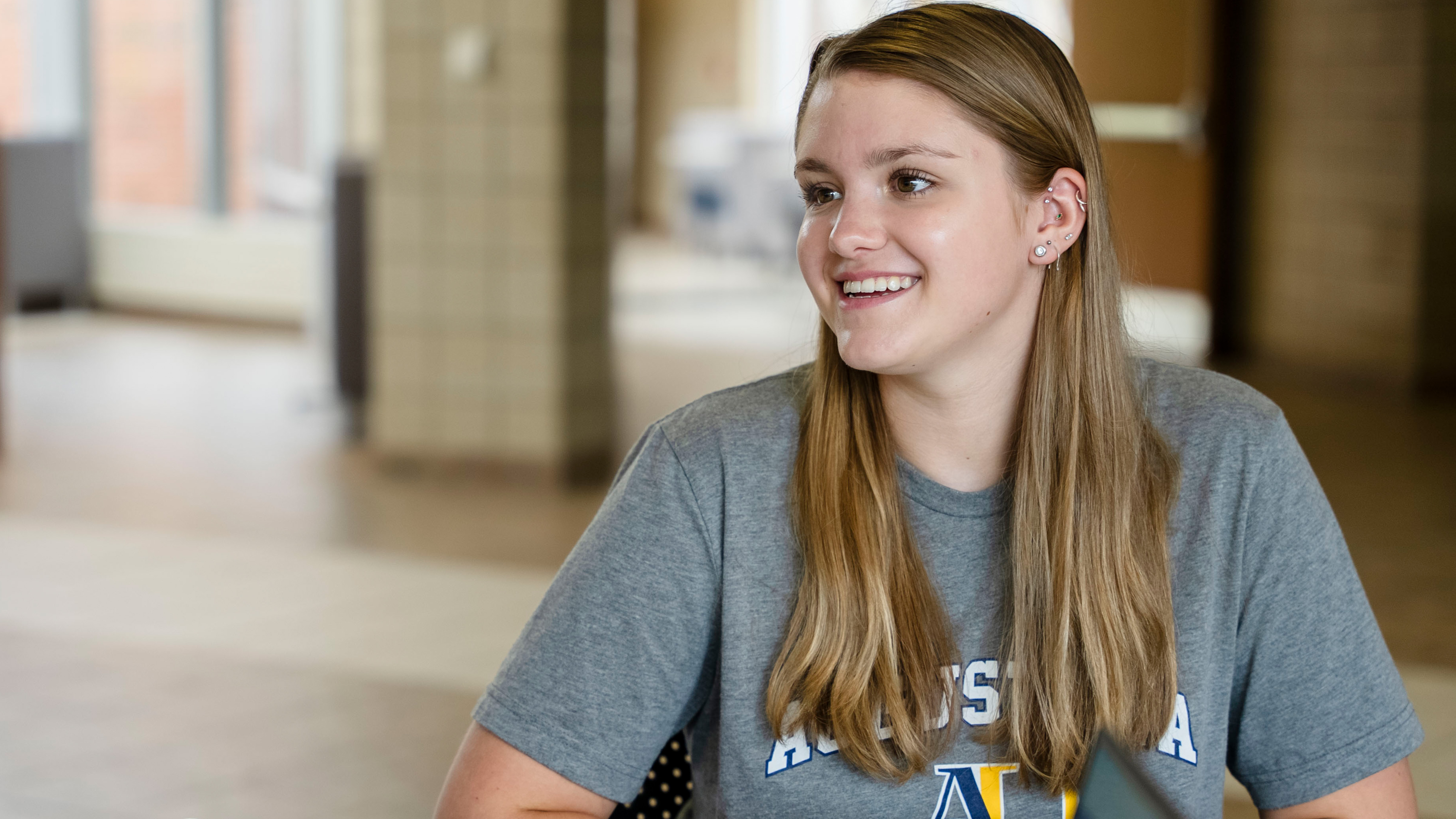 Several students have already declared majors and minors in the program, including Emma Campbell '26, of Sioux Falls.
"Ideally, I would like to go into clinical therapy — I have some child play therapy ideas bouncing around in my head," said Campbell.
Campbell initially came to the university thinking she wanted to go to medical school, but soon realized that it wasn't the right fit for her.
"Social work interests me because I've always wanted to go into a helping profession," said Campbell. "I realized I have always had a deep interest in helping people with their mental health and that social work would bring me closer to that, as well as give me a big range of different opportunities in the field."
Theodora Crawford '26 also declared a major in social work, as well as sociology.
"I like how sociology looks at things from a broader perspective, and then social work is like zooming in on the individual," Crawford said.
Crawford came to Augustana from Pierre, South Dakota, after reading an article about how Augustana would once again be offering the program.
"I've been through a lot of adversity, and I chose social work because it would give me the tools I need to help people like myself when I was younger," said Crawford, who battled abuse and addiction at a young age. "I want to help people who nobody else is helping — the kind of people others gave up on.
"I think I'll be able to use those hard times to actually help someone. There's not another career that I'd be able to do that — use the bad things I've been through and turn that into something good for someone else."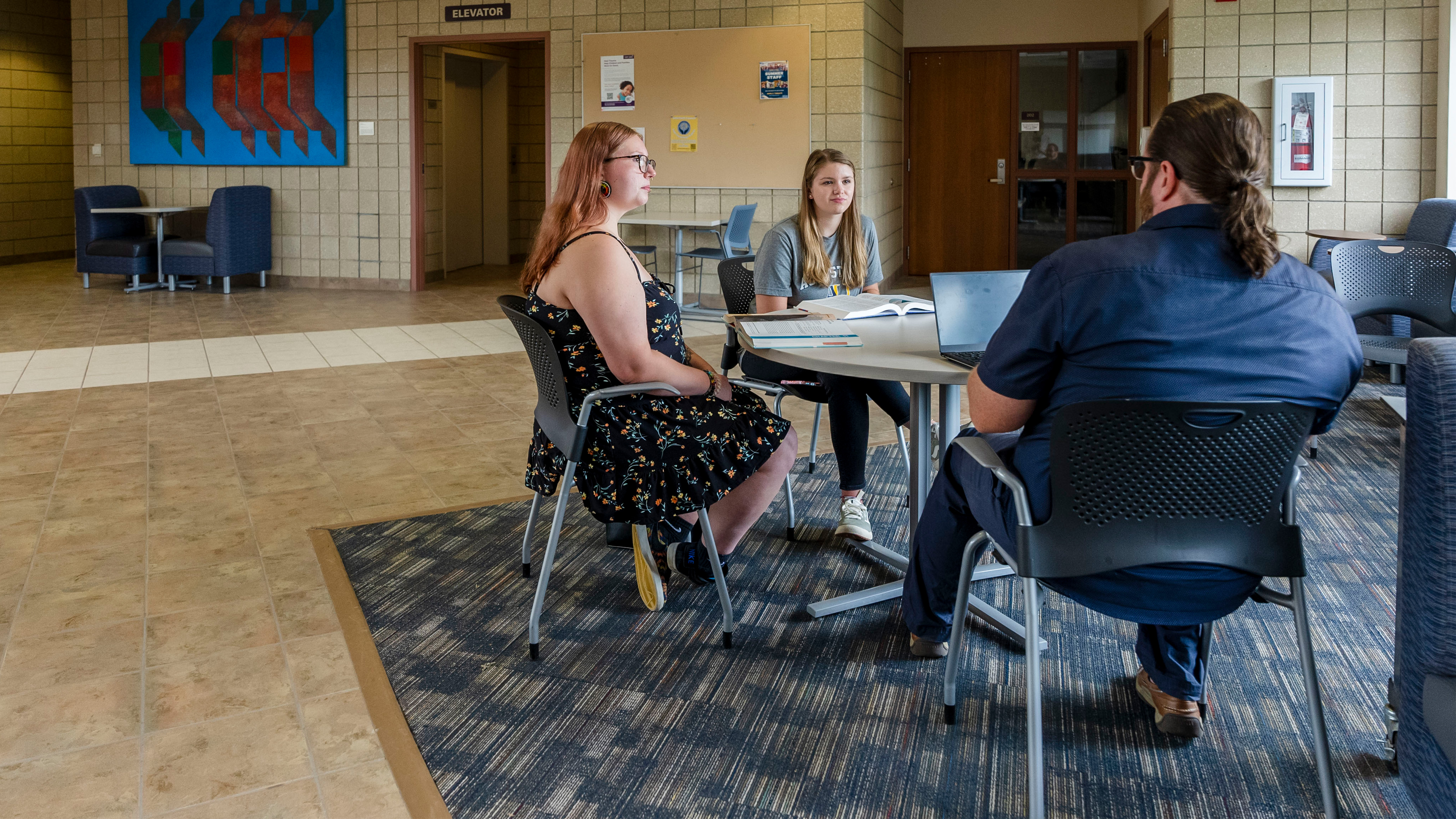 Just like Campbell and Crawford, Miles said students who are drawn to the profession often have the same characteristics, the same mindset that stands out when he speaks with them.
"In general, students typically say some of the same things. They say, 'I want to help people.' Oftentimes, they say, 'I want to be the person who helps someone overcome challenges like I had to overcome challenges.'
"They have an innate nature in them to be advocates — they want to stand up for other people. People who have a social justice perspective tend to fit really well with social work because social work really is embedded in that action-oriented social change kind of focus, even in the clinical world," Miles explained. "A large part of social work addresses people who are impoverished, marginalized and oppressed. So, people who tend to be interested in helping people in those populations."
What many times gets overlooked in the social work profession, Miles said, is that social workers are often advocates — the ones who push back against systems that aren't providing the services for which they qualify.
"When parents hear their kids say, 'I want a Bachelor of Social Work,' they often think they're going to be taking people's children away, which is Child Protective Services. The reality is that most Child Protective Services workers do not have a social work degree. Child Protective Services isn't a major field in which most social workers go," said Miles.
What's Next
Augustana is preparing to become accredited by the Council for Social Work Education (CSWE) — the only approved programmatic accrediting agency for social work programs in the U.S. Accreditation from the CSWE ensures high standards for social work education and that students are able to graduate from the program.
AU hopes to launch a Master of Social Work (MSW) degree in the fall of 2025, which will consist of a hybrid program. Students who have earned a BSW from an accredited program will be able to enter the MSW program with Advanced Standing, which means they can complete the MSW program in one year. Those with earned bachelor's degrees in related areas could complete the 2-year MSW program. The program will have integrated health care, children & youth, as well as substance use focus areas.
To learn more about the Augustana BSW, visit augie.edu/SocialWork.