This exhibition honoring horses and their multi-dimensional legacy in the Northern Plains opened Aug. 2, 2022, and ran through Nov. 18, 2022. A gallery reception was held on Monday, Sept. 12, from 6:30-8:30 p.m. 
The exhibition was free and open to the public. Viewing hours were Monday–Friday from 8 a.m. to 5 p.m. The exhibition was located in the Madsen/Nelson/Elmen Center Galleries of the CWS' Fantle Building at 2121 S. Summit Avenue, Sioux Falls. 
The history of the Northern Plains cannot be told without the presence of the horse. Reintroduced to North America by European explorers in the late 1400s, horses quickly became prized animals to Native Americans and European settlers. Since their return to the plains, horses have solidified themselves as a crucial component of our life and culture.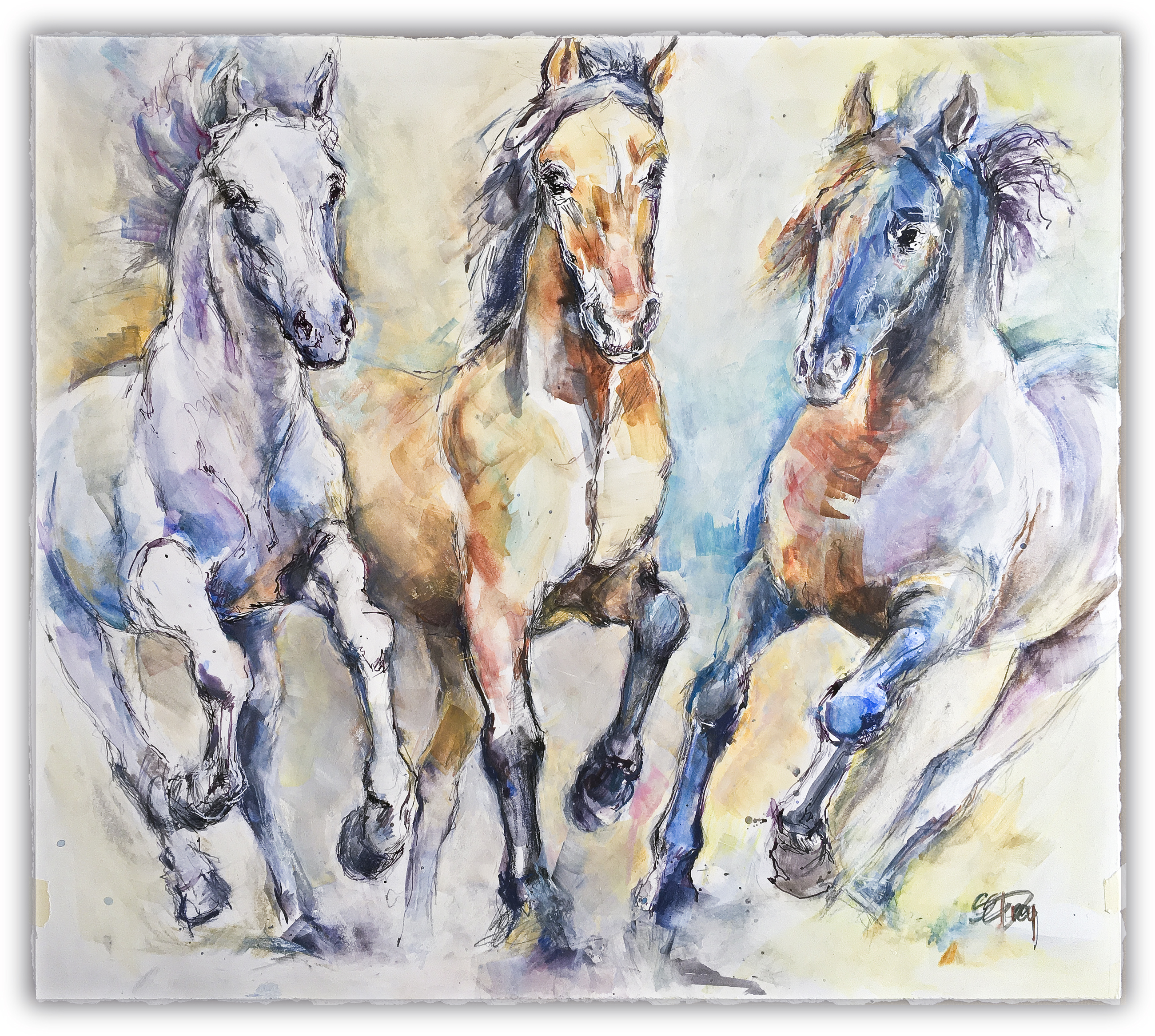 Artwork from the Northern Plains region reflects this importance. Dating back centuries, horses have often been the primary subject of regional artwork. "Stallions and Mares: Legends of the Plains" was a juried art exhibition featuring 47 equine-themed works by 39 artists. 
Artists featured in this show:
Paul Boerboom
Gerald Collogan
Charlene Fleming
Ginny Freitag
DonnaLee Huff-Bartholow
Cheryl Longseth
Olivia McDowell
Robert Semrad
Tava Sexton
Stephanie Smidt
Robert TenCate
Kat Thompson
As part of its mission to preserve and interpret the history and cultures of the Northern Plains, the Center for Western Studies (CWS) maintains an extensive collection of fine art by regional artists and artists whose work exemplifies the essence of the Northern Plains.
While some of the works in the collection have been purchased through the CWS fine art focused giving campaign, most come from generous friends of the Center who have donated artwork so that everyone has a chance to be moved and inspired by it.
The CWS' Fine Art Collection consists of many different mediums, including bronze, wood and stone sculptures. The focus of this exhibition however are oil, watercolor, and acrylic paintings, along with photography and mixed media. The center is proud to represent, in it's substantial holdings, well-known artists such as Oscar Howe and Norman Rockwell, as well as rising stars such as Jerry Fogg and Michael Paul.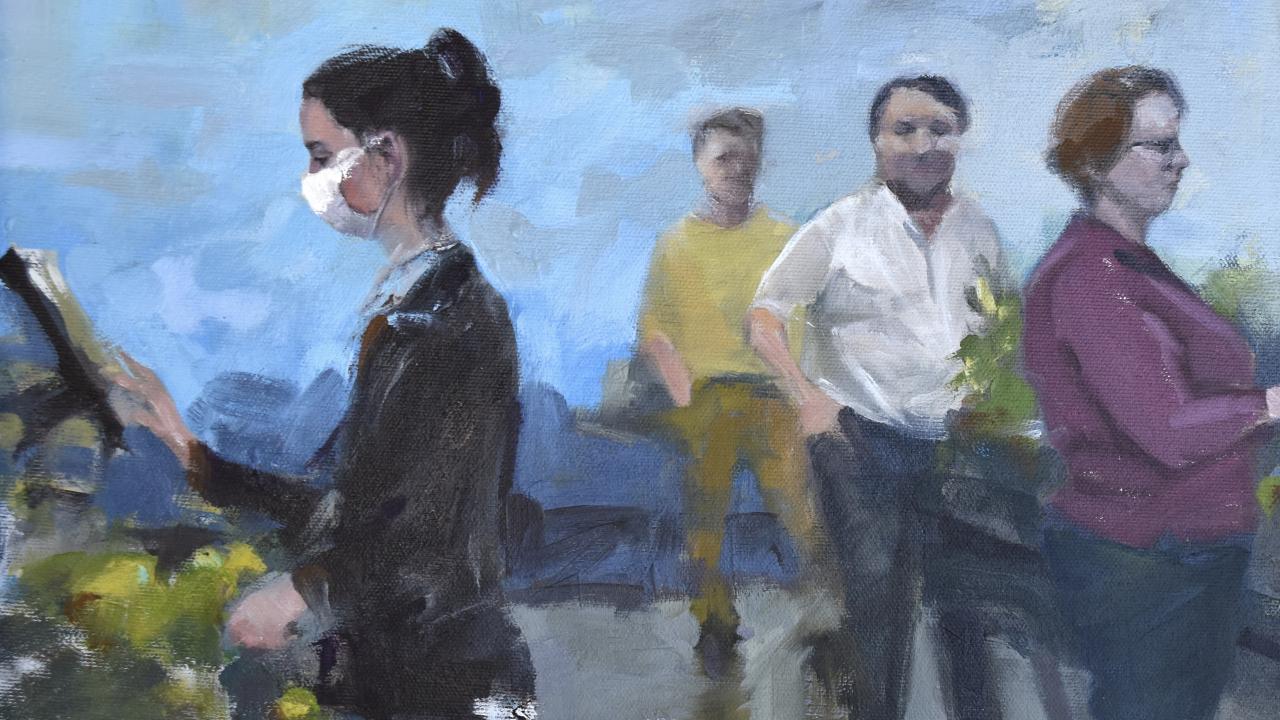 The Center for Western Studies is honored to present "Pandemic: The Art of Survival," a gallery exhibition featuring artwork created during a year like no other. In 2020, the COVID-19 pandemic turned the world upside down. Facing deaths, hospitalizations, and a shattered economy, it has been difficult to find any light in such dark times.
Artists across our region saw opportunities disappear as museums went dark, exhibitions were postponed, art shows were canceled, and patrons weary of the economic downturn delayed purchases. But even in the darkest of times, art always finds a way to survive. Whether it was learning a new technique, teaching a workshop, or just starting a project that had been put off due to lack of time, artists found ways to continue their work of making the world better.
All of the artwork in this exhibition was created between March 2020 and March 2021. We asked artists to show us what they worked on when the world fell silent and still, and they astounded us over and over again.
Some explored the crisis head on, using PPE equipment as muse and material when expounding the preciousness of the N95 mask by enveloping it in gold, or documenting the normally lively main street of Deadwood, SD, dead-still as gambling halls lay dormant. Other artists spent the year seeing their surroundings in a different light, producing work that highlights the world in a way we hadn't observed before we had all the time in the world.
Though the pandemic is not over, we want to take the time to honor those who have weathered uncertainty and division yet continued to create. We wish to shine a light on our artist community for their diligence and tenacity in ensuring art always survives.
Artists participating in the exhibition:
Paul H. Boerboom
Glen Bruns
Judy DeBoer
Judith Edenstrom
Connie Gisi
Eileen Halverson
Ray Kelly
Duane Kjelden
John V. Nelson
John Olson
Joan Putman
Robert Semrad
Tom Shields
Kat Thompson
Jodi Vittitoe
James Wakeman
Watch Video
To celebrate the 100th anniversary of this landmark event, the Center for Western Studies is thrilled to present a gallery exhibition featuring 19 pieces created by female artists demonstrating the diverse and powerful voices of the women of the Northern Plains.
Throughout its half-century history, the Center for Western Studies has sought to lift up the voices, both past and present, of the people of the Northern Plains. One of the truest forms of having one's voice heard is the ability to affect change through the right to vote.
In the mid-19th century, whispers began to emerge from a population that had been denied a voice for far too long ― women were beginning the long march toward the ballot box. The first campaigns for women's suffrage in many plains states were tied, in part, to pushes for statehood, and often consisted of a piecemeal assortment of individual voting rights allowing women to vote in matters that had to do with local issues such as school elections.
In 1890, South Dakota attempted to include a women's suffrage provision in its state constitution, but the effort was ultimately defeated. For the women of South Dakota, the march continued. Multiple subsequent amendments failed to gain support, until 1918, when South Dakota became the 17th state in the nation to extend voting rights to women. Two years later, the nation followed, and the 19th Amendment to the Constitution was ratified. On election day, November 8, 1920, men and women of the United States of America were able to have their voices heard as equals.
Even with this momentous occasion, inequalities persisted. Voting rights were not extended in the same way to all Native women (and men) until the 1960s, bolstered finally by the Voting Rights Act of 1965. As we honor the historic achievement of the ratification of the 19th amendment, we do so with the understanding that there is still much more that needs to be done to ensure all voices are heard.
Join us in celebrating 19 amazing Northern Plains female artists who speak through their artwork about the courage and compassion, the grit and generosity, it takes to be a woman living on the Northern Plains in the 21st century. The variety of voices presented in this exhibit is a harmony of authenticity, beauty, and tenacity; it's a chorus of voices, loud and clear, reverberating with the truth that all men and women are created equal.
 At the crossroads of westward expansion and indigenous establishment lie many realities, half-truths, and complete fabrications. In essence, the historical record is an interpretation of events by the people writing it, inhibited by the constraints of the time and place in which they lived. Under the weight of progress and in the harsh glare of enlightenment facts bend, they fade, and sometimes they completely disappear. Truth is in the eye of the beholder and the moments that make up the events of history belong to the direct witnesses of those events. Luckily, some of those witnesses were holding cameras.
If a picture is worth a thousand words, the stories told by the photographs in "Blue Cloud Reflections," are endless.
This latest exhibition at the Center for Western Studies is actually centuries in the making. Among those settling the Northern Plains during the mid-19th century was an order of Benedictine monks who created missionary schools throughout the region, and set about chronicling the lives of the Native American people who called this land home. Father Ambrose Mattingly, who, in 1888, came to Immaculate Conception Indian Mission at Stephan on the Crow Creek Reservation in South Dakota, was a photographer whose images captured the history of day-to-day life of the Sioux people. The honesty captured in Mattingly's work is proof of the trust his subjects had in him.
Mattingly wasn't alone in his quest to preserve a historical image of the Native American population on the plains. Other monks added to his photographic record and in doing so, amassed a visual chronology of the evolution of a culture. The collision of European expansion and the preservation of indigenous ancestral heritage were reflected in their lenses. 
Several decades passed before a monastery was founded near Marvin, SD, in 1950 to serve as a base of operations for the Benedictines. Out of respect for the Native American communities in the Dakotas, whom they had served since 1876, the monks named it Blue Cloud Abbey after Yankton Sioux elder Blue Cloud.
Father Stanislaus Maudlin, a founding member of the abbey, was interested in taking his appreciation for Native American culture a step further. In 1967, he founded the American Indian Culture Research Center (AICRC) at the abbey. Father Stan intended for the center to accomplish two missions: to support emerging Indian leaders as they attempted to rebuild institutions that had been destroyed—family, education, law and order, economy, and church—and to raise up non-Indian respect for Indian spirituality, philosophy of life, and culture. In addition to supporting special projects, the center housed a museum and served as a repository for the monks' more than 100 years' worth of accumulated photographs.
Due to a lack of new members, the Benedictines voted to close Blue Cloud Abbey in 2012, and with it the American Indian Culture Research Center. Having worked with Father Stan for several decades to preserve his personal papers here, the Center for Western Studies received the AICRC's collections of art, artifacts, books, and images. 
Now, some 125 years after Ambrose Mattingly began photographing the plains, the Center for Western Studies is humbled to present "Blue Cloud Reflections," a gallery exhibition featuring his historical photography and other select images from the Blue Cloud Abbey American Indian Collection.
Narrowing the selection for this special exhibition was no simple task — today, the Blue Cloud Abbey Collection encompasses an estimated 85,000 items in various formats including glass plate negatives, lantern slides, photographic prints, film negatives, and slides.
Some of the images have been exhibited at CWS before. In the early 2000s, a number of Ambrose Mattingly's deteriorating glass plate negatives were scanned and digitally restored by staff at the Earth Resources Observation and Science (EROS) Center outside of Sioux Falls. This work culminated in a traveling exhibit that was displayed in Washington, D.C., and later at CWS in conjunction with the publication of "Impressions of Tribal Life: The Reverend Ambrose Mattingly Photographic Collection" by the Eastman Kodak Company in 2007. As part of our 55/50 anniversary celebrations, we're excited to display them again this year, alongside others that have never before been seen by the public. Several artifacts from the Blue Cloud Abbey Collection are also available to view in the "Voices of the Northern Plains" exhibit in the Froiland Plains Indian Gallery.
The annual Artists of the Plains Art Show and Sale and the many exhibitions that have graced the Center's galleries from its earliest days to now, have allowed CWS members and donors a chance to support local artists, the greater regional art community, and the ideals the Center for Western Studies holds dear. 
Now, as the Center begins its 50th anniversary year, we want to recognize those generous individuals who have made our decades of art programming possible: our patrons.
A selection of artwork acquired for private collections through CWS programming has returned to the Fantle Building for a unique and eclectic show. As you walk through the exhibition, "The Art of Generosity: CWS Honors Its Patrons," familiar images will remind you of the beautiful journey CWS has taken you on for half a century — and will leave you eager for what the next 50 years have in store.
Featured Artwork is from the Private Collections of the Following CWS Donors:
Robert and Elizabeth Bennett
Stan and Sandra Christopherson
Russ and Rhonda Duerksen
Sharon Gray
Tom and Gloria Houle
Duane Kjelden and Steve Waugh
Robert and Jane Kolbe
Nancy Losacker
Gary and Rosaaen Olson
Dean and Sharon Schueler
Harry and Ronelle Thompson
James and Penny Volin
Tim and Claudia Wassom
Marty Watson
Donna Willadsen
Norma and Jerry Wilson
At the invitation of members of the Pipe On Head family in Oglala Lakota County, SD, artist Carolyne D. Landon has chronicled seven generations of life on the Pine Ridge Indian Reservation since the 1890 Wounded Knee Massacre through paintings of Chief Big Foot and his Pipe On Head grandsons up to the present generation.
James Pipe On Head, the grandson of Chief Big Foot, survived the massacre as a ten-year-old boy and later became president of the Oglala Wounded Knee Survivors Association. In 1938, he testified before Congress seeking reparations for survivors and the families of those who died in the massacre. His historical testimony describing the event as a massacre influenced the public memory of what happened at Wounded Knee in December of 1890. 
About the Artist:
Carolyne D. Landon is an interdisciplinary artist. Her paintings, drawings and prints have been exhibited in museums and commercial galleries in the U.S., Korea, and China. Her illustrations have appeared in Smithsonian magazine, and her writing and photography has been published by The Nature Conservancy. Landon's work as a courtroom TV news artist appeared for several years on NBC-TV News and in The Washington Post.
For the Lakota, Nakota, and Dakota people of the Northern Plains, oral histories preserve cultural traditions and create a bridge from that which was, to that which is now.
The Lakota origin story says that Tatanka (the American bison or buffalo) sacrificed his own body to sustain the First People. Referring to themselves as the Buffalo Nation, the Sioux are intrinsically bound to the mighty buffalo. 
In sustaining both the body and spirit of generations of Sioux, the power and sacrifice of this noble beast are also the very reasons Sioux oral histories survive today. Food, shelter, clothing, even artwork created from the physical body of the buffalo kept the oral traditions alive in a literal sense. 
The buffalo herds, once numbering in the millions, were hunted to near extinction in the late 19th century. Numbers have dwindled, but as a sacred animal of the Buffalo Nation, its spirit thrives. Yesterday, today, and forever, the First Peoples' stories are written on the spirit of Tatanka.
In his gallery exhibition, "11 Degrees of Tatanka," artist Jerry Fogg seeks to honor the buffalo's sacrifice in preserving Lakota oral histories. One of the ways the spirit of Tatanka is embodied in this exhibit is through the artist's use of painted buffalo skulls to depict Native traditions such as the sacred pipe ceremony, the story of White Buffalo Calf Woman, and star knowledge. As a mixed media Artist, Fogg uses traditional and contemporary materials in his work, blending the stories of those who came before him with his own.
Boundless. This word is often used to describe the land of the Northern Plains. From horizon to horizon, we are blessed with 360 degrees of splendor around us at all times.
The majesty that we have been gifted, in the remarkable place that many of us call home, will be on full display in the gallery exhibition, "Plain Views: Watercolors by Judy Thompson." From the simplicity of waves of prairie grass moving in unison, to the complexity of the muscles of a horse midstride, Judy Thompson illuminates all that is in our everyday "plain view" with a palette of surprising colors and brush strokes as bold as the people who live and breathe the grace and dignity of prairie life.
Included in this exhibition is Judy's Homestead Series, created during an artist residency at the Homestead National Monument in Beatrice, NE, and currently part of the Touring Arts roster through the South Dakota Arts Council.
Added to the original 12 paintings in this series are two artworks commissioned by the South Dakota Historical Society Press for their Pioneer Girl Project. The paintings, "Silver Lake Reflections" and "Summer Fields," provide the cover art for "Pioneer Girl: The Annotated Autobiography of Laura Ingalls Wilder" and "Pioneer Girl Perspectives: Exploring Laura Ingalls Wilder," respectively.
When Laura Ingalls Wilder recorded her experiences living in "The Little House on the Prairie," she could not have known the exceptionally broad reach her tales would achieve. A superb snapshot of life on the prairie in the 1800s, her work documenting a single family's struggles to thrive on the plains offers at the same time a heartwarming explanation for why thousands of our ancestors chose to brave the formidable land we now call home.
Adapted from Wilder's book series in 1974, the acclaimed NBC television show "Little House on the Prairie" brought this enduring story into homes nationwide. There's power in knowing what it means to be from a place, and one of the ways we do that is by seeing the place we come from represented in a genuine way in mainstream entertainment mediums. The show ranked within the top 15 most popular television productions during much of its nine-season run and won Emmys for cinematography and music.
In 1982, to honor the beloved television series, the East Palestine China Company of Ohio, coordinating with NBC and Ed Friendly Productions, commissioned South Dakota artist Eugene Christopherson to create 12 paintings for a collectors plate series. Christopherson was a natural fit to immortalize scenes from the television series, having grown up on the prairies of South Dakota himself.
In March of 2017, the 12 original oil paintings Christopherson created for this series became part of the Center's Fine Art Collection. 
The diverse expanse of the Northern Plains landscape provides beautiful vistas that inspire some of the region's most remarkable artists to capture its wonder in their work.
Lush verdant pastures exist inexplicably alongside dramatic arid buttes. Each is shaped by a force as timeless as the land itself: weather.
Water, wind, and fire shaped this great land we call the Northern Plains and continues to shape it to this day. Tornadoes, drought, floods, and wildfires lend credence to South Dakota's motto: the land of infinite variety. If you don't like our weather, wait a minute — it will change. 
The Center for Western Studies is excited to present "Weathered: The Northern Plains Landscape as Shaped by the Elements." In this unique exhibition, the work of 22 regional artists demonstrates how weather impacts the Northern Plains.
Jan Sohl is forever becoming a landscape painter. Growing up, she watched her parents and grandparents make things and followed them on their adventures into South Dakota's Black Hills and over the prairies and mountains to Yellowstone country. Jan believes the stories told by the magnificence of these landforms are significant in the compositions she builds in her paintings and drawings.
In defining where her inspiration comes from, Jan says, "I see something outside. I know this sounds crazy, but there's a flash of harmonic vibration in that scene, like a bright chord played by a symphony. The curtain goes up. Then the sketches and block-in are applied to find the way through the idea. The painting is built up, working the colors into the values. Then it seems the piece has to be deconstructed so the right harmonies balance with the necessary dissonance. And, if I let go, the music finds its symphony. It is preserved because it never comes again."
Jan enjoys painting outside, 'en plein aire', whenever time is available. In September 2016, she participated in the 7th annual South Park Plein Air Arts Celebration in Fairplay, CO, where her pastel drawing, "Montgomery Falls Rapid," won Best of Show. She has also participated in plein air paint-outs in the Black Hills and in the Harvey Dunn Plein Air Paint-Out in DeSmet, SD.
A signature member of Artists of the Black Hills, Jan participates in the professional artists' association's many events. Among the places her work can be seen is Prairie Edge Trading Company and Galleries in downtown Rapid City, SD.
Painter, illustrator, and sculptor Eugene Christopherson found the "South Dakota" in us all, great and small.
Chosen to immortalize five South Dakota governors, he also took pride in celebrating the diversity of our remarkable state: from the youth who would carry our dignity, tenacity, and generosity into the future to the wisdom and bemusement staring back at you from the eyes of a Native American woman telling her story with every crease on her face.
His work is a window to a South Dakota of years gone by, whose spirit, strength and ingenuity laid the very foundation we stand upon today. Eugene captured all of it...he captured us all...he captured South Dakota.
Anyone living in the Northern Plains can sense the movement in the vast, undulating prairie expanse. This living landscape is on full display in the extraordinary encaustic paintings of Sioux Falls artist Michael Paul now featured in The Cadence of Grass at the Center for Western Studies. The fascinating process of encaustic painting involves applying pigments to heated wax. In this remarkable exhibition, the wax on the canvas creates a highly tactile visual effect mirroring the land itself. 
Artist's Statement:
Some time ago we had our driveway resurfaced with a black, flat, perfect coat of tar. No sooner had the stuff dried when a pack of kids descended on it with buckets of chalk in hand. While the drawing they made lasted only through the afternoon, it rivaled the genius and beauty of a drawing done by a master. It is this elusive beauty of a sidewalk drawing that encourages my search.
On the Great Plains of North America, tall grasses hold cadence with the wind, wave after wave, tortured by hail, scorching sun and blizzards. It is a place defined by simple architecture that punctuates the wide spaces. It is the Floor of the Sky. It is the real deal. It is a place that, while standing on top of a butte like E Six, one can actually feel the sky and hear the heartbeat within your own chest.
It is here that I search for sidewalk beauty. Often it emerges as a certain stillness and quiet truth.
Artist's Bio:
Michael Paul was born in Helena, Montana. He received his BFA from Minnesota State University Moorhead and his BA in art history and mathematics from Concordia College. Paul also studied painting conservation at the National Gallery in Washington, DC. Following service in the Air Force as a geodetic surveyor, he began painting professionally and established Flathead Studio in 1996.
Paul is best known for his paintings of the northern Great Plains as well as the use of traditional encaustic materials. He is a recent recipient of a grant from the North Dakota Humanities Council, and his paintings are included in numerous public collections including the North Dakota Museum of Art, Plains Art Museum, Steensland Art Museum, University of Minnesota, The Center for Western Studies, Mayo Clinic, and the Federal Reserve Bank. He resides and maintains a studio in Sioux Falls, South Dakota.
Norma Wilson and Nancy Losacker have collaborated as poet and artist since meeting in 2008 on the bank of the Missouri River to begin their first pairing, a work for the P3 Exhibit sponsored by the Washington Pavilion's Visual Arts Center. These days, the two are convinced their visual art and poetry speak more powerfully when experienced together than separately.  
In 2013, they received a Collaboration Grant from the South Dakota Arts Council to fund the creation of additional pairings, enabling them to launch Rivers, Wings & Sky. Yankton Area Arts sponsored the duo for a 2013-14 Media Grant from the South Dakota Humanities Council, and they now travel the state giving presentations on "Rivers, Wings & Sky: The Art of Collaboration" as part of the SD Humanities Council's Speaker's Bureau.
Nancy and Norma are grateful to their shared muse, the fragile and beautiful natural world, which renews and excites their work. Whether they are at a river's edge, standing on top of Spirit Mound, walking through the prairie, or watching turkey vultures roosting on the water tower in Vermillion, as artist and poet, they desire to express their love and care for the planet. Both are saddened by growing threats to their paradise, but they are continually more aware of the beauty of our living river and its ongoing cycle of life.
Did you know that South Dakota is home to six scenic national parks? In honor of the National Park Service centennial (1916-2016), the Center for Western Studies is proud to present an exhibition of photography exploring the wonder and beauty of the South Dakota landscape.
While the exhibition is designed to pay homage to the state's many national parks, we are excited to showcase a vast array of locations throughout the state.
Each image entices viewers moved by the beauty the photographer has captured to visit the site and experience it themselves. Winter, spring, summer or fall, South Dakota is beautiful in any season, and the hidden treasures on display in this exhibition will encourage everyone to explore our remarkable state.
Artists featured in the exhibition:
John T. Capone
Tom Dempster
Michelle Diehl
Abbie Graham
Pat Hansen
Erica Lane Harvey
Sylvia Lambert
Joe Lowe
Luke Simmons
Thomas Simmons
Harold E. Storsve
Ruby Wilson
This unique exhibition, from the artist collective known as Blood Run Artworks of the Big Sioux, explores the dark history of the Hiawatha Asylum for Insane Indians, a facility that operated in Canton, South Dakota, from 1902-1934. More than thirty years after it opened, the asylum was closed following numerous complaints and investigations that cited poor living conditions and inhumane treatment of the residents. During its operation, at least 391 Native Americans were sent to the asylum. Of those, records indicate at least 121 died while under the care of the institution. Due to poor record keeping, the actual number of deaths is unknown.
The mission of Blood Run Artworks of the Big Sioux is to show how artists of different media can create pieces that will inform viewers. The artists chose to focus this exhibit on the Hiawatha Asylum for Insane Indians following the expiration of a 70-year government-imposed gag order. Now is the time, they feel, for the story to be told, investigated, and most of all remembered.
I Have The Honor To Report, the title of the exhibition, is a reference to official asylum documents which included the phrase under the official letterhead of the Department of the Interior United States Indian Services. Jerry Fogg notes how this statement, "makes it official that another human being is sentenced to what may be their last stand."
Among the artists currently collaborating on the exhibition for Blood Run Artworks of the Big Sioux are multi-mixed media artist Jerry Fogg, Ihanktonwan Nakota Oyate; printmaker and art educator Chad Nelson; mixed media and assemblage artist Chris Francis; and artist Angela Behrends.
Sharon Gray's foray into painting began when she serendipitously came across a close-out sale of art supplies at the Augustana bookstore. With paints, brushes, and watercolor paper marked down to 25 cents an item and all proceeds going to the Banquet, she says, "it was a win-win."
Only a few colors of watercolor paint tubes remained at the sale, forcing the new artist to learn how to mix her own colors.
But Gray's $150 purchase that day gave her the opportunity to put on paper what she had experienced as a child, traveling with her father as he filmed South Dakota Department of Tourism movies in the 1960s. From those trips, she has carried with her the memory of the stunning, wide expanses of the South Dakota landscape.
This love of the land allows Gray to create what her oldest son calls "portraits of places." She attempts to capture color and light, and how they work upon the landscape, in her paintings. The dense technique she uses gives her work a photographic quality. But Gray say's it's "more than just capturing what a place looks like, I want to capture what it feels like." 
Occasionally, she has the opportunity to paint en plein aire. However, with seven children, a two-hour commute, and a full-time job, she has to budget her time wisely. Carrying a camera almost everywhere she goes allows her to document unique scenes as she comes across them for painting later. She often photographs the same scene many times to catch different lighting effects. 
The artist takes one to two days to complete a work, and she admits, "if it takes me longer, it's usually not going to be a very good painting!"
A familiar face to the Center for Western Studies, Gray has participated in the Artists of the Plains Art Show & Sale and had pieces chosen for both the Interpretations of Wounded Knee 1973 and 1890 and the South Dakota 2014: Artists Respond to the State's 125th Anniversary gallery exhibits. Gray is an Instructional Technologist at Augustana University where she is in charge of faculty development in the area of instructional and information technology.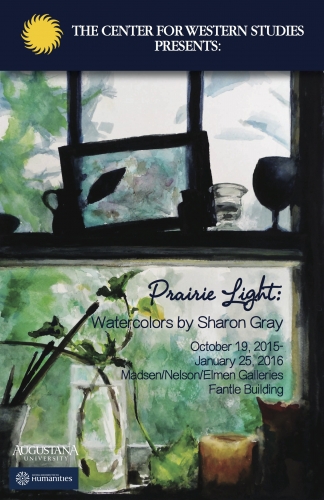 As part of its mission to preserve and interpret the history and cultures of the Northern Plains, the Center for Western Studies maintains an extensive collection of fine art by regional artists and artists whose work exemplifies the essence of the region. 
A small number of works has been purchased through the CWS fine art focused-giving campaign, but the majority of the collection has been acquired through the generous donations of friends of the Center who desire the chance to share publicly the visuals that inspire them.
The Center's Fine Art Collection consists of many different mediums, including bronze, wood, and stone sculptures; oil, watercolor, and acrylic paintings; photography; and mixed media. In its substantial holdings, the Center is proud to represent both well-known artists, such as Oscar Howe and Norman Rockwell, and rising stars like Jerry Fogg and Michael Paul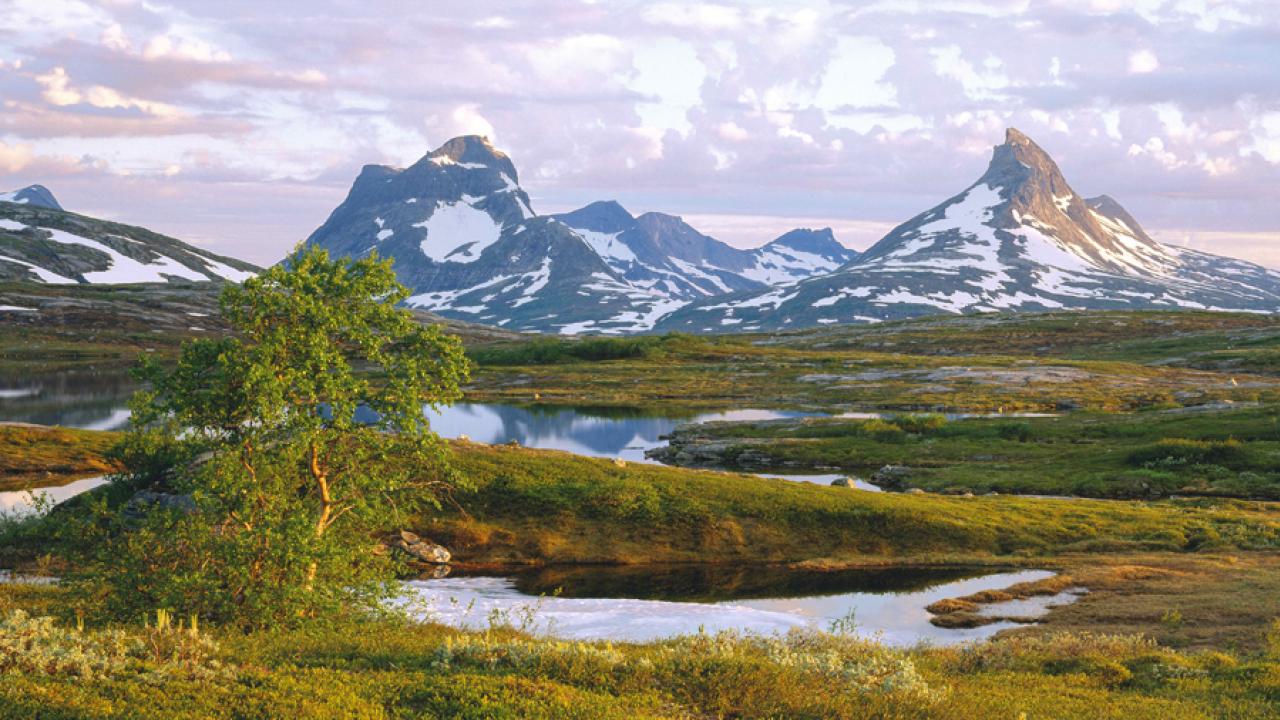 The Center for Western Studies is proud to present "Forbidden Landscapes: The Secrets of Northern Norway," a gallery exhibit featuring the breathtaking images of Norwegian photographer Lars Westvig.
Lars is a professor at the University of Nordland in Bodø, Norway. Despite the distance, he is no stranger to Augustana College. Every January, Lars facilitates an exchange program that allows nursing students from Bodø to study here and for Augustana nursing students to travel to Bodø.
At the age of 12, Lars began taking photographs with a Kodak Instamatic camera. This early hobby led to a professional photography career at the age of 25. His photos have been sold throughout Europe, and in 2000, Lars published his first book of images titled Bilda, the Norwegian word for picture. In 2013, Bilda was followed by a collaborative book of images with photographer Arvid Larsen titled Nord: portrett av et landskap (North: Portrait of a Landscape).
The majority of the images on display at the Center for Western Studies were taken from Lars' light aircraft.
The Simmons/Madsen/Nelson/Elmen galleries of the Center for Western Studies (CWS) are currently displaying a juried art exhibit and sale of original works of art by current and past residents of South Dakota in observance of the state's 125th anniversary of statehood. The exhibit and sale, which runs June 10 through September 27, is entitled "South Dakota 2014 Art Exhibit and Sale: Observing the State's 125th Anniversary." A public reception will be held Thursday, June 12, from 4-6 p.m.
More than 80 artists submitted proposals for single works of art reflecting on South Dakota's statehood. These proposals were carefully considered by the CWS Board's Art Committee who chose 40 pieces for the final exhibit. Exhibiting artists include Dale Aadland, Ariadne Albright, Steve Babbitt, Ronald Backer, Bonnie Brahms, Gerald Collogan, Rodger Ellingson, Stacey Evangelista, Dede Farrar, Nick Fischer, Nicole Fischer, Jerry Fogg, Chris Francis, Jill Frederick, Sharon Gray, Mick B. Harrison, Marian Henjum, Nancyjane Huehl, Jamie Jacobsen, Peter Kilian, Karen Kinder, Lee Leuning and Sherri Treeby, Harriet Lievan, Dennis Linn, Don Montileaux, Michael Paul, James Pollock, Bruce Preheim, D. George Prisbe-Przybysz, Gisele Robinson, Paul Schiller, Arthur Short Bull, Gary Steinley, Jennifer Stone, Robert Ten Cate, Ed Thomas, Judy Thompson, Ray Tysdal, David Warren, Jennifer White, and Darwin Wolf.
The juried exhibit includes a $2,500 grand prize, which was announced at the public reception, and $1,500 in additional cash prizes, funded by the Center for Western Studies. The winners are:
Grand Prize: Straddling 125 Shadows of Years Gone and Past While Looking Ahead Towards the Light of Future Dust by Chris Francis
People's Choice, 2-D: Oh, Give Me A Home by Jerry Fogg
People's Choice, 3-D: Something for Supper by Lee Leuning and Sherri Treeby
The exhibit and sale are displayed in the Fantle Building of the Center for Western Studies, located on the Augustana campus at 2121 S. Summit Avenue. The Simmons/Madsen/Nelson/Elmen Galleries in the Fantle Building provide one of the largest permanent gallery spaces in the region.
The first exhibition in the newly revitalized Madsen, Nelson, and Elmen Galleries of the Fantle Building features works by regional artists Cathleen Benberg and Steve Beaubien.
Benberg and Beaubien share a unique joy for painting en plein air, or outdoors. Painting natural landscapes as well as architectural scenes, both artists evoke the spirit of life on the Northern Plains where the lines between city and country are often blurred.
Cathleen Benberg grew up on a farm in northwest Iowa and majored in art at Northwestern College in Orange City. She has lived in Philadelphia, Pa., Apache, Okla., Mandan, N.D., and moved to Sioux Falls in 1991. A graphic designer by trade, she enjoys drawing plein air landscapes and portraits in pastel and charcoal.
Steve Beaubien, a fine art painter in oils, was born and raised in northwest Iowa, relocated in the mid-1990's and today is making his home in Sioux Falls, SD. Throughout his developing career as an artist, many friends, teachers and other artists have influenced his artwork.
The exhibition celebrates the prolific life of Professor Emeritus of Art Carl Grupp, one of South Dakota's preeminent living artists. On view will be 120 works, many of which have never before been displayed.  While including some of Grupp's most iconic works — from large-scale watercolor mountains to surrealist still-lifes — the installment will also feature works that Grupp had heretofore considered "half finished" or too experimental to show. These works most reveal Grupp's development, working methods, and his relentlessly searching mind, which will add to a fuller understanding of this significant artist.
Grupp served on Augustana's faculty from 1969-2004. He received his M.F.A. from Indiana University, Bloomington. He received his B.F.A. from the Minneapolis College of Art and Design. He also did undergraduate study at the School of Associated Arts, in St. Paul, Minn. and at Augustana in Sioux Falls, S.D.
Grupp has participated in more than 100 regional, national, and international art exhibitions since 1961, with dozens of one-man shows.
Former Minnehaha County Commissioner Robert Kolbe is known as the one to call if your antique clock needs repair or if you find an old bottle in your backyard. He is also an expert on early photography in Dakota Territory, co-author of "They Captured the Moment: Dakota Photographers, 1853-1920," editor of "Minnehaha County Historical & Biographical Sketches," and an appraiser of historical books, documents, and photos.
Kolbe is the immediate-past President of the Minnehaha County Historical Society and the mayoral appointee to the Siouxland Heritage Museums Board for 2013. He has been a member of the South Dakota State Historical Society Board of Trustees since 2004. A popular and long-time presenter at the CWS Dakota Conference, West River History Conference, and the State Historical Society History Conference, Kolbe has earned several recognitions, including the Distinguished Contribution Award for Preservation, given by the CWS Board of Directors, and the Zoom Zoom Award, given by the organizers of the West River History Conference. He has also made generous donations of historical items to such repositories as the Center for Western Studies, Siouxland Heritage Museums, and the State Historical Society.
Kolbe is currently conducting research for a new book on stereographic views of the Black Hills Gold Rush, 1875-1879, and planning a second edition of "They Captured the Moment."
Yankton Sioux Oyate artist Jerry Fogg, Wanagi Tatanka (Bull Ghost), is a mixed-media, pencil and ink, acrylic and watercolor tribal artist. He is an advocate for Blood Run, Hiawatha Indian Insane Asylum and Pé Sla and a multi-mentor at Hawthorne Elementary in Sioux Falls. Fogg is a graduate of Flandreau Indian School and an enrolled member of Ihankton Nakota Oyate. He is the lead vocalist for the contemporary rock band "Native Soul," and a self-employed business owner in Sioux Falls.
Artist of the Year: Flandreau Indian School
Best of Show (mixed-media): United Tribes Art Expo
Best of Show:Yankton County Open Art Competition
Award Winner (Textile): Northern Plains Tribal Arts
Patron Award: LuVerne, Minnesota Open Arts
People's Choice Award: Artists of the Plains
Best of Show: Artists of the Plains
Nominee for Mayor's Award for the Arts: Sioux Falls