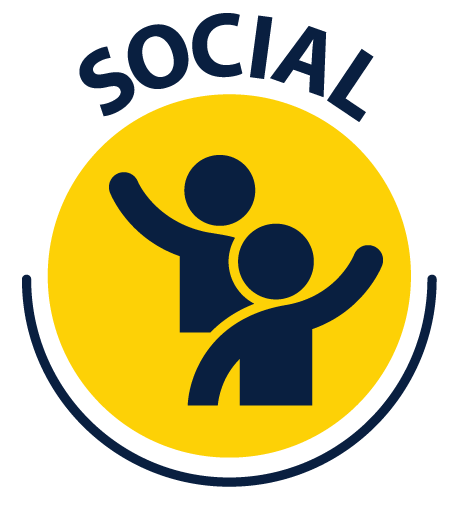 Social Well Being: Strengthening Your Community and Sense of Belonging Through Meaningful Relationships and Contributions
Athletics: Through Viking Athletics, Augustana students can create community and camaraderie around 21 Division II programs that represent Augustana University in competition on a regional and national stage. Home games and events provide great opportunities for Augustana students to connect with each other and build unity among the student body as they cheer on their peers to victory. More information including sport offerings and schedules can be found at GoAugie.com.
Augustana Student Associations: The ASA Senate acts as a liaison between students and the Augustana University Board of Trustees, administration, faculty and staff. One dimension of student life we are committed to supporting is social well-being. Whether connecting you with student organizations on campus, connecting your organization to opportunities or providing intentional programming, we would love to advocate for your social wellness.
Campus Ministry: Campus Ministry's motto is "All are Welcome" and we mean it! The Chapel is a place where you can find a sense of belonging and help others to know they belong. It is a joy to grow community with people who are like us and not like us.
Campus Safety: The Department of Campus Safety is committed to your social well-being by offering a variety of solutions supporting you in your day-to-day encounters with people you know and people you do not know.
Dean of Students Office: The Dean of Students Office is a resource for students and all other members of the campus community. Personnel in this office are committed to promote enlightened citizenship, respect for human community and the development of healthy lifestyles.
Dining: Food is at the core of the community in our culture. This is where students gather and have the most interaction on campus.
Diversity, Equity & Inclusion: Students will be able to express ideas, identify behaviors, and actualize practices that promote social justice, diversity, equity and inclusion. Bias Education & Response Team | courageous conversations | book discussions | classroom engagement | Affinity Group support | intercultural programming | student leadership professional development opportunities.
Facilities/Maintenance/Custodial Work Order Requests: By reporting a facilities/maintenance/custodial need you will help others from having to deal with the issue and will help keep our campus well functioning and clean.
International Program Office (IPO): Through initiatives like the IPO ACE Ambassador Program (student volunteers welcoming and mentoring new international students), Friday Rendezvous Program (weekly cultural presentations), Window Seat (an intercultural newsletter-turned-podcast), International Education Week events, mentorship of various affinity groups (i.e. the Augustana International Club and Global Education House), the IPO aims to facilitate students' access to intercultural experiences and relationship development.
Mental Heath Services: Augustana works closely with Sioux Falls Psychological Services, which provides students with a comprehensive and multidisciplinary group of more than a dozen mental health professionals. Students will receive confidential, individual counseling for a variety of personal issues such as adjustment to college, self-esteem, anxiety, depression and loss. The mental health & wellness specialist is committed to educating the campus community on mental health and also serves as a confidential resource for students. Students can receive confidential, individual counseling for a variety of personal issues such as adjustment to college, self-esteem, anxiety, depression and loss.
Recreational Services: Recreational Services programs offer vigorous, fun-filled, health-promoting, physical activity conducive to wellness and personal development. The campus recreational program provides the entire Augustana community with the obvious benefits of physical fitness, but also new and lifelong friends, self-satisfaction and enjoyment, lifelong leisure time skills, and social and ethical qualities. Both formal and informal activities encompass team sports, individual and dual sports, competitive and non-competitive activities, and a variety of fitness programs. Programs and activities are centered in fitness and wellness, sport club activities, intramurals, late nights and more!
Residence Life: Residence Life strives to create vibrant and welcoming communities within Augustana's on-campus housing facilities where students feel safe, valued, included and empowered.
Serving Others: Service is a core value at Augustana and it's a great way to address community needs while also strengthening relationships and developing skills.
Student Engagement: Student Engagement connects students with each other and Augustana, and we prepare leaders who will have a positive impact in a global society. We focus on three things: involvement, service and leadership.
Student Organizations: Student Organizations are a great way to make connections with other students while gaining leadership skills!
Viking Central: Viking Central is your home for connecting with student organizations, finding events to attend and keeping track of your involvement at AU!