Pictured: Brayden Harris '22 (data science major, of Brandon, South Dakota), Lauryn Van Regenmorter '22 (art and biology major, of Sioux Falls) and Ailin Montgomery '24 (art and history major, of Madison, South Dakota) with "The Captain's Desk."
October 7, 2021
With the help of Myrl & Roy's Paving, Inc. (a subsidiary of L.G. Everist, Inc.), the Brandon Valley High School Creative Minds Club and Augustana University Printmaking Program are creating today large-scale 4-by-8-foot woodblock prints with a steamroller.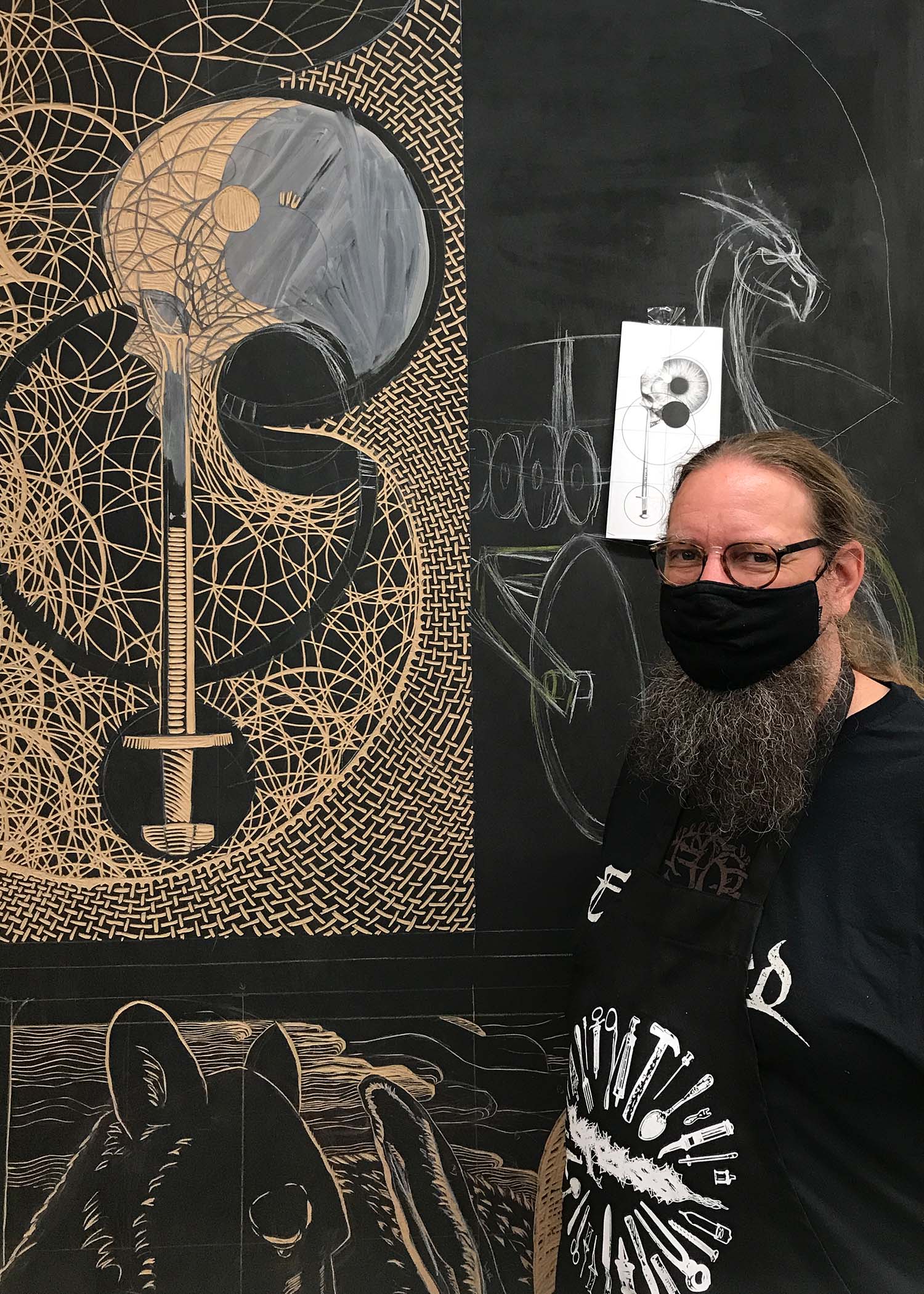 As part of Viking Days, the steamrolling event will take place from 9 a.m. - 3 p.m., on Augustana's campus on Commons Circle. The event marks the third biennial collaboration with Augustana University's Art Department and Myrl & Roy's Paving, Inc. to create approximately 50 large-scale prints in a few short hours.
The event has been coordinated and guided by Augustana's Printmaker-in-Residence and Instructor of Art Chad Nelson, also the longtime art educator at Brandon Valley High School. 
"The artistic process is almost always perceived as a ritual done in isolation, but the goal of a big event like this is to turn that trope on its head," said Nelson. "This project is all about building community within and outside our respective institutions; removing barriers between age groups, institutions, industry and academics, artist and non-artist. The goal of this project is simply to bring people together through a shared vision in a public and interactive event."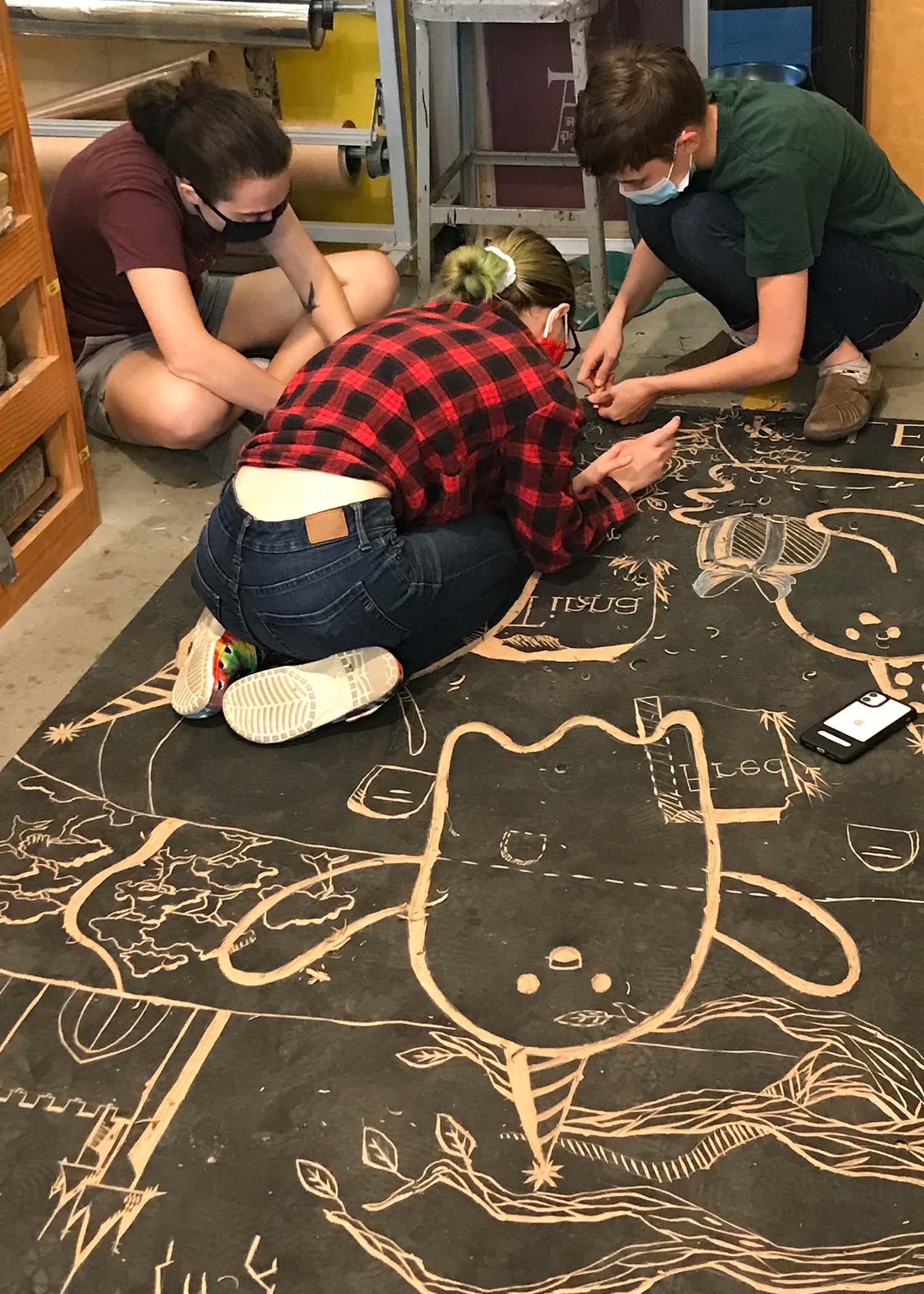 Unlike other techniques of visual art, printmaking is about community and collaboration. The Augustana and Brandon Valley printmakers are collaborating in groups to carve their images onto large boards of medium density fiberboard (MDF). This process takes many hours of carving, resulting in an artwork that brings together different ideas and approaches to image making. The images were carved into the boards using traditional carving tools such as gouges, chisels and knives. What is left of the board after carving the white areas away will be inked and printed on fabric by running it over with an actual steamroller.
Nelson contributed his own 4-by-4-foot carving of Nordic sword imagery and of a Viking ship steamroller as a thank you to Myrl & Roy's Paving, Inc. and L.G. Everist, Inc. As a group, the 19 students of Brandon Valley High School's Creative Minds Club also created a pumpkin patch.  
"It shows a community as a whole," noted Brandon High School senior Emma Nelson, "while allowing individuals to shine through with their own creative pumpkin."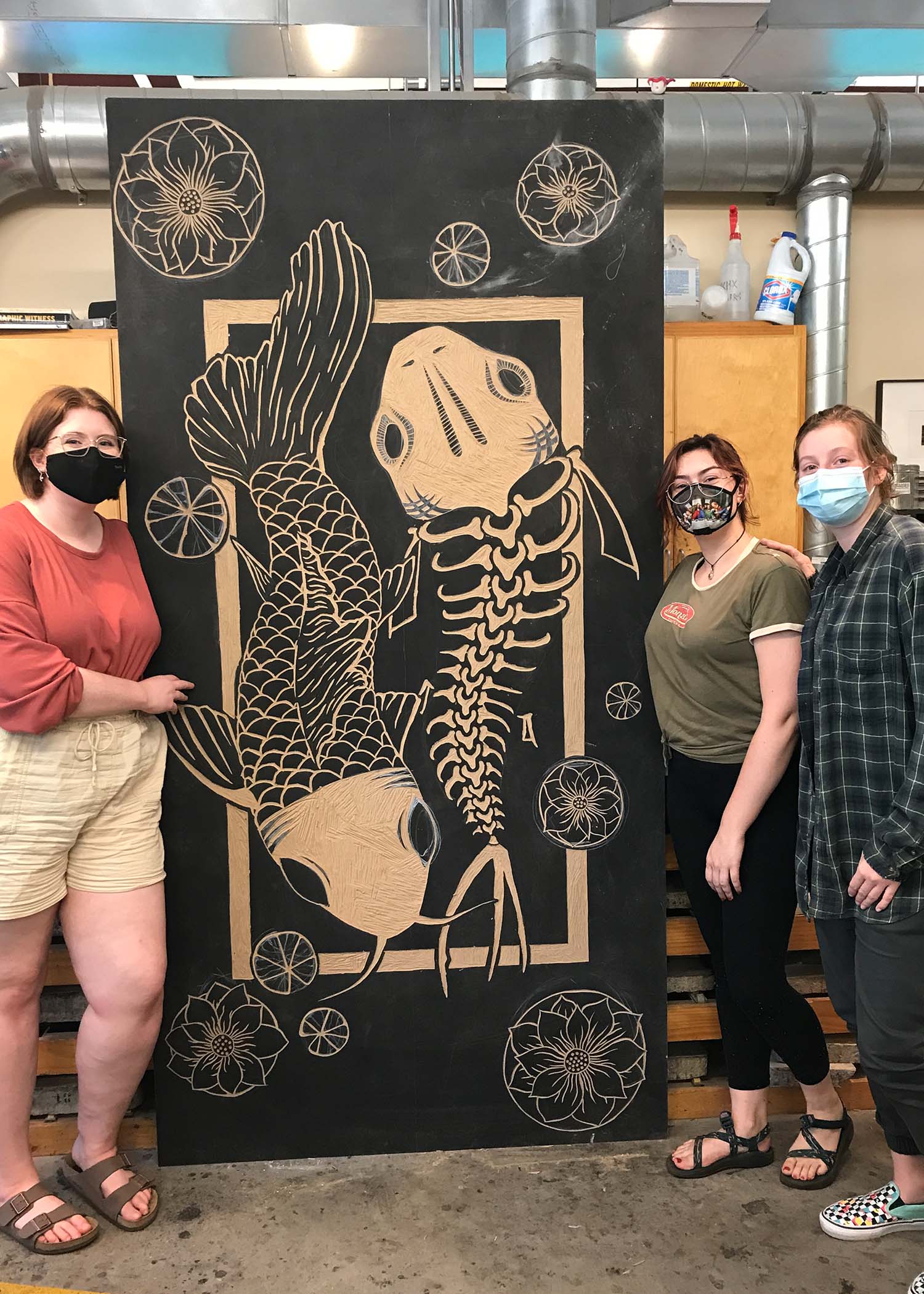 The subjects of the Augustana students and professors' prints include wayfinding with maps, constellations and a compass, a ghost's birthday party, wild koi and a fairytale confrontation of wild animals in a moonlit forest.
Augustana students Riley Stallman '24 and Addyson Kimball '22, as well as alumnus Kellie Enderson '21 created "Happy Birthday — But in a Minor Key."  
"The elements of fun and humor were parts that were important to really create a piece that we were all excited about making," explained Kimball.  
Combining their own unique artistic styles was also important to the team of Angie Cagle '22, Macy Loechler '22 and Brynn Collinsworth '22. While they found it easy and enjoyable to synthesize their styles, the material itself was difficult to master in a few short weeks. 
"Once we got the hang of it," stated Loechler, "the process went a lot faster!"
---
Event Questions: Contact Chad Nelson, at 605.582.3211 or Dr. Lindsay Twa, at 605.274.4010.