November 17, 2021
Written by University Writer Keeley Meier '20
Augustana students Onajite Taire '22 and Gedion Alemayehu '22 are part of a team that was named a global finalist for the 2021 Call for Code University Challenge — an initiative inviting problem-solvers from around the world to use coding skills to take on social and humanitarian issues.
Taire and Alemayehu were placed into the university category after first being selected as regional finalists for the overall global competition. Their team was one of just five in the world to be named a global University Challenge finalist.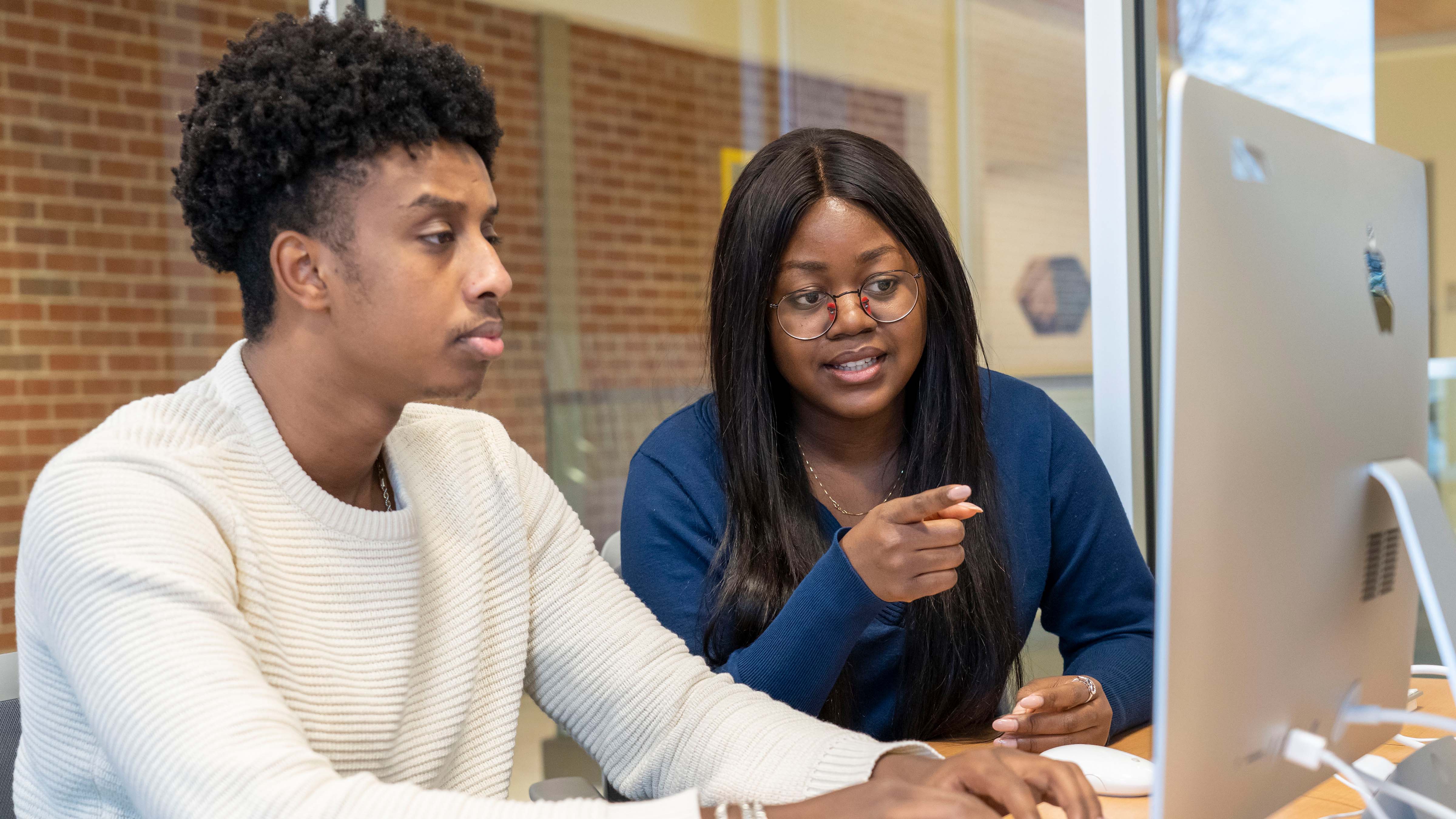 This year's Call for Code competition, which is in its fourth year, kicked off in March. Two teams from Augustana submitted projects — a first for the university. Because of AU's impressive entrance into the competition, the university earned a Call for Code Engagement Award.
Taire and Alemayehu, along with two students from Ethiopia and India attending New York University and PSG College of Arts & Science, made up one of AU's teams. Yeabsira Lemma '21, Gideon Kassa '21 and Fraol Dechasa '22 made up the other. Competing in the global competition was a chance for students to make a tangible contribution to solving the world's issues. 
"I wanted to do something that will actually have an impact, and I never really had the chance to work on something that big," Lemma, a data science major, said. "So, I thought it was a golden opportunity to try."
The competition was also a golden opportunity for the students to utilize technology that was new to them, courtesy of Call for Code's founding partner, IBM — including the company's databases, search engines and Watson, its artificial intelligence (AI) system.
"IBM's involvement in the competition was really helpful," said Lemma. "They had a lot of technologies that we've never heard of before, and we were introduced to them through Call for Code."
Technology is part of what inspired Taire, a computer science and business double major, to participate in the Call for Code competition. 
"Technology is one of the most easily accessible things in the Western world, but that's not the case in other places," Taire said. "Taking that privilege and access to the other side of the world to solve problems is one of the most incredible things we can do."
Taire, who is from Lagos, Nigeria, said her team's project was inspired by a personal connection. Makoko, Nigeria, is a rural fishing community that's regarded as Africa's largest floating slum. The community's fish produces one-third of the city's market, but residents make little to no profit for their labor due to a lack of education surrounding how to maximize business. 
"I used to drive by there every day to go to school, so I was thinking of these people and how we could make a difference for them," Taire said.
That's how Mile-12 was born — Taire and Alemayehu's Call for Code project.
"Mile-12 is a responsive web application that helps small-scale fishermen or farmers form and manage cooperatives, which will give them insights and recommendations on where and how to sell their products," Alemayehu, a data science and mathematics double major, said.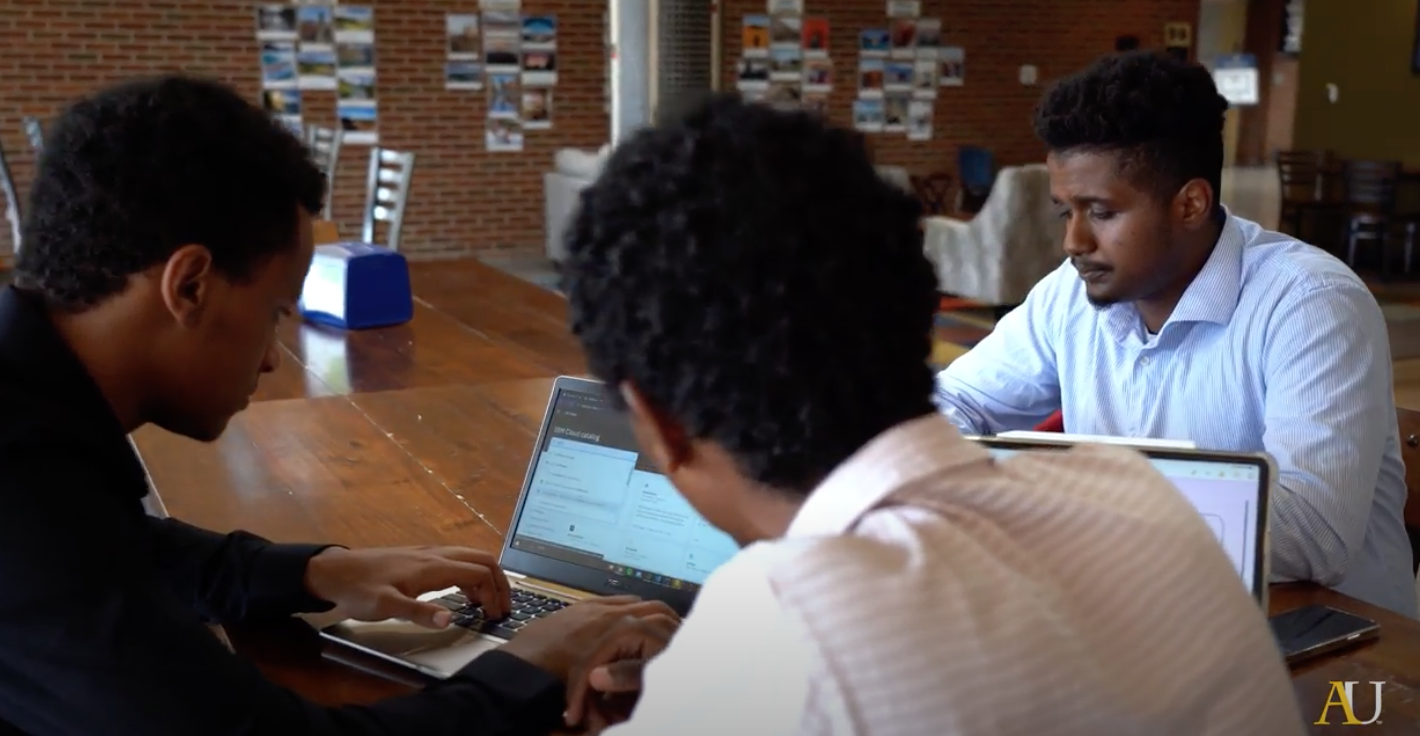 Lemma, Kassa and Dechasa followed a similar call to help others with their project — on a larger scale. The trio based their submission on construction and plastic pollution, which they believe is one of the biggest challenges their generation faces. 
"We're using up the resources that we have," Kassa said. "Plastic is always going to be produced. So, why not turn that into a resource? If we can do that, then the existence of plastic as a waste material is going to be obsolete."
The Ethiopian natives devised a way to introduce plastic into bricks, reducing the amount of cement used in bricks. This, in turn, would reduce the carbon footprint of cement production and be more cost effective for the construction industry.
For them, participating in the competition also reinforced the importance of teamwork.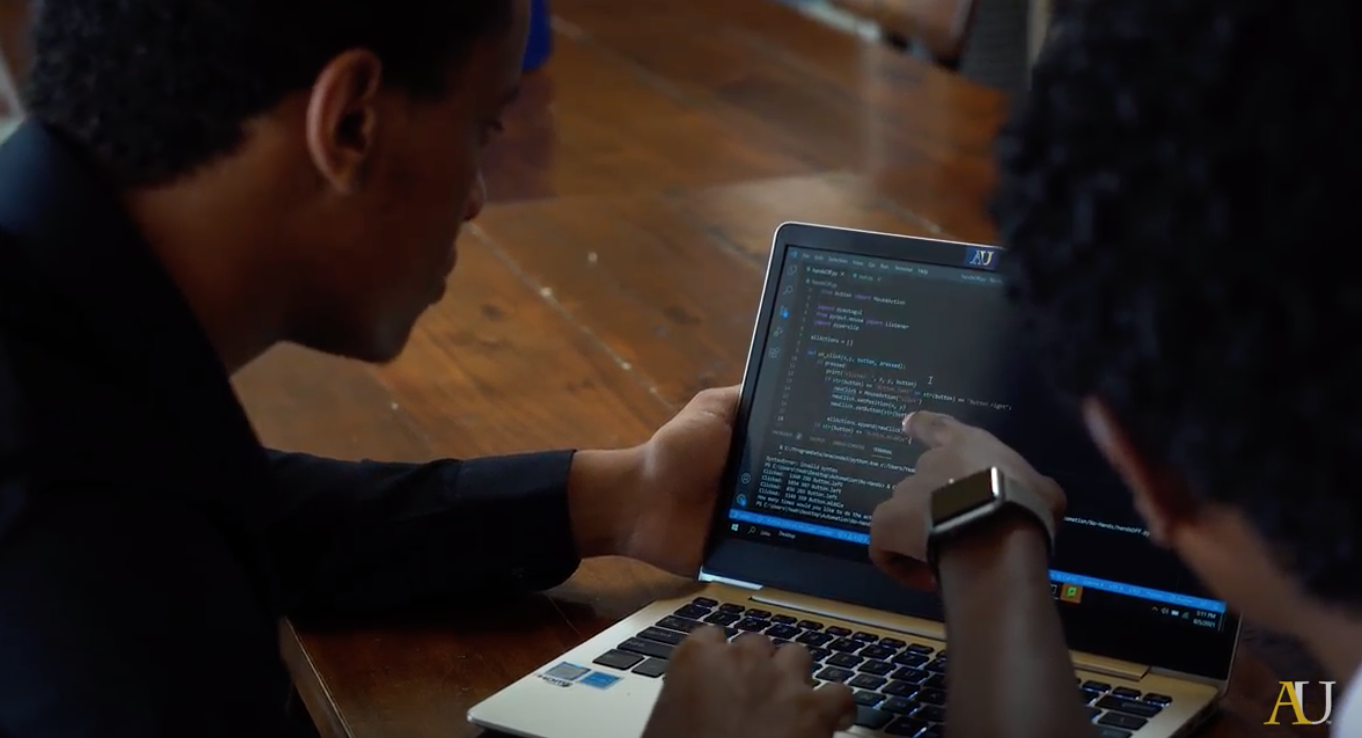 "Each one of us had our own areas in which we excelled," Kassa said. "For example, Yeabsira is good with AI and machine learning, and Fraol is good with design and HyperText Markup Language (HTML) design. If something was too hard for me, they would help me out, and I would do the same."
The competition was judged based upon four categories: completeness and transferability; effectiveness and efficiency; design and usability; and creativity and innovation. The winners of the Call for Code Challenge were determined by a panel of judges — two of which are Augustana's own President Stephanie Herseth Sandlin and Dr. David O'Hara, professor of philosophy, classics and environmental studies and director of sustainability. Augustana also claims a special connection with IBM through Dennis Bly '94, Call for Code University Challenge leader & global offering manager for academic developers at IBM. The Minnesota native lives in Atlanta, Georgia, and serves on Augustana's Board of Trustees. 
The awards, hosted by Saturday Night Live's Colin Jost, were streamed live from New York City on Tuesday, Nov. 16. Students looking for more information on the Call for Code Challenge can contact Dr. Matthew Willard or visit developer.ibm.com/callforcode.