Augustana conferred today an honorary Bachelor of Arts degree to Sgt. Gene Murphy.
When Murphy enrolled at Augustana in 1972, he had already been a veteran for more than three years. In 1979, just 16 credits shy of meeting graduation requirements at the time, Murphy withdrew from AU, and for good reason — he was heavily entrenched in his work with Disabled American Veterans (DAV), a nonprofit organization dedicated to serving and empowering veterans to lead high-quality lives.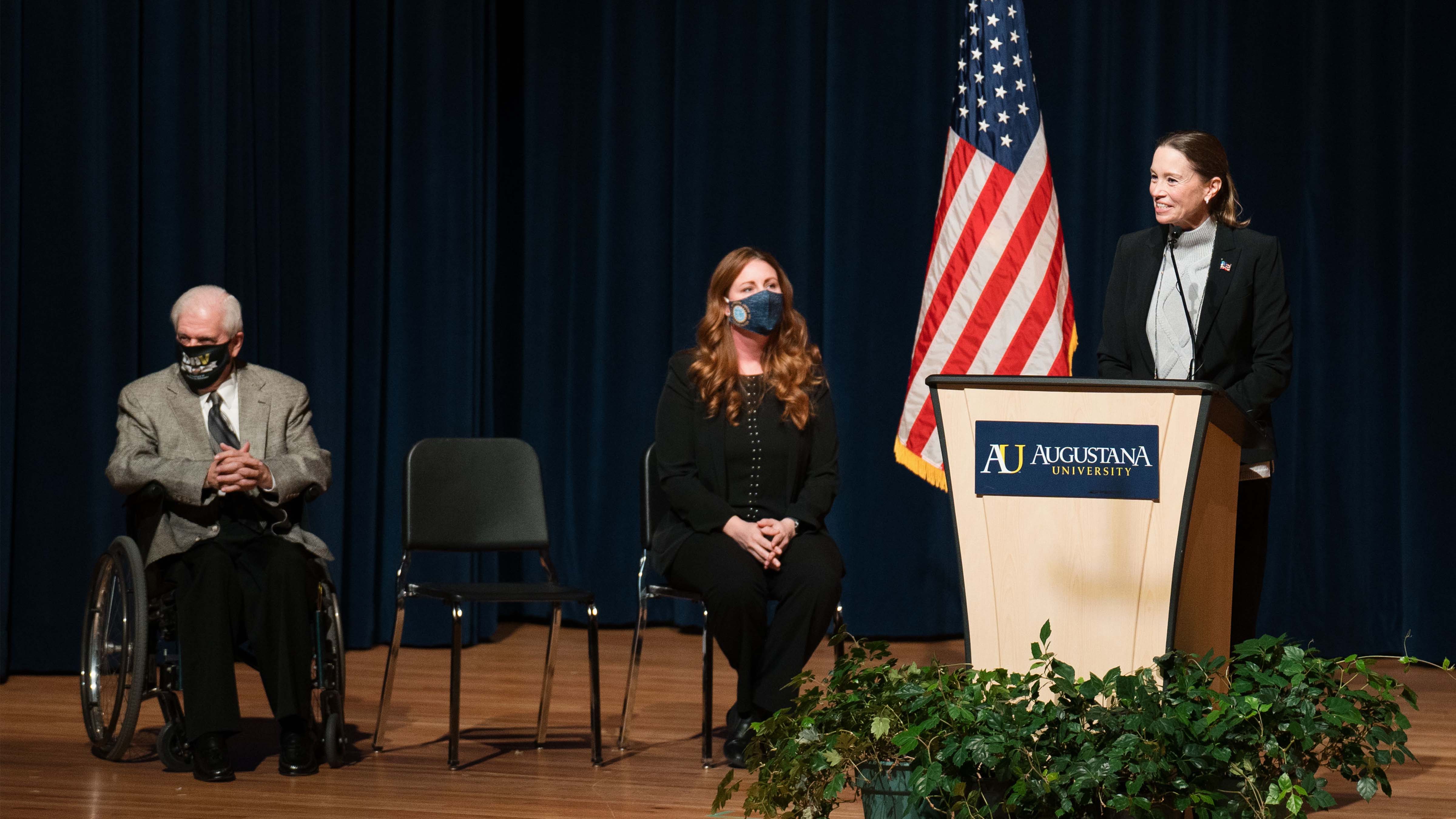 "It's an honor that Augustana would recognize me, especially on Veterans Day," Murphy said. "I'm very humbled that this is presented to me because I always say, 'I'm no better than my troops.'"
Murphy's story was brought to Augustana's attention by an alumnus. President Stephanie Herseth Sandlin, who worked closely with Murphy during her time serving in Congress, was thrilled at the chance to honor him.
"Gene has been a mentor and a trusted advisor for decades to countless individuals, myself included, who have held leadership positions in government and veteran service organizations," Herseth Sandlin said. "He has influenced public policy in ways that have made a positive difference in the lives of veterans and their families."
In September, Herseth Sandlin asked Murphy to meet for coffee to catch up, but surprised him with the news when he arrived on campus.
"Gene deserves this honorary degree because he has modeled servant leadership throughout his life," said Herseth Sandlin. "He entered to learn and left — a few academic credits shy of completing his degree — to serve others. His tireless and effective advocacy for all veterans, particularly disabled veterans, reflects the university's core values in a multitude of ways."  
Murphy, who is best known as "Murph," is a Vietnam War veteran. He was drafted and arrived in Cam Ranh Bay, Vietnam, in 1968 — the height of the war. Murphy, and his friend, Lyle Bowes, were assigned to an infantry unit, despite never having been trained for infantry. Within days, the men were shipped out to the Central Highlands — "the bush" as they called it.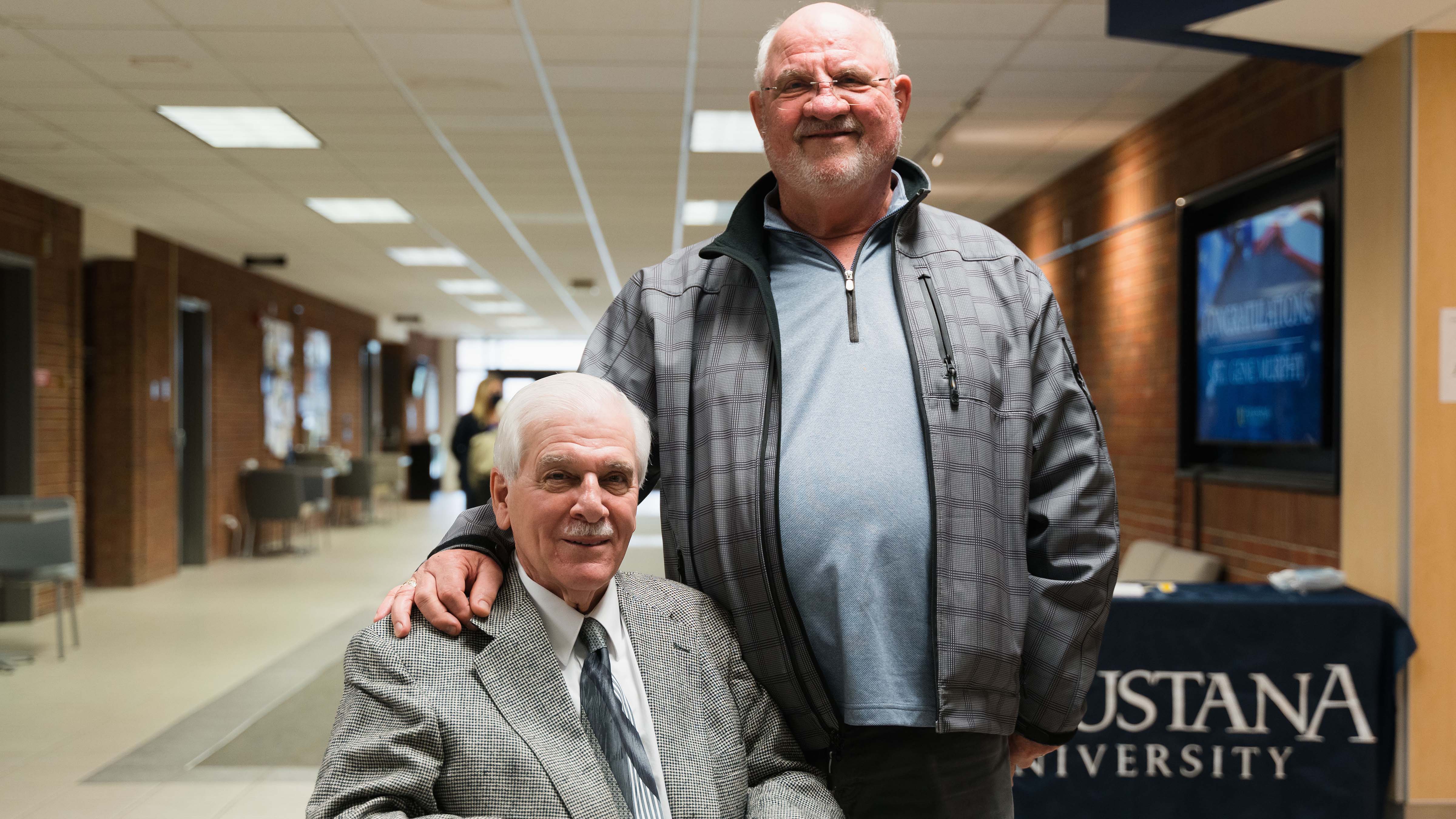 Eleven months into his tour in Vietnam, Murphy was shot twice through the right side of his body. Despite acting as if he were dead, he was shot again in the right leg. Bowes, who was nearby, located and carried him 400 meters to a hole he had dug. Murphy and six other injured soldiers remained in the hole, on the jungle floor, for 14 hours before being evacuated. 
"I thought I was going to die," Murphy said. "I've always thought that the good Lord let me live."
After arriving at a hospital, Murphy learned part of his colon was gone and his backbone had been shattered. Doctors told Murphy that the nerves at the end of Murphy's spinal cord had been cut and that he would never walk again.
Murphy, who was awarded the Purple Heart and Bronze Star with "V" device (signifying valor), spent 14 months in different hospitals before returning to his hometown of White, South Dakota. There, he met his wife, Eldine (Anderson) '81, and the two made the move to "the big city" of Sioux Falls. They enrolled at Augustana, ready to build their future together.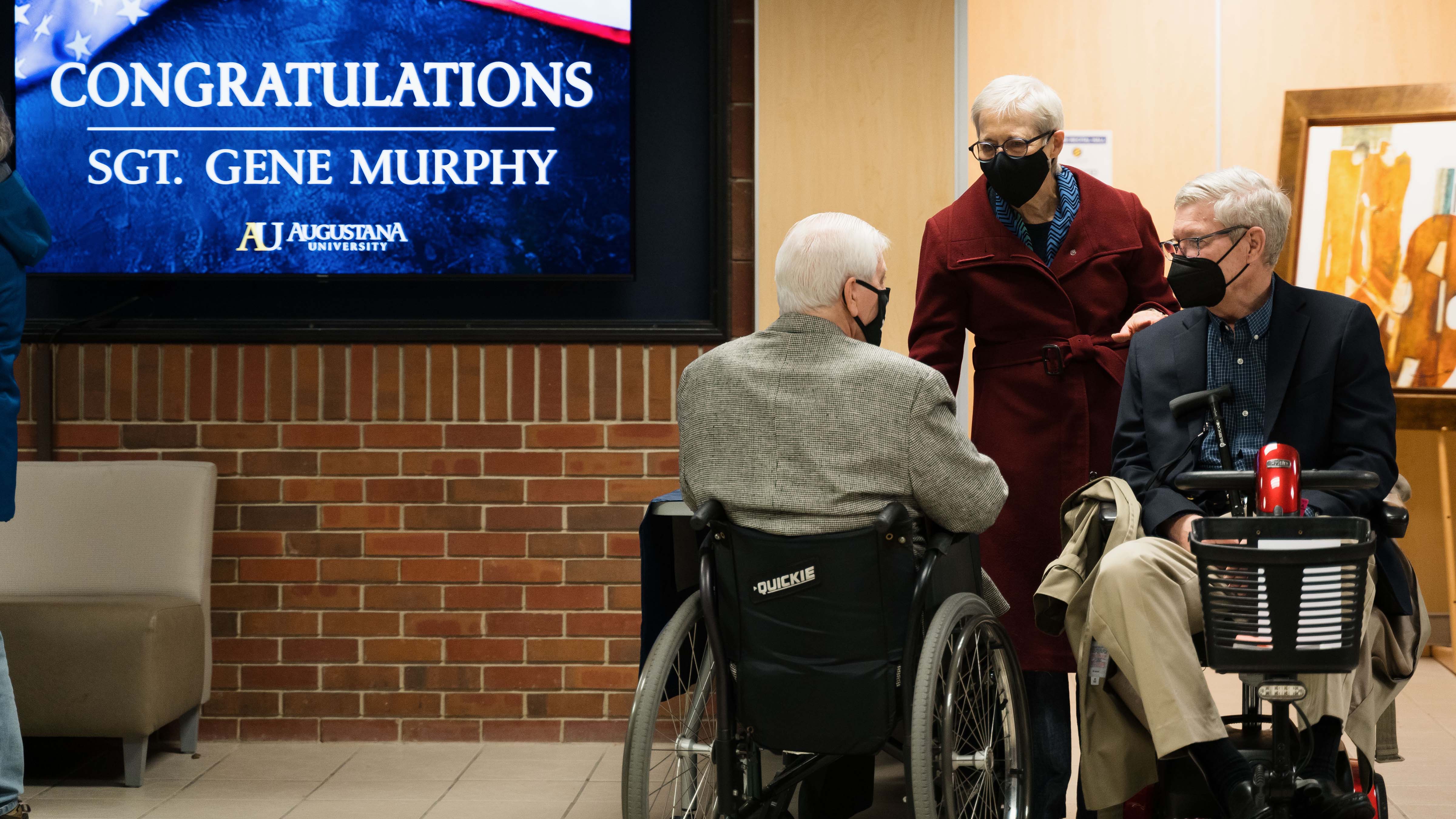 Although he enjoyed his pursuit of a business degree, Murphy knew there was work to be done. After withdrawing from Augustana, Murphy dedicated himself full-time to the DAV Arthur H. Muchow Chapter No. 1 and DAV Department of South Dakota. Throughout the last 45-plus years, Murphy has served in all elected DAV positions at the local level, chaired several state-level committees and lobbied the South Dakota Legislature on disability and veterans' issues. He has served as the DAV department adjutant, been elected department commander and was named the DAV's Outstanding Disabled Veteran of the Year in 1984. He is also a past board member of DAV's Charitable Service Trust, was named South Dakota's Handicapped Citizen of the Year in 1979 and appointed by former Governor George Mickleson to serve on the South Dakota Veterans Commission for a five-year term. He was reappointed by former Governor William Janklow to serve a subsequent term. The list doesn't end there, though. Murphy was elected the DAV national commander in 1987-88.
At times, Murphy still asks himself, "'Have I done enough for my brothers and sisters?' But, if we've helped one veteran, we've done our job."
The focus on supporting fellow veterans eased Murphy back into civilian life at a time when many others struggled to adjust.
"I don't know if I've ever been angry. I probably have, but I just feel so fortunate to be here," said Murphy. 
Part of Murphy's adjustment to civilian life was proving doctors wrong. Despite the prognosis that he would never walk again, Murphy walked for decades with the help of leg braces and walking canes. He even stood up as Bowes' best man on his wedding day. Doctors also told him he wouldn't be able to have children, but in 1976, Murphy and Eldine welcomed their daughter, Erin. 
Murphy has worked tirelessly to fulfill the pact he said he made with God — that he would help others if he survived his gunshot wounds. So, having watched countless veterans lose their lives post-war to Agent Orange — a tactical herbicide used by the U.S. military mainly during the Vietnam War — Murphy has been a strong advocate for fellow veterans and their medical needs.
"I always look at the young veterans and ask, 'What issues do they have and what programs and services do we need to start to assist them?' The average veteran, some of their disabilities are hidden."
Murphy, who currently serves as treasurer of the DAV Arthur H. Muchow Chapter No. 1 and DAV Department of South Dakota, is 73 years old and continues his fight every day to improve the lives of veterans.
"If it weren't for veterans, we wouldn't have our freedoms," Murphy said. "And, freedom isn't free."