Augustana University alumnus Grayden Melick '18 formally received the DAISY Award for Extraordinary Nursing Faculty during the Augustana Nurses' Pinning Ceremony on Dec. 16, in the Chapel of Reconciliation — initially surprised with the award on Nov. 29 by AU Nursing faculty Dr. Lynn White, Mary Nelson, Jody Serfling and Augustana student Jessica Kratz '23 while he was supervising his clinical students.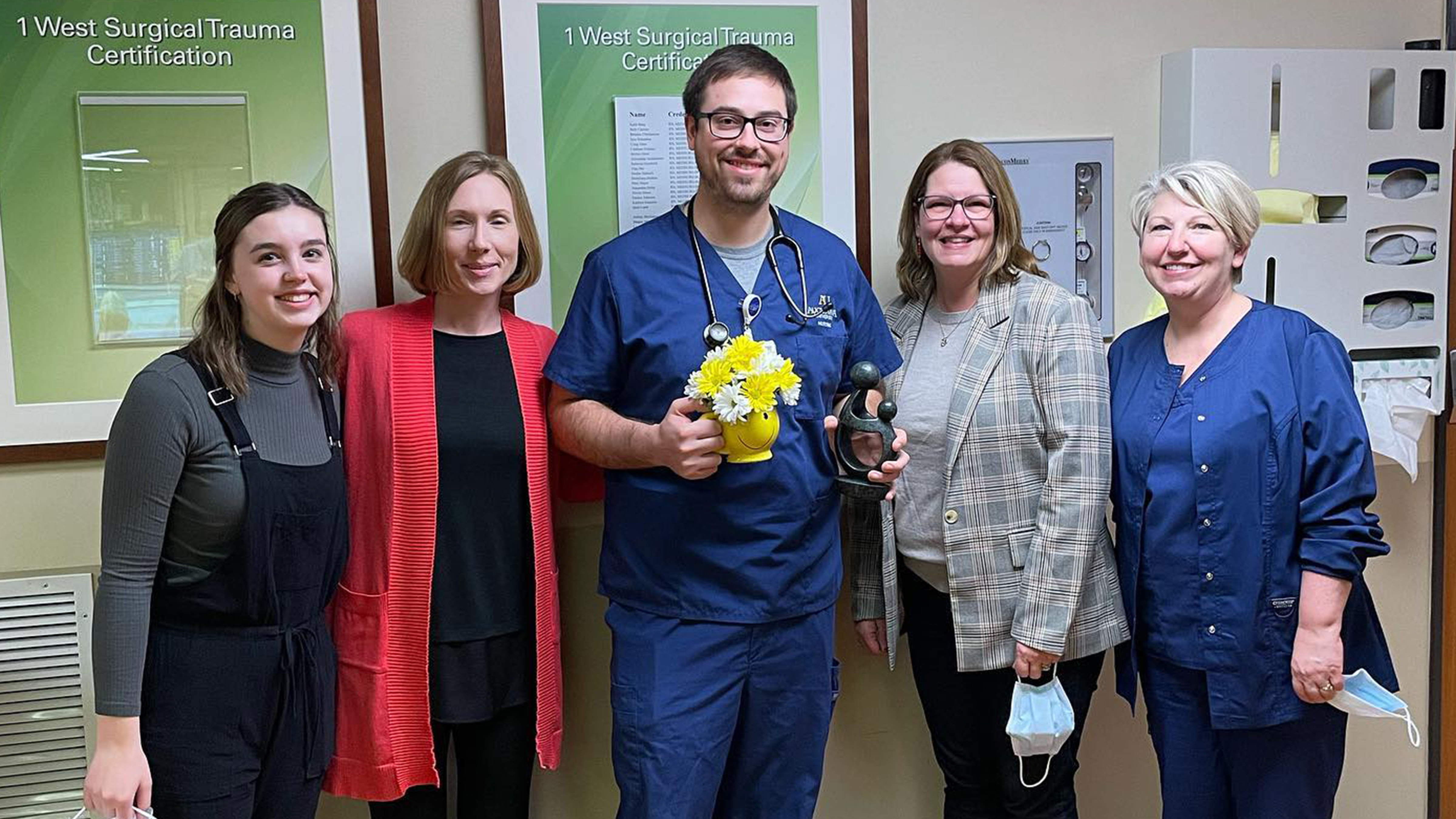 "It was seven in the morning, and I was getting ready to pair my students with their nurses," Melick said. "I saw Lynn, Mary and Jody come in, and I was like, 'What in the world is going on?'"
The award, created by the DAISY Foundation, "honors nursing faculty who inspire their students to always remember that nursing is much more than tasks and technology."
Melick, who graduated from the Augustana Accelerated Nursing Program, is a registered nurse (RN) in the intensive care unit (ICU) at Avera McKennan Hospital & University Health Center in Sioux Falls. In Fall 2021, he also joined the clinical faculty at AU.
"I still wanted to be involved with Augustana Nursing, with the program that gave me so much and an opportunity to do what I love now," Melick said. "I wanted to give that (opportunity) to the students who I now teach."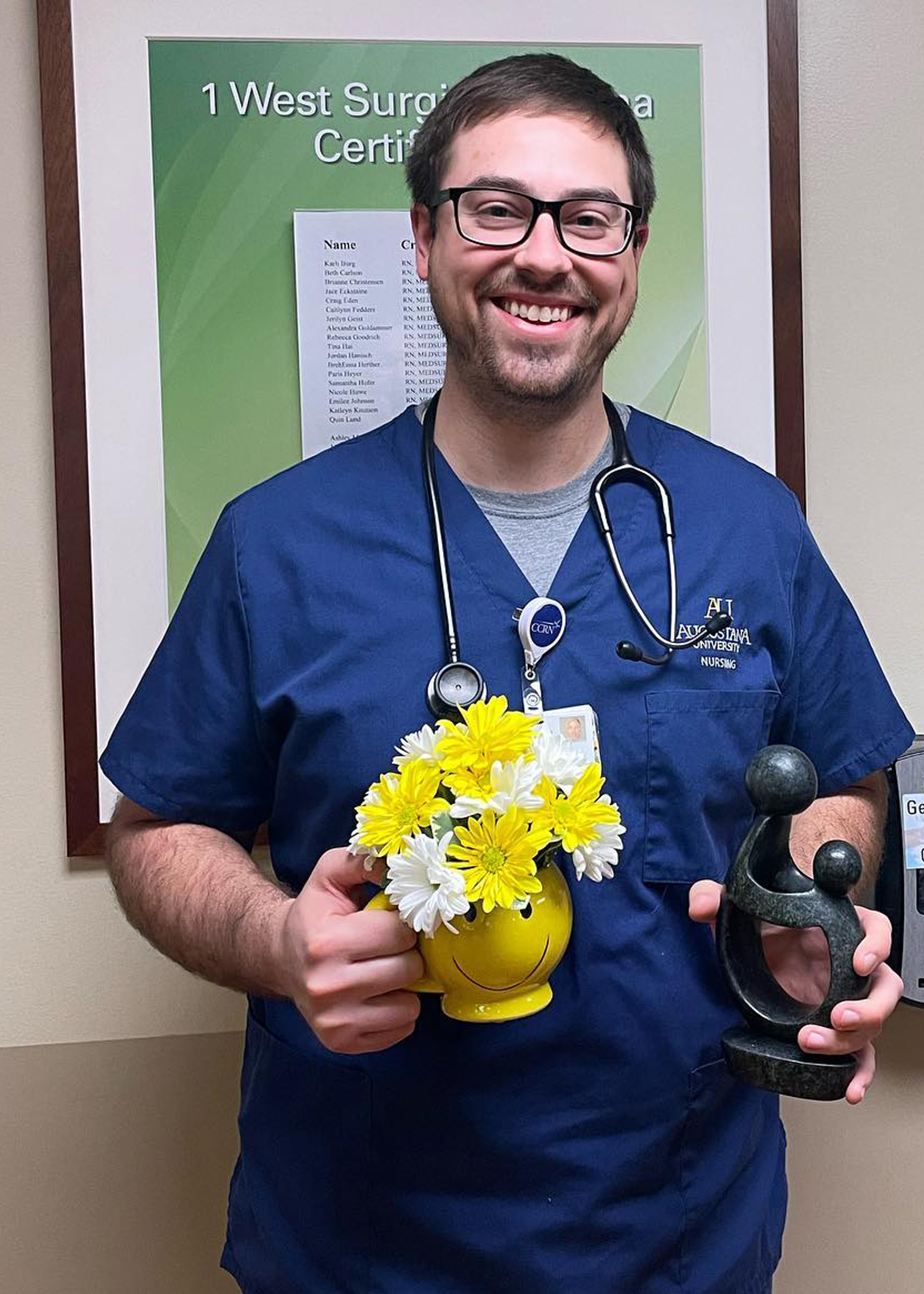 A clinical, which is a supervised period where students practice hands-on nursing skills in a health care setting, lasts five to six weeks, one day a week. For Melick, this means assigning his students to patients, pairing them up with nurses and answering questions throughout their shifts. He also meets individually with each student to review their assigned patient — diagnosis, care plan and what's important for both the patient and student.
"The best part is seeing the students develop through those five or six weeks — from the first day where they're very shy or some students have never set foot in a hospital before, to that last day where you can really see them come out of their comfort zone," Melick said. "You see the change in their way of thinking — from someone who just came to the hospital to thinking like a nurse."
For the students who nominated him, Melick's encouragement and support are what set him apart.
"Grayden is the best adjunct I've ever had," said Kaylin McRae '23. "He explains things thoroughly and is so kind and genuine in helping students learn. He has the best attitude and encourages us to step out of our comfort zone while also introducing new, enticing things about nursing practice."
"Grayden is a great educator and supporter of our learning at Augustana," Dylan Rasmussen '22 said. "He understands the frustrations that we may have, but can guide us in a positive direction. I have learned so much from him, and I'm glad I got to experience a clinical rotation that I will never forget."
Melick, who also serves on the Augustana Nursing Advisory Board, said the award means even more to him because the nominations were submitted by his students. 
"It makes me think that I am making some sort of a difference," said Melick. "And, I think it's important to give the students a lot of credit for choosing Augustana Nursing. I know that every student realizes through the program that this is exactly where they should be."
The DAISY Award for Extraordinary Nursing Faculty was established at Augustana in 2017, in honor of the late Connie Evenson, assistant professor of nursing, who played an integral role in recruiting Melick to Augustana. 
To learn more about the Augustana Nursing Program, visit augie.edu/nursing.