The AU community will gather on April 28-30 to celebrate the Augustana Choir's 100th anniversary. The celebration will showcase the choir's past, present and future of sacred music and rich traditions.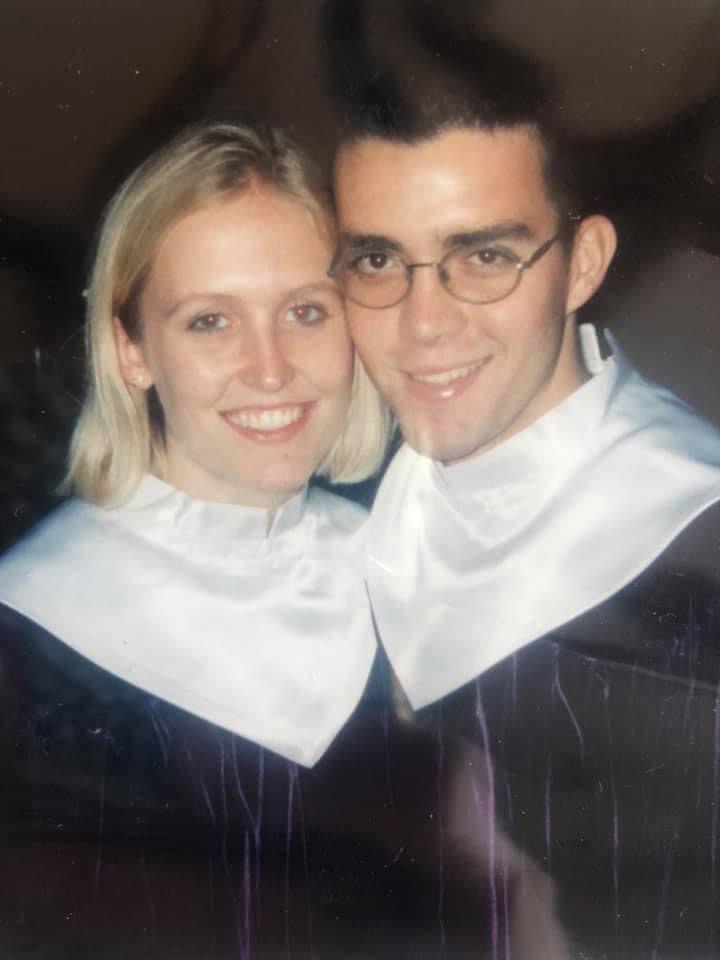 Many of the weekend's events will be supported by choir alumni Gretchen (Papik) '00 and Ryan Jepperson '01. The Jeppersons met in the Augustana Choir during Gretchen's sophomore and Ryan's first year when they were placed in a quartet together. The couple has been married for more than 20 years.
"The choir is a very important part of why we're here together today," Gretchen said. "If we hadn't met in the choir and shared those experiences, who knows what would have happened? And, my experience with the choir — it's something you can't explain until you've experienced it."
"The style of music you sing in a choir like Augustana's, it's a spiritual experience," Ryan added. "It's a connection that you have with all the people in your choir, doing the same thing in different harmonies, to worship."
Thursday's events will include the opportunity for alumni to watch a choir rehearsal and enjoy a welcome reception at R Wine Bar in downtown Sioux Falls. Friday will begin with a presentation by Dr. Greg Handel '91 on the history of the Augustana Department of Music, followed by an alumni choir rehearsal, the Winden Choral Room dedication, "A Sermon in Song" concert at the Washington Pavilion and reception at Remedy Brewing Company. Saturday's events will include an alumni choir recording session in the Chapel of Reconciliation and a swing dancing extravaganza at the Country Club of Sioux Falls.
The weekend will also feature a special honor for Dr. James Johnson, who served as conductor from 1992 to 2011. Johnson will be named the first conductor emeritus of the Augustana Choir.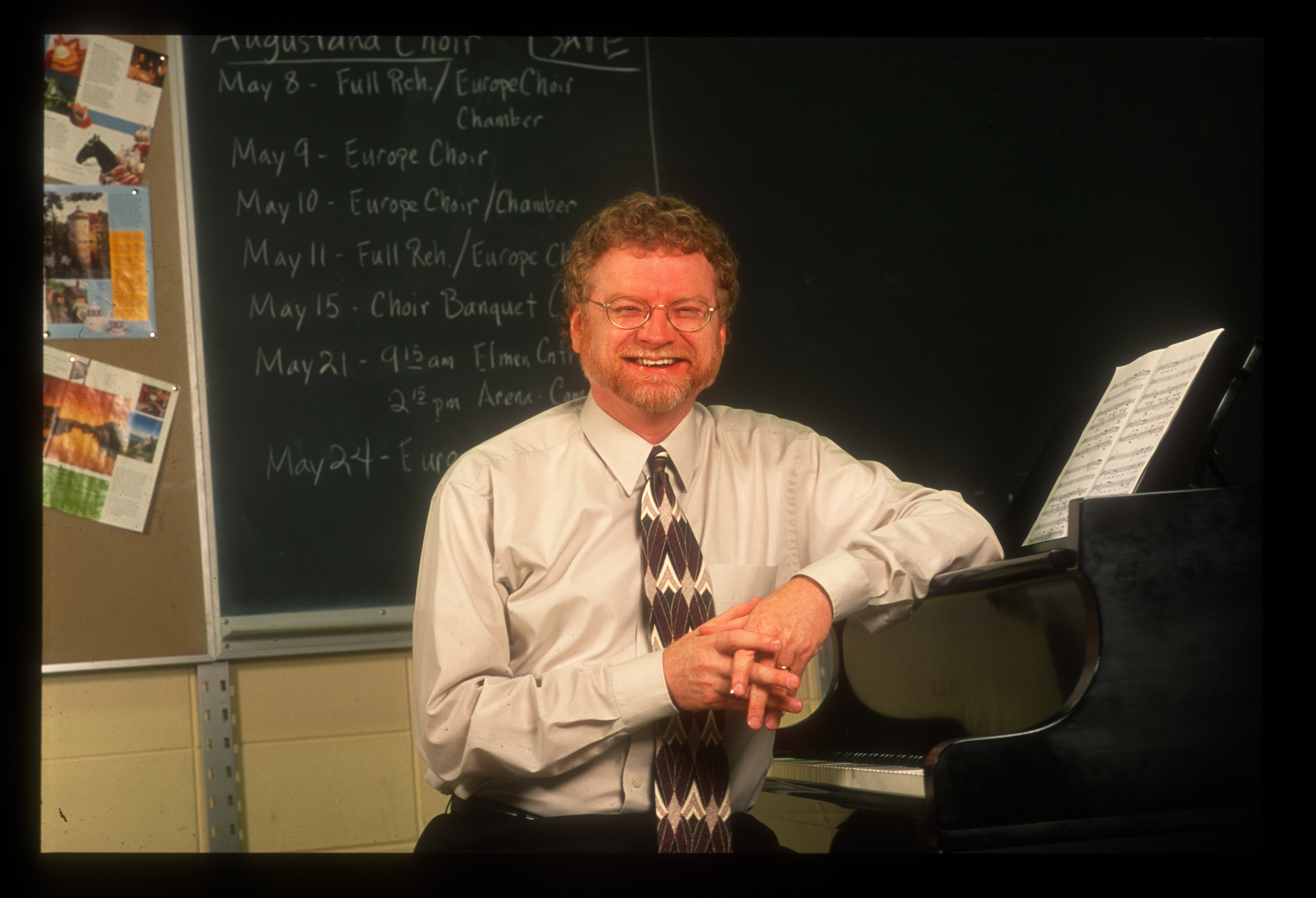 "My initial reaction to Dr. Peter Folliard (dean of the School of Music) informing me of Augustana's desire to honor my work with this designation was both humbling and healing," Johnson said. "A hole, present in my heart since leaving the choir, was once again filled with memories of the musical mountains we climbed and the thousands of people around the world with whom we shared those peaks."
Johnson, who is best known as "Dr. J," will be a featured conductor of the alumni choir during the 100th anniversary celebration. 
"Over the years, each member of the Augustana Choir has indelibly inscribed their musical soul upon my heart — they were the voice of my musical soul," Johnson said. "To see some of them again, and to hear them sing, will be a most precious gift."
Three works commissioned by alumni in celebration of the anniversary will premier during Friday night's concert — "Through Many Dangers" by Gwyneth Walker, commissioned by Chaplain Norris and Carolyn (Baalson) Einertson '58; "Big House" by Kyle Pederson '93, commissioned by Rev. Richard Nelson '42; and "Psalm 8" by René Clausen, commissioned by the family of Gwen (Axdahl) '75 and Kevin Arneson '73.
100 Years of Joining Hands Founded by Dr. Carl Youngdahl, the Augustana Choir began as a means to "serve God, the Church and our School," according to its official 1921 charter. In its century of existence, the choir has had five conductors at its helm — succeeding Youngdahl were Drs. Arnold Running, Olaf Malmin, James Johnson and Paul Nesheim. The choir's initial mission was performing a cappella so it "could thereby appear in the smallest of churches as well as the largest and our concert would be a sermon in song."
Youngdahl, who served AU from 1921-53, founded the choir at a time when Augustana only had three musical ensembles in place and daily chorus was required for all students. Yet, under Youngdahl's leadership, the choir soon gained prominence through regional and national tours.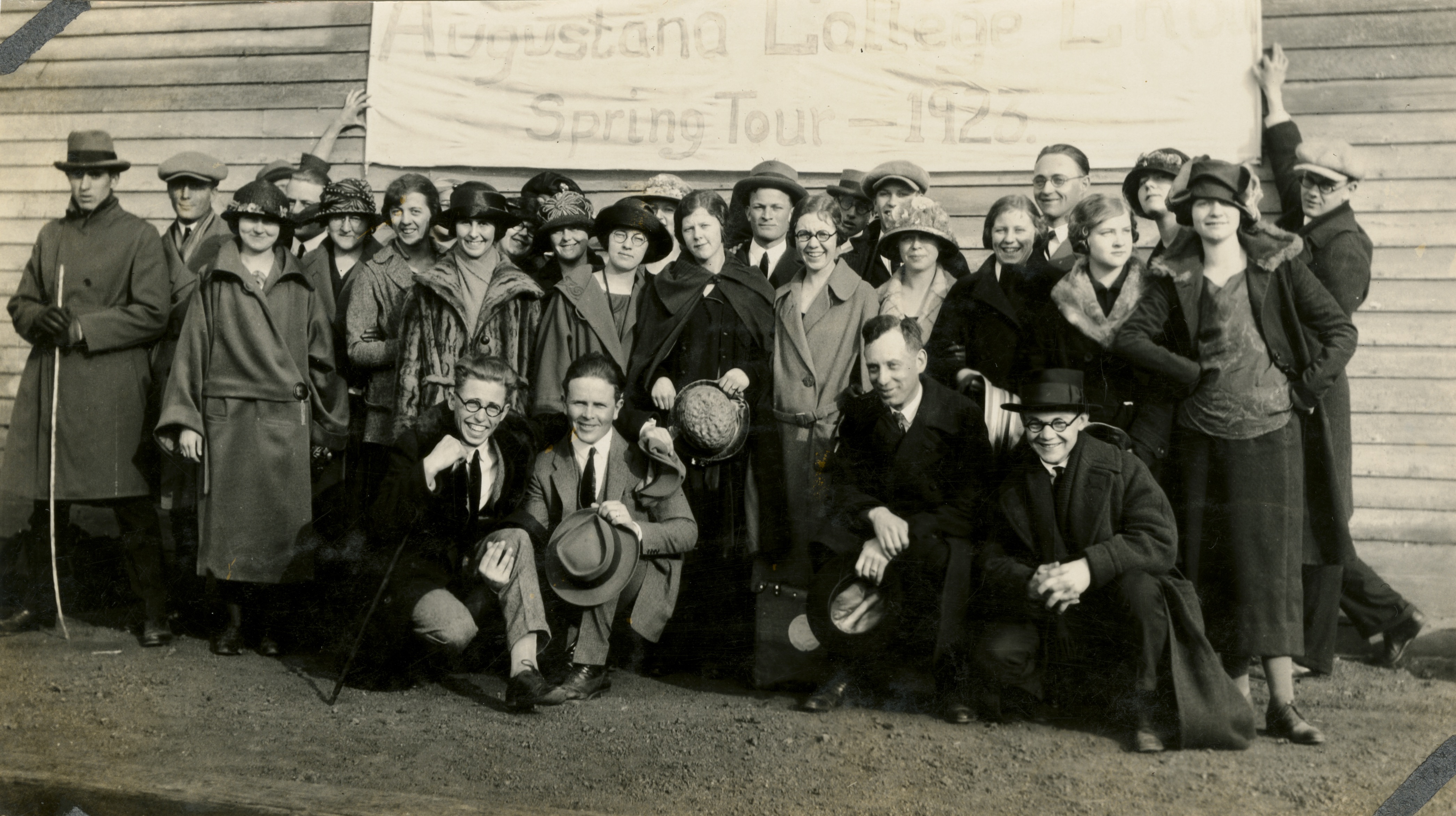 According to the dissertation of Dr. Greg Handel '91, "The Augustana College Department of Music, 1921-1973: A History," "It was the Augustana Choir that strengthened the college's regional reputation and presence with its first local tour in 1921, and spurred national prominence through its touring of the intellectual musical circles of the East Coast in 1929."
Nesheim, current conductor of the choir, said that while locations and frequency of touring has changed over the years, it remains a way for them to bring the good news of Augustana's choral music to others.
"In the first years of the Augustana Choir, the a cappella choral tradition was new in the United States, so people would hear a choir singing unaccompanied and with music memorized, and they were just blown away," Nesheim said. "It's much more commonplace now, but I think people are still just as enthralled with it as they were then — if it's done with excellence and sincerity."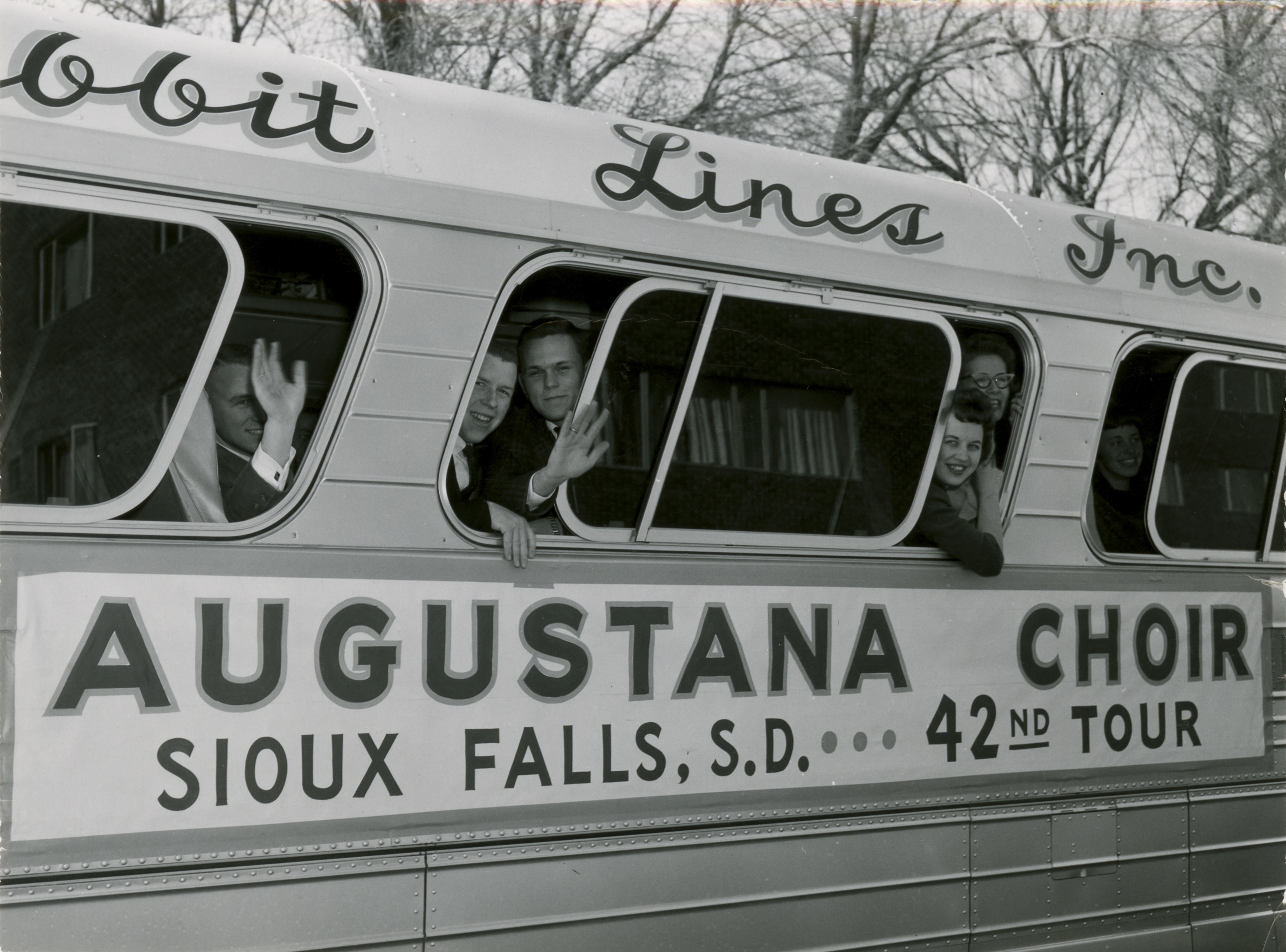 Augustana Christmas Vespers, another annual tradition, also began under Youngdahl. Yuletide Vespers, as it was first named, premiered on Dec. 18, 1938, in Augustana's chapel/gymnasium. Since then, Vespers has moved to Our Savior's Lutheran Church and, most recently, Gloria Dei Lutheran Church, with multiple performances offered for community members — including performances in the Twin Cities. 
Traditions define the choir, and both Nesheim and Johnson said their favorite is singing the Lord's Prayer prior to and the Doxology following each concert. For Johnson, another tradition that stands out is the hand holding.
"The choir holds hands when they sing; they become greater than the sum of their individual voices," Johnson said. "They become, literally, 'a sermon in song.'"
"This tradition of hand holding has also led to any number of weddings!" Johnson added.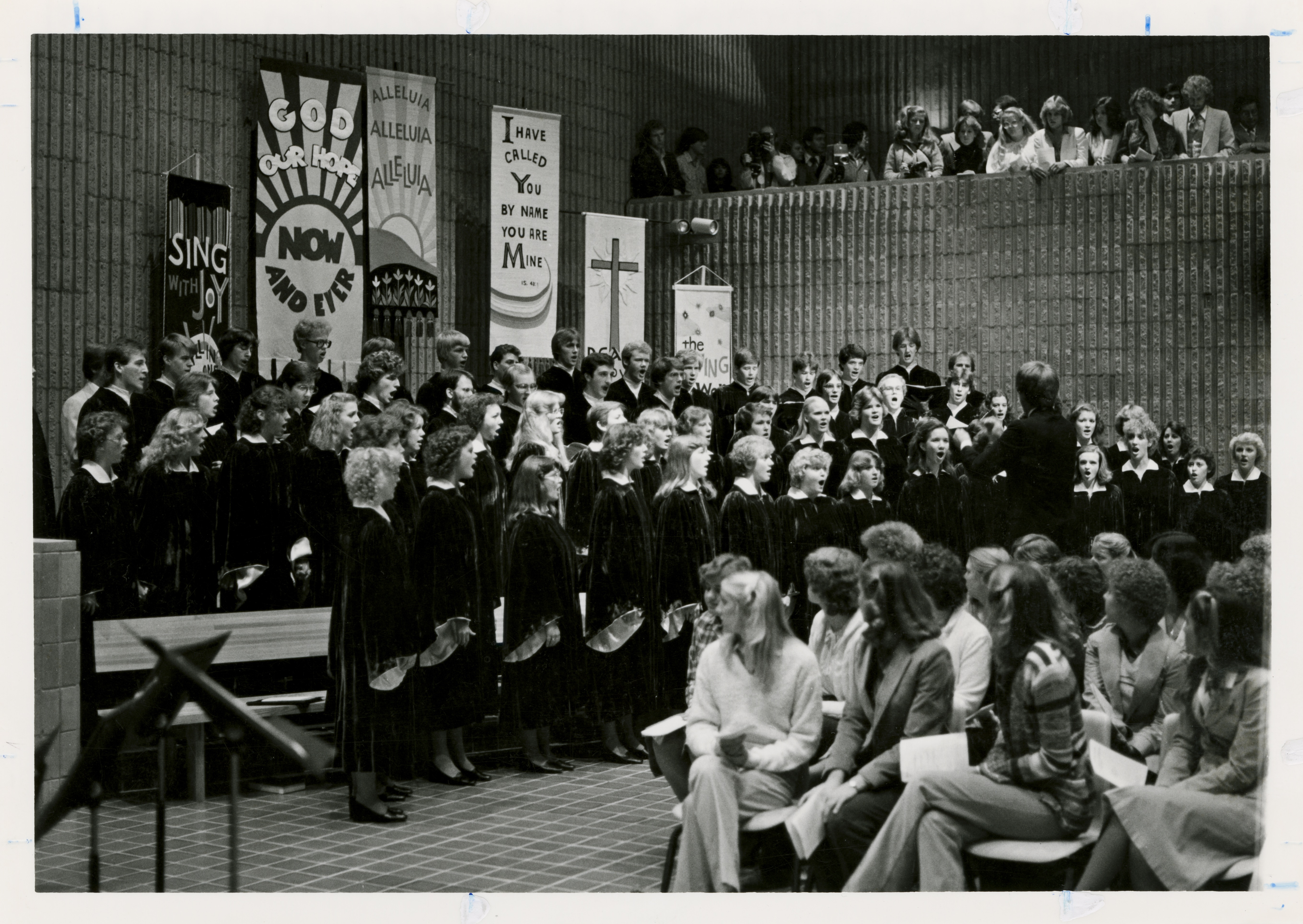 The Jeppersons, one of those Augustana Choir weddings, are creating their own legacy of those who sing "a sermon in song" with their four children. All regularly sing and play instruments in church, and even have a YouTube channel, called JepPerformances, where they perform as a family. Their oldest son, Christian, will attend Augustana in the fall as a member of the football team and, hopefully, the Augustana Choir. 
Now, the Jeppersons are excited to share the Augustana Choir experience with their children and fellow alumni during the upcoming celebration.
"It doesn't matter if you've been out of the choir for 50 years or five years — I encourage everyone to come be a part of this," Gretchen said.
To view a full schedule of the celebration, visit augie.edu/Choir100.