For the fifth time in its history, two Augustana University employees were named Augie Pride Award winners. Karie Frank, humanities division coordinator, and Amy Meyers '96, employee health nurse were recognized with the award at a ceremony held in the Elmen Center on May 19.
Nominated by other AU employees, recipients of the Augie Pride Award are those who go above and beyond the call of duty to provide exceptional service to the university.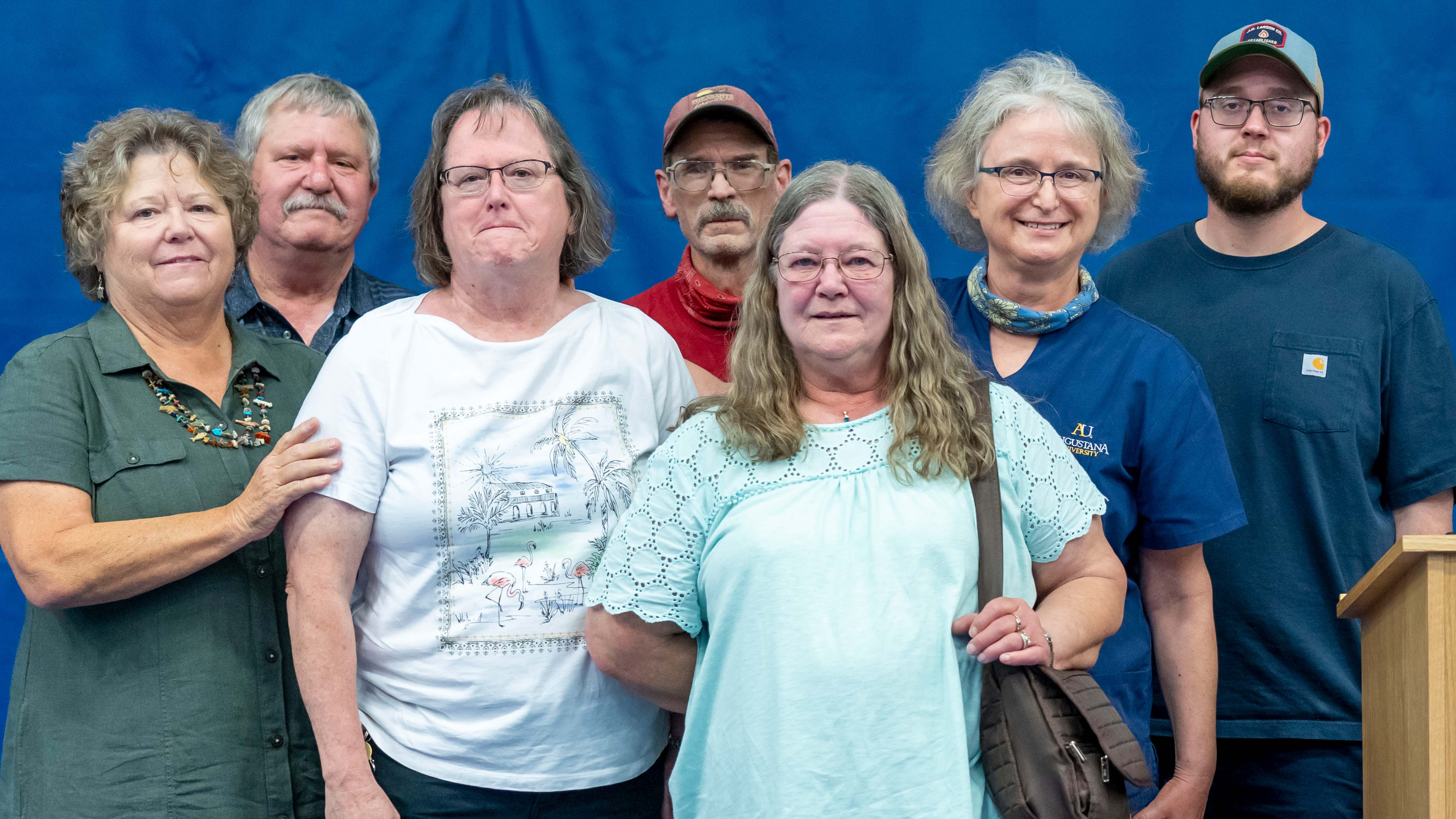 Frank, who started at Augustana in 2008, works in what she has designated "the best building on campus" — the Fryxell Humanities Center. The moniker even adorns the back of t-shirts she had made during the building's renovation and dedication in 2019. 
"I say it a lot," Frank said. "When I meet people here, I say, 'I just want you to know you're in the best building on campus.' And, the more you come in here, the more you're going to realize it's true."
Frank described her job as one that changes daily. Primarily, she manages the building, centralizes communications, submits work orders, provides basic technology support, copies, scans and packages, as well as a laundry list of other duties.
"My biggest thing is finding a solution," said Frank. "Another saying I have here is, 'There's always a Plan B here at Augustana University.' So, if something doesn't work, then we find another way. The answer usually isn't, 'No.'"
One of Frank's nominators wrote, "She genuinely cares for everyone who comes through her office. She doesn't just answer their questions; she listens to what people really need, and then goes out of her way to provide it."
Perhaps Frank's most unique responsibility, one she's given herself, is grading the professors in her building. Each semester, Frank takes it upon herself to provide the faculty with report cards. 
"The more work you bring me, the better grade you get," Frank explained. "If I catch you in the copy room and you haven't asked me first, you're going to be in trouble.
"You wouldn't believe how competitive they get with it," Frank continued. "And, I love my window because I'll see professors walk by, and I'll say, 'Wait a minute, you're heading towards the copier. I can tell. What do you need?'"
For Frank, receiving the award was humbling, as she sat beside the colleagues that nominated her. She was also surprised by her family, joined on stage at the ceremony by her two sisters, brother, their spouses and nephew. 
"I've asked some of the faculty if this means I have tenure now," Frank joked. "It's hard to put it into words because I can't imagine being in the same group of people that have won this — those are some pretty fabulous people who've put their heart and soul into Augustana."
Frank being Frank, even had someone else in mind when she submitted a nomination this year.
"I was campaigning for Amy Meyers," Frank said. "I am so glad to be sharing it with her because I just think she's a fabulous person. She helps all of us in so many different ways."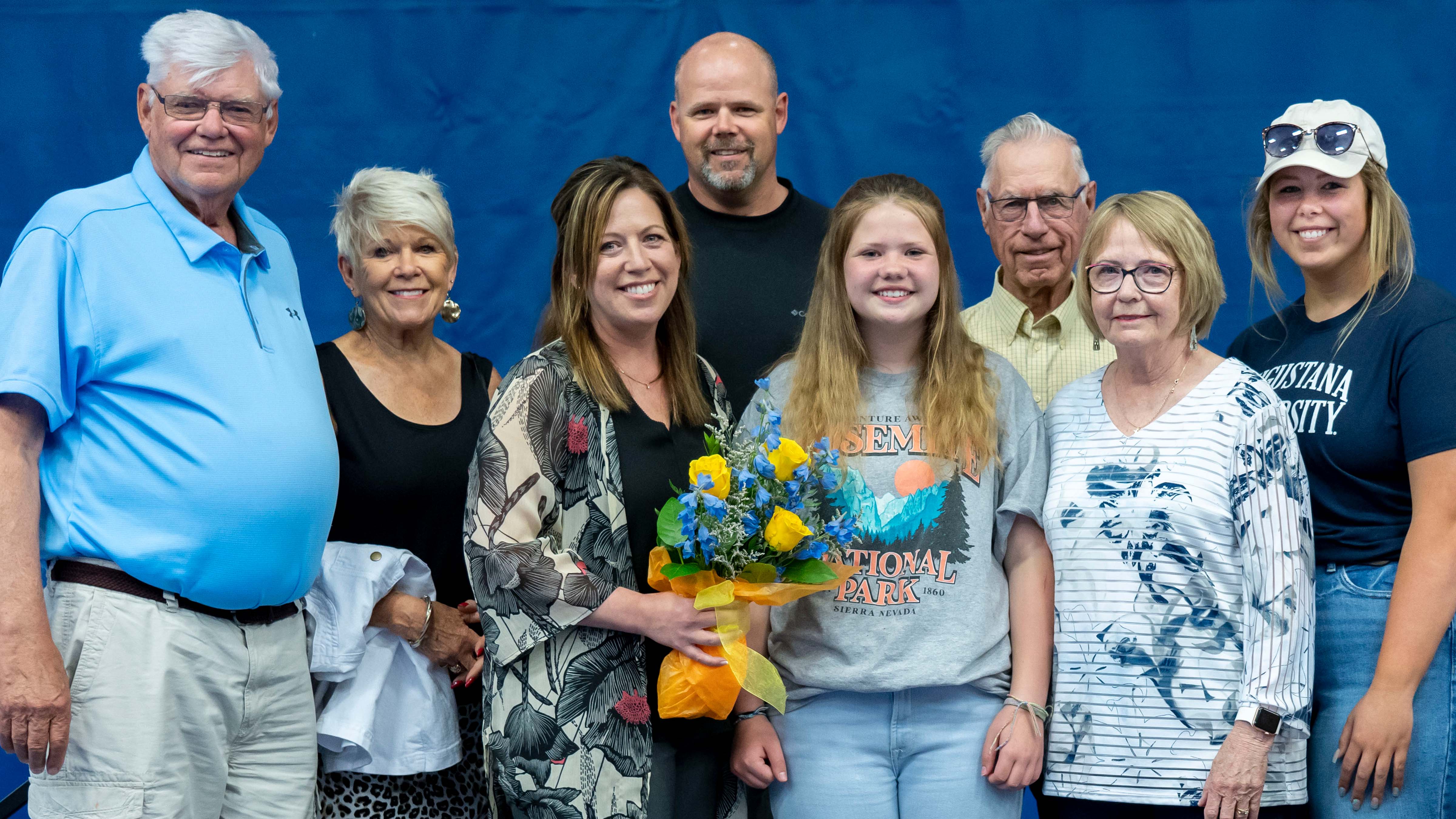 Meyers said she felt the same way about receiving this award with Frank, who she said "is the epitome of what the Augie Pride Award should be."
"There are so many wonderful people at Augustana," Meyers said. "Through COVID-19, it helped me recognize even more what a wonderful community this is. I think every one of us deserves that award, so to be singled out, it was humbling, and I'm grateful." 
Meyers, who graduated from AU with her bachelor's degree in nursing in 1996 and master's degree in community health in 2000, began her role as employee health nurse 18 years ago. No day, she said, is ever the same. 
"My role is working with those who need help with worker's compensation, the Family Medical Leave Act (FMLA), a new diagnosis, bills or connecting them with resources," said Meyers. "I also arrange the annual flu shot clinic, health screening opportunities for employees and wellness programming."
When the pandemic hit in early 2020, Meyers' role changed completely, and she found herself as a vital part of the university's COVID-19 Response Team. 
"While there was no 'book' or manual on how to respond, Amy stepped forward as a committed, compassionate, reliable, informed and dedicated leader in our efforts to keep our campus community safe," one of her nominators wrote.
Meyers went from planning wellness checks to developing policies, implementing prevention plans, coordinating quarantine housing and setting up testing and vaccination clinics. She led the campus along with the other core leaders of the COVID-19 Response Team, such as Associate Vice President for University Services Rick Tupper and former Senior Director for Community Engagement & Strategic Partnerships Suzie O'Meara Hernes '97.
"I think the award is a reflection of all the work that was done by the COVID-19 Response Team," Meyers said. "Everyone on that team supported each other and provided support for the rest of campus."
At the awards ceremony, Meyers was surprised by her husband, two of their four children, her parents and in-laws. Her oldest daughter, Elise, will be a sophomore at AU in the fall. 
"It's so fun to have her here," said Meyers. "And, I had just had her when I began my role as employee health nurse." 
The Augie Pride Award began in 1999. To see all past recipients, visit augie.edu/ServiceAwards.