The Augustana Student Association (ASA)'s 2021-22 Faculty of the Year Award recipient is Dr. Jared Mays, associate professor of biochemistry and chair of the chemistry & biochemistry department. Members of ASA, along with his wife and colleagues, surprised him with the announcement in one of his classes on Friday, April 29. 
"I was getting ready to give a lecture on cardiovascular drugs and introducing blood clotting agents when everyone came in and surprised me," Mays said. "It was surreal in a lot of ways and deeply humbling. This will be one of the most memorable points I have at Augustana. I can say that with certainty."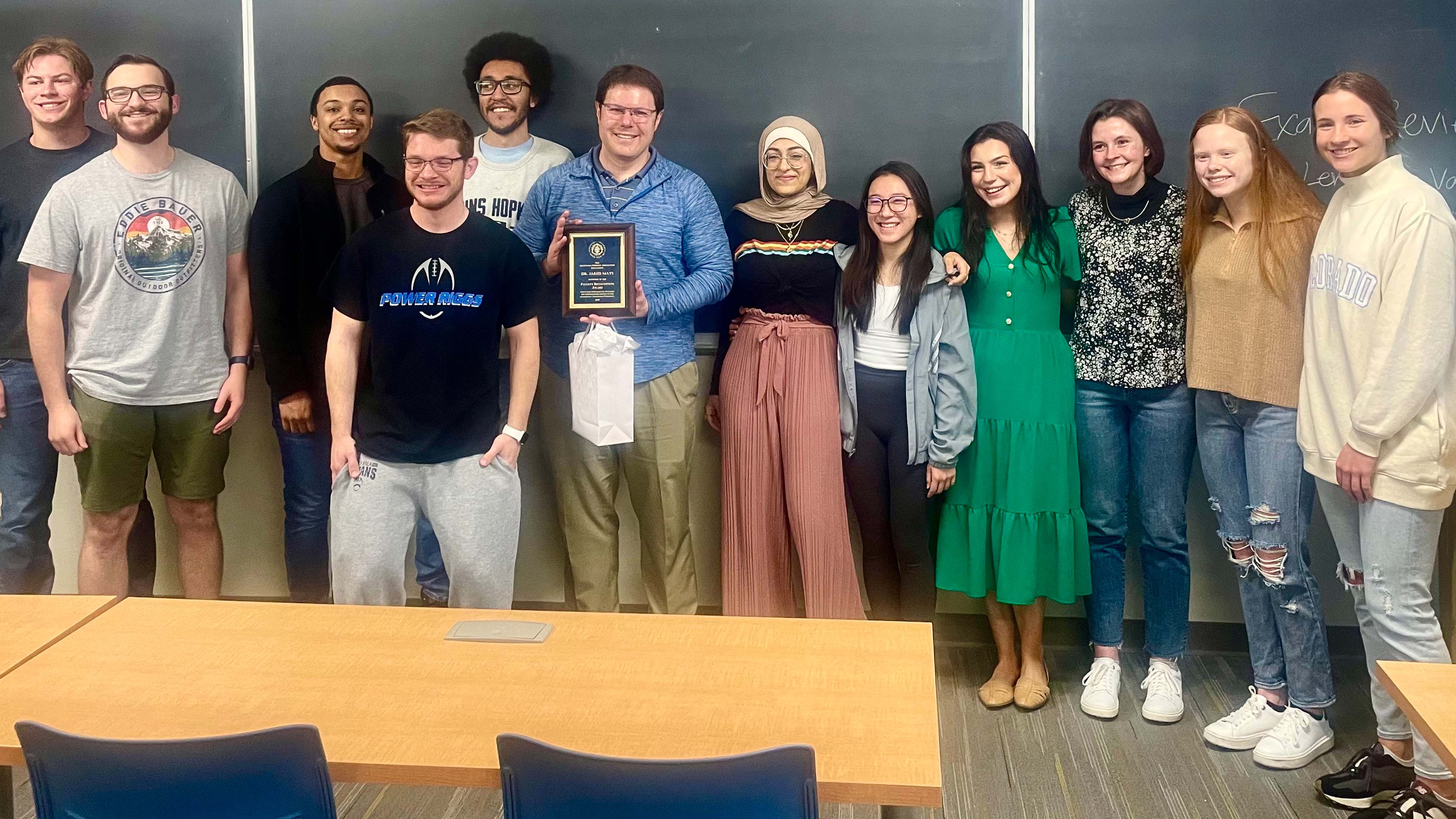 Along with writing thank you notes to professors, ASA asks fellow students each year to nominate their favorite Augustana faculty member. The award is given for excellence in teaching and distinguished service to the students of Augustana University.
Drawn to the university because of its liberal arts foundation and impressive research infrastructure, Mays said Augustana was his first choice when applying to professorships. He began his AU career in 2009 and helped to create the university's biochemistry program. Since then, he has taught courses in organic chemistry, biochemistry and medicinal chemistry, as well as Civitas, the university's honors program. 
Sara Alhasnawi '23, ASA secretary, said that Mays' award is well-deserved.
"As someone who has taken classes with Dr. Mays, he has been critical to my academic and career goals," Alhasnawi said. "He has truly been a pillar for the students, as well as the chemistry department. I would not be where I am today without his continuous encouragement and enthusiasm for my success."
Mays said the award is extra gratifying because of the responsibility he feels toward his students and their outcomes.
"A really good, quality education is an investment for students, and I take that responsibility seriously," Mays said. "Even when that means I have high instructional standards, I strive to be fair, understanding and provide students with the expected skills and training. So, to know students feel that my instruction was a good experience, with this level of rigor and excellence,  is very much uplifting."
One of Mays' nominators wrote, "Dr. Mays helps students realize their full potential as scientists, and strives to teach us why phenomena occur. By doing so, he has given students the tools to explain the facts they have been taught and make educated guesses as to how scientific phenomena will occur. This knowledge that Dr. Mays has imparted to students, such as myself, has not only given us the tools to succeed in the STEM world, but also the confidence to thrive."
For Mays, watching students thrive is the best part of teaching, and he said that commencement is his favorite part of the academic year. 
"Whether you've seen these students in the halls, walking around on campus or have had them in your classroom, it's wonderful to see what they become, to see their accomplishments," said Mays. "I've had many cohorts go through and walk the gauntlet, and it's always really enjoyable to be able to wish somebody well on the next stage of their journey."
When he's not teaching, Mays enjoys spending time with his wife and three kids — hiking or playing board games as a "competitive family."
To view the list of past ASA Faculty of the Year Award recipients, visit augie.edu/academics/about-our-professors.