Pictured: J. Earl Lee Piano Festival in Hamre Hall on Sunday, Feb. 20, 2022
Following the announcement of a formal partnership in June, Augustana University's School of Music (SoM) and the South Dakota Symphony Orchestra (SDSO) are teaming up to make the biennial J. Earl Lee Piano Festival better than ever.
"It was the piano competition that sparked the conversation about an artistic partnership. It was fun brainstorming what the competition could be for Augustana and how the South Dakota Symphony could support it," said Jennifer Teisinger, SDSO executive director.
For more than a decade, Augustana has hosted a piano festival held in honor of Dr. J. Earl Lee and his wife, Dr. Clara Lee '39, professors emeriti of music and speech. The festival, which presents unique opportunities for learning, listening and participation for high school music teachers and students, has been funded by the generous and longstanding estate gifts of Karl O. Lee and his mother, Augustana 1908 alumna Agnes Lee.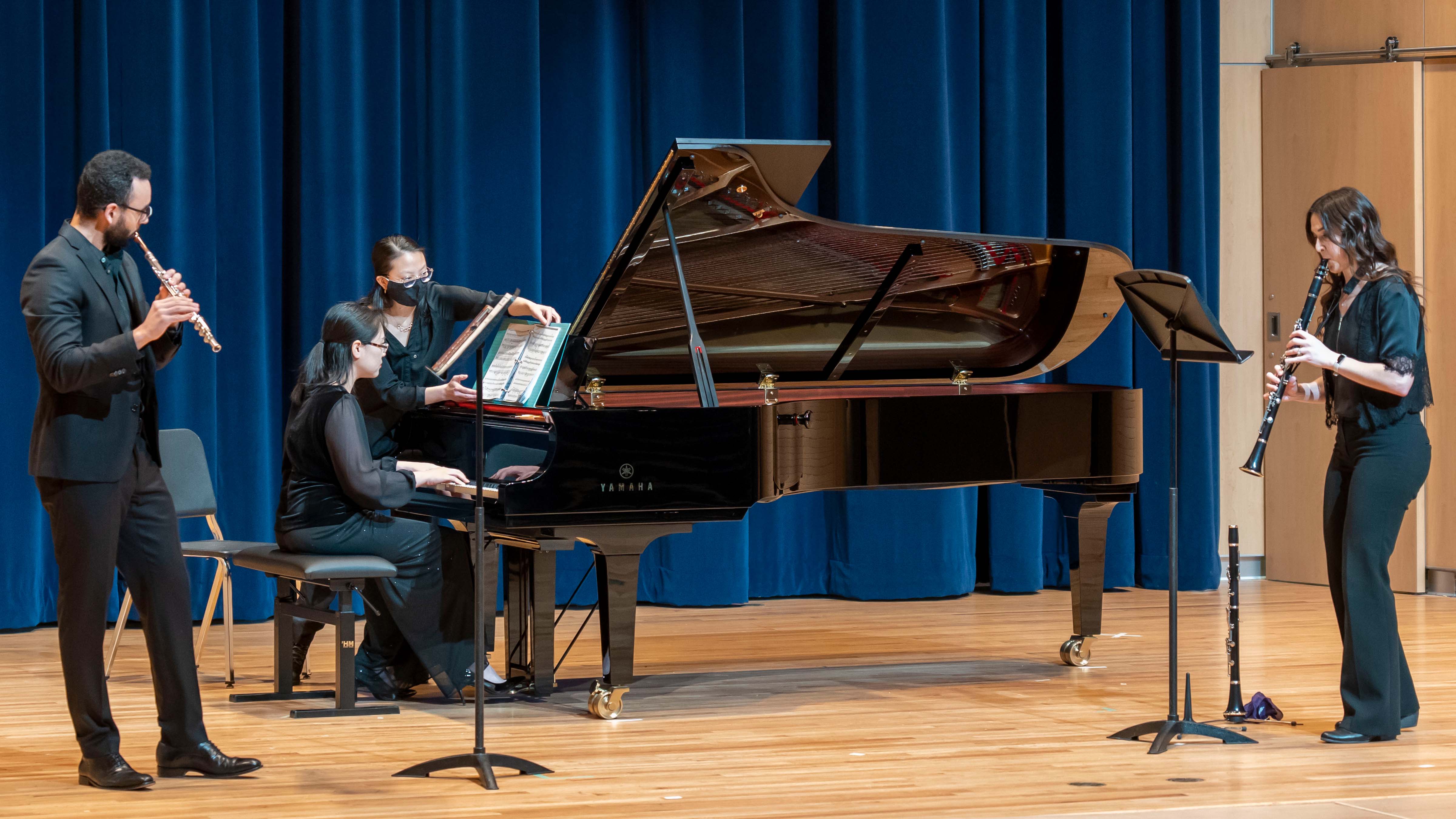 In an effort to capture the attention of even more prospective students across the globe, the SoM and SDSO got together and reimagined two very different competitions — one to be held in the fall and spring each year. 
The first event will be known as the J. Earl Lee Solo Competition.
"Prospective Augustana students, pre-college students, can come to Sioux Falls to compete for a cash prize, but also compete for our top scholarship in the School of Music, our $8,000 annual Pro Musica Scholarship," said Dean of the School of Music Dr. Peter Folliard.
Along with Augustana students, the winner(s) also get to interact with a guest artist — a top solo pianist that the SDSO will bring in for the competition. 
"Students will come to campus, come to Sioux Falls and go see the dress rehearsal with the South Dakota Symphony, then go meet that pianist and the pianist will have a master class and/or recital that they do for the students," Folliard said.
The students will also have the chance to see the pianist in concert with the SDSO.
"I'd be quite surprised if any student pianist coming to participate in the competition didn't then come and hear the pianist who's adjudicating or running a master class or whatever it is they're doing for the competition. This is part of the deal," said Delta David Geier, SDSO music director. "We're able to bring the music to more students. I think it just raises the awareness for both of our organizations."
Also in honor of J. Earl Lee, Augustana and the SDSO will feature a collaborative piano competition in the spring.
"It really is a very different skill set to be an accompanist than it is to be a soloist and there are not many competitions for collaborative piano out there," explained Folliard. "So, we thought this would be a really neat way to elevate the Augustana School of Music, nationally and internationally."
The winners — first, second and third place — will receive cash prizes and get to accompany SDSO musicians, who are also Augustana faculty, in Hamre Recital Hall. One prospective student will also get to accomplish something else that only Augustana's SoM can offer.
With the new addition of its multimedia entrepreneurship program and Midco Media Center, the winner of the competition will be able to make a multimedia audio video recording produced by Augustana students in the major.
"It's great exposure for them and both of these partnerships really tie into Viking Bold — establishing strategic partnerships in the community, establishing new scholarship programs and raising brand awareness," said Folliard.
Together, following the new format of the competition, Augustana's SoM and the SDSO are excited to announce that they have welcomed a leader in the new generation of classical music, Pianist and Composer Conrad Tao, to be the guest artist for the reinvented J. Earl Lee Piano Solo Competition, which will take place from Oct. 6-8, 2022.
"We're very interested in seeing more music students come to Augustana, and Augustana having a bigger footprint nationally in collegiate classical music," Teisinger said.
For more information, visit augie.edu/LeePianoFestival.