Augustana University student Janai Crawford '23, of Tea, South Dakota, is pre-physical therapy, majoring in exercise science on her way to earning a Master of Science in athletic training (MSAT). Crawford wants to become a physical therapist and specialize in sports medicine. This summer, she fulfilled a goal that had been years in the making — securing an internship with LifeCare Prahran Sports Medicine in Melbourne, Australia.
Q: Where or how did you hear about Augustana?
A: I had band competitions throughout high school, which were hosted at Augustana. 
Q: What is/are the reason(s) you chose to come to Augustana?
A: When I was walking around campus during my campus visit and during my discussions with faculty, I was never made to feel as though I was just a number. There were people shouting across campus that I should choose Augie and my family and I were joking around with my guides; it really just felt like Augustana could be a home away from home.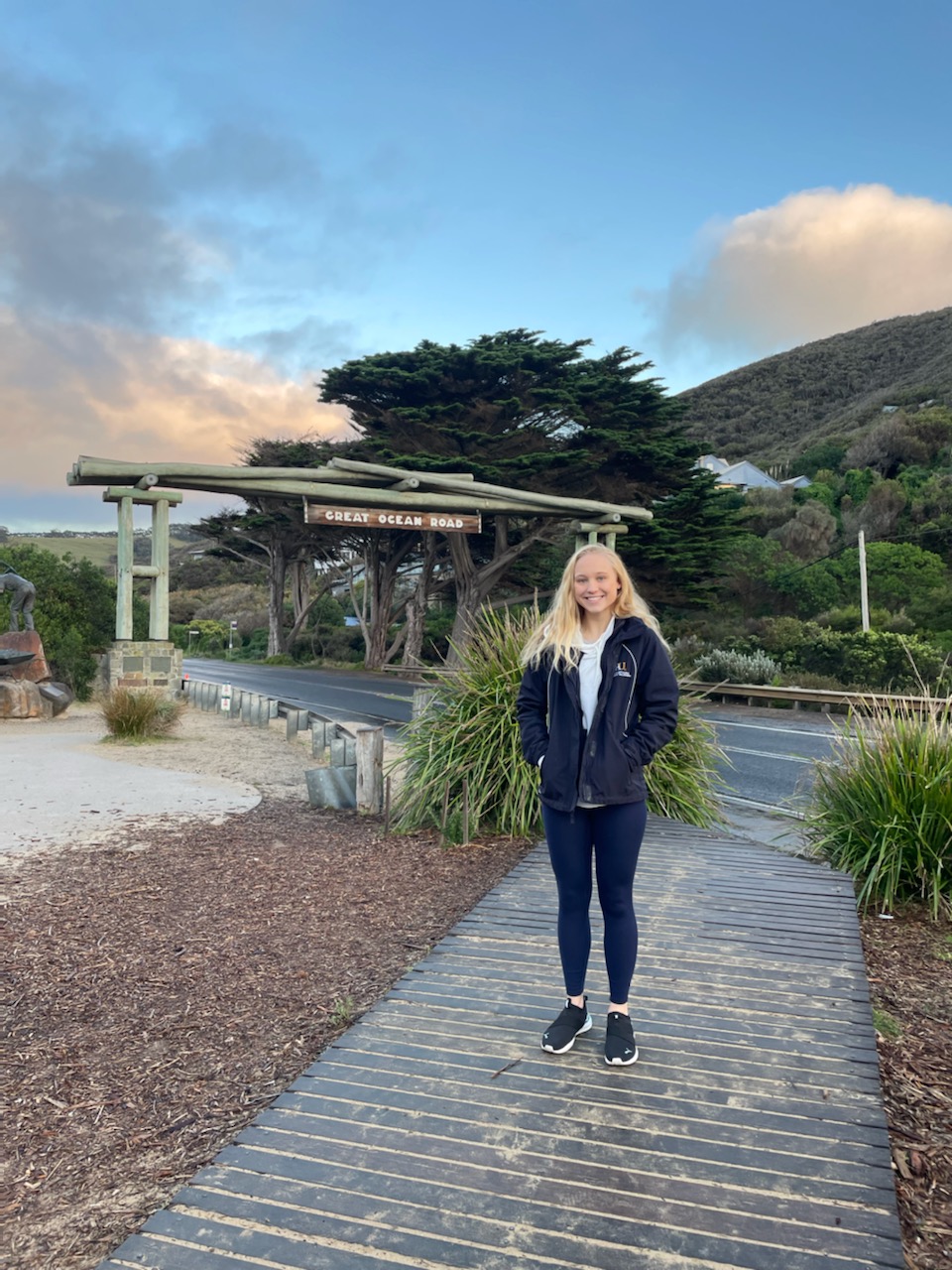 Q: What will/do your job duties include?
A: My responsibilities include assisting with rehabilitation exercises, analyzing faulty biomechanical patterns, research assistance (organizing data), performing strength assessments, gathering patient evaluation forms and helping around the clinic with cleaning and organization.
Q: How did you get the internship? Did anyone help you? What did that journey look like?
A: I have been planning an internship of this kind for years, gathering as many pamphlets from study away fairs as possible. A representative from The Education Abroad Network (TEAN) came to speak during one of my exercise science classes so I was more familiar with their program offerings than some other organizations. I approached Erin Kane (associate director of International Programs) with some of the organizations and programs I was interested in and sought out her advice and assistance with getting this dream off the ground. She put me in contact with representatives from the companies I was looking into and I decided to apply to TEAN and ISA's Australian Internship program. I cannot even begin to name all of the people who have helped along this journey, between my family who has supported my adventurous nature, faculty who helped me organize the educational component of this internship necessary for my VISA, and the organizations which awarded scholarships to lessen the financial burden of this amazing opportunity. 
Q: What do you like most about your internship?
A: There are so many things that I love about this internship that it is extremely difficult to pick what I like most. The people who I am working with are amazing and at the forefront of sports medicine research. I love watching myself grow from week to week, and I really enjoy working with the patients in the gym on their rehabilitation and seeing how far they have come in the short span that I have known them.
Q: What do you hope to learn/gain from the internship?
A: I hope to continue to grow in the skills and knowledge base that I have gained during my time in the athletic training program. Another goal of this internship was to gain a better understanding of the day-to-day life of a physical therapist and whether or not I would like to specialize in sports medicine. 
Q: Why is experiential learning so important to you in your future endeavors?
A: Physical therapy itself is a field dependent upon hands-on experience (our evaluation tactics are heavily reliant on recognizing the feel and movement patterns of healthy joints and muscles and distinguishing these from improperly functioning systems).
Q: How important is building relationships/connections?
A: Building relationships is extremely important in physical therapy. Establishing relationships with your patients in which they trust you and your knowledge to help them heal is critical in rehabilitation. They need to know that you are there to assist them in achieving their goals; that you are going to push them but never push them too far. Developing a network between colleagues is also important as it allows you to have people who you can bounce ideas off of and aids in making referrals between different fields of specialization and professions.
Learn about the 2,000+ jobs and internships posted annually by the Augustana University Student Success Center at Augie Opportunities.