Augustana University student Tsegab Arega '23, of Sioux Falls, is a government & international affairs and sociology double major. As a Centers for Disease Control and Prevention (CDC) John R. Lewis Undergraduate Public Health Scholar, Arega was an intern this past summer at the University of Michigan Future Public Health Leaders Program (Michigan FPHLP) in Ann Arbor. Through her internship, she not only expanded her professional network, but learned "ways she can be useful within the health care system without pursuing a career as a health provider." The vice president of the Augustana Student Association (ASA) hopes to someday take the knowledge she's acquired and apply it in Ethiopia.
Q: What are your career goals/aspirations?
A: I plan to pursue a career as senior health policy advisor. Through this role, I committed to address the Black maternal health crisis and aim to make health care more accessible in Ethiopia.
Q: Where or how did you hear about Augustana?
A: As an active member of the Roosevelt High School's newspaper, I attended the 2019 Boe Forum on Public Affairs. The Boe Forum exposed me to the endless opportunities Augustana offers while motivating me to initiate an effort to learn more about the institution. 
Q: What is/are the reason(s) you chose to come to Augustana?
A: Being accepted into the Journey Scholars Program where students of color receive mentorship and guidance to excel at a predominantly-white institution reaffirmed my decision to choose Augustana.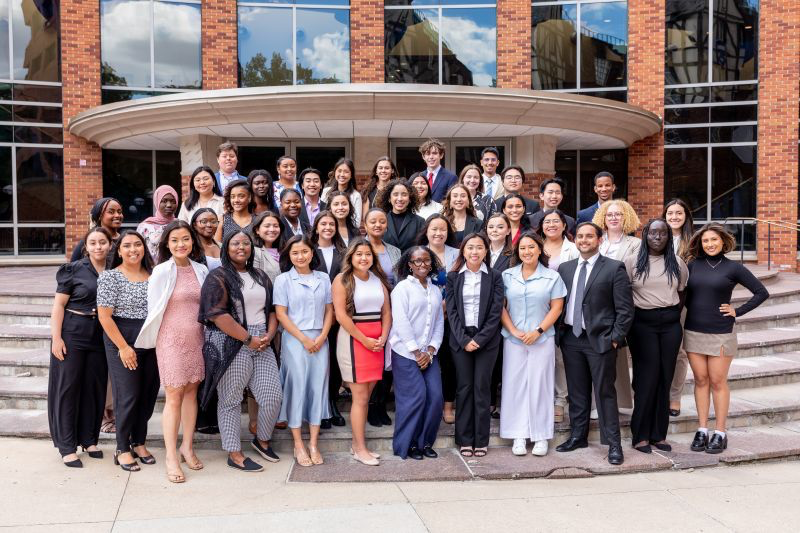 Q: How did you get the internship? Did anyone help you? What did that journey look like?
A: My mentor encouraged me to apply. However, Mary Toso and Sanna Strenge helped with the application process. The application process required a letter of recommendation and interview. Although the application process was intensive, the Augustana Student Success Center made the application process more feasible. 
Q: What did your job duties include?
A: At the University of Michigan Future Public Health Leader Program (Michigan FPHLP), I acquired public health knowledge and experience by participating in professional development workshops, research projects and public health lectures. This experience offered an opportunity to conduct a community health needs assessment that analyzes the effect of prenatal care on mothers and babies in Washtenaw County. Through my field placement at Michigan Medicine Community Health Services, my team and I were tasked to design a culturally responsive health workshop. 
Q: What did you like most about your internship?
A: Through this program, I was able to expand my professional network. I connected with leaders who are setting precedent in the public health field. Also, through opportunity, I spent two weeks with my incredible cohort that made me empowered, motivated and focused. 
Q: What did you hope to learn/gain from the internship?
A: When starting my internship, I was looking forward to learning more ways to make health care accessible and equitable without being a care provider. Thankfully, FPHLP has expanded my perspective on ways I can be useful within the health care system without pursuing a career as a health provider.
Q: Why is experiential learning so important to you in your future endeavors?
A: As a current senior, my experience at the University of Michigan has confirmed the path I will pursue after graduation. If it wasn't for the incredible mentors and my FPHLP 2022 cohort that have empowered me, this would not have been possible. 
Q: How important is building relationships/connections?
A: As a systemically non-dominant student (Jenkins, 2018), it is critical to seek continuous guidance and mentorship from individuals who walked a similar path. Through student organizations I led at Augustana and different internships I pursued, I met incredible people who are doing the work to make health care accessible and dismantle barriers so students like me can obtain an opportunity to excel. Lastly,I profoundly believe that all of my accomplishments at AU are a result of numerous hours of hard work and the incredible professional network and support I have. Hence, I encourage students to seek mentorship and guidance and to surround themselves with individuals who are committed to their success.
Learn about the 2,000+ jobs and internships posted annually by the Augustana University Student Success Center at Augie Opportunities.
References:
Jenkins, D. (2018). A Critical Lens to Rethinking Power, Privilege and Inequity Language: "Systemically Dominant" and "Systemically Non-Dominant." Share the Flame LLC: Camas, WA.