A 14-panel reredos depicting the life of Christ, donated to Augustana in 1962 in honor of Paul Rogness '58, will emerge from storage and find its new home in the Chapel of Reconciliation.
The same reredos served as the backdrop in which Rev. Dr. Martin Luther King, Jr. spoke to 14,000 teenagers gathered at the 1961 Luther League Convention in Miami Beach, Florida. The reredos, created in oil on masonite, served as the convention's focal point, and was created by Augustana Professor Emeritus of Art Robert "Bob" Aldern '51.  
Aldern, whose liturgical art serves as the main visual focal point for churches in Sioux Falls and across the country, passed away in 2011, but his wife, Joey, remembers when he was commissioned to create the reredos.
"He was very excited," Joey said. "He couldn't believe that he was actually the one chosen to do this type of work, and he was just very thankful his whole life for being able to do it."
The 24-feet-high and 36-feet-wide compilation of art features the miracles, sacraments, parables and incidents of the life of Christ.
The 1961 Luther League Convention
After Aldern created the reredos in his home studio in Sioux Falls, it was shipped to Florida, and he followed along to oversee its installation. In August 1961, thousands of teenagers gathered in Miami Beach for worship, workshops, music and fellowship. The convention's most notable speaker, King, stood before the crowd with the reredos displayed in the background, and explained the fundamental need for youth of the church to share God's love when facing societal injustice.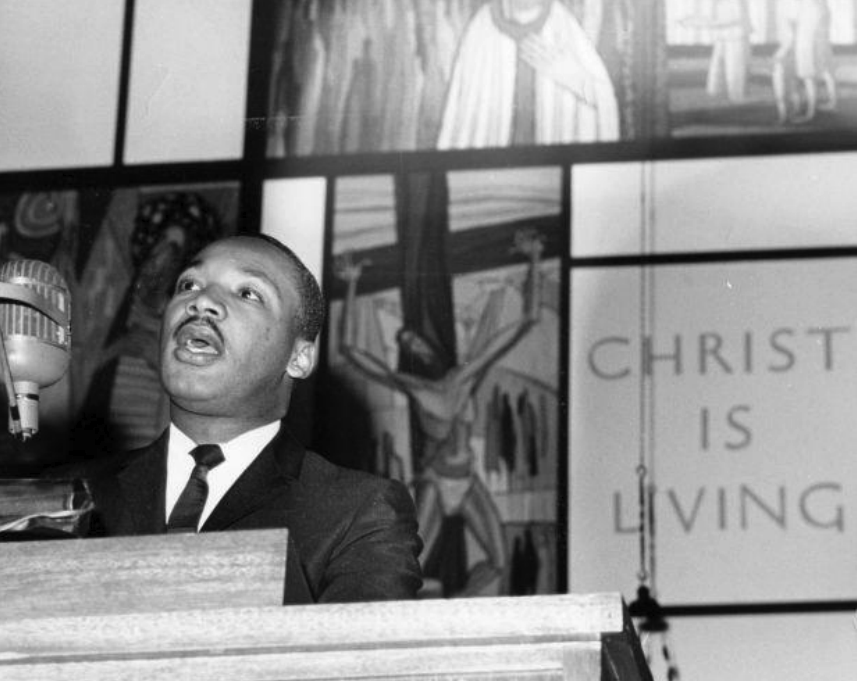 "Seeing newspaper articles of Martin Luther King, Jr. (speaking in front of the reredos) was quite astounding," said Noreen Groethe, Robert and Joey's daughter. "It was very moving, and even before that, as a child, I thought the reredos was unique in its own way."
However, King's speech in front of the reredos almost didn't happen. Rev. Dr. L. David Brown, then-executive director of the Board of Youth Activities of the former American Lutheran Church (ALC), received more than 600 letters asking him to uninvite King as a convention speaker. 
King pulled out of the convention, citing another engagement, but Brown was determined, so he went to Atlanta, Georgia, to appeal to King in person. Eventually, King agreed, and spoke at the convention. 
"It's astonishing to me that in 1961, a Lutheran youth convention would have a Black Baptist minister come and speak to this group," said Rev. Ann Rosendale '04, campus pastor.
"At the Luther League Convention, King spoke on racial justice, and 60 years later, here we are, and we're still working for it," Rosendale continued. "God is still at work in God's church — moving people toward justice for all of God's creation."
The Life and Art of Robert Aldern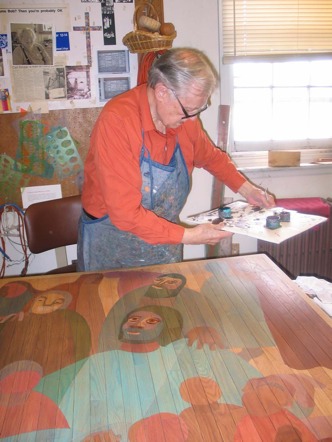 Aldern, who passed away in 2011, was born in 1929 in Sioux Falls. He graduated from Washington High School in 1947 and Augustana in 1951. It was at Augustana that he met Joey (Grunwald), his wife of almost 60 years. 
"He called me for a date, but I didn't know who he was and I already had a date, so I turned him down," Joey recalled. "The next day, he introduced himself, and I kind of liked him. It happened to be reverse date week the next weekend, so I took him out on our first date."
After Joey left Augustana, Robert visited her often in her hometown of Sturgis, South Dakota — hitchhiking five hours both ways. After Robert graduated, he joined the Air Force, and when he came home on leave, the two married in Sturgis. Robert went on to earn his Bachelor of Fine Arts from Hartford Art School in Connecticut.
Eventually, Robert, Joey and their four children moved back to Sioux Falls, where Robert was employed as a draftsman for architect Harold Spitznagel — allowing him to create commissioned liturgical artwork. 
"Bob was really quite religious; he didn't talk about or show it that much," Joey said. "But, he was so grateful that he was able to make that art because it expressed how he felt about his faith."
"He had pursued an in-depth understanding of the symbolism in the church," said Groethe. "That was portrayed in all his art, through literal shapes and even his landscapes."
In 1980, after teaching at several universities in South Dakota, Aldern returned to Augustana as professor and chair of the art department. In 1991, became Augustana's artist-in-residence and director of the Center for Liturgical Art. 
"As kids, we would try to guess what color his hands would be when he got home," Groethe recalled. "Because he would teach all day, but he always found a way to get into the studio and paint a little bit. We would just laugh hysterically because no matter how much he washed his hands, that oil was omnipresent." 
Aldern retired in 2006, but continued to operate Aldern Art Studio — serving as an architectural and liturgical artist-consultant, as well as producing his own work. He was later diagnosed with Parkinson's disease.
"It became extremely difficult for him to even get dressed, but he was still thinking about art all the way up to the end," Groethe said. "I would take him to the studio the last few months or so. He couldn't do much work, but he wanted to be there."
With Groethe's help, the reredos will be restored and displayed in the narthex of the renovated chapel. For Joey, it's a moment for which she's been waiting many years.
"I'm so thrilled and thankful that it's going to be in the chapel because it is so special to me," Joey said. "I not only miss Bob, but I miss his artwork."
The Rogness Memorial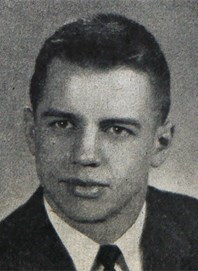 For the Rogness family, the memorial is a fitting tribute to their son and brother, Paul, who was a debate team member, trumpet player, student body president, Viking Days chairman, second vice president of the International Young People's Luther League, Rhodes Scholar and candidate for the presidency of the Luther League. 
Michael '56 and Peter Rogness '67 said their brother was "a classic, All-American guy."
"He was my best friend," said Michael, whose Augustana years overlapped with Paul's. "A lot of people go through these teenage years where they wonder who they are — Paul never did. He was a remarkable personality, and he just had it all together early on."
"Paul was very outgoing and a profound Christian witness to everybody that he met," Peter added.
As a senior at Augustana, Paul was selected as a Rhodes Scholar, and studied at Oxford University in England for two years following graduation. On the day of his return from Oxford in 1960, he was tragically killed in a car-pedestrian accident in St. Paul, Minnesota.
After his death, his parents, Alvin '27 and Nora (Preus) '33, received letters from many of his friends, expressing their sympathy and admiration for Paul. One of the letters came from Kris Kristofferson, singer, songwriter and actor, who knew Paul from their time together at Oxford. 
"He wrote to my parents and said Paul was the most Christian person he'd ever met," Peter said. "Kris said they talked about faith, and one thing Paul had said to him, and this line has stuck with me a lot, is, 'You can't judge Christianity except from the inside.'"
Peter and Michael said it will be just as meaningful to see the reredos in its new home as it was when it was first donated to Augustana.
"In giving it back to Augustana after the convention, I think there was a large consciousness that this prominent, former student, who had cut a big path at Augustana but carried a lot of potential for what else was in store for him in life, was suddenly gone," Peter said. "So, I think that's where the story of Paul and Bob Aldern's art came together.
"Having a piece of religious art that has the kind of history and prominent life it still has, and that Bob Aldern created — that's no small thing," Peter continued. "It's humbling to have the Rogness name attached to it.
"And, Paul would have loved it."
To learn more about how to contribute to the chapel renovation project, visit augie.edu/ChapelRenovation. If you would like to discuss the renovation project in greater detail, please contact Director of Development Paul Rasmussen '03 at paul.rasmussen@augie.edu or 605.274.5844.