At Augustana, opportunities for student research are plentiful — from the Arthur Olsen Student Research Symposium and Ralph and Susie Wagoner Student-Faculty Research Award to the Augustana Research Institute (ARI) and Civitas Honors Program vocation projects. What sets AU apart from other universities, though, is the caliber of research performed by undergraduate students which often rivals graduate-level research. The majors of Rachel Boer '22, Ashtyn Eben '23 and Sydney Denekamp '23 have them spread across campus, but all three are pursuing extraordinary, faculty-supported research opportunities on campus and off.
📚 Rachel Boer '22 • Social Sciences
Rachel Boer '22 recently completed research focused on COVID-19 learning loss in elementary students, based on reading and math scores.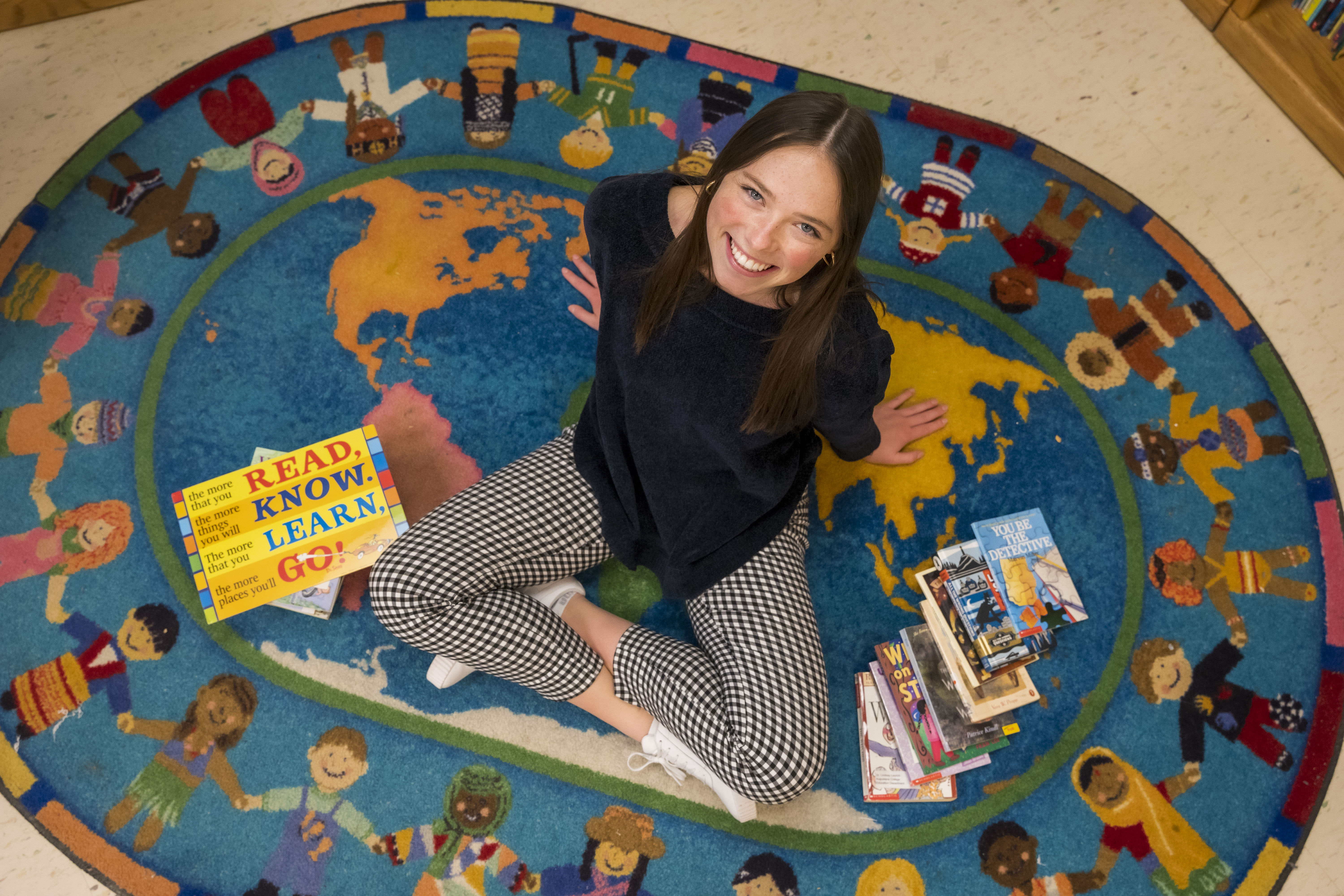 The elementary education (with a middle school endorsement) and Spanish double major began working on the research project under the mentorship of Assistant Professor of Education Dr. Brad Uhing and Harrisburg School District Director of Instruction & Federal Programs Michael Amolins '07 in June 2021. The research was funded by the Jane and Charles Zaloudek Faculty Research Fellowship, which extends the scope of scholarly research beyond the normal confines of the classroom.
"We looked at MAP (Measure of Academic Progress) testing scores from Winter 2019-20 and Fall 2020-21 — before and during the pandemic," Boer said. "We compared students' scores and came to the conclusion that in all grades, math (scores) went down. Reading either stayed the same or improved a bit, but not to the expected growth like we've seen in the past."
"We came to the conclusion that, most likely, parents were reading to their kids at home during the pandemic, whereas they weren't really working on their math skills," Boer continued. "And, math skills are something that students need to work on consistently in order to improve them."
The research project culminated in an invitation for Boer and Uhing to present their work at the Midwestern Educational Research Association's (MWERA) annual meeting in Cincinnati, Ohio, in October 2021.
"I was the only undergraduate (student) there," Boer said. "That's how I know Augustana goes above and beyond at providing these opportunities to students because everyone else there was either a graduate student or professor presenting research."
Boer, a student teacher at Lowell Elementary School, hopes her research helps not only her students, but those across the Midwest.
"Learning the ins and outs of the testing world has definitely helped me because I now know how to interpret my students' test results and understand the trends of student learning," Boer said. "We sent data reports to school districts, which can help them to know where their COVID-19 relief funding should go or what their teachers need to focus on in the coming years so they are able to work on closing the learning loss gap."
Initially, Boer was unsure about doing research of this caliber as an undergraduate student.
"When I hear research, I think of nursing or medical students," said Boer. "But, Dr. Uhing assured me that the process isn't as intimidating as I thought and said if I had any questions to come to him. He said, 'It's a great opportunity for you to learn before you get into the profession.'"
Despite the initial hesitation, Boer said this opportunity changed the direction of her career. 
"After I teach for a while, I want to get my doctorate and do more research surrounding education, so this definitely helped me to realize one of my passions," Boer said. "The fact that Augie makes these opportunities available to all students is really something special."
🛰 Ashtyn Eben '23 • Sciences
Ashtyn Eben '23, a computer science & software engineering and marketing double major, has been utilizing her skillset to conduct research that has real-world implications.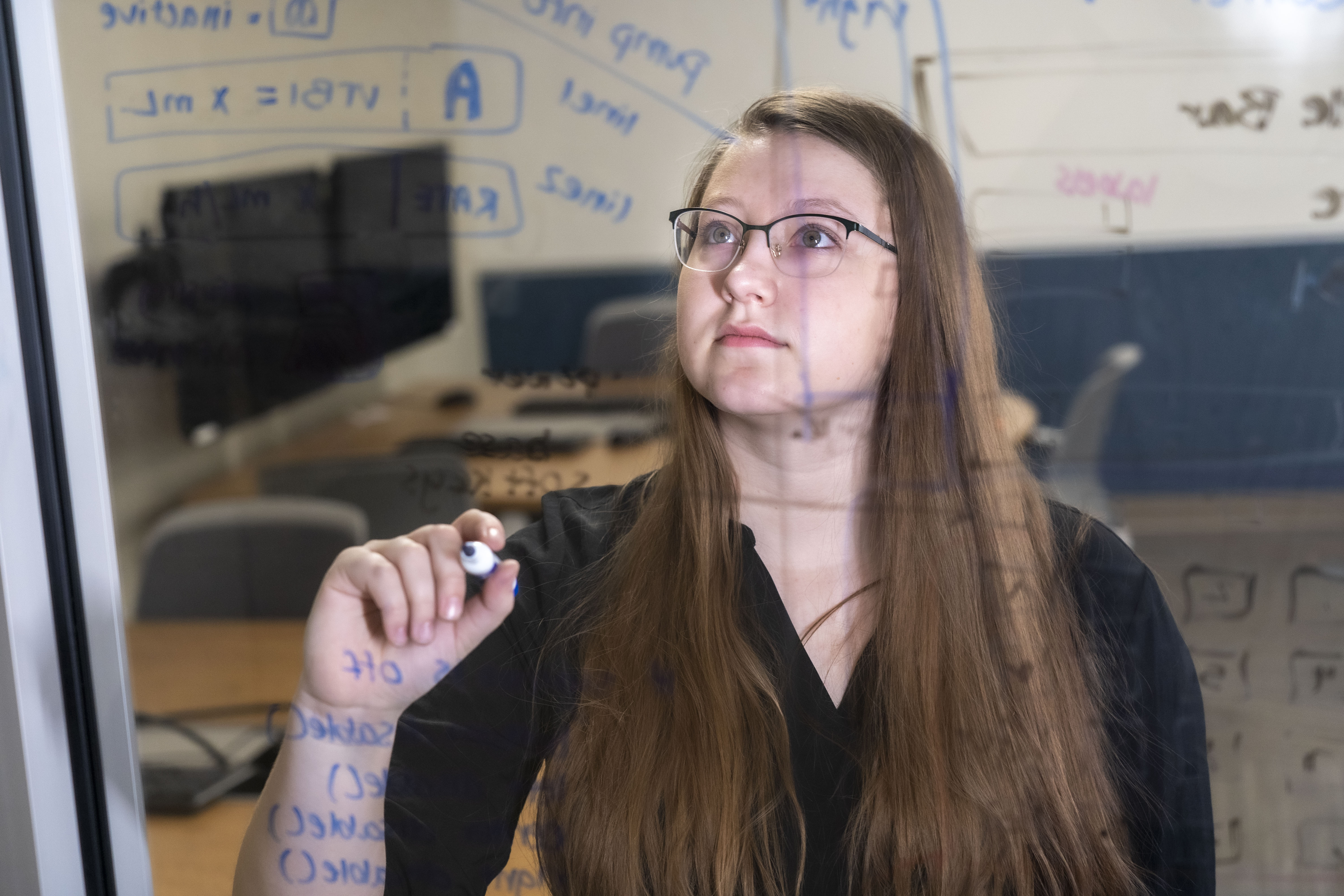 Eben, a Marshall, Minnesota, native, began working on two research projects in the summer of 2021 under Assistant Professor of Computer Science Daniel Steinwand '83. Her primary project was a satellite data viewer. The project, which was funded by the South Dakota Space Grant Consortium (SDSGC), could be used to track forest fires, tree dieback and additional landscape changes. 
"Satellite images are massive because you're working with really large datasets, and for someone who's not an expert in remote sensing, satellite imaging or computer science, it's hard to look at that dataset and glean any useful information from it," Eben said. "So, the idea for this project was to take these huge amounts of data and display them in a way that was usable for non-experts."
Eben became involved in the project after seeing a posting for the research position on Augie Opportunities, the university's centralized job and internship database. 
"It caught my eye because I didn't realize Augustana had ever done computer science research," Eben said. "It was just an exciting opportunity that I didn't think I would have, and so I jumped on it."
While working on the satellite data viewer, Eben had another amazing project up her sleeve. She also began working on something innovative for AU's Department of Nursing — an IV pump simulator. 
"The nursing department approached Professor Steinwand because they needed a replacement for their IV pump," said Eben. "They currently have an older IV pump. It's not very realistic to the experience of using an actual IV pump in a clinical setting."
The simulator Eben created can be downloaded as an application to nursing students' computers and will give them the option to enter the IV rate in milliliters per hour and volume to be infused in milliliters. While it has not yet been implemented in the nursing simulation labs, Eben is already thinking of ways to improve the simulator, such as an application for instructors to watch students use the IV pump in real time. 
The project, which began as a solo project, transitioned into group work for one of Eben's computer science courses — with the intent of having future students build upon the simulator.  
Eben originally applied to Augustana as a nursing major. For her, having the opportunity to create an IV pump simulator for the nursing department was an experience that became a full-circle moment. 
"I left the nursing track thinking that was it, that I was just going away from medicine," said Eben. "And, after this, I realized there are a lot of different opportunities to help people in the medical profession without going into nursing or becoming a doctor.
"It was also something unique, and it gave me an opportunity to extend my skills outside of the practice problems we do in class to the real world."
⛏ Sydney Denekamp '23 • Humanities
Sydney Denekamp '23 is seizing every opportunity for hands-on anthropological experiences both at Augustana and abroad.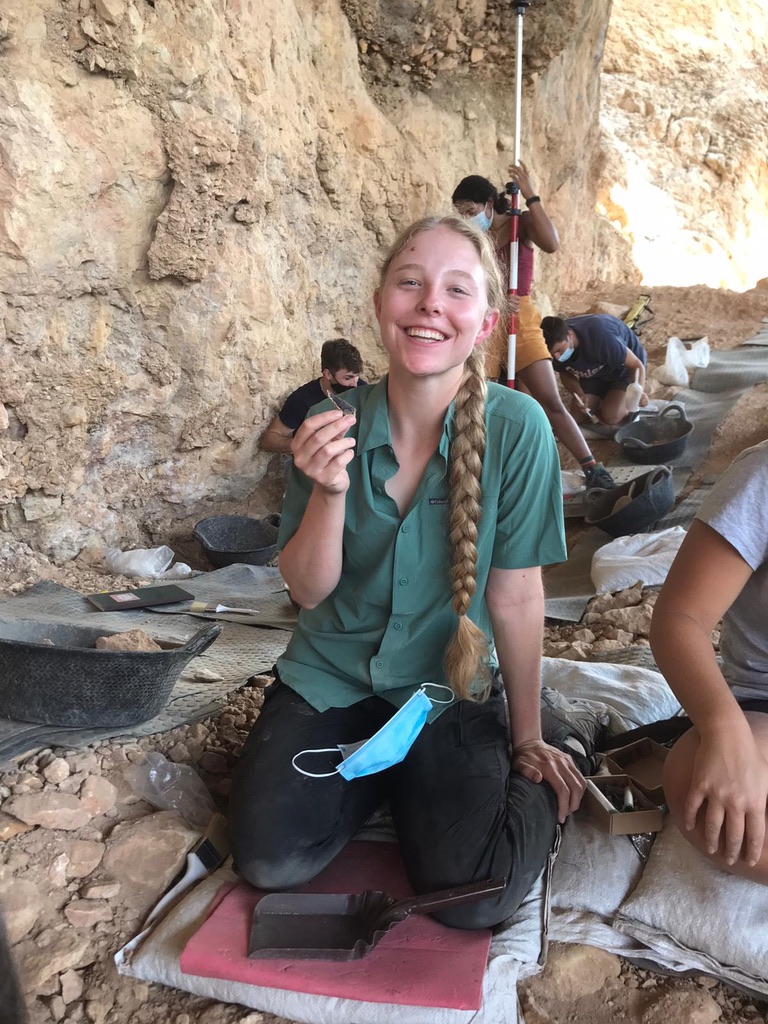 Denekamp, an anthropology, journalism and Spanish triple major, completed archaeology field school in Catalonia, Spain, during the summer of 2021. She performed excavation, documentation, preservation and datafication of artifacts and features from the 50,000-year-old Neanderthal site of Roca Dels Bous. 
During the 2022 January Interim (J-term), Denekamp studied in Rome, Italy, to experience Roman archaeology up close and learn Italian. In March, the Becker, Minnesota, native embarked on an anthropology spring break course focused on local indigenous communities in Cameron, Arizona, with six other students.
The latter course was led by Dr. Kristen (KC) Carlson, professor of anthropology, and was a deep dive into indigenous culture and archaeology in the Southwest through the lens of Native American perspectives.
"My prior experience in anthropology had been very historical because I saw a lot of Neanderthal archaeology in Spain and Roman and medieval archaeology in Italy," Denekamp said. "I hadn't been exposed to any American archaeology."
During the course, the group stayed at Big Hogan, a Navajo owned and operated, off-the-grid bed and breakfast near the Grand Canyon. They volunteered with local indigenous communities and learned about local archaeology, such as how to recognize and record sites. The class also learned about the region's cultural and geographical history, and heard about current and past life on the reservations from indigenous people. 
Carlson instilled in her students that because the tribes are descendants of the local archaeology, it is important to understand that their indigenous voices are vital to archaeologists' work and that they should be the ones driving the work.
"From the trip, I got a better idea of what American archaeology is, and how to work with Native Americans in a respectful way that honors their history," Denekamp said.
For Denekamp, the hands-on anthropological experience she's gained as an undergraduate student has transpired from the connections she's made at Augustana. 
"I wouldn't have gotten where I am without being close to my professors; they care about me," said Denekamp.
This summer, Denekamp will work alongside Dr. Adrien Hannus in Augustana's archaeology laboratory and the Mitchell Prehistoric Indian Village — performing site surveys and test pits, as well as cultural resource management. Hannus has also mentioned the possibility of Denekamp writing a journal on disc artifacts, allowing her to incorporate her journalism major. 
"I'm excited to work with him," Denekamp said. "I think he has a lot of knowledge to impart upon me."
To read more stories from the Spring 2022 edition of The Augustana magazine, visit augie.edu/magazine.