In late March, Dr. Joel Johnson, Sanford Health Peter Schotten Distinguished Professor of Government & International Affairs and Augustana University's soon-to-be interim provost, was one of only a few Americans asked to serve as a panelist at a Humboldt-Kolleg workshop at Yale University in New Haven, Connecticut. The opportunity arose after Johnson answered the university's call for papers focused on "Writing Democracy: Literature and Democratic History" in the fall of 2022.
"It's co-sponsored by the Alexander Humboldt Association in Germany, which funds a lot of cross-cultural engagement," said Johnson. "It was a real honor. I didn't expect to be among those who were accepted in the end; it was a pleasant surprise to find out that they wanted to hear what my paper was about."
With Germany as the primary case study, the organizers of the conference intended to explore the interrelation of literature and democracy — how recent developments in the theories and histories of democracy can open up new perspectives for literary studies, and what literature can teach us about the history of democracy.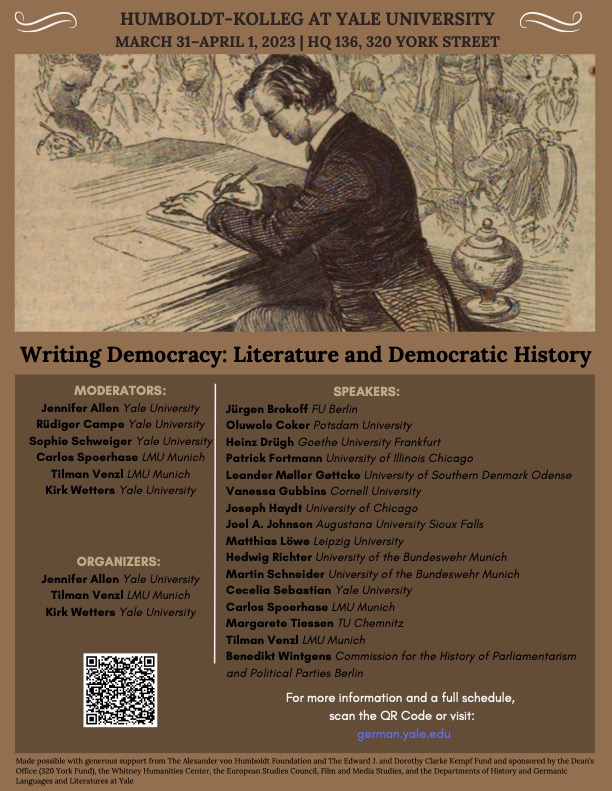 "I was at Yale presenting with mostly other German professors. I was the sole political scientist, and I was one of only a small number of American scholars there, so it was a great opportunity to get to meet a lot of people who are working in similar areas," said Johnson.
Before he landed at Augustana, Johnson earned a Bachelor of Arts in political science and honors history from Gustavus Adolphus College, as well as a Master of Arts in political science and Ph.D. in political science, both from Harvard University. In 2010-11, Johnson was a Senior Fulbright Scholar at the University of Marburg in Germany. He said that experience enhanced  his interest in German history and politics.
"The conference is looking at the role of literature in understanding pre-World War I Germany with the pervasive concern about whether we could track backward the Nazi terror. And, there's a large school of thought that says, 'yes, Germany followed this rather special path of development that was different from other countries in Europe and thus made it more likely to go truly awry,'" said Johnson.
Johnson said the fact that the organizers of the conference wanted to look at this period of time was intriguing to him because it's the same period he looks at with American political thought and literature.
Johnson said if we want to understand what that time was like, we should look not only to historians to give us accounts, but also to novelists and other social critics for their view of what the world was like — hence, the origin of his paper, entitled "Polishing Imperial Floors with Republican Feet: William Dean Howells's Fictional Travelogue of Wilhelmine Germany.".
"I started looking to the authors who I've explored quite a bit on this side of the pond. I started with Mark Twain, but also William Dean Howells, who was a good friend of Mark Twain. I came across this novel that Howells had written where his main characters traveled through Europe (at this time that the conference is interested in) and they comment on German culture, society, politics in a way that, I think, was revealing," Johnson explained.
During dinner and in between paper presentations at the conference, Johnson said smiling, that he fielded a lot of questions about American politics, America's involvement in the North Atlantic Treaty Organization (NATO), the 2024 election and America's role in regard to the Russia-Ukraine crisis, and even American root beer, which was new to many of the participants. 
"Most of our conversations focused on the German view of America and the German view of Germany," said Johnson, who found it enriching to engage "so many German scholars when they are together in America talking about America."
Whenever Johnson attends a conference such as this, he feels inspired. In fact, some of his research in recent years has been prompted by conversations with academics from other countries. Following this conference, he said his reading list is now a foot-and-a-half taller and he feels proud to have represented AU.
"When you look down the list of participants and see all of these universities from across Europe represented and then there's Augustana, that's a really nice thing," Johnson said.
To learn more about the government & international affairs major at Augustana University, visit augie.edu/government.