The nostalgia sets in when alumni speak of the floppy-eared dog that had a more than 20-year run at Augustana — then Augustana College. Once embraced by fans, the conversation is often filled with stories of the energy and excitement that it brought to football and basketball games.
After a 20-year hiatus, Augie Doggie is back at Augustana, doing a lot of the same things — engaging with students and staff, as well as attending various university events — serving as a goodwill ambassador for the university. However, this one is more than just a mascot. Augie Doggie is no longer a person behind a costume, but an actual dog.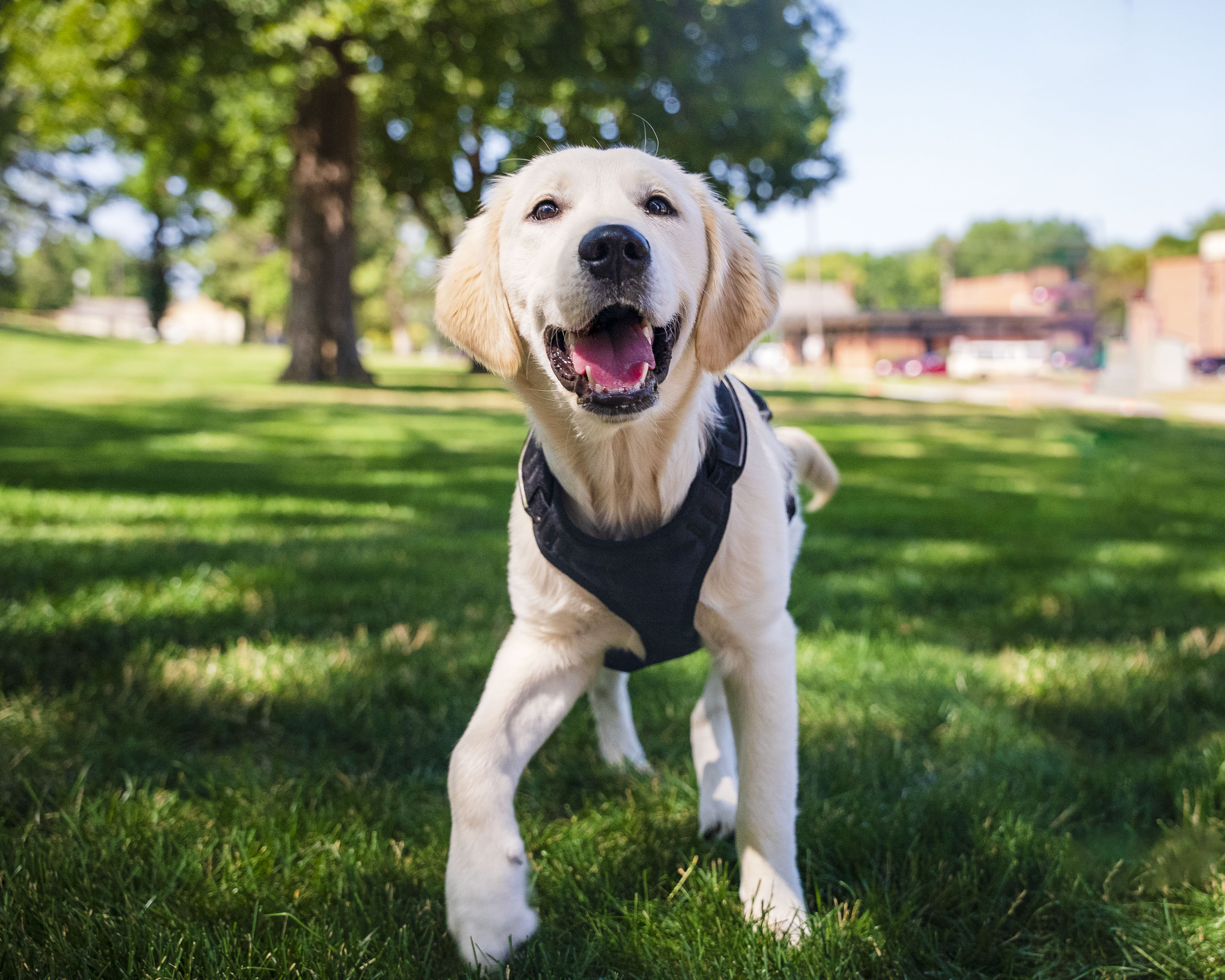 "I envision that everyone in the AU community will get to know who Augie Doggie is and his name. I want students to recognize him when they see him from across campus and want to spend time with him," said Augustana Chief of Staff Pamela Miller '94. "I would like him out in the Sioux Falls community as well."
In late July, Miller got her wish. That's when Ace — the Augie Doggie, sponsored by Nyberg's Ace — officially became part of the Augustana University community, alongside Ole the Viking.
Hockey Behind the History
Bringing back the Augie Doggie wasn't a decision that was made lightly. The suggestion came from a 1984 alumnus who attended when the mascot was first introduced — aware of what it meant to the college and its fans.
"Wayne (Petersen) said, 'I have an idea for you guys to bring the dog back,' and he started telling us about what the (Minnesota) Wild does. They adopt a dog that becomes part of their culture for the time that it's there," Miller explained.
Petersen, a member of the Augustana Hockey Promotional Development & Fan Engagement Subcommittee, is the senior director of community relations & hockey partnerships for the Minnesota Wild — the professional ice hockey team based in St. Paul, Minnesota. His position includes overseeing the team's Adopt-A-Dog program.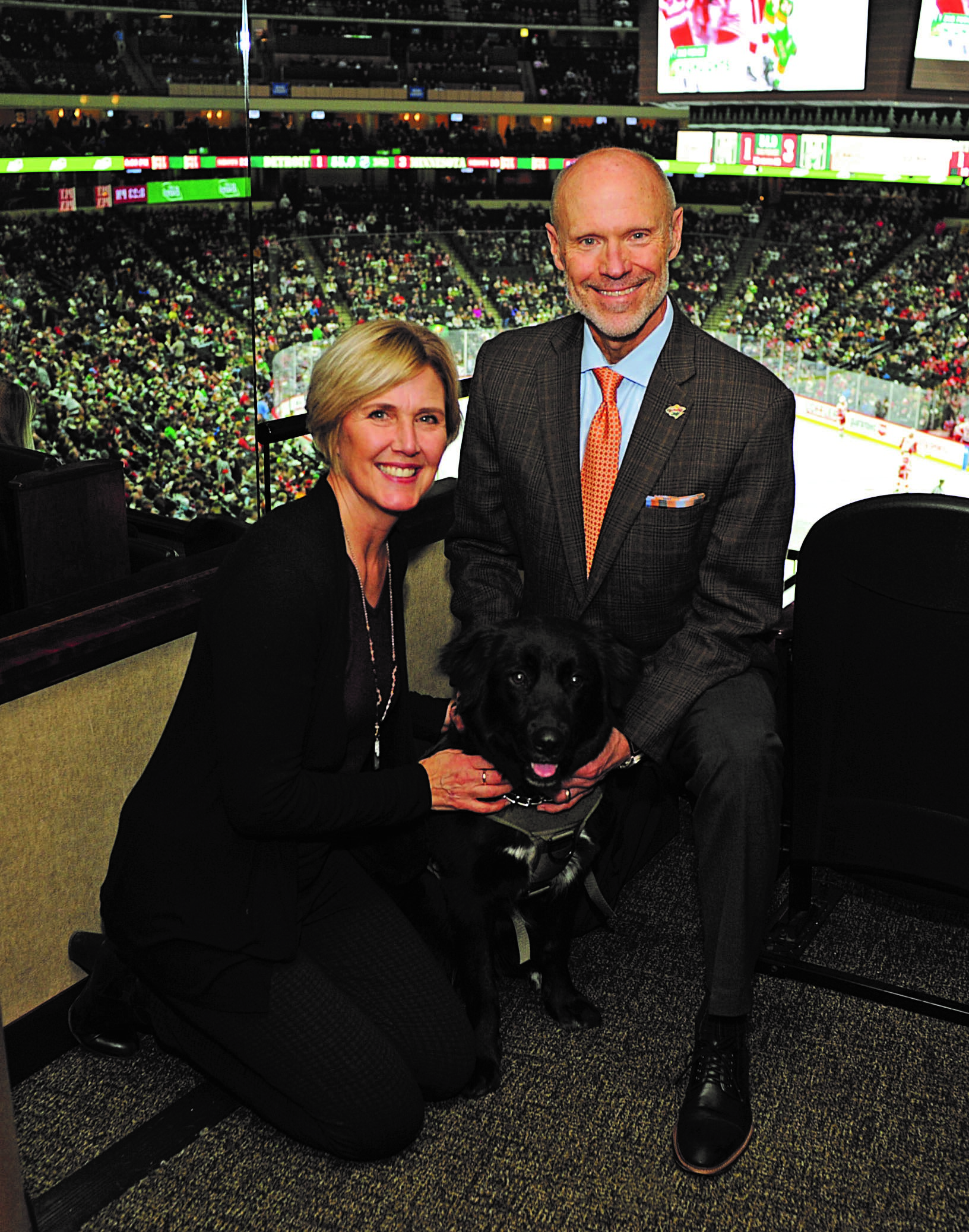 The program began in 2018 after Petersen and the Wild heard that Coco's Heart Dog Rescue named a litter of puppies after its players. A photoshoot turned into a calendar, which raised $50,000 for charity. A huge success, Petersen came up with the idea of having a team dog.
"In the summer of 2019, we adopted our first team dog. Our president, now CEO, fostered Breezer and brought him into the office two to three days a week. He was at every game," said Petersen. "It was our responsibility to do some basic social training with the dog and that's when we started our relationship with a group called Soldier's 6, which trains dogs to become service dogs. Then, they are placed usually with veterans, sometimes first responders with PTSD."
Still working with Coco's Heart Dog Rescue and Soldier's 6, the Wild will soon be introducing its fifth dog to the Minnesota community. The most recent team dog, Brooksy, moved on to his forever home in June after being fostered by none other than Petersen himself, who will foster the next one as well.
"I absolutely fell in love with Brooksy," said Petersen, smiling. "People can't believe it, that we're (Petersen and his wife) going to subject ourselves to that again — the emotional part of it at the end of the year."
And, Petersen couldn't help but smile when he heard Augustana took his idea and ran with it.
"I think it's pretty cool," Petersen said. "Obviously, Ace will not just be affiliated with the hockey team, but will be affiliated with all the teams, all of campus. I think it's awesome that Augie Doggie is making a comeback."
How Ace Found His Place
Ace, who is a 6-month-old English cream golden retriever, came to Augustana through B-Squad Dog Rescue, a foster-based rescue. The organization, based out of Brandon, South Dakota, "transports, heals, fosters and finds forever homes for at-risk dogs."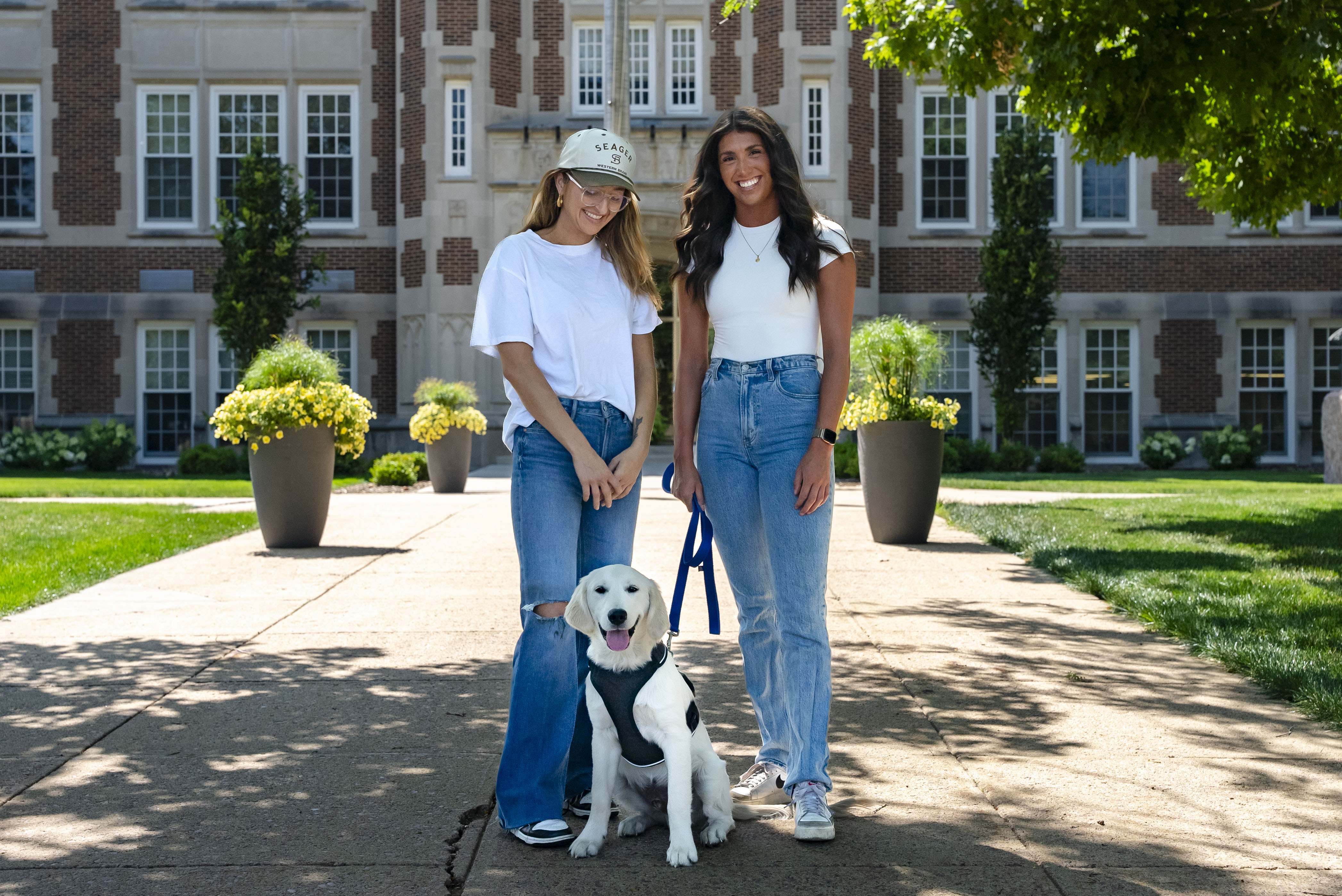 Ace, and his brother, Phil, were surrendered to B-Squad from a commercial breeder in Missouri due to health issues. After being surrendered, Ace was placed with a B-Squad Foster — Sam Kremer and Chrisanne Ebertz, who are roommates in the area. Right away, they noticed he was having trouble going to the bathroom, which eventually led to emergency surgery at just eight weeks old.
"I picked him up from the hospital after surgery and it was like nothing had happened. He was completely unphased by it all. He was running and jumping, feeling better than ever," said Kremer.
Then, perhaps it was fate that brought Ace, his foster family and Augustana together. While Miller was in conversation with B-Squad, trying to find the right dog for AU, Miller just happened to meet Kremer and Ace in downtown Sioux Falls one night. The rest, you can say, is history.
"I met Pam and you could just tell she had such a big heart and a soft spot for dogs. She instantly fell in love with him and knew immediately he would be the perfect fit for this program. She made it her mission to adopt this dog," said Kremer.
On July 24, the women transferred Ace to his new home, but not without stories and a very emotional goodbye.
"We love dogs and have loved fostering over the past couple of years," said Kremer. "It's just so rewarding. It's obviously emotionally taxing, but at the end of the day, we're still in contact with those families and we love receiving updates and holiday cards from them. So it makes it a lot easier to know that they're going to a good and loving home."
A home of 2,000+ students and staff to love on him — sure to embrace him.
"I think the idea of this program is amazing and love that he's going to be the first. I know that he'll set the bar high," said Kremer, proudly. "Stranger danger is not a thing for him. He loves to cuddle and never passes up the opportunity to give kisses. You can't help but smile when he's around, so I know he will fit in perfectly on campus and bring so much joy to everyone. He's going to be a star for sure."
Im-paw-sible to Say 'No'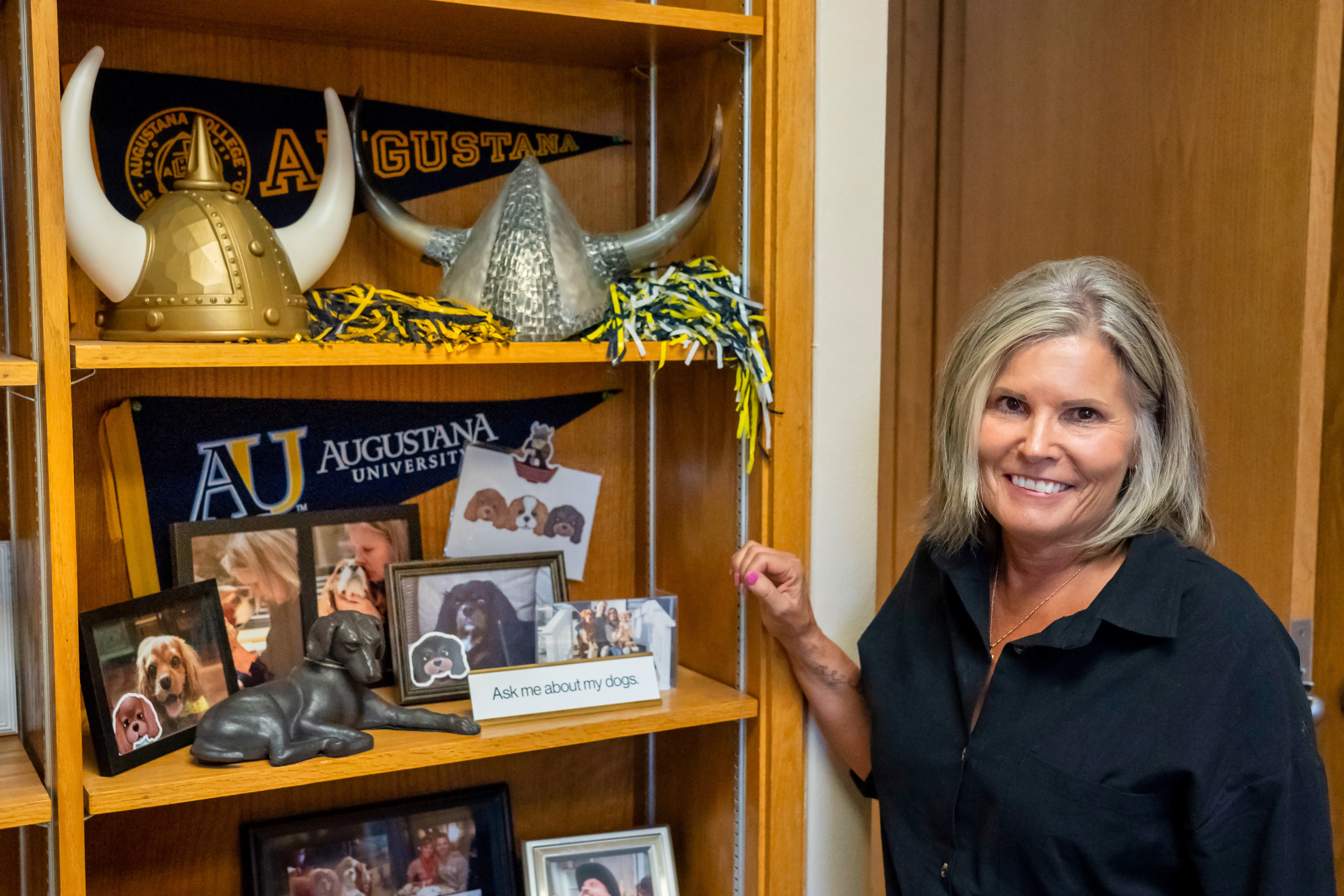 There was no question who would be the Augie Doggie's handler once it got to Augustana. Her office has a shelf dedicated to her dogs, past and present, complete with a name plate that reads, "Ask me about my dogs." And, you should only do it if you have an hour to spare!
"We are so dog obsessed. We lost Wrigley in January, and we just have Shadow now. We've talked about getting another dog for him because he's so lonesome. He just really misses his brother," explained Miller. "And so, when they brought this up, I was like, 'I would love to do that!'"
There are plenty of others who can't say 'no' to the infamous Augie Doggie either. Augustana knew just who to turn to when it came time to find a lead sponsor — Nyberg's Ace Owner and President Kevin Nyberg '79. 
"How could you say no?" asked Nyberg, after agreeing to sponsor the Augie Doggie for five years. "I'm so proud to be the first sponsor of the Augie Doggie.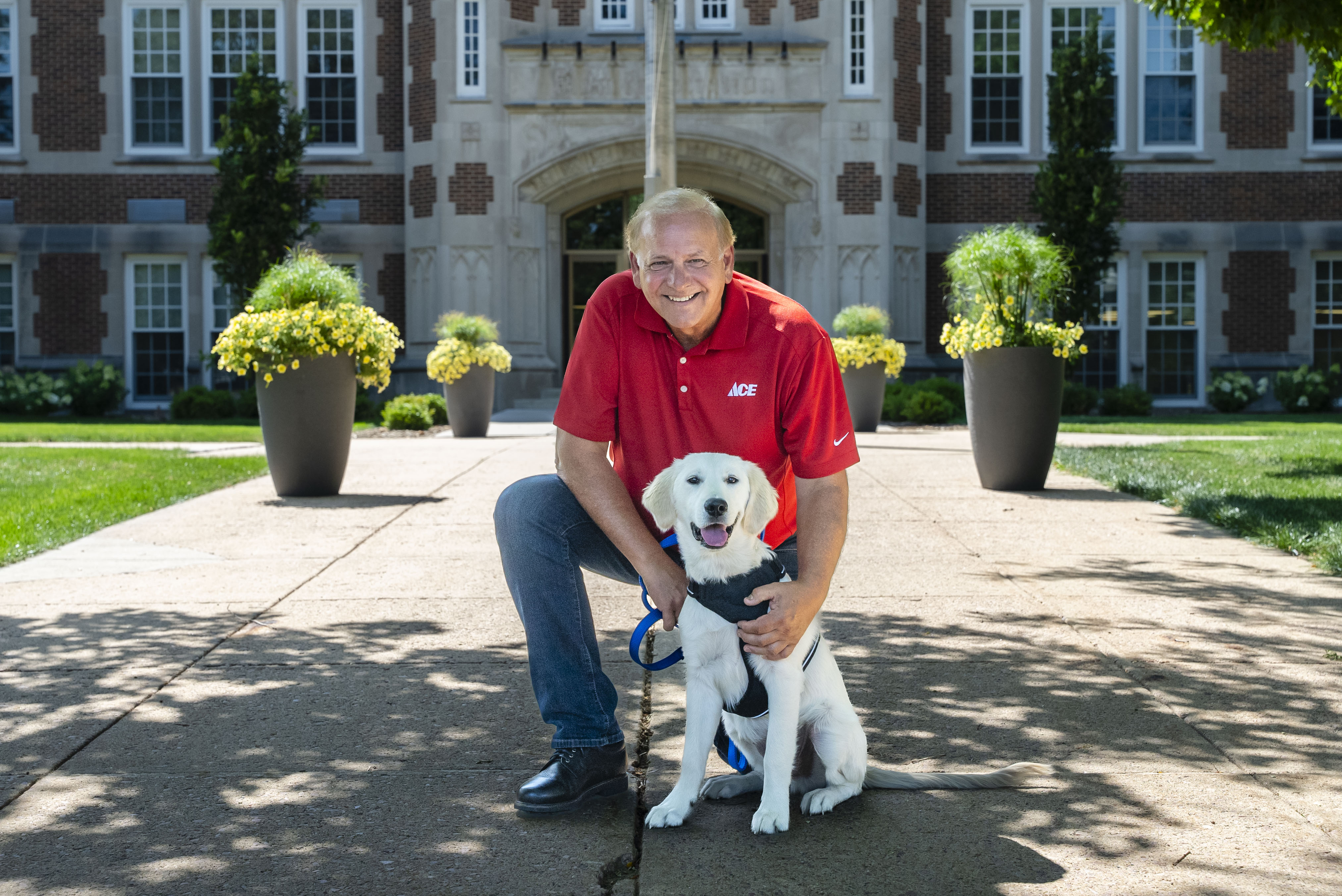 "This is a great way for Augustana to connect with the community in so many different ways — not just Augustana events, but assisted living centers and schools and things like that. The students, faculty and alumni are all going to fall in love with this little guy and it's going to be a great venture."
And, a great venture it has been. Ace goes to work with Miller at AU several days a week, doing what he does best.
"He's very much a politician," said Miller. "He knows how to work the room!"
Ace will receive training at Paws Pet Resort, and Best Care Pet Hospital, the veterinary clinic that Ace visits, has also agreed to provide his medical care in-kind.
To keep up with the #AugieDoggie, follow Ace on Facebook and Instagram @doggieofaugie.