The Augustana University School of Music (SoM) is inviting the community to audition for the Augustana Orchestra — a rigorous and rewarding orchestral experience — this upcoming fall season. In an effort to increase the size and strength of the program, the SoM is calling on all string players to complete an audition questionnaire/recording form by Thursday, Aug. 31. Chamber and full orchestra opportunities will be available in Spring 2024.
Established in 1921, the Augustana Orchestra has been a valuable part of the Sioux Falls community for more than 100 years. Made up of students, faculty and community members, the orchestra produces high-quality musical performances. The orchestra acts as a training ground for talented students to learn the great orchestral repertoire, as well as the excitement of premiering new works. The orchestra also gives talented community members of all ages an ensemble in which they can continue to develop and enhance their musical skills.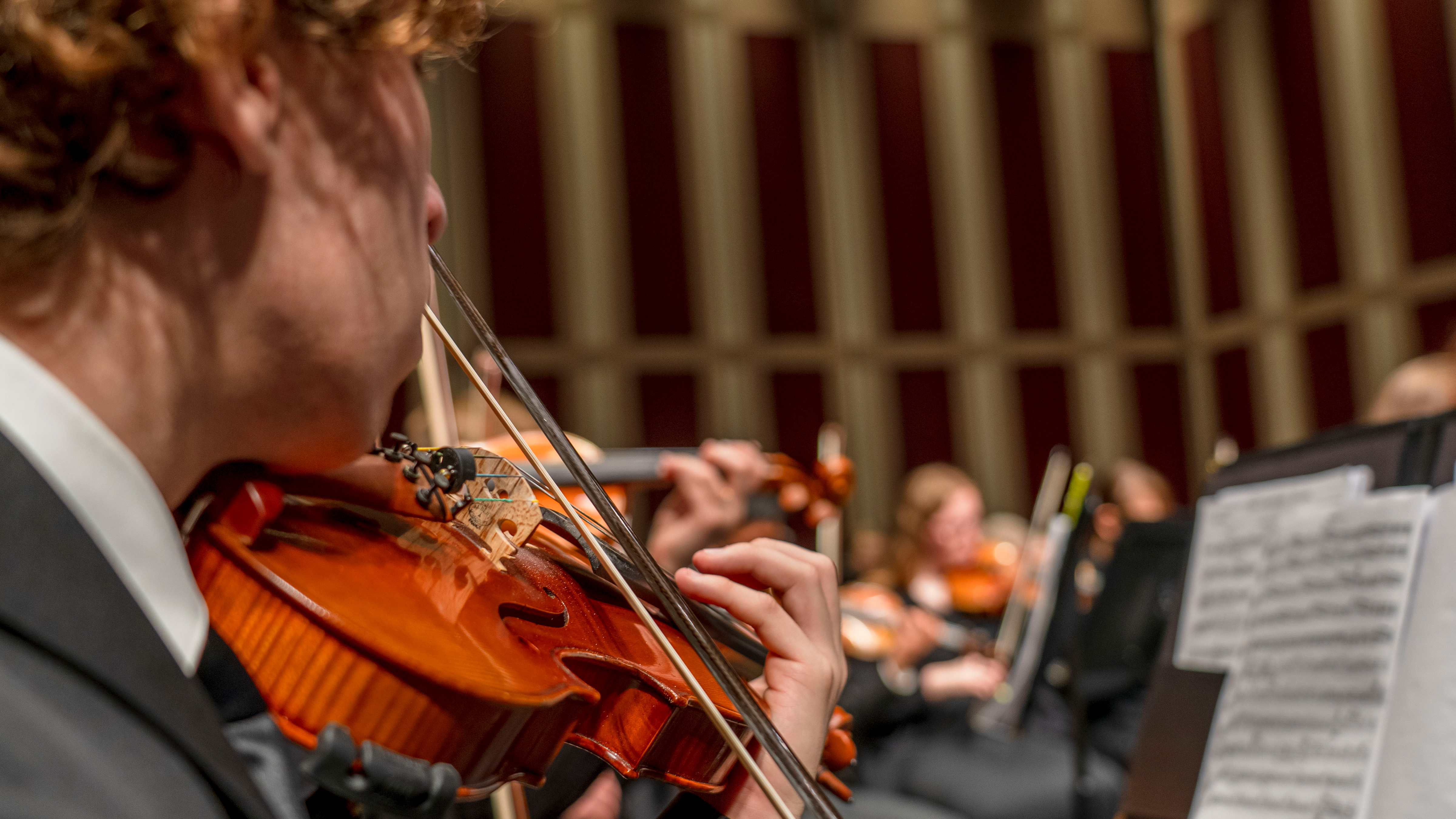 This season, the Augustana Orchestra is led by Dr. Peter Folliard, dean of the Augustana School of Music. Folliard served as director of the Augustana Orchestra from 2017-21, and has previously held conducting positions with the Rochester (New York) Philharmonic Orchestra and U.S. Air Force Band and Orchestra.
"An outstanding orchestra is a key component of a School of Music," said Folliard. "We also know how important it is for the health of our community to have opportunities to continue to rehearse and perform orchestral repertoire."
The Augustana Orchestra performs major symphonic works, as well as traditional, contemporary and popular literature. The orchestra frequently accompanies soloists in concerti, choirs in cantatas and oratorios, as well as collaborates with other ensembles to create a rich musical experience for its audiences.
The Augustana Orchestra rehearses three times a week, and performs 2-3 concerts per semester. The rehearsal schedule is as follows:
Tuesdays, from 4-5:20 p.m. — Sectionals led by Augustana faculty/principal members of the South Dakota Symphony Orchestra (SDSO)
Wednesdays, from 6:30-9 p.m. — Full rehearsal with community members
Thursdays, from 4-5:20 p.m. — Rehearsal, strings only

Auditions are required in order to determine seating positions. For more information, contact Katelyn Johnson, Augustana Orchestra manager.