The Augustana University Doctor of Physical Therapy (DPT) Program — the university's first doctorate program — welcomed its inaugural cohort in June and exceeded its enrollment goal by five students. The DPT program enrolled 85 students into the Class of 2025, and an additional six chose to defer to the cohort beginning in 2024.
"The success of recruiting 85 students for our inaugural DPT cohort reflects the growing recognition of Augustana as a hub of innovation in physical therapy education," said Dr. Matt Volansky, dean of the Augustana School of Health Professions and DPT program director. "Our program's emphasis on empowering students to think beyond conventional boundaries and devise novel solutions has captured the attention of aspiring doctors of physical therapy. We are honored to have such a diverse and talented group of individuals who will contribute to the program's vibrant learning community."
The Augustana DPT Program is a unique hybrid that blends online education, hands-on lab immersions and clinical education. This approach allows students to learn from their chosen communities across the country.
By the Numbers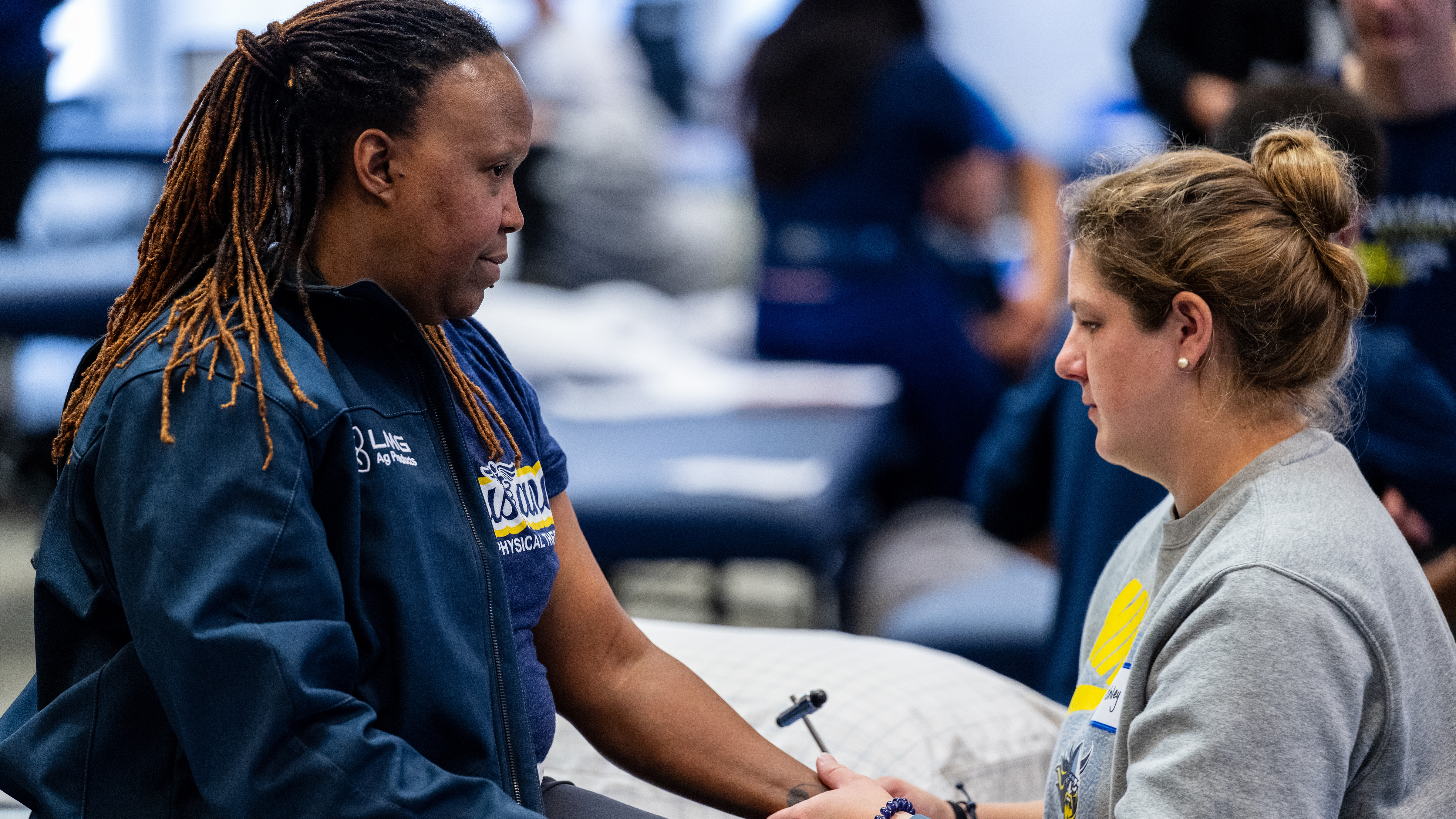 The Augustana DPT Program also met another major goal of recruiting a diverse inaugural cohort to diversify the pipeline into the physical therapy profession. The Class of 2025 breakdown is 54.8% white, 16.7% Asian, 14.3% Hispanic, 13.1% Black and 1.2% Native American. The national average for DPT programs is 69.6% white, 10% Asian, 7.8% Hispanic/Latino and 4.7% Black. 
"This is incredible both for us and the profession, as these students represent groups that are typically largely underrepresented among health care providers," said Dr. Erika Nelson-Wong, director of admission and professor of DPT. "Data shows that people have better health outcomes when they can identify with their health care provider, including through race/ethnicity, so we are extremely happy to see a diverse cohort as this will have a large impact on our overall health care system."
The DPT inaugural cohort is made up of students from 29 states — 20% of whom are from South Dakota, while the remaining 80% are from out of state. Thirty-one percent of the students also come from rural areas.
"We hope this means that the availability of physical therapy might increase in those areas if these students stay and practice in rural areas," Nelson-Wong said. 
Students in the cohort come from a variety of educational backgrounds, including exercise science, biology, engineering, education and medicine. Prior to enrolling in the program, nearly 10% of the students were already practicing as physical therapy assistants (PTAs). The class ranges in age from 22 to 54 years old.
The program utilizes a holistic admission process, meaning there are three domains that faculty consider when making an admission decision — academics, life experience and interview/essays/letters of support. 
"Academics are certainly important, and it is a rigorous doctoral-level program, but they are not the only predictor of success in the career of physical therapy," Nelson-Wong said. "We were very careful to create a detailed and comprehensive scoring rubric that captured information about all of these areas. This helped our team in remaining objective. Our approach was largely that an applicant could be less strong in one of those areas and still be eligible if they were exceptional in the other areas."
Choosing Augustana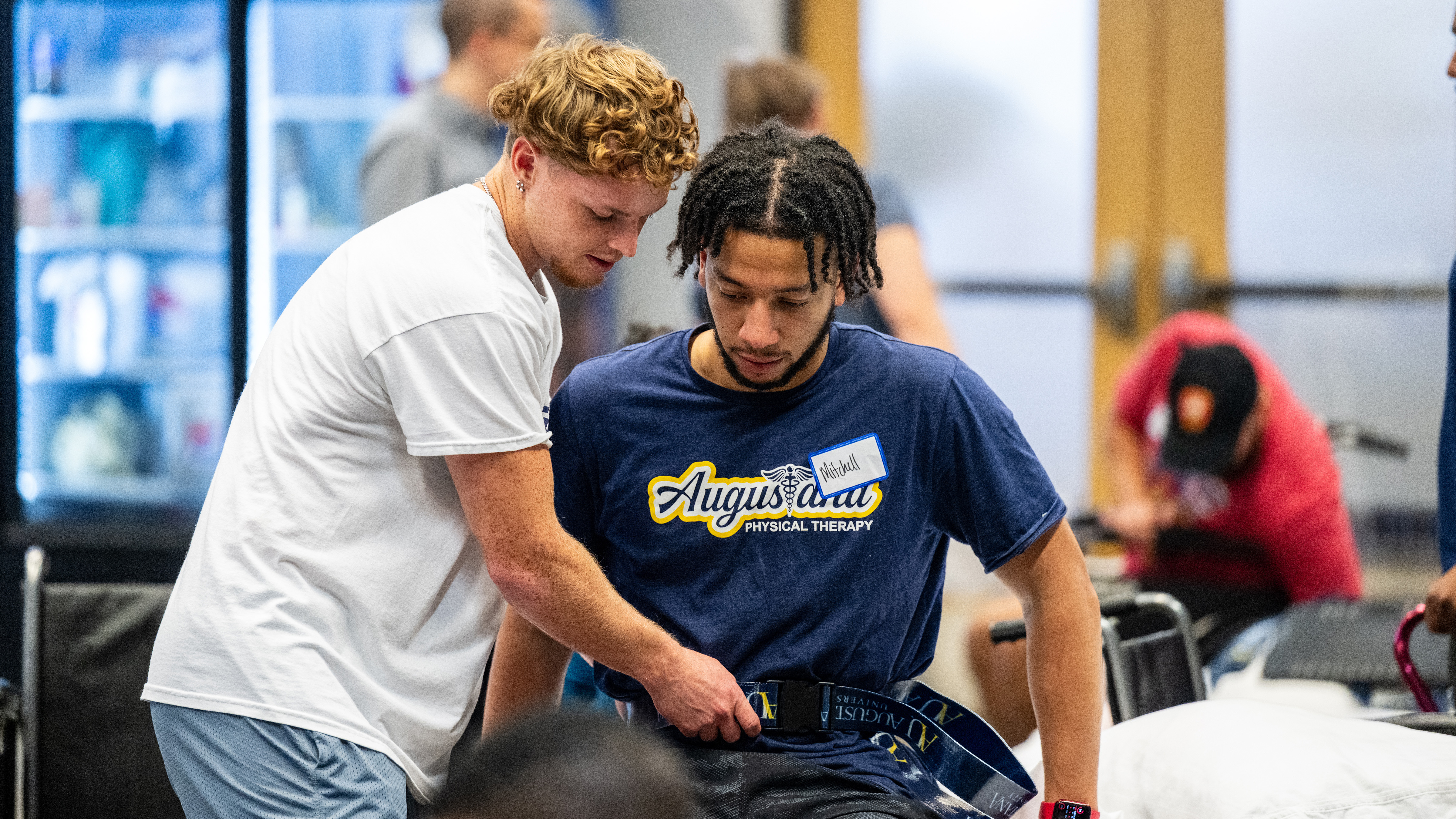 Alice Spencer '25, who resides in Derry, New Hampshire, said that the program's diversity fosters growth and a sense of community and is one of the reasons she chose Augustana. 
"While we are all from different socioeconomic and professional backgrounds and range in age, we all have one goal we are working toward — becoming the best doctors of physical therapy we can be," Spencer said.
Spencer, a rehabilitation aide for an outpatient physical therapy clinic and mother to a homeschooled high school student, chose the Augustana DPT Program for its accelerated time frame and hybrid coursework. She discovered her "why" in physical therapy in 2019 after a knee replacement.
"I was 46 at the time and didn't even have a bachelor's degree," said Spencer. "I thought about becoming a physical therapy assistant in a 2-year associate program, but once I started my core courses in January 2021, I decided to 'go big or go home.' I know I have what it takes to be an amazing physical therapist, and I was willing to take on the challenge to earn my doctorate."
Daniel Matzner '25, who is a 2018 Augustana alumnus, has his own "why," and trusted his alma mater to get him there.
"Augustana has been a part of my life since I was very little as both of my parents teach there (Dr. Jetty Duffy-Matzner, professor of chemistry, and Dr. Steve Matzner '90, professor of biology)," said Matzner. "Throughout my undergraduate experience, I was always so grateful for the support, encouragement and advice my professors gave me. I always felt like the professors were in my corner. It was this feeling of security that drew me to Augustana over any other DPT program. 
"Furthering my education is a big decision — one with financial and personal consequences, but I trust Augie to have my back when I'm stressed and struggling," he continued. "At Augie, you're not just a number; you're a bud to be cared for and cultivated. Everybody needs a champion, and Augie's been mine for a long time."
Matzner previously held a career in education, but now, he's ready to pursue a profession where he can work with others one on one.
"As a PT, (I'll be able to) give my all toward helping people who could use an advocate," Matzner said. "I've always been a bit of a mother hen, so the idea of being able to both educate people on their bodies and healthier living, as well as guiding them along the way seems like a dream come true."
The cohort had its first immersion experience at the end of July at the National Sports Center in Blaine, Minnesota. This experience, of which they'll have six more throughout the program, provided students with the opportunity to interact with faculty, refine hands-on skills and deepen the clinical reasoning developed through the didactic courses. 
The inaugural cohort's first 8-week clinical experience will begin in June 2024, and the class is expected to graduate in May 2025.
Spencer can't wait.
"Look out, world! In 2025, you'll see 85 bright, shining faces armed with the most up-to-date knowledge and skills that want to make real and lasting change in the world through physical therapy," Spencer said.
To learn more about the Augustana DPT Program, visit augie.edu/DPT.