Hands-on learning isn't just an expression at Augustana University, especially within its nursing program. Simulation learning is a part of every course the program offers. In fact, by the time a Bachelor of Science in nursing (BSN) student graduates from Augustana, they will have spent 160+ hours in lab or simulation.
"A lot of programs out there will use simulation just for evaluation — a comprehensive scenario to test their (students') skills," said Beth Karel, Augustana assistant professor of nursing and director of simulation learning. "Instead of just reserving it for evaluation, we really integrate it into the classroom to enhance active learning."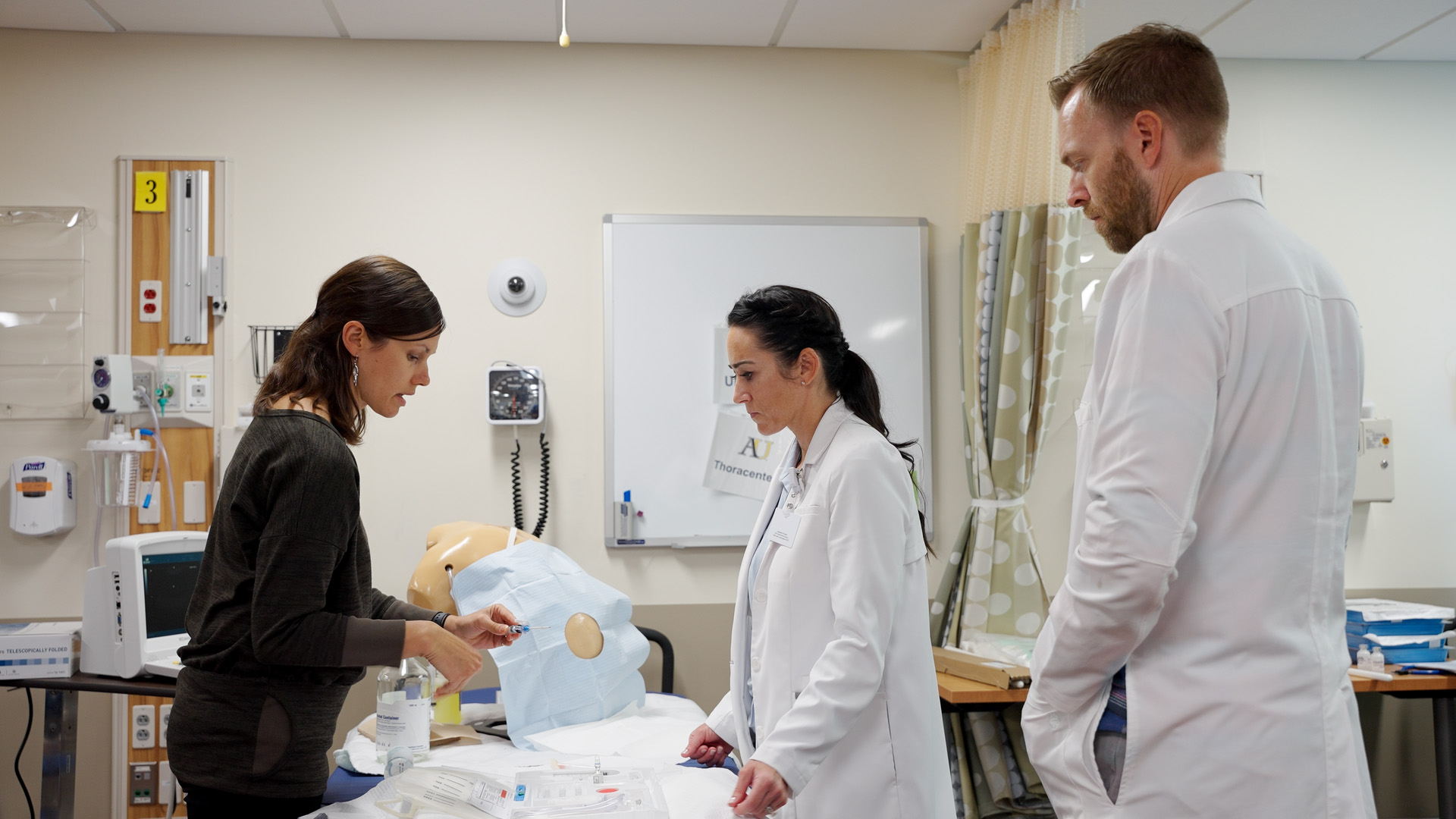 And now, AU students have more than double the amount of simulation equipment at their fingertips thanks to support from a federal grant provided by the U.S. Economic Development Administration (EDA) through the Economic Adjustment Assistance Program. Announced in the fall of last year, the grant enabled the nursing program to replace aging equipment with the purchase of nearly $440,000 in additional manikins and laboratory equipment for simulation education.
"It's very realistic, as close as you can get to the real thing. It just makes it that much smaller of a step you have to take when it's the real patient," said Augustana Master of Science in nursing (MSN) student Erik Olson '24, who is a nurse clinician at a hospital in Minneapolis, Minnesota.
The equipment, which arrived on campus this past summer, includes a simulated ventilator and defibrillator, ultrasound machine, procedural trainers, as well as nearly a dozen mid- and high-fidelity simulation manikins ranging from infant to geriatric, all of varied skin tones.
"We want the equipment that we're asking our students to work with to be representative of the patients they care for," said Karel.
The manikins work synergistically with a video capture system that the nursing program uses in a multitude of ways. Simulations are livestreamed to other groups of students, providing them the ability to learn from their peers in real time, as well as provide feedback. Simulations are often recorded for students to review their performance — to look back on areas of strength and areas in which they need to improve.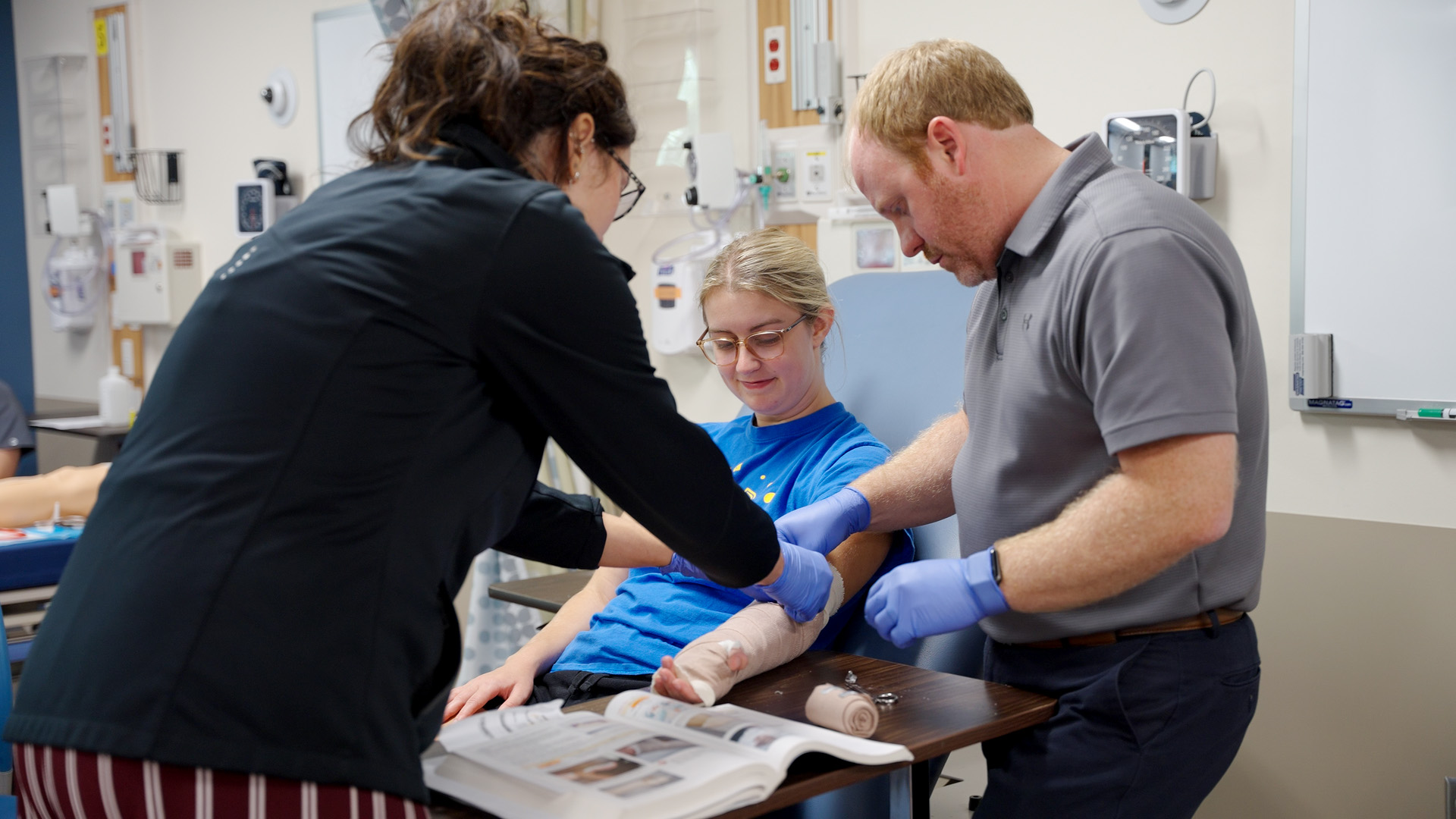 "We are now able to pull simulation data and manikin feedback into our videos. For example, the new manikins provide feedback on how well a student is doing CPR. Are they compressing deep enough? Are they giving breaths that are adequate enough? So, a lot of real-time feedback to enhance the student learning opportunities," Karel explained.
As Augustana looks to continually increase enrollment in its BSN program and with the recent launch of its graduate nursing program in Fall 2022, the EDA's investment allows Augustana to be better equipped to address the region's nursing shortage.
The 2022 South Dakota Board of Nursing (SDBON) Annual Report of Nursing Education indicated that South Dakota needs to fill open student seats and produce more registered nurse (RN) graduates to meet the state's increasing employment demands.
"Our clinical partners are anxious for us to produce quality nursing graduates," said Dr. Lynn White, Augustana program director and associate professor of nursing. "And, with careful thought, we are creating programs based on workforce needs."
As of December 2022, the SDBON reported less than 50 active licensed clinical nurse specialists (CNSs) in South Dakota, with nearly half of them indicating that they plan to retire or leave within the next five years. In addition, only 10% of certified nurse practitioners (CNPs) in the state are trained in acute care.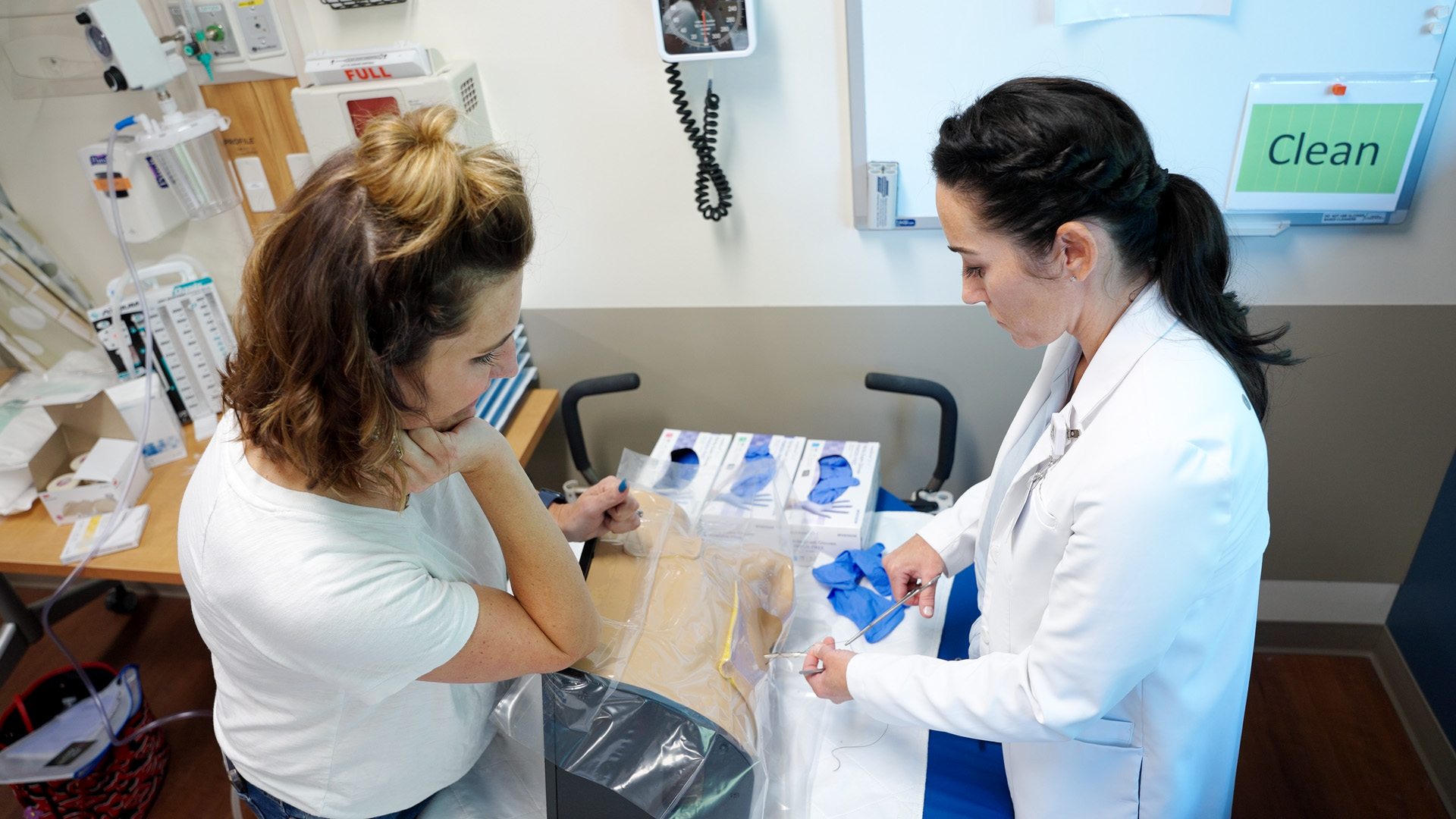 Augustana's MSN program provides tracks in both of these specialties: adult-gerontology acute care nurse practitioner (AG-ACNP) or adult gerontology clinical nurse specialist (AG-CNS). This past summer, Augustana also began offering post-graduate certificates in both of these tracks.
"Hands-on learning is unique at Augustana," said Augustana Assistant Professor of Nursing and Assistant Program Director of AG-ACNP Pam Barthle. "Many MSN programs have no hands-on component. So, we really have a unique advantage to offer our students that opportunity and to have experienced faculty here to teach them skills and procedures."
"It's half the battle," said Augustana MSN student Alexis Howe, who is an RN in Sioux Falls. "What we have here (in the lab) is the closest thing you could possibly get to the real thing, but you've got the protection and the education of the professor standing there walking you through it all. So, when I can actually hold these instruments and talk to the manikins, I feel so much more prepared going into a situation I've never been in."
With simulation education part of the nursing curriculum at Augustana for more than 15 years, Augustana Nursing Program faculty are trained and well-versed in using this technology, and have a track record of success in preparing its students for success. AU's 2022 BSN nursing graduates achieved a 97.5% National Council Licensure Examination (NCLEX-RN®) pass rate — the highest of all programs in South Dakota for the third straight year.
"Any school can have equipment and a flashy lab, but how the professors use the equipment when teaching their students is really where the quality comes in. Because our faculty are so strong, because they know how to use the technology so well, that reflects in our student outcomes being so high and of such high quality," White said.
For more information on Augustana's BSN program, visit augie.edu/nursing. For more information on Augustana's MSN program, including postgraduate certificates, visit augie.edu/MSN.