Augustana's Arthur Olsen Student Research Symposium is an annual gathering that fosters and celebrates student research at the university. This year, for the first time, the symposium — set to take place on Saturday, April 15 — will showcase the research and writing produced in AU's First-Year Seminar (FYS) Program. Amina Koch '26, Codi Stirling '26 and Ian Kelly '26 — winners of the 2022-23 FYS Writing Contest — will be honored during the symposium's presentation of student awards. Koch and Kelly will also present their essays at the symposium.
The idea of showcasing FYS originated from an initiative proposed by the Augustana Nancy Dickinson Writing Center in May of 2019 to honor the essays written by students in FYS courses — which are designed to develop first-year students' abilities in writing, critical thinking and information literacy through critical inquiry on a specific topic, as well as orienting them to academics and campus life.
"It's pretty common for us to get the best writers in the Writing Center — contrary to some stigmas — and we were just so impressed with the quality of the essays," said Dr. Daniel Gerling, associate professor of English and director of the Writing Center. "So, we proposed to (Dr.) Stephen Minister (then director of FYS) that we hold this contest."
Now, each fall semester, after students write their final essays for their FYS courses, instructors submit what they believe to be the best one. Writing Center tutors then read the submitted essays, which are anonymized for judging, and nominate their top three choices. From there, the tutors discuss the merits of each and vote again — ultimately selecting the three best essays from the freshman class. 
"Far too often we see term papers just disappear into the void after they're graded," Gerling said. "Naturally, we can't preserve all of them, but many are important; many are written with so much care and love; many are so well crafted and so thoughtful that we wanted to celebrate them.
"I also wanted to give more visibility to the FYS program and the material being taught, researched and written about in these classes," Gerling continued. "I think it's very cool that, in their first semester, Augie students are creating knowledge, approaching problems from unique angles and sometimes doing cutting-edge research on crucial topics."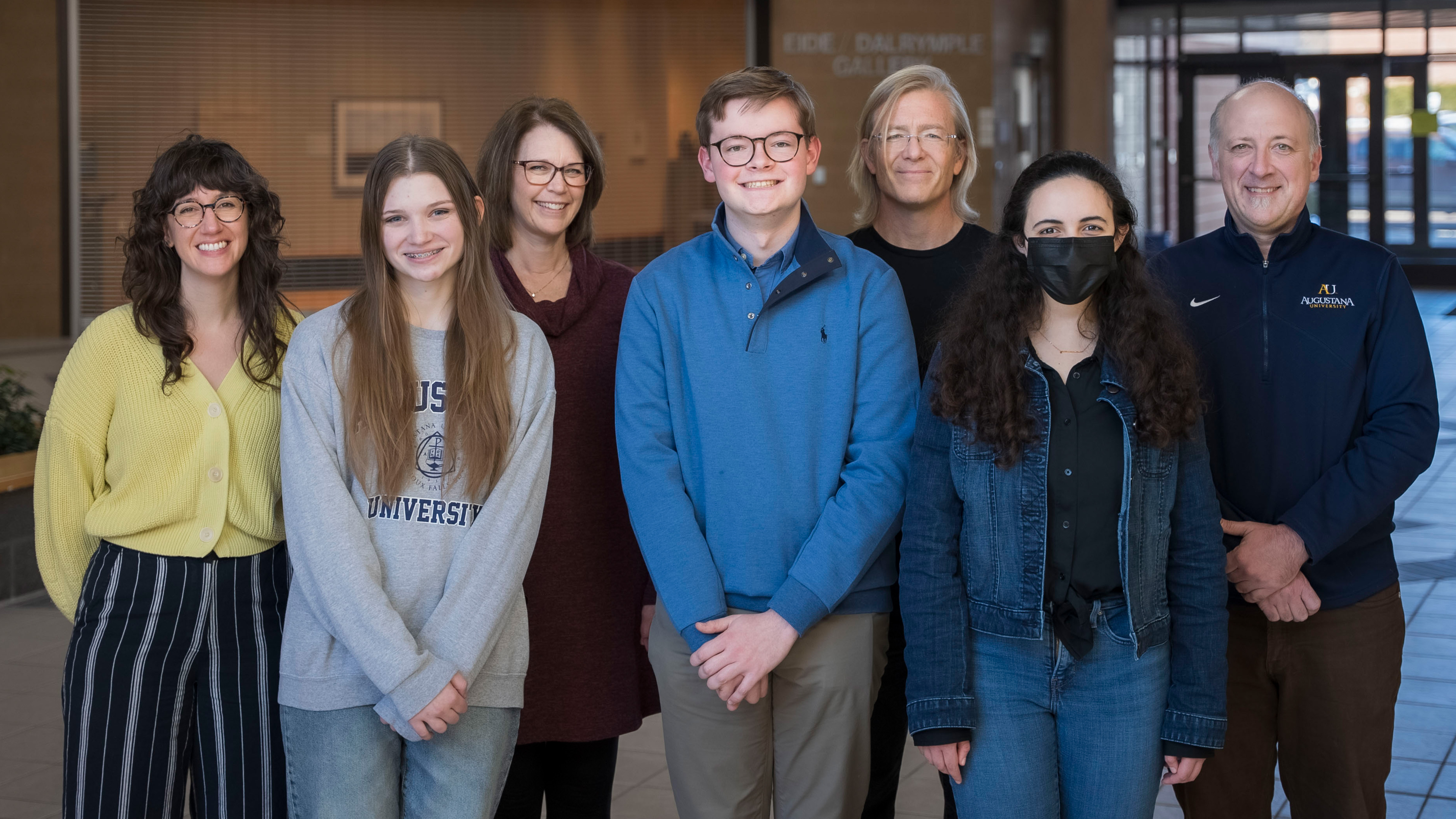 "Information literacy is one thing that we focus on in FYS — how do you find sources? How do you determine whether those sources are credible? How do you cite sources?" added Dr. Beth Boyens, associate professor of English and director of FYS. "Hopefully, those skills carry forward as they start doing (more of) their own research, which really happens later in their fields of study."
Koch, who took home first place, wrote an essay entitled "Writing Outside of the Lines: A Study of Non-Gendered Pronouns in Modern English," in Gerling's FYS course, WTF, English? Stirling wrote her essay, "Surrogate Mothers: Moral Complications & International Concerns," in Dr. Kelcie Vercel's FYS course, DOLLAR$: The Social Meaning of Money. Kelly wrote his essay, "How Do American Institutions Play into the Rise or Fall of the United States?," in Dr. Cory Conover's FYS course, The Rise and Fall of Nations.
"I submitted my essay to the symposium because I wanted to take the opportunity to present my research to an audience and potentially influence the way they think about the relationship between gender and language," said Koch, an English and Spanish double major. "I hope that, by hearing my presentation, people walk away with an understanding of the ability English has to exclude or empower people and what they can do to encourage diversity through their language."
For Kelly, presenting at the symposium as a first-year student was never something he saw himself doing.
"After being encouraged by Dr. Conover and Dr. Boyens, I thought it was a great opportunity to meet new people, hear other perspectives and share my viewpoints and my work," said Kelly, a history, economics and government & international affairs triple major.
Boyens, who has taught FYS courses since the program's inception in 2016, said campus-wide partnerships are what make the FYS program strong.
"The biggest strength of our program is our faculty because it's a course that's taught across all three affiliations — the humanities, social sciences and natural sciences," Boyens said. "I think the partnership with the Writing Center is a huge strength, and the partnerships with Student (Engagement) and the Student Success Center are really important — we're telling our students, 'Your time here at Augustana is, yes, a time to develop academically and intellectually, but we also recognize that it's a time for your development socially, and we're all invested in your success.'
"My hope is that FYS sends that message to our students. And, maybe they can't articulate yet why they're in (the program), but I hope they see the value of it as they move ahead."
Kelly and Koch will present their essays on April 15, at 11:35 a.m., and noon, respectively, in the Froiland Science Complex, Room 376. To view the symposium's schedule of events, visit augie.edu/symposium. To learn more about FYS at Augustana, visit augie.edu/FYS.