All-NSIC Athlete; NSIC Individual & Team Conference Champion; NSIC Player of the Week; NSIC Player of the Year; All-America Honoree; Academic All-NSIC Student-Athlete; and Academic All-America Honoree. Headlines surrounding what Augustana University student-athletes are doing in their sport and the classroom are very familiar, but we don't always hear what they're doing to make the community around them a better place. But, as you'll discover, they are truly making a difference in this arena as well.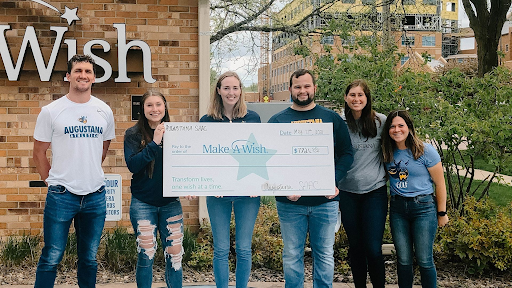 Making Wishes Come True
"I think the more you get involved in the community, the more you actually see the community for what it's worth," said Justine Stellmaker '23, an elementary education major who just finished her swimming career at Augustana.
The Victoria, Minnesota, native has been a member of the Augustana Student-Athlete Advisory Committee (SAAC) since her sophomore year. Throughout her time on the committee, Stellmaker said it has not only established mental health initiatives benefiting fellow student-athletes, but along with other NCAA-member institutions, has supported the Make-A-Wish Foundation in making dreams come true for children with life-threatening illnesses.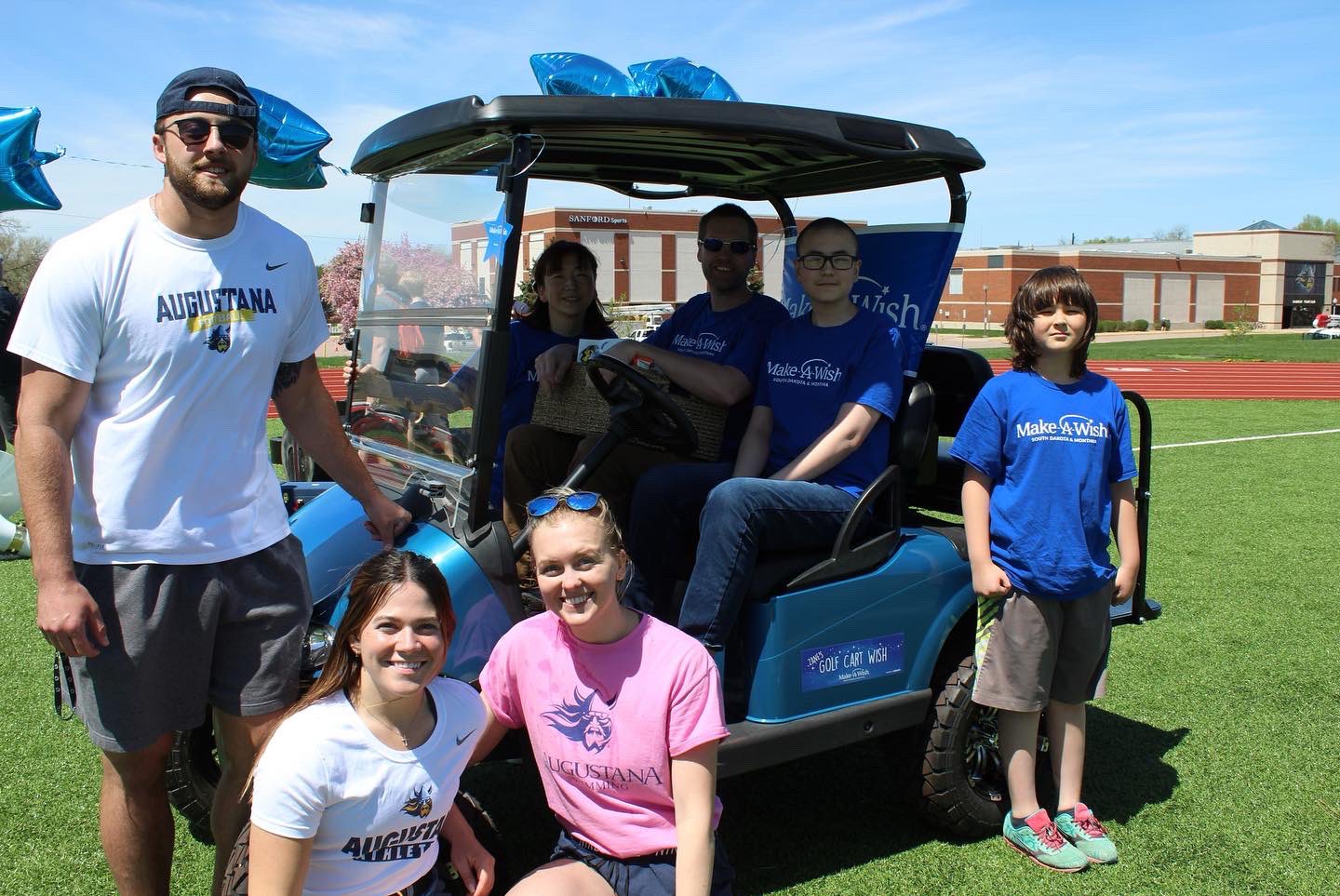 "Last year was especially exciting because we were able to raise enough money to do a Make-A-Wish reveal," Stellmaker said. "That was so special."
Most recently, the committee was able to grant a 14-year-old, who was diagnosed with leukemia, his wish of having his very own golf cart. With the Augustana Spirit Squads, Ole and the Viking Marching Band in tow, SAAC and Make-A-Wish South Dakota & Montana were able to surprise the Big Stone City, South Dakota, resident with the golf cart and a party on Augustana's campus.
Since 2003, Division II institutions have raised more than $6.75 million, granting more than 780 wishes through the Make-A-Wish Program.
Eye-Opening Opportunity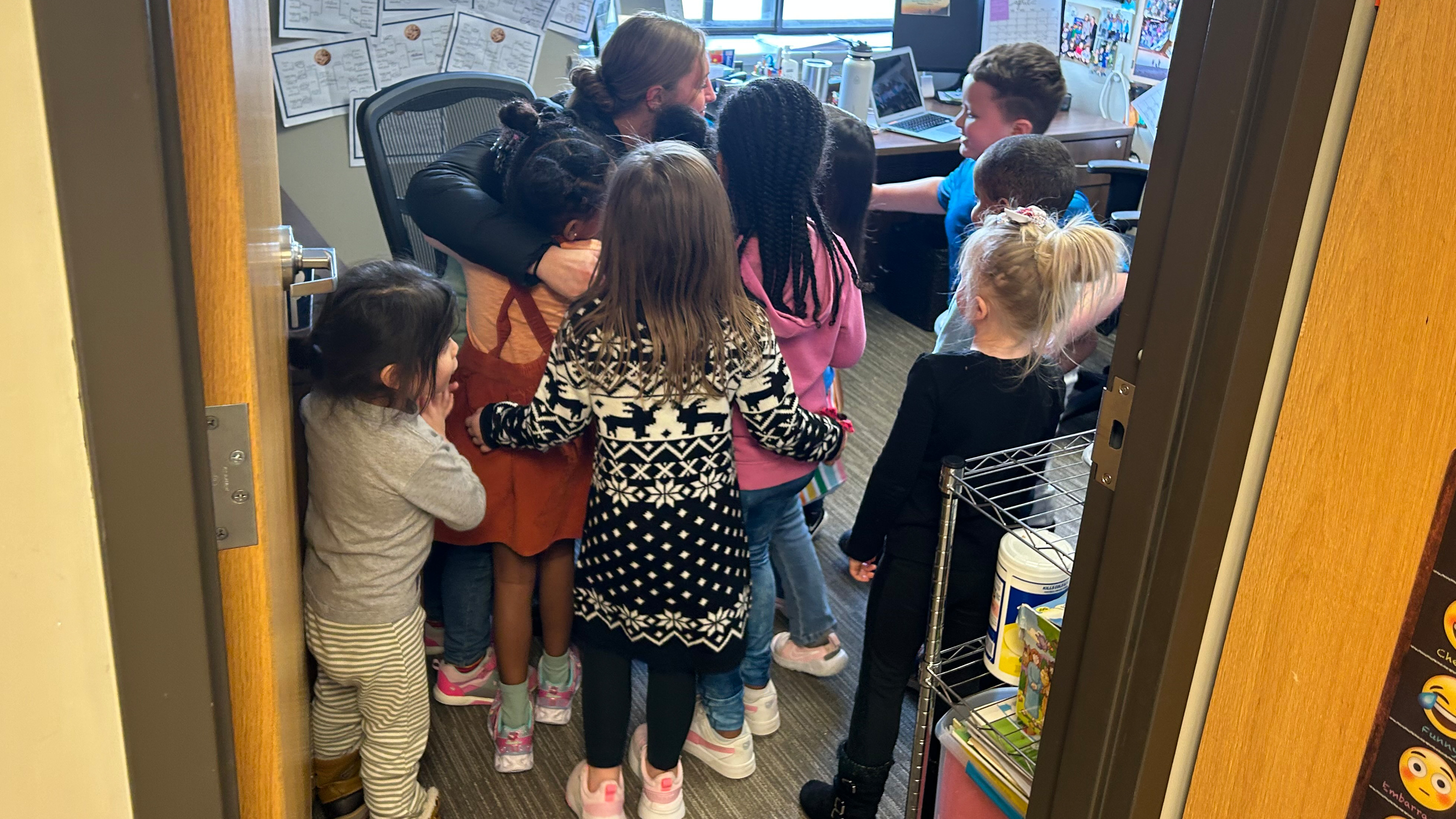 Erin Danielewicz '25, of Mount Prospect, Illinois, is a sprinter on the Viking Women's Swimming & Diving Team. As a secondary education and chemistry double major, she has aspirations of one day becoming a high school chemistry teacher.
"As soon as I saw the Froiland Science Complex, I was like, 'Oh my gosh, this is where I need to be,'" said Danielewicz. "I was doing a lot of praying about it and soul searching to figure out where I needed to go. And, my grandpa passed away right before it was that time to make those decisions, and when we went to clean out his house, he had a bunch of pictures of Mount Rushmore on his wall. It was a bunch of stuff that all added up into one. It's a choice that I felt very confident about and happy with."
As it turned out, just as much as Danielewicz needed Augustana, the community needed her, too. After she started attending Central Church in southwest Sioux Falls as a freshman, the staff began asking for volunteers to tutor elementary-age children at its downtown campus who were struggling with reading. She jumped on the opportunity and hasn't looked back since.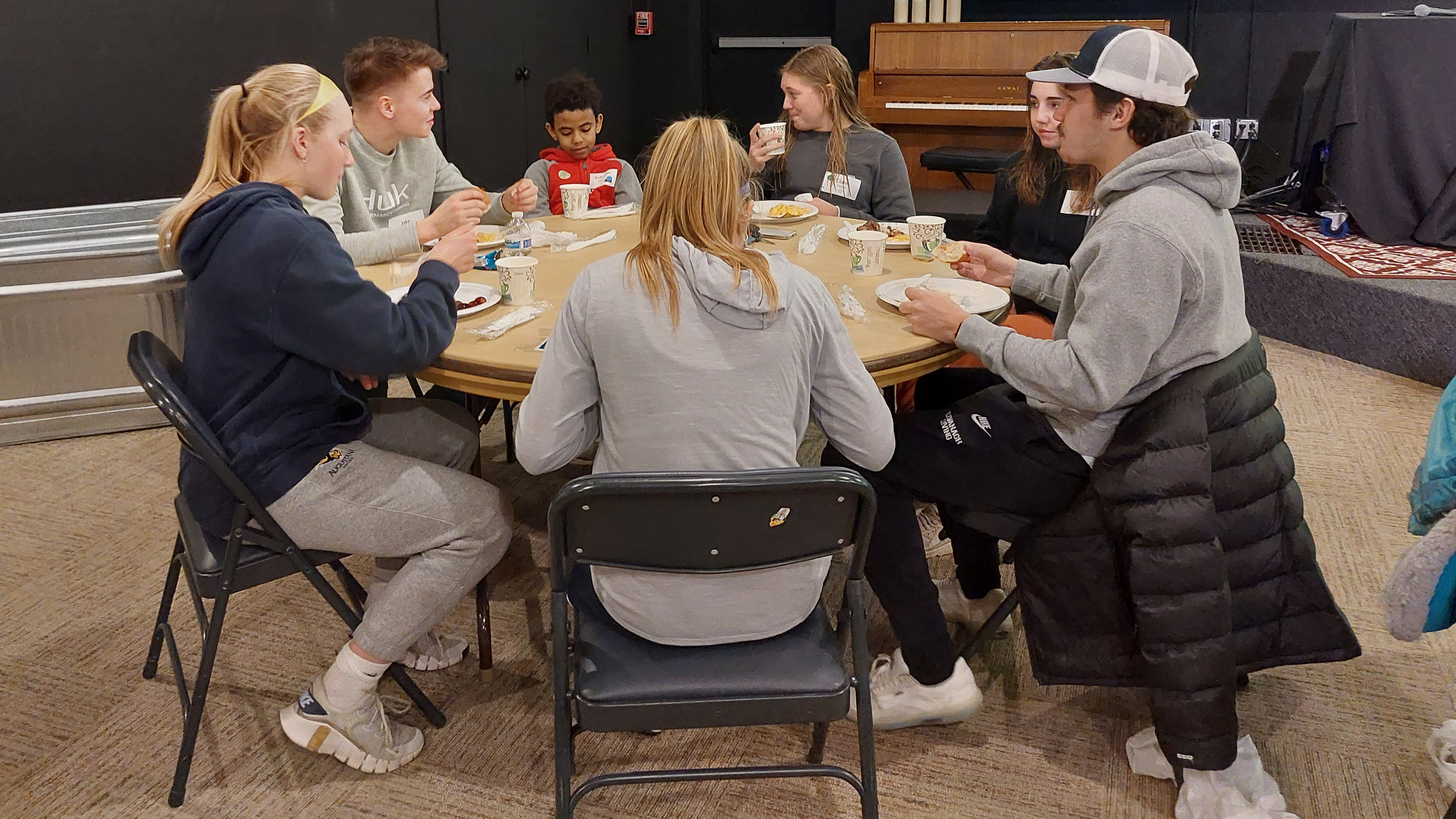 "I've been a part of their Monday night tutoring program. The goal is to connect kids to the Bible, and give them a sense of belonging and community because their home lives aren't always that great. We're also trying to get them to learn and teach them how to read," Danielewicz said.
"She's been a super volunteer from the start," said Central Church Downtown Preschool Director Jessi Copeland. "This year, I brought her on as part-time staff. She rides our preschool bus and takes the kids home from school in the afternoons with our bus driver, and the kids have fallen in love with her, the families know her and she has become a really important person around here."
Growing up in a middle-class family in the northern part of Chicago, Danielewicz said this opportunity has opened her eyes.
"I've learned that not everybody is as fortunate and not everyone's homelife was amazing as mine," said Danielewicz.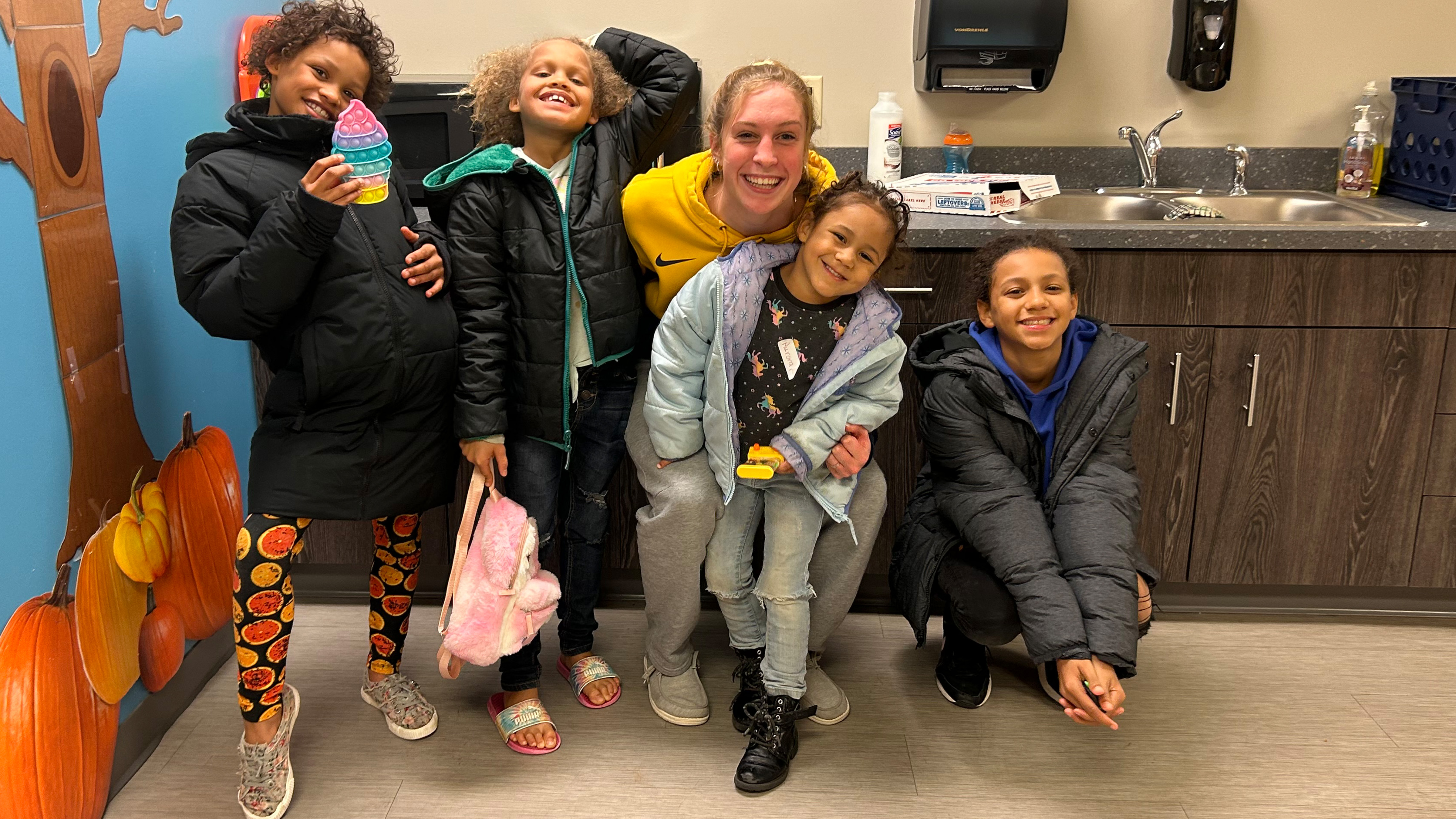 Like a proud mom, Danielewicz talked about the improvements she has witnessed in the children she has mentored — a fifth grader who came to her reading at a third grade level, and is now beyond where they need to be. And, when a group of siblings needed coats for the winter, she purchased them.
"Just seeing how the girls reciprocated…," Danielewicz trailed off, unable to finish what their reaction meant to her.
"I think, especially with my major, it just makes me feel confident in the choice that I've made — that education is the right decision for me," Danielewicz said. "I think, in the end, it will make me a better teacher and a better person."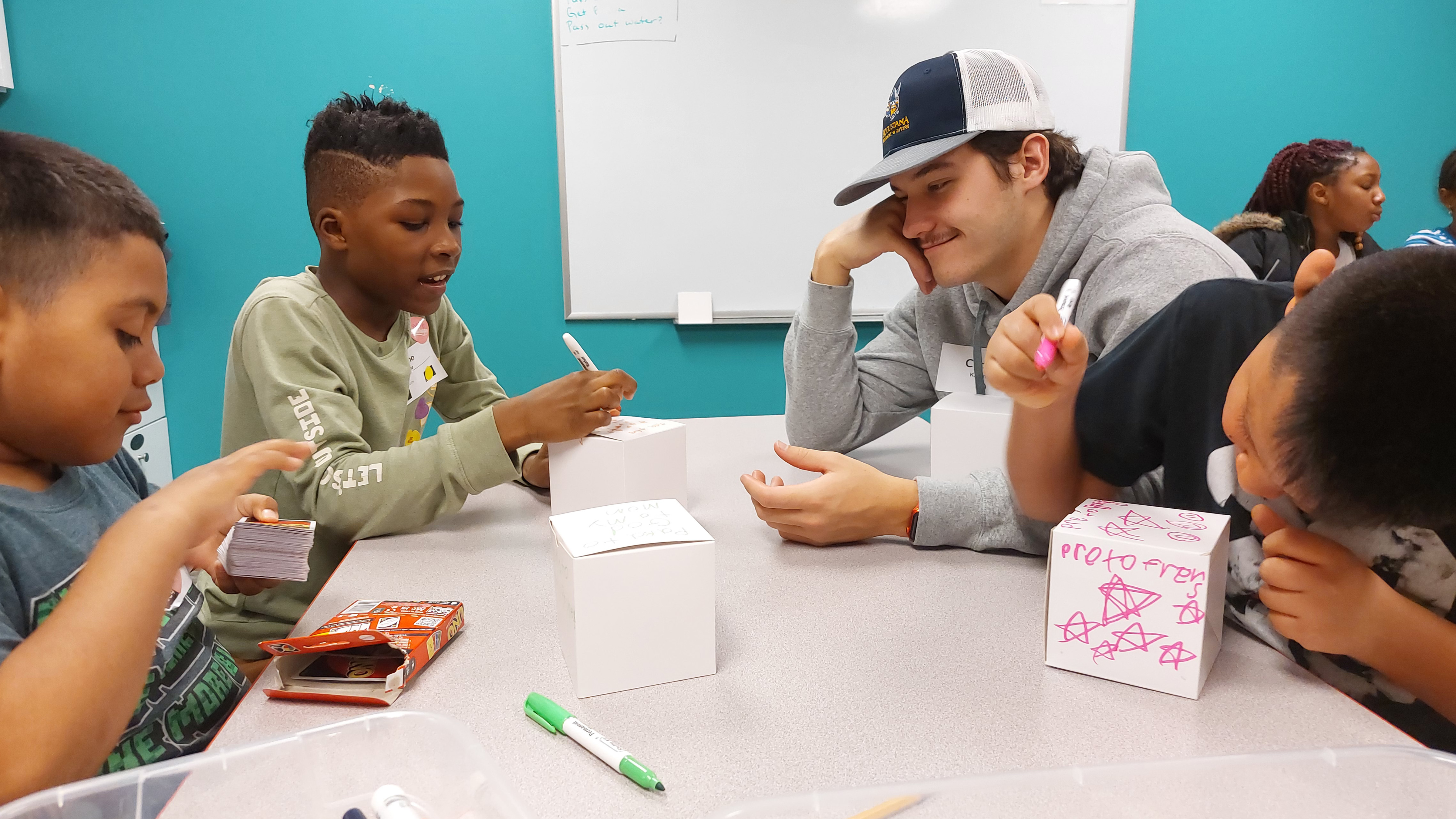 Danielewicz also recruited her swimming & diving teammates to join her on Monday nights — she recruited another teammate to run a male LifeGroup for seventh graders.
"I'm just blown away by their commitment and their selflessness and just the way that they prioritize this. They also value it," Copeland said. "They're not just trying to get this on their resume — they really care. They really see the value in 'walking' beside these people each week."
"I think a lot of people have seen how much joy it's caused me," Danielewicz said. "Opening those doors for opportunities and having people just jump right in definitely makes me feel good. It just helps me build better connections with all those who are willing to partake, and those who don't have the time ask how things are going. It's really just made me feel like I belong here."
Lunch to Leading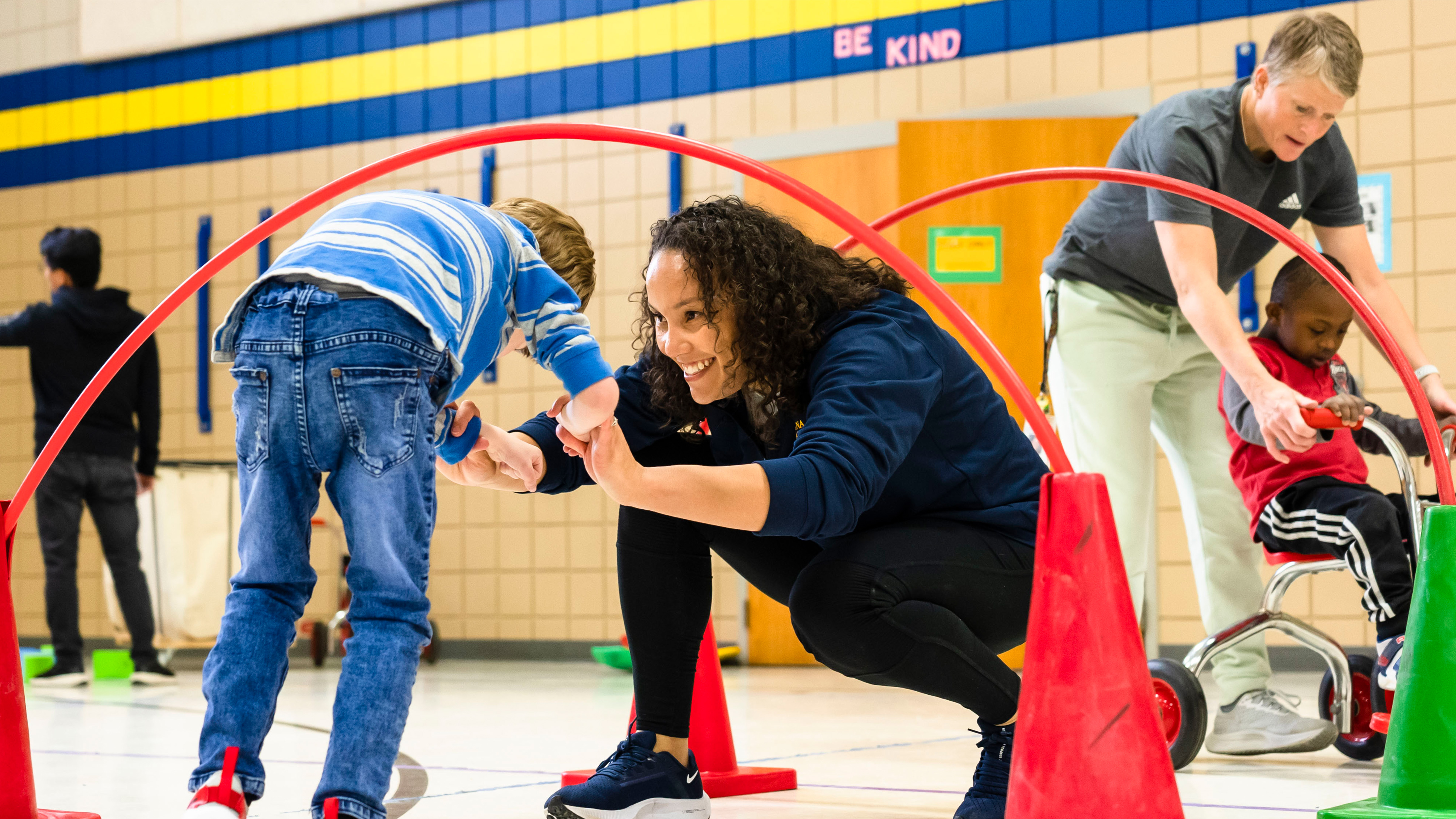 For Augustana Volleyball, it was a connection the team already had that led to an invaluable service opportunity. Ann Just, a certified NCAA line judge, who also keeps the book for AU Basketball and is a physical education teacher, invited Volleyball Head Coach Jennifer Jacobs to lunch. That's where the conversation started about the need for volunteers for the Reaching Independence through Structured Education (RISE) Program at Terry Redlin Elementary School in Sioux Falls.
"Ann was like, 'If you ever have a chance to come in and help, we would love to have you,'" recalled Jacobs.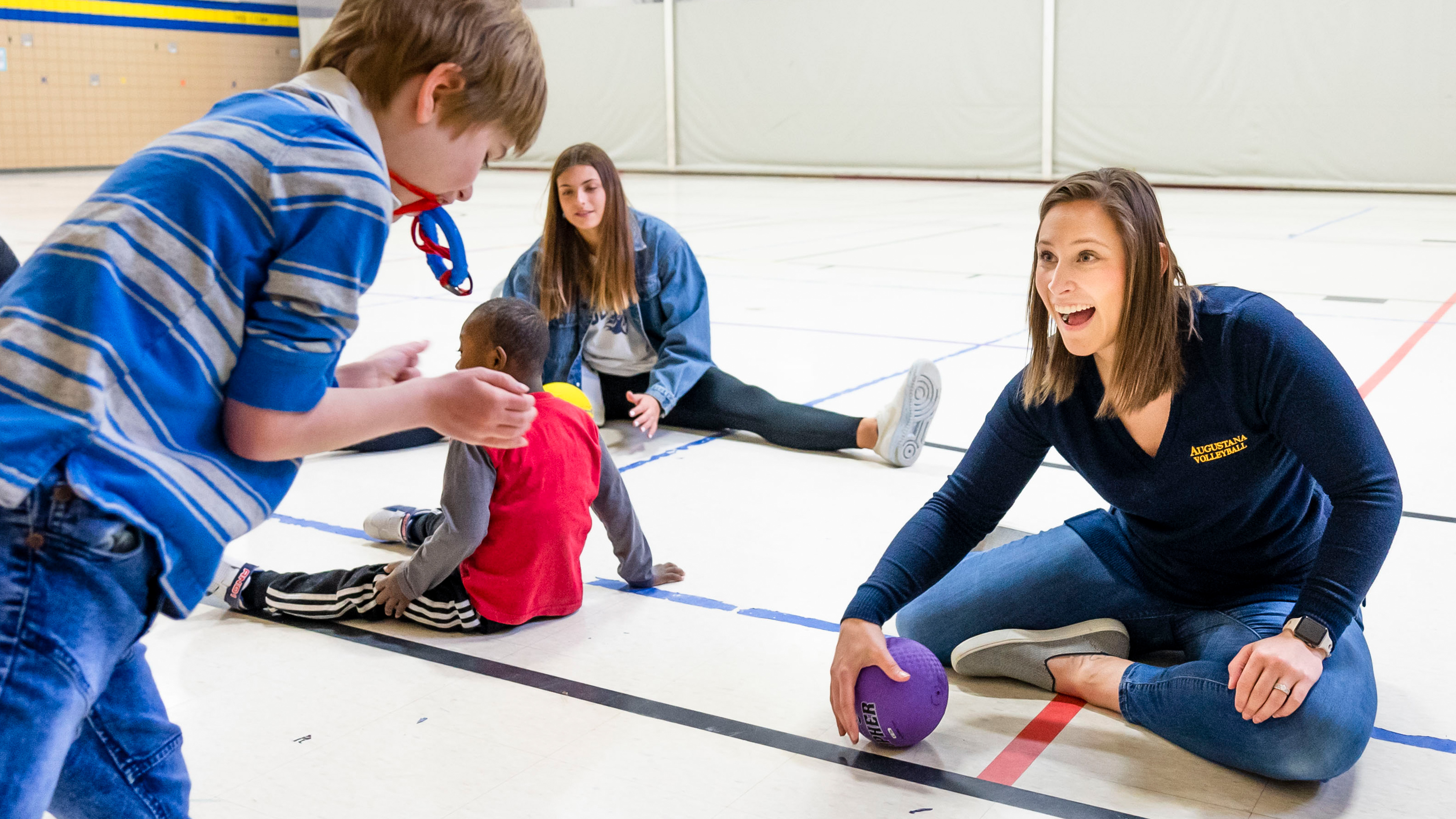 That was two years ago. Ever since, the volleyball student-athletes and coaches have been volunteering in Just's RISE class with kindergarten and first graders with intellectual and/or developmental disabilities for an hour at least once or even twice a week.
"Usually, we have three to five players every time and the kids get this one-on-one care. It's been really awesome," said Jacobs.
Whether it's stretching, galloping, rolling a ball back and forth, doing sit-ups or racing scooters, the team "walks" beside them.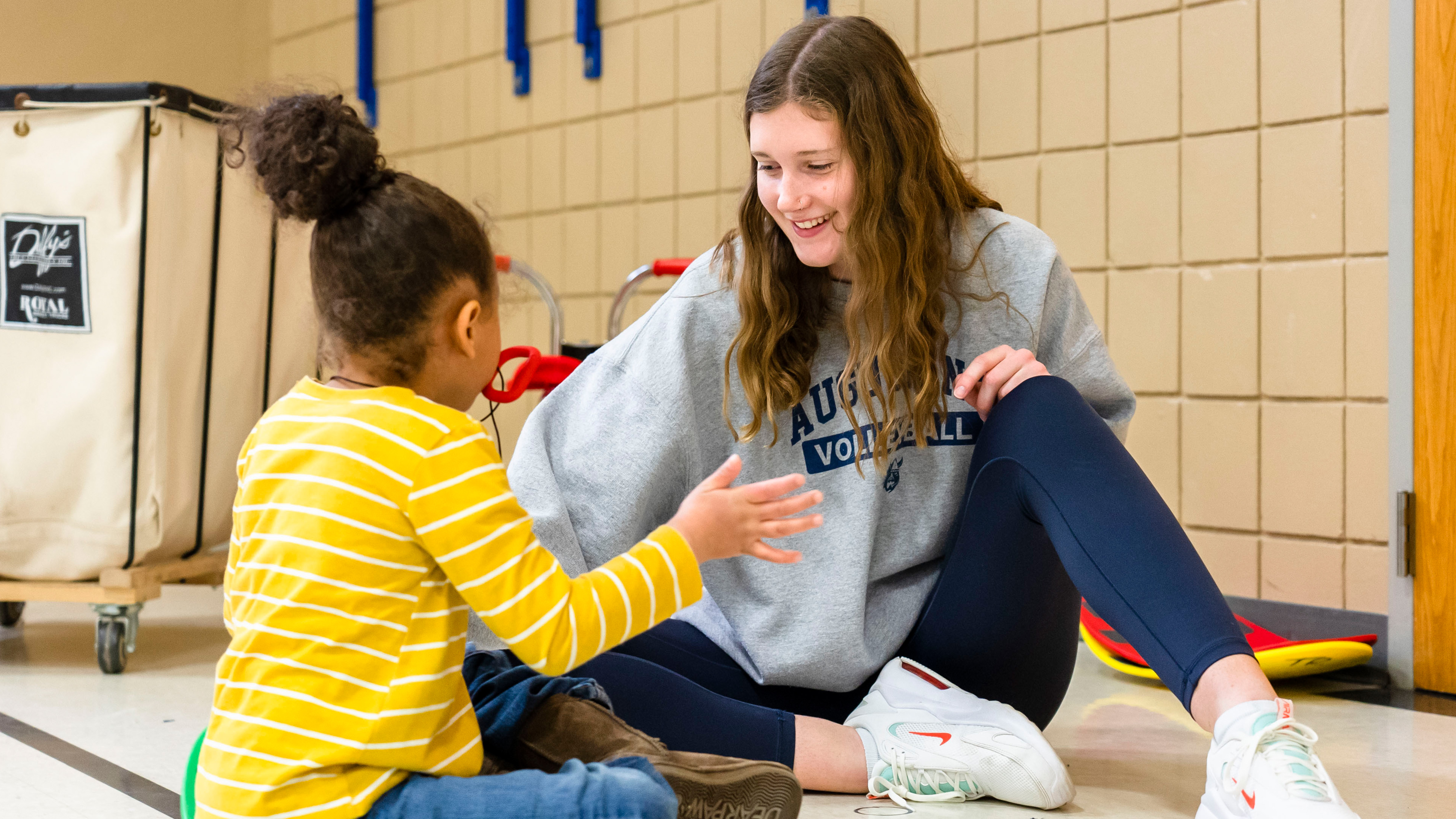 "There's one kid who loves to be chased, so we chase them to get them to go," laughed Jacobs. 
"It's nice to have extra hands to get that one-on-one (attention) because they have different levels of abilities," added Just.
At the same time, they're building connections.
"When you first go (to volunteer), it's jarring. I'm not going to lie," admitted Jacobs. "We all get stuck in our own little worlds of privilege. It takes a little bit of time, myself included, to adjust, but once you're in, the kids are so much fun when they start responding to you. It's so much fun to see them do something with you that they might not do with somebody else. It's heartwarming."
"It's been really cool to watch the Augie students develop that type of relationship with the kids," Just said. "Some kids will have a hard time making eye contact. So, even if we can get them to look up or smile or their eyes will get bigger because they have that recognition of, 'I know who this is. I'm safe or comfortable with them.'"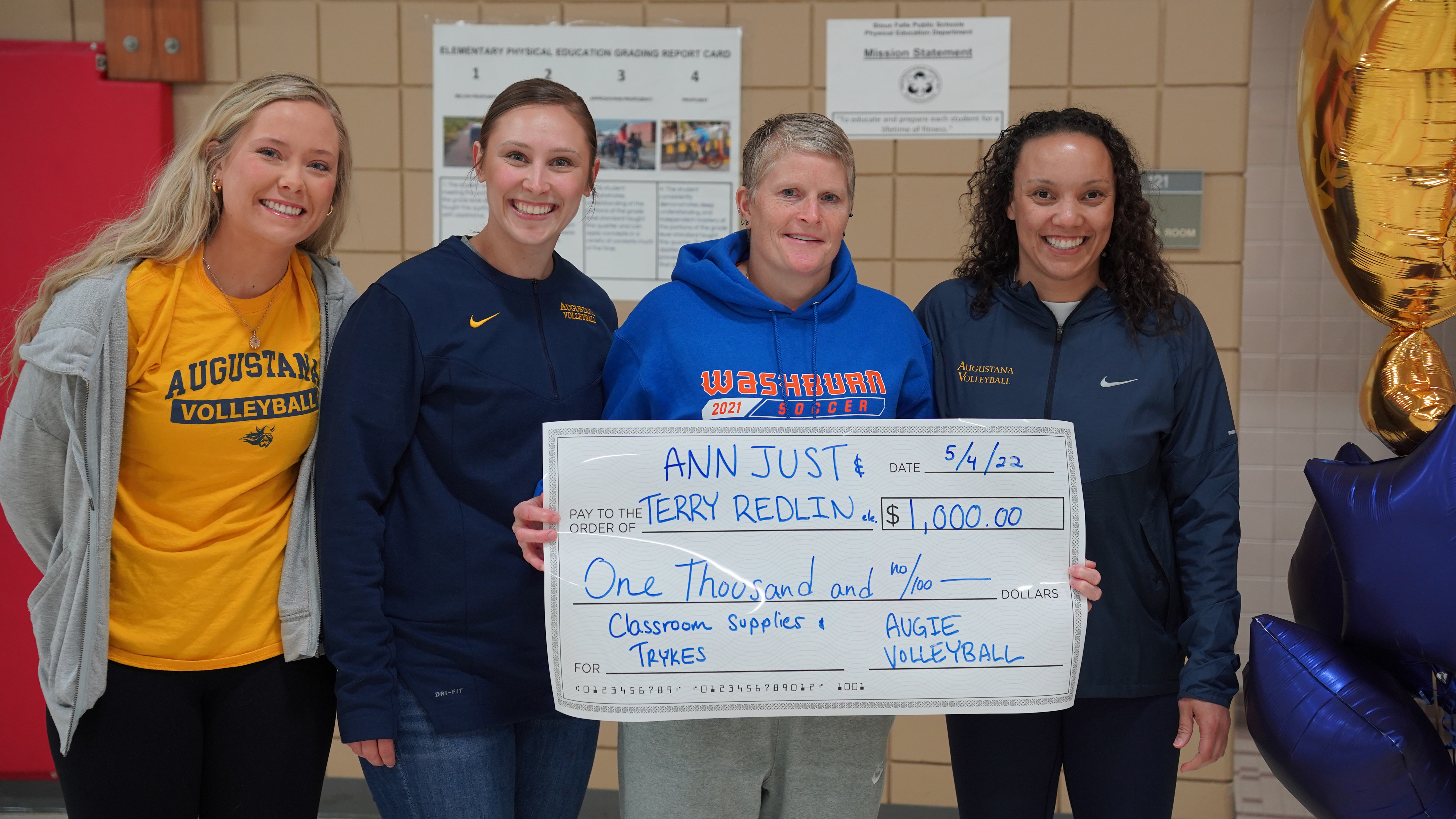 In May of last year, after fundraising at a club tournament hosted by AU, the team was able to present Just with a $1,000 check for equipment in the gym, which was spent on special scooters and blocks for RISE students. And, after Just reached out to Viking Head Softball Coach Gretta Melsted, players from other teams — Augustana Softball, Baseball and Women's Basketball — started helping out as well.
"It's great to do one-off service events, but I would rather build a longer, deeper relationship where they can always count on us and we can always just be there," Jacobs said.
And, maybe this story will serve as a reminder to never pass up a lunch date — you just never know where it might lead.