The Augustana Northlanders Jazz Band, along with bands from the four-state area high school and middle schools, will perform during the 46th annual Jazz on the Upper Great Plains Festival, set for March 2-3, 2020, in Augustana's Hamre Recital Hall.
Performance schedules for Monday in Hamre Recital Hall
Performance schedules for Tuesday in the Lillehaug Instrumental Rehearsal Room.
Performance schedules for Tuesday in Hamre Recital Hall.
We are pleased to introduce our featured performers and clinicians, Adam Meckler and Arthur "L.A." Buckner!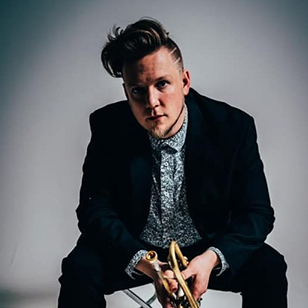 Adam Meckler - A trumpet player, composer, and educator living in Upper Peninsula Michigan where he is an Assistant Professor and the Director of Jazz Studies at Michigan Technological University. Meckler is an Edwards Instrument Co. Performing Artist and Clinician. He leads The Adam Meckler Orchestra (AMO), an 18 piece big band that plays his original compositions. The AMO's debut album 'When the Clouds Look Like This' was listed among 2014's Best Jazz Releases by iTunes. Adam tours and records with The Hornheads (Prince), Youngblood Brass Band, and Nooky Jones. His latest release with The Adam Meckler Orchestra, Magnificent Madness, is available via Ropeadope Records, and on all streaming platforms now.
In 2019, when young jazz musicians are both better-trained and more open-minded than they've ever been, plenty of small groups are doing inspired work by melding disparate influences. But Magnificent Madness, the new Ropeadope Sur release from the Adam Meckler Orchestra, is something different, something greater: a thrillingly contemporary update of the jazz big band that both embodies Meckler's musical generation and showcases his singular vision (not to mention his masterfully expressive trumpet playing). Fun yet moving, hard-grooving yet also poignant, Magnificent Madness highlights the working musicians on the thriving Twin Cities scene while featuring special guests like the multi-instrumentalist and singer/emcee Harjinder; J.D. Steele, part of the Minnesota-based royal vocal family the Steeles; the emcee and Berklee educator Toki Wright; the nonpareil trumpet soloist Rex Richardson; and Cameron Kinghorn, the lead vocalist in the rising neo-soul band Nooky Jones, which he cofounded with Meckler and drummer Reid Kennedy. In the end, Meckler's concept invites new listeners into the big-band tradition as he redefines that legacy on his own terms. 
"Whimsical and orderly, the music is equal parts of both.  Adam Meckler directs his orchestra with the dexterity of a seasoned performer and the flexible nature of a sage." – BlogCritics.org
"The orchestra creates atmospheres, walls of sound, supportive strains, riffs, or plain old silence, sitting aside when intimacy must triumph over grandeur.  Meckler wisely knows when to use everything at his disposal and when to simply let things be." – AllAboutJazz.com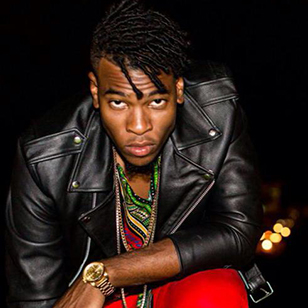 Arthur "L.A." Buckner  - L.A. sets himself apart from other drummers and musicians with his ability to appropriately incorporate latin, blues, pop, hip-hop, and R&B influences into whatever style of music he is playing. Buckner earned his master's degree in Music Performance from McNally Smith College of Music. He was a featured artist at the New Griots Festival held at the Guthrie Theater and is the co-host of Sound Field, a new video project by PBS exploring the music theory, production, history, and culture behind our favorite songs and musical styles.
L.A.'s deep infatuation with music began at an early age. At age 3 he would practically go an entire church service without looking away from the drums. His father took notice and shortly thereafter purchased his first drum kit.
L.A. Buckner is a performing musician, teaching artist, and producer from the Northside of Minneapolis.  His artistry is full of energy, excitement, culture and excellence.
---
Jazz on the Upper Great Plains Results - 2020

Middle School Competition:
1. Mitchell
2. Brookings
3. Brandon Valley
Class B Competition:
1. Woodbury Central
2. McCook Central
Class A Competition:
1. SF Christian
2. Lennox
3. West Sioux
Class AA Competition:
1. Mitchell
2. O'Gorman I
3. Brookings
Class AAA Competition:
1. SF Lincoln I
2. Sioux City North I
3. SF Roosevelt I