We're living in different times. Radio broadcasters are having a hard time finding ways to cover sports that aren't taking place in light of COVID-19; some even being forced off the air. TV stations are focusing on the days of old — old games, rivalries and stories of former players as "The Last Dance" steals headlines and captivates the world.
The coaches and athletes at Augustana have been making the best of a hard time too. Head Football Coach Jerry Olszewski says what transpired over the course of a ten day period in March would also make for a "heck of a documentary."
Coaches Still Leading Athletes Despite Lost Seasons and the Unknown
Augustana Head Softball Coach Gretta Melsted says it's very vivid in her mind on how "it all" went down; how unknowingly at the time, her team would play their last game of 2020 on March 11, due to concerns surrounding the coronavirus.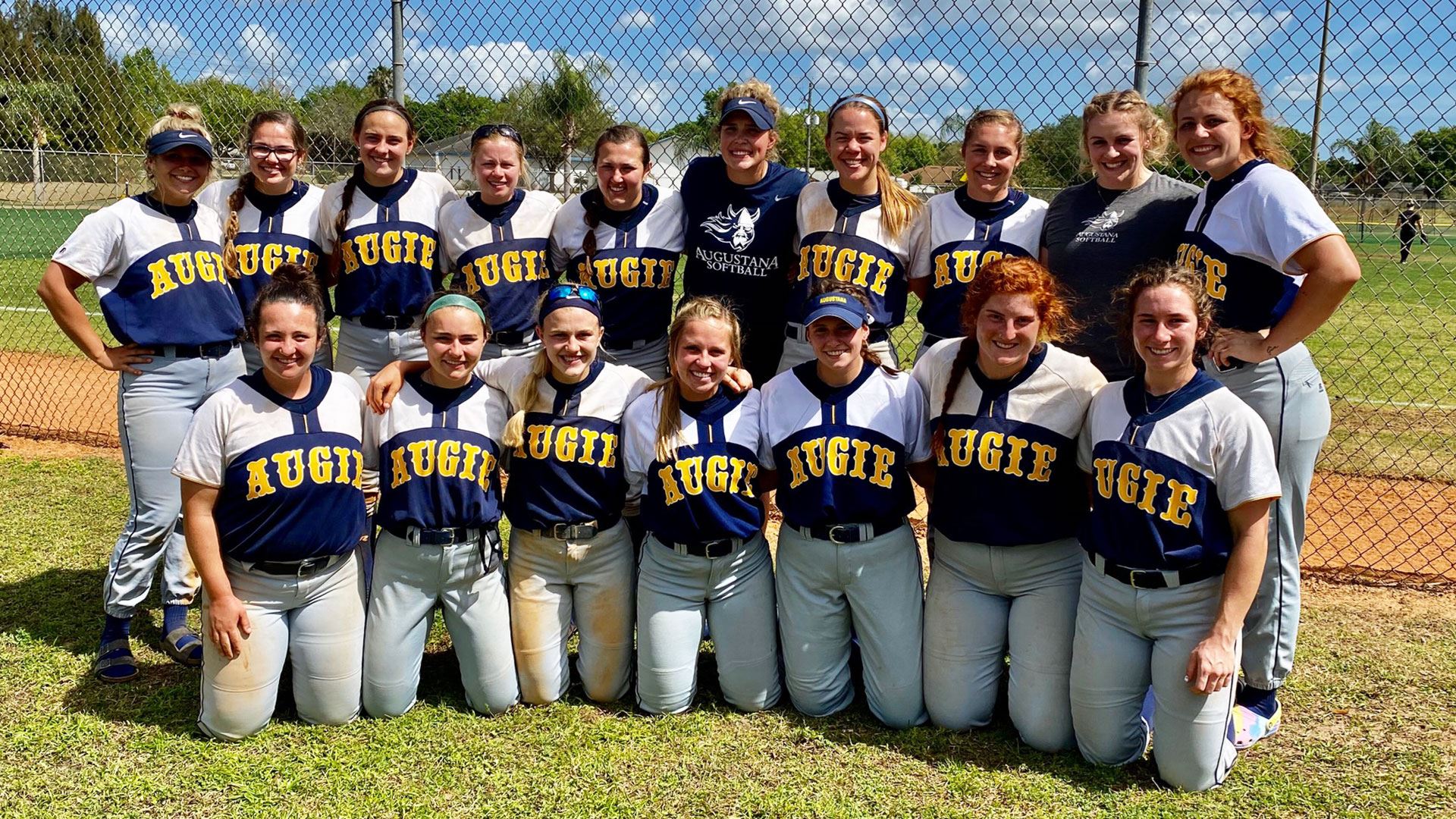 Melsted says the softball team was on a plane on Thursday, March 12, flying to Des Moines from Florida, when they started seeing the news on social media. The NCAA had canceled the men's and women's basketball tournaments, as well as its wrestling tournaments.
"We started getting nervous about what was going to happen," said Melsted. "I was one of the first off the plane. Our kids were coming off the plane and as they were walking out, you could see their faces and you could see that they were down, so we talked about it immediately before we went to go get our bags."
At that time, the NCAA had announced only that they were suspending play. Nothing was canceled for them, yet. Her players then got on a bus and arrived in Sioux Falls at around 1 a.m., on Friday, March 13. Melsted says that's the last time she had the chance to see her team as they would turn around and leave campus for an extended spring break the next day. They ended the year on a high note with a win and ended up at 16-3, but will always wonder what the remainder of their season could have been. Melsted says at the time their season ended, her players were beginning to see just how good they could be and learning how to deal with the pressure of being the defending national champions.
"They intellectually know it, but then when they start seeing it on the field, I think that's what's heartbreaking for them, because they felt like they were in a good spot," said Melsted. "And the target has been on our back. When you're a defending national champion, you get everyone's 'A-game' all the time, they just want to knock you down, so these kids have been playing just in a different way than they have had to in the past."
While the NCAA has now extended the eligibility of all spring-sport student-athletes, Melsted says the hardest part is trying to do justice for the seniors given that it was potentially the end of their college athletic career, while also motivating her younger players for what lies ahead next year.
Melsted said, "It hits you a couple years down the road because this year's seniors, they had their plans set. They didn't really have the time to make that decision, but the kids coming down the road, they've got time to plan. I think what you're going to see, especially at Augie, especially in our program, potentially next year, I might have 4-5 kids that are going to stay for another year."
Melsted says the coaches have been doing regular check-ins with the girls, but the season is over and for the most part, they're letting them enjoy their time off.
"You have to stay authentic to who you are, meaning if you are not a coach who is constantly on them, you can't do that. If you are a coach that is on them a lot, then you're not, there's going to be disconnect," said Melsted.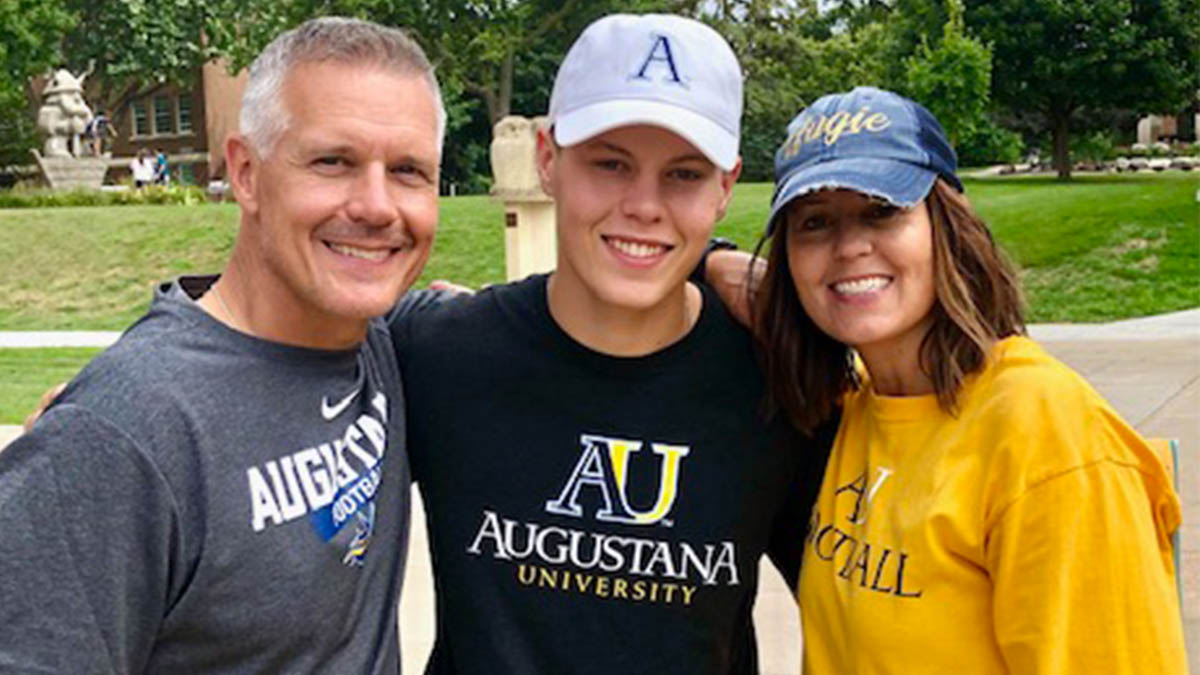 Like the rest of the world, Augustana is hard at work in scenario planning for the fall of 2020. While uncertainty remains, the university is proceeding with optimism. And if you know Olszewski, you know he finds the good in everything. He says the pandemic has allowed him to learn new things about technology and spend more time with his family.
"This allows you time to slow down and find out who you are," said Olszewski.
For Olszewski, the end of March and the entire month of April would have consisted of football practices and meetings for his team. The Spring Game, slated for May 2, has come and gone without any competition. Olszewski says the last few months have mainly been spent checking on each other and everyone's mental well-being. But Olszewski emphasizes that football is such a structured sport. Teams meet a lot and they watch a lot of film. That's how Olszewski says he continues to lead. The players have had structured schedules of when to eat and study. While it's not the same, many of his players have been lifting weights and doing full-body workouts to stay busy and in shape.
Olszewski said, "We are trying to keep it in perspective, lead by example and find a way to change and adapt."
Student-Athletes Take Changing Seasons in Stride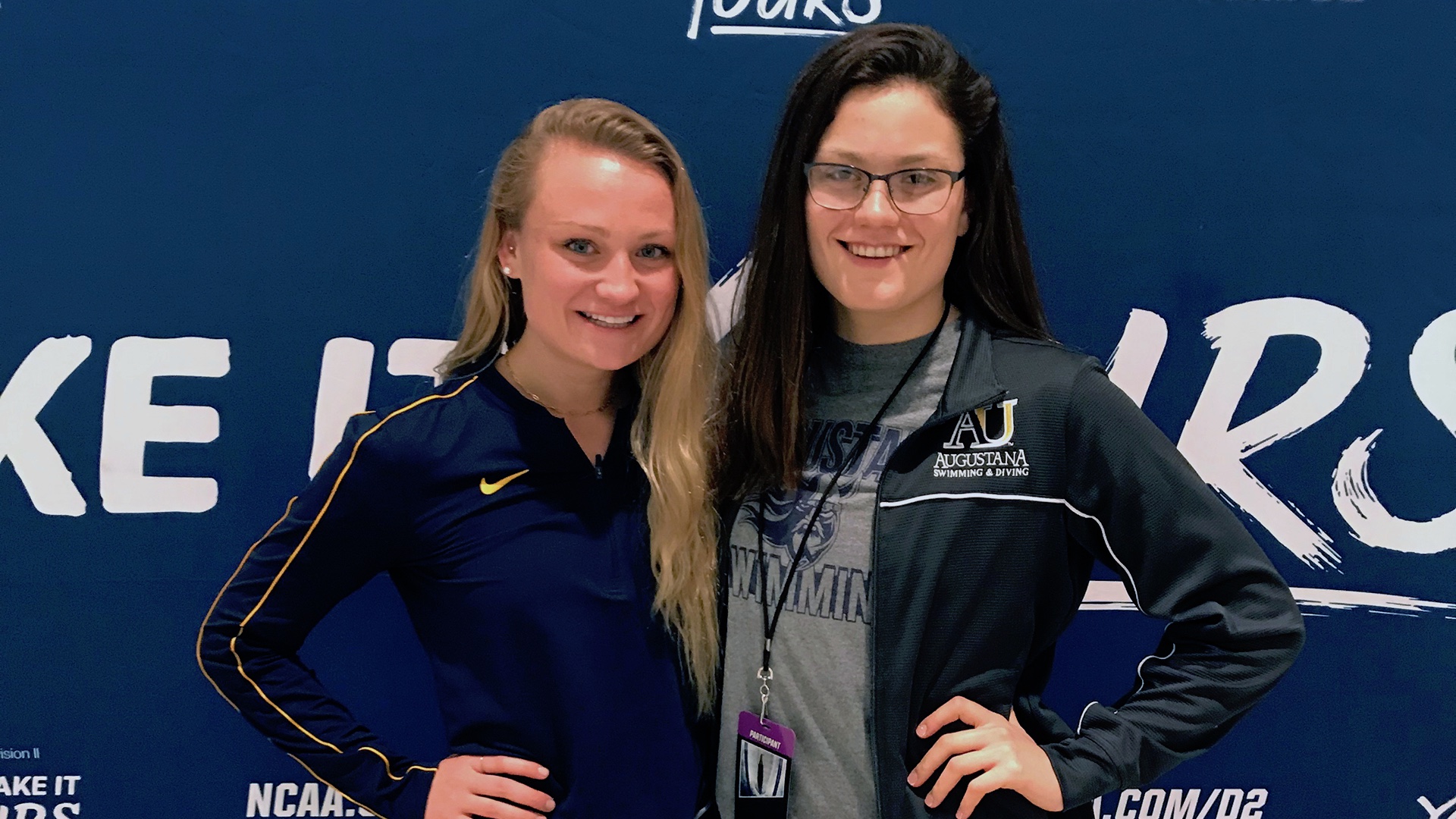 All-America swimmer Taylor Beagle '21 and Destini Oehlertz '20 were competing at the NCAA Division II Swimming and Diving Championships in Geneva, Ohio in March when their season abruptly came to an end. Beagle says after the first day of competition, the NCAA announced there would be no spectators allowed. On the evening of the second day, all competition had been canceled.
"That was just super crushing because you go the whole season with this one time in mind and I didn't really get a chance to show what I had done all season," said Beagle.
After Augustana announced an extended spring break and later that courses would move to online instruction, she packed up her apartment and went home to Lead, South Dakota. Since then, her team has been logging workouts, having weekly meetings and virtual coffee dates, but there's something that just can't be replaced.
"There are no pools or anything open so we've been just trying to do the best we can with what's available to us," said Beagle.
Beagle says this is the longest she's gone without being in a pool.
"You don't swim for a week and you feel like you haven't touched the water in a year. You just lose it so fast. It's definitely frustrating because we feel like there isn't anything we can do to stay in swimming shape. It's something the girls think about, how it's going to affect us."
Taking classes at home, the biology major says it was hard to stay focused at first. Candidly, she says it was sometimes hard to find meaning in them with all that has been going on in the world. After the first couple of weeks though, she started to settle in.
"A lot of us are FaceTiming workouts at the same time, trying to keep that schedule. I think we have figured out that we all do thrive on having a schedule and having that structure in our lives so we're trying to figure that out from a couple hundred miles away."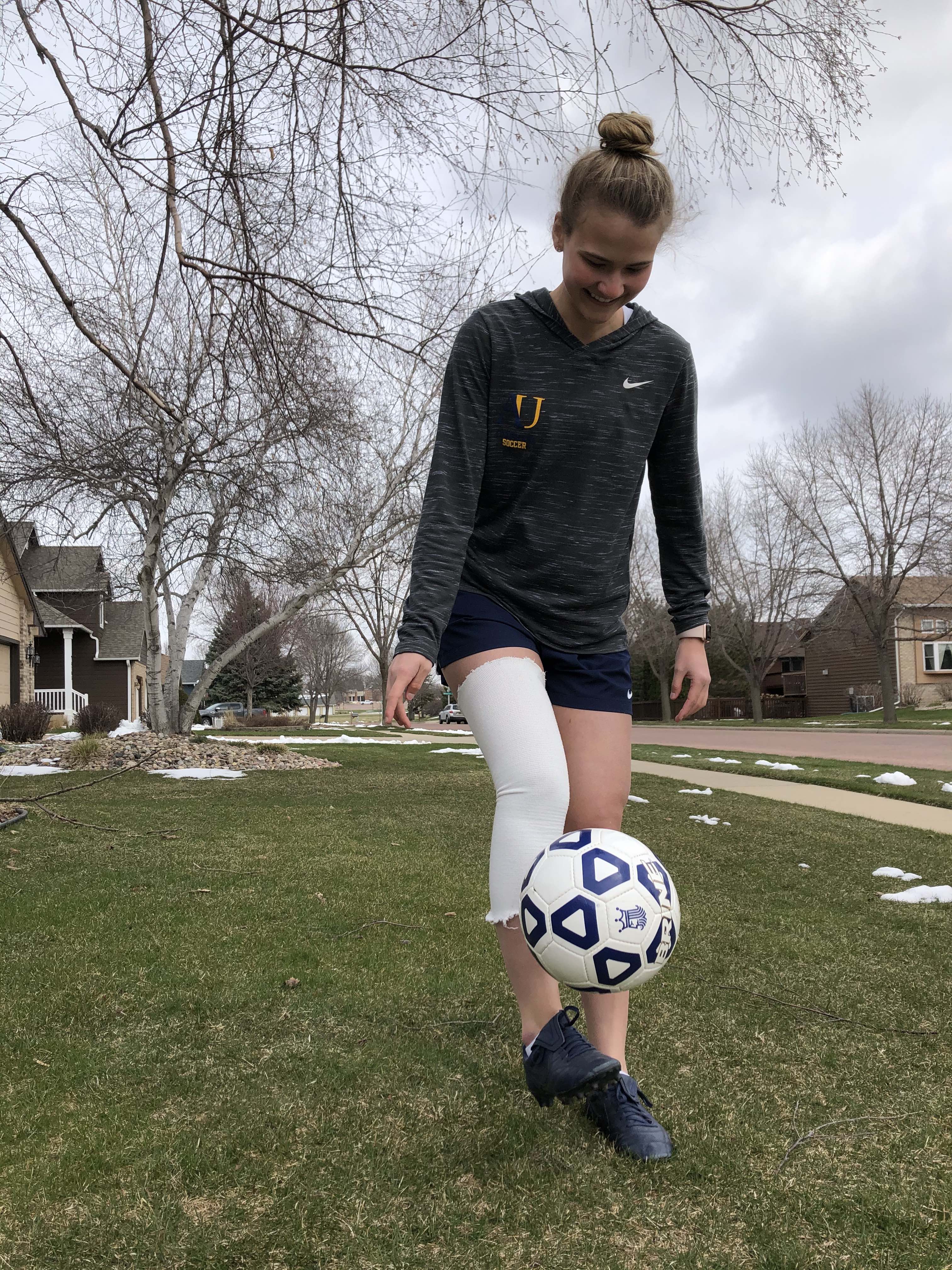 Augustana soccer player Isabelle "Izzy" Hedge '21 also transitioned from college life and living in a house with friends to living back at home with her parents and younger sister in Sioux Falls. As a nursing major, Hedge had begun doing simulations online and was waiting to hear if her internship was still a go this summer.
"It definitely solidifies my decision to be a nurse because in the end, I know I just want to help people and as scary as it is, it doesn't scare me away from the profession," said Hedge.
The junior midfielder says she's also trying to prepare for her last soccer season at Augustana. Not just any season though— one that follows a torn ACL injury. Hedge says her team has had Zoom meetings, they're tracking workouts in a spreadsheet and performing footwork drills in videos to compare to one another.
Hedge said, "The coaches have done a really good job of keeping us in soccer and making it feel like it's still a team sport even though we are all apart."
Hedge also needs another scope. She would have already had the surgery done, but it has been delayed until June, until elective procedures start becoming the norm again.
"There's definitely some concern there," said Hedge. "I have to get it to be cleared to play sports again, so it's not really an elective procedure for me."
But Hedge says perhaps the hardest part has been being away from her peers, her teammates.
"The soccer team has always had good chemistry and we genuinely like to be together and spend time together, even outside of soccer-related things, so that's been really hard. We rely on that a lot."
Something almost every athlete can appreciate.