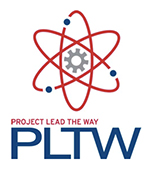 Project Lead The Way (PLTW) is the leading provider of rigorous, relevant and innovative Science, Technology, Engineering and Mathematics (STEM) education curricular programs in middle schools and high schools across the U.S. Through an engaging, hands-on curriculum, PLTW encourages the development of problem-solving skills, critical thinking, creative and innovative reasoning, and a love of learning. PLTW sparks the ingenuity, creativity and innovation that are within all of our students. Students are exposed to STEM careers through professionals from local industries who supplement the curriculum through mentorships and workplace experiences. PLTW offers courses in Computer Science, Engineering and Biomedical Sciences. 
Augustana University believes in the mission of Project Lead The Way and seeks to recognize students who have participated in PLTW courses. Students who have completed PLTW courses are eligible for Augustana's PLTW scholarship. Students who have successfully completed PLTW courses at a certified PLTW school can also apply to receive college credit from Augustana.  
Register for College Credit:
Important Changes for students seeking college credit for PLTW courses:
For the 2019-2020 academic year, PLTW has made the determination to suspend their End-of-Course (EoC) Assessments.  Therefore, Augustana University has amended that requirement to apply for college credit.  Please refer to the PLTW College Credit Registration Form linked below for full details.