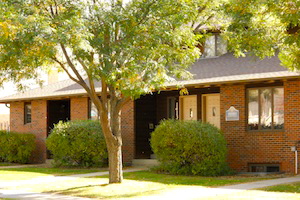 The Schoeneman apartments are located just west of the Elmen Center at 1411 - 1419 W 33rd St. This facility is designated for upperclass students.
Schoneman offers a single two-person unit and four four-person units for 18 students. Amenities include on-site laundry facilities, a garage (one stall for each apartment), and private off-street parking.
Living at Schoeneman has many benefits. The apartments are located very near the main campus, allowing students the independence of apartment-style living in the Sioux Falls community. However, Schoneman offers the convenience of campus life, as the complex is close to the Elmen Center and athletic facilities, and only a few minutes walk from the Morrison Commons and all academic buildings. Rent is paid once a semester rather than monthly like most apartments and rentals, and wireless internet is included in the cost. Apartment placements are determined during room selection in the spring semester of each academic year.
Apartment Furniture
The following furniture is provided in each apartment.
Twin XL bed in each bedroom
Dresser in each bedroom
Desk and desk chair in each bedroom
Couches
Coffee and/or end tables
Kitchen table and chairs
Each apartment kitchen includes a full-size refrigerator, stove, and dishwasher.
What to Bring
Apartment living is more independent than living in the residence halls, so students should remember to pack the following items:
Dishware and cookware
Toaster
Microwave
Cleaning supplies
Vacuum
Plunger
Shower curtain
Toilet paper