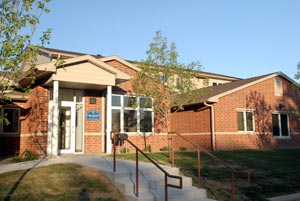 Balcer, Nelsen, and Svendsbye Apartments are located on Summit Avenue across from the beautiful Froiland Science Center. Balcer (constructed in 2007), Nelsen (opened Fall 2017), and Svendsbye (opened Fall 2019) house 104 third- and fourth-year students in 30 apartments. Amenities include on-site laundry facilities, central A/C and heating, and student storage units. Apartment placements are determined during room selection in the spring semester of each academic year.
Apartment Furniture
The following furniture is provided in each apartment.
Twin XL bed in each bedroom
Dresser in each bedroom
Desk and desk chair in each bedroom
Couches
Coffee and/or end tables
Kitchen table and chairs
Barstools (except in 2-bedroom Svendsbye apartments)
Each apartment kitchen includes a full-size refrigerator, stove, and microwave.
What to Bring
Apartment living is more independent than living in the residence halls, so students should remember to pack the following items:
Dishware and cookware
Toaster
Cleaning supplies
Vacuum
Plunger
Shower curtain
Toilet paper